Introduction
Drum liners are designed to fit in drums of various capacity sizes. These are available in design types and made up of various materials. They are used for storing and shipping a variety of materials such as liquid and raw products, and can hold from a few gallons to over 50 gallons. These liners are often custom manufactured in various designs, with some featuring an anti-static composition. Liners minimise drum cleaning and replacement (reducing waste) and prevent product contamination.
Drivers and Restraints
Revenue of the global drum liner market is driven with growth in usage from end use sectors such as industrial chemical, food and beverages and cosmetics and pharmaceuticals. Drum liners have an ability to adjust elasticity, which makes it a suitable choice for various types of products such as industrial chemicals, food and beverages, cosmetics and pharmaceuticals etc. Drums are used for exports of various products in multiple industries and this drives the global drum liner market.
Drum liners eliminate the need of drum reconditioning which could save the cost for drum users. The global market for drum liners is witnessing innovations resulting from product development activities and attractive features of drum liners such as reusability of drums and cost effectiveness.
However, increasing adoption of alternative bulk packaging solutions such as bulk containers can restrict the scope of growth of drum liners. Drum liners are of various types such as flexible, rigid and semi rigid drum liners. But compared to liners used for alternative bulk containers, drum liners require less plastic material. A common restraint observed for drum liners in various industries such as industrial chemicals is that disposal of various chemicals from chemical laboratories, hospitals, and factories can lead to fires at the sites if chemicals are mixed in one drum liner/drum only.
Stringent governmental regulations in various regions are also expected to hamper revenue growth of the global drum liner market. Drum liners most commonly use HDPE and LDPE material, which is restricted as per FDA and EU regulations. Also, fluctuations in the prices of raw materials used for manufacturing drum liners results in a rise in the prices of drum liners, which can adversely impact revenue growth of the global drum liner market.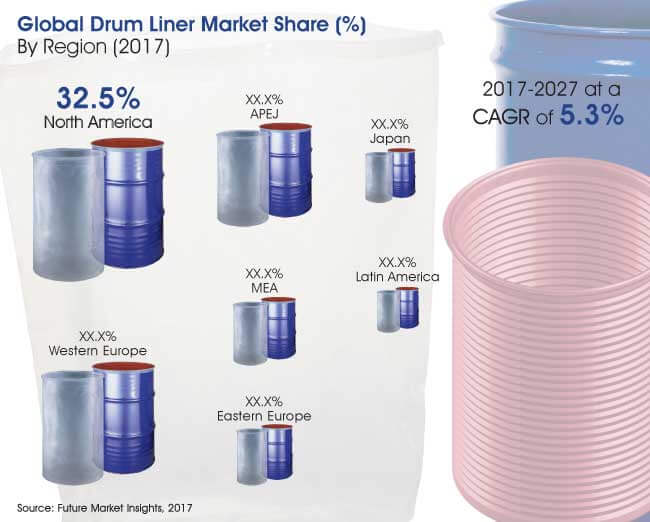 APEJ and MEA most suitable regions for growth of the global drum liner market
Of the various regional markets, APEJ and MEA offer promising potential in the global drum liner market. APEJ is witnessing significant economic growth due to the boom in industrial packaging in various countries such as India and China. MEA has witnessed relatively good growth over the years due to large production and export of petroleum and oils, which ultimately leads to increase in demand for drum liners across the region.
North America is estimated to account for 32.5% of the global drum liner market in 2017 and is estimated to decline and reach 31.3% of the global market by the end of 2027, losing 110 basis points. APEJ is expected to hold more than 20% of the global drum liner market share in 2017 and is expected to reach 24.2% by the end of 2027, registering an impressive increase of 280 basis points.
The Western Europe drum liner market accounts for a significant share of the global drum liner market currently. However, this is expected to decline marginally by 120 basis points, from 27.7% in 2017 to 26.4% by the end of 2027.
Market segmentation
By Capacity Size
Less than 15 Gallons
15-33 Gallons
More than 33 Gallons
By Drum Liner Type
Flexible Drum Liner

Round Bottom Drum Liner
Flat Bottom Drum Liner

Rigid Drum Liner
Semi Rigid Drum Liner
By Design Type
Straight-Sided Liners
Accordion Liners
Combination Liners
Others
By Material Type
LLDPE
LDPE
Polypropylene
HDPE
PTFE
By End Use
Industrial Chemicals
Petroleum & Lubricants
Food and Beverages
Paints, Inks and Dyes
Cosmetics and Pharmaceuticals
Building and Construction
Others
Key Regions covered:
North America
Latin America

Brazil
Mexico
Rest of Latin America

Western Europe

Germany
France
U.K.
Spain
Italy
Benelux
Nordic
Rest of Western Europe

Eastern Europe

Russia
Poland
Rest of Eastern Europe

APEJ

China
India
Australia & New Zealand
ASEAN
Rest of APAC

Japan
MEA

GCC Countries
Turkey
South Africa
North Africa
Rest of MEA
Need specific information?