An Incisive, In-depth Analysis on the Drum Liner Market
This study offers a comprehensive, 360 degree analysis on the Drum Liner market, bringing to fore insights that can help stakeholders identify the opportunities as well as challenges. It tracks the global Drum Liner market across key regions, and offers in-depth commentary and accurate quantitative insights. The study also includes incisive competitive landscape analysis, and provides key recommendations to market players on winning imperatives and successful strategies.
COVID -19 : Impact Analysis
Request the coronavirus impact analysis across industries and markets
Request Covid -19 Impact
Drum liners are designed to fit in drums of various capacity sizes. These are available in design types and made up of various materials. They are used for storing and shipping a variety of materials such as liquid and raw products, and can hold from a few gallons to over 50 gallons. These liners are often custom manufactured in various designs, with some featuring an anti-static composition. Liners minimise drum cleaning and replacement (reducing waste) and prevent product contamination.
Drivers and Restraints
Revenue of the global drum liner market is driven with growth in usage from end use sectors such as industrial chemical, food and beverages and cosmetics and pharmaceuticals. Drum liners have an ability to adjust elasticity, which makes it a suitable choice for various types of products such as industrial chemicals, food and beverages, cosmetics and pharmaceuticals etc. Drums are used for exports of various products in multiple industries and this drives the global drum liner market. Drum liners eliminate the need of drum reconditioning which could save the cost for drum users. The global market for drum liners is witnessing innovations resulting from product development activities and attractive features of drum liners such as reusability of drums and cost effectiveness.
However, increasing adoption of alternative bulk packaging solutions such as bulk containers can restrict the scope of growth of drum liners. Drum liners are of various types such as flexible, rigid and semi rigid drum liners. But compared to liners used for alternative bulk containers, drum liners require less plastic material. A common restraint observed for drum liners in various industries such as industrial chemicals is that disposal of various chemicals from chemical laboratories, hospitals, and factories can lead to fires at the sites if chemicals are mixed in one drum liner/drum only. Stringent governmental regulations in various regions are also expected to hamper revenue growth of the global drum liner market. Drum liners most commonly use HDPE and LDPE material, which is restricted as per FDA and EU regulations. Also, fluctuations in the prices of raw materials used for manufacturing drum liners results in a rise in the prices of drum liners, which can adversely impact revenue growth of the global drum liner market.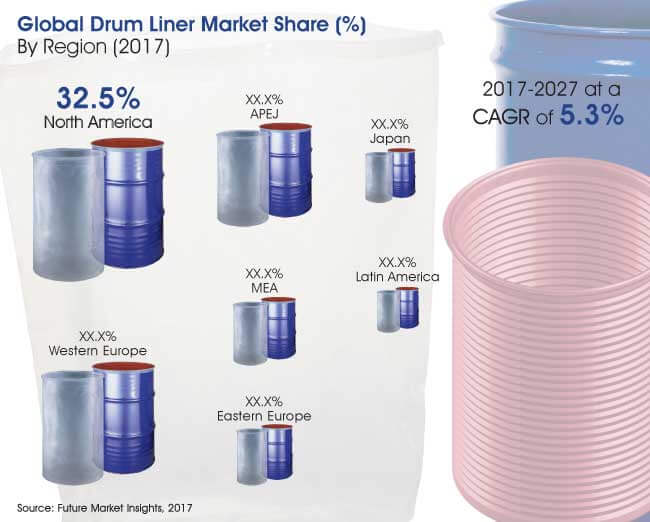 APEJ and MEA most suitable regions for growth of the global drum liner market
Of the various regional markets, APEJ and MEA offer promising potential in the global drum liner market. APEJ is witnessing significant economic growth due to the boom in industrial packaging in various countries such as India and China. MEA has witnessed relatively good growth over the years due to large production and export of petroleum and oils, which ultimately leads to increase in demand for drum liners across the region. North America is estimated to account for 32.5% of the global drum liner market in 2017 and is estimated to decline and reach 31.3% of the global market by the end of 2027, losing 110 basis points. APEJ is expected to hold more than 20% of the global drum liner market share in 2017 and is expected to reach 24.2% by the end of 2027, registering an impressive increase of 280 basis points. The Western Europe drum liner market accounts for a significant share of the global drum liner market currently. However, this is expected to decline marginally by 120 basis points, from 27.7% in 2017 to 26.4% by the end of 2027.
In this report, Future Market Insights (FMI) offers a 10-year forecast of the global drum liner market between 2017 and 2027. The study reveals market dynamics in seven geographic regions along with market analysis for the current market environment and future scenario over the forecast period. The prime objective of this report is to offer insights and key market trends pertaining to the global drum liner market that are gradually helping transform global businesses. The global drum liner market report begins with the executive summary for various categories and their share in the global drum liner market. It is followed by market dynamics and an overview of the global drum liner market, which includes FMI analysis of market drivers, restraints, and trends that are affecting revenue growth of the drum liner market. Furthermore, to understand the popularity of the various market segments, the attractiveness index and BPS analysis with elaborated insights on the same is provided, which will show the market's attractiveness based on factors such as CAGR and incremental opportunity. To show the performance of the drum liner market in each country and region, BPS and Y-o-Y growth analysis is also provided. The next few sections of the report highlight the global drum liner market forecast for the various market segments and provides the market outlook for 2017–2027. The study investigates the Y-o-Y growth regionally, as well as analyses the drivers that influence the regional drum liner markets. The report evaluates the present scenario and future growth prospects of the regional drum liner market for 2017–2027.
Research methodology adopted
To ascertain the market size in terms of value and volume, revenue generated by the key manufacturers and their respective production capacity is taken into consideration. The forecast presented here assesses the total revenue generated by value across the drum liner market. In order to provide an accurate forecast, we have initiated by sizing up the current market, which forms the basis of how the drum liner market is expected to develop in the future. Given the characteristics of the market, we have triangulated the outcome on the basis of three different types of analysis based on supply side, downstream industry demand and the economic envelope. In addition, it is imperative to note that in an ever-fluctuating global economy, we not only conduct forecasts in terms of CAGR, but also analyse the market based on key parameters such as year-on-year (Y-o-Y) growth rates to understand the predictability of the drum liner market and to identify the right opportunities across the market.
The different market segments in the global drum liner market have been analysed in terms of basis point share (BPS) to understand the individual segments' relative contribution to overall market growth. This detailed level of information is important for identifying various key trends in the global drum liner market. Another key feature of this report is the analysis of key segments in terms of absolute dollar opportunity. Absolute dollar opportunity is critical for evaluating the scope of opportunity that a provider can look to achieve, as well as to identify potential resources from a delivery perspective in the global drum liner market. The overall absolute dollar opportunity along with the segmental split is mentioned in the report. To understand key segments in terms of growth and adoption of drum liners globally, Future Market Insights has developed the drum liner market attractiveness index to help providers identify real market opportunities.
In the final section of the report, a competitive dashboard of companies is provided to compare the current industrial scenario and their contribution in the global drum liner market. Moreover, it is primarily designed to provide clients with an objective and detailed comparative assessment of key providers specific to a market segment in the global drum liner market. Report audiences can gain segment-specific manufacturer insights to identify and evaluate key competitors based on an in-depth assessment of their capabilities and success in the drum liner market. Detailed profiles of companies are also included in the report to evaluate their strategies, key product offerings and recent market developments.
Segmentation of the market
By Capacity Size
Less than 15 Gallons

15-33 Gallons

More than 33 Gallons
By Drum Liner Type
Flexible Drum Liner

Round Bottom Drum Liner

Flat Bottom Drum Liner

Rigid Drum Liner

Semi Rigid Drum Liner
By Design Type
Straight-Sided Liners

Accordion Liners

Combination Liners

Others
By Material Type
LLDPE

LDPE

Polypropylene

HDPE

PTFE
By End Use
Industrial Chemicals

Petroleum & Lubricants

Food and Beverages

Paints, Inks and Dyes

Cosmetics and Pharmaceuticals

Building and Construction

Others
By Region
North America

Latin America

Mexico

Brazil

Argentina

Rest of Latin America

Asia Pacific Excluding Japan (APEJ)

China

India

ASEAN

Australia and New Zealand

Rest of APAC

Western Europe

Germany

France

U.K.

Spain

Italy

Nordic

Benelux

Rest of Western Europe

Eastern Europe

Russia

Poland

Rest of Eastern Europe

Middle East and Africa (MEA)

GCC

North Africa

South Africa

Rest of MEA

Japan
Harish Tiwari
Global Head - Business Development
Akshay Godge
Client Partner - Global Business Development
CASE STUDIES
See how our work makes an impact.
At FMI, we design strategies that are adaptive, impactful, and implementable.