Viscometer Market Snapshot
According to Future Market Insights (FMI), the global viscometer market was valued at US$ 285 Mn in 2020 and is projected reach a valuation of US$ 587.3 Mn by the end of 2031. Increasing application of viscometer across diverse industries such as pharmaceutical, petroleum, and cosmetics will fuel the demand in the market.
FMI has predicted the market to rise at a healthy CAGR of 6.9%, surpassing a shipment of 51,000 units during the forecast period (2021-2031). Regionally, North America is expected to remain dominant, expanding at 6.4% CAGR over the course of the assessment period.
Don't pay for what you don't need
Customize your report by selecting specific countries or regions and save 30%!
Key Points Covered in Viscometer Market Survey
Market estimates and forecast 2016-2031
Key drivers and restraints impacting market growth
Segment-wise, Country-wise, and Region-wise Analysis
Competition Mapping and Benchmarking
Brand share and Market Share Analysis
Key Product Innovations and Regulatory Climate
COVID-19 Impact on Viscometer Market and How to Navigate
Recommendation on Key Winning Strategies
Viscometer Market Outlook in 2016-2020 Compared to 2021-2031 Forecast
Controlling the process parameters of materials, prior to production and post-production, has become necessary in various industries. Soaring concern regarding the maintenance of precise process parameters of desired materials has compelled industries to adopt novel measuring equipment such as modern viscometer.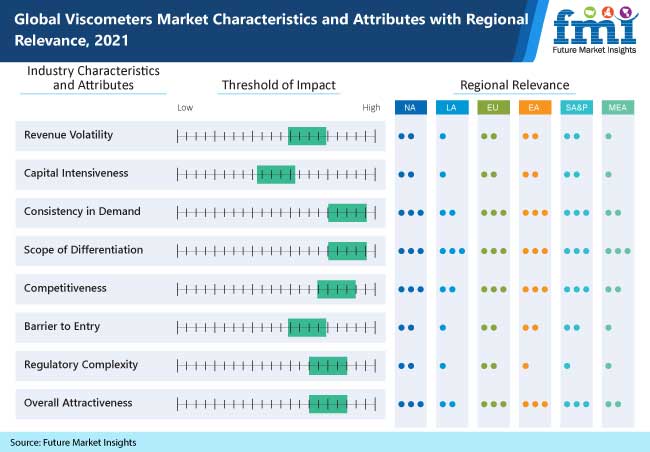 As per the analysis by Future Market Insights, the global viscometer market is projected to register growth at a CAGR of 6.9% during 2021 and 2031.
Rapid expansion of industrial output over the last few years has encouraged adoption of advanced solutions to measure viscosity of various materials. To maintain their position in the industry, end-users are keen to improve their batch consistency.
Increasing application of viscometer in the pharmaceutical and food sectors have create attractive opportunities for the growth of the market in the last few years. Viscometers are gaining popularity due to their adaptability, ease-of-use, and convenience that it offers for various end-to-end applications.
On the back of these factors, the global viscometer is expected to surpass US$ 300.4 Mn, registering year-over-year growth at 6.4% in 2021.
What are the Factors Restraining the Market Growth?
Easy availability of alternative and low quality products is one of the major factors creating a challenge for viscometer market players. Improving access to cost-effective viscometer substitutes, particularly in local markets, are likely to impede the sales during the forecast period.
As these products are readily available at low costs, they are strongly adopted by smaller end-users, who do not need standardized accuracy for application measurement. New entrants or small companies, especially in emerging economies, develop similar products but do not meet the product design standards. Due to this, sales of well-known brands are adversely affected.
What Is the Impact of COVID-19 on Viscometer Market?
Unprecedented outbreak of COVID-19 had a major impact on global economic growth. Global viscometer market witnessed a substantial drop in demand during the FQ-20. As the production activities of most industries, including petroleum, food & beverage, and industrial oil & lubricants temporarily suspended, demand for viscometer manufacturing and sales declined.
Due to the global shutdown, manufacturing and production activities reached a sudden stand-still, resulting in slight drop in the market growth. Due to this, both high-cost and low cost producers of viscometers are anticipated to witness challenging mid-term growth market outlook.
Country-wise Insights
How Big is the Opportunity for Viscometer Market in the U.S.?
According to FMI, the U.S. will account for more than 70% of the North America market through 2031. Companies in the U.S. market will gain from the USMCA, a new deal between the U.S., Mexico, and Canada that replaces North American Free Trade Agreement (NAFTA).
Presence of key players such as Thermo Fischer Inc., Ametek Inc., and TA Instruments is expected to fuel the expansion of the viscometer market during the forecast period. Additionally, expansion of various domains, such as construction, petrochemicals, and industrial oil and lubricants, are likely to boost demand growth during the projection period.
Why is Demand for Viscometer Increasing in the Germany?
The viscometer market in Germany is expected to rise at nearly 10% CAGR over the forecast period. Germany is the world's fourth largest economy and one of the world's top machinery producers, thanks to its industrial growth and technological advancements.
Germany also has the highest level of productivity and access to other European markets due to its central location. With the expansion of numerous end-use industries across the country, application of viscometer is expected to increase, fueling sales.
Furthermore, increased research activities, presence of numerous key companies, and the country's growing industrial sectors are few factors spurring the growth of the market.
Why is Innovation Key to Succeed in the China Market?
China's status as a worldwide industrial powerhouse is one of the factors fueling the expansion of industrial sectors in this country, resulting in lucrative potential for viscometer market growth.
China also is one of the world's largest producers and consumers of industrial equipment, and it is estimated to account for over 50% of viscometer sales in East Asia. As it is one of the largest global providers of high-tech solutions, rapid industrialization will result in higher application of viscometers.
What is the Potential for Viscometer Market in India?
In 2021, India will account for nearly 40% of sales in South Asia & Pacific. With the expansion of manufacturing sector and increasing production of electronic equipment in India, demand for viscometer is expected to surge.
Government initiatives such as Make in India and Invest in India are expected to boost manufacturing in India, creating scope for expansion of viscometers market.
Get the data you need at a Fraction of the cost
Personalize your report by choosing insights you need
and save 40%!
Category-wise Insights
Which is the Preferred Equipment in Viscometers Market?
Equipment based rotational viscometer will account for nearly 30% of the global market by 2031. The usage of this type is feasible in workshop area, production area, delivery area and it helps to optimize the flexibility and the control time.
With added features such as memorization, programming and data tracing, these viscometers are becoming even more user-friendly in challenging environments.
Which is the Preferred Sales Channel Type in Viscometer Market?
Online sales channel is estimated to account for the dominant share of nearly 60% through 2031. With rising penetration of e-commerce platforms, manufacturers are focusing on the improvement of their digital presence and work more closely with customers. In countries such as China and India, a major portion of sales revenue is earned through online sales.
How is Increasing Application of Viscometer in Polymers & Rubber Shaping Demand?
In the industrial segment, the polymer & rubber segment is expected to contribute a significant revenue share and create an absolute dollar opportunity of US$ 19 Mn in the global viscometer market.
Increasing application in industrial equipment, including manufacturing and research, demand for viscometer is high. As the determination of solution viscosity is a prime concern for polymers as it is highly used to estimate polymers' molar mass and other physical properties, adoption of viscometer is expected to improve.
Competitive Landscape
As per Future Market Insights, Thermo fisher Scientific, Ametek Inc., TA Instruments, Anton Paar Gmbh, A&D Co., Ltd. are identified as top players in viscometer market. Leading companies are expanding their product portfolios through research and development to develop customer-specific products to expand their customer base.
Key companies are also aiming for strategic collaborations with other manufacturers in order to improve their manufacturing process capabilities and meet the increasing demand for viscometer.
Scope of Report
Attribute
Details
Forecast Period
2021-2031
Historical Data Available for
2016-2020
Market Analysis
USD Million for Value and Units for Volume
Key Regions Covered
North America, Latin America, Europe, East Asia, South Asia & Pacific and the Middle East & Africa
Key Countries Covered
US, Canada, Brazil, Mexico, Argentina, Colombia, Chile, Peru, Germany, U.K., France, Italy, Spain, Russia, NORDICS, BENELUX, Hungary, Poland, Czech Republic, Switzerland, CIS States, China, Taiwan, Japan, South Korea, India, Bangladesh, ASEAN, ANZ, GCC Countries, Turkey, Israel, Iran, Nigeria, Kenya, Ghana, Northern Africa, and South Africa
Key Segments Covered
Equipment type, Sales Channel, End User and Region
Key Companies Profiled

Thermo Fisher Scientific
AMETEK.Inc.
TA Instruments
Anton Paar GmbH
A&D Company
Goettfert GmbH
Fann Instrument
Freeman Technology
Brabender GmbH
Cannon Instrument Company
Lamy Rheology Instruments
Shanghai Nirun Intelligent Technology Co., Ltd.

Report Coverage
Market Forecast, Company Share Analysis, Competition Intelligence, DROT Analysis, Market Dynamics and Challenges, and Strategic Growth Initiatives
Customization & Pricing
Available upon Request
Viscometer Market by Category
By Equipment Type:
Orifice Viscometer
Capillary Viscometer
Falling Piston Viscometer
Rotational Viscometer
Falling Ball Viscometer
Vibrational Viscometer
By Sales Channel:
By End User:
Industrial

Pharmaceutical
Industrial Oils and Lubricants
Paints & Coating
Food & Beverages
Petrochemicals
Cosmetics
Polymers & Rubber
Others (Research & Academician and Building & Construction Materials)

Testing & certification Agencies
By Region:
North America
Latin America
Europe
East Asia
South Asia & Pacific
Middle East and Africa (MEA)
Frequently Asked Questions
The global viscometer market is projected to grow at 5.4% CAGR, topping US$ 300.4 Mn in 2021.
The food & beverage industry is estimated to be the leading end-user in the global market creating an absolute dollar opportunity of US$ 38.6 Mn by 2031.
Rotational viscometer will remain top-selling product in the market, estimated to account for over 30% of revenue share, throughout the forecast period.
Ametek Inc., Thermo Fisher Scientific, TA Instruments, Anton Paar GmbH, and A&D Company are identified as the top 5 players in viscometer market. As per FMI, over 52.6% of the market share is currently covered by the top 10 players.
Between 2016 and 2020, the viscometer market grew at 1.4% CAGR, estimates Future Market Insights.
Sales of viscometer across North America are expected to rise at 6.4% CAGR during the assessment period.
The Europe's viscometer market will register healthy growth at 6.8% CAGR during the forecast period.