Key Research Findings – Reactive Diluents Market
Exhibiting an above-average growth rate to that of chemicals, the global reactive diluents market is forecast to surpass US$ 1 Bn in the next two years
Future Market Insights (FMI) projects paints & coatings sector to account for leading share in the market as the dominant end user
Reactive diluents to remain highly sought-after for application in solvent-free epoxy anticorrosive coatings
Reactive diluents will find application in automotive, electronics, construction, and wind-energy sector as they promote better adhesion and improve tensile strength of paints, coatings, adhesives, and sealants
Demand for Better Performance in Additives & Sealants and Paints & Coatings Bolstering Reactive Diluents Market
Reactive diluents are in high demand, especially due to their multi-faceted applications as thinners, viscosity modifiers, and rheology modifiers. They are added to adhesives, sealants, and paints and coatings to achieve appropriate concentration based on applications they are intended for.
Industry players are opting for copolymerization to aid proper blending of reactive diluents with lacquer. More technological advancements are expected in the near future, which will facilitate the growth of the market.
Using reactive diluents improves the tensile strength, adhesions, and other physical and mechanical attributes of a solution thus boosting its performance. Other important characteristics of reactive diluents, which are also fuelling their demand, include their ability to curb emission of volatile organic compounds (VOC) and robust compatibility with water and solvent based paints and coatings.
Developments witnessed in industrial sector, particularly in automotive, construction, and electronics industries, as a result of evolving technologies resulted in higher demand for consumables such as adhesives & sealants.
In addition to this, the rising uptake of high-performing alternatives to indigenous materials has been bolstering the reactive diluents market.
Infrastructural Developments are Creating Scope for Underpinning Growth
Infrastructural development in tandem with growing population has led to surging construction projects worldwide. This in turn has created demand for paints and coatings resulting in reactive diluents sales uptick.
Reactive diluents will continue witnessing demand as key additive used in paints, coatings and adhesives for improving their tensile strength. Future Market Insights (FMI) has identified this as the chief driver of the market.
However, the demand for reactive diluents is predicted to be stunted by sluggish near-future opportunities of epoxy resins. Reduction in research and development (R&D) investment by chemical behemoths and upward pressure on spot prices of liquid epoxy resins have confined growth prospects in resins, thereby drawing a ceiling on the purchase of reactive diluents to a certain extent.
Nonetheless, growth opportunities are likely to be underpinned for the reactive diluents market by the rising focus on the adoption of lightweight materials across various industries. Advent of eco-friendly products will further aid the expansion of the market.
Emphasis on Construction and Infrastructural Development Makes High Potential Countries Lucrative
Some of the leading market players are either located in or are shifting focus towards high potential markets across Asia. This shift in paradigm is triggered by their sole objective of gaining competitive advantage.
Lured by attractive opportunities, companies are tactically expanding their footprint via expansion of product offering and investing in facilities across the world. Asia as a result boasts the presence of several leading companies such as Huntsman International LLC, Arkema Group, Epoxy Division, Kukdo Chemical Co., Olin Corporation, Ltd, and Aditya Birla Chemicals (Thailand) Limited.
Growth of construction activities has been a significant parameter enabling growth in South Asia and Pacific market. Meanwhile, growth in East Asia will be backed by government initiatives to better their infrastructural facilities.
Investment towards smart city plans connotes their intent of developing existing infrastructure. Rising construction and building activities has been facilitating the reactive diluents market, enabling it to gain momentum in East Asia.
Expansion strategies of market players are likely to get rigorous especially as they keenly seek competitive advantage in a highly fragmented vendor landscape. As a result focus on innovations and technological advancements will remain high, enabling growth in the market.
The emplacement of the regions in product life cycle (PLC) chart below offers insights into key factors enabling growth in the market, thus gives clarity on most lucrative markets for reactive diluents. Growth witnessed in Latin America for instance will be backed by the expansion of construction sector.
Likewise, in the Middle East and Africa market rising construction and building activities will support growth. The positioning of East and South Asia Pacific however reveals both regions are currently at growth phase in comparison to mature North America and Europe markets.
Resultantly, companies will be seen creating strategies, especially targeting prospects prevalent in regions at growth phase.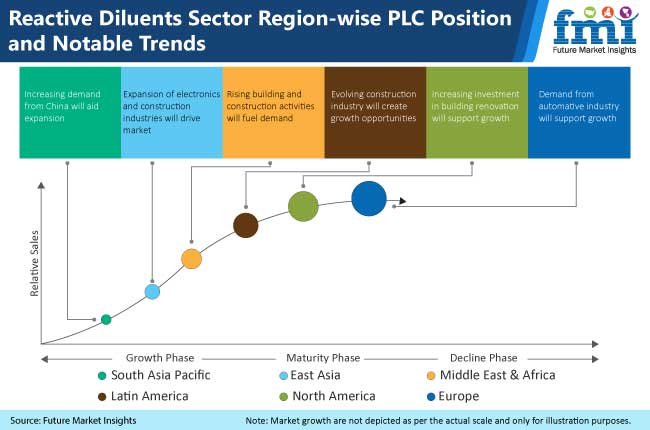 Foray of Green Reactive Diluents Paves Way for Impressive Growth in Future
Citing concerns pertaining to environmental degradation, market players have increased their focus on R&D activities. They are making conscious changes in operations to curb VOC emission commonly associated with paints & coatings industry. This has prompted manufacturers to focus on the development of eco-friendly products.
This has resulted in the advent of glycidyl ether. Foray of eco-friendly reactive diluents is intended at arresting VOC emissions besides impelling their uptake as alternative to plasticizers used in adhesives. Spurred by this, the global reactive diluents market will exhibit strong growth between 2020 and 2030.
Besides its green attributes, reactive diluents offer greater blending capability to silane-modified polymers and epoxy polymers. This will help the market continue a positive growth trajectory through the course of the forecast period.
Plant Oil Based and Biodegradable Reactive Diluents Will Define Future Coating and Composite Applications
Recently, the scientists at NDSU have developed a plant oil based reactive diluent to aid coating and composite applications. It possesses both high reactive functionality and low viscosity, which render it improved characteristics.
Plant oil based reactive diluents either reduce or completely eliminate the need to be blended with any petrochemical, subsequently the bio-based content of reactive diluent makes the product more environmentally desirable.
The foray of plant oil based and biodegradable reactive diluents has eliminated the need for solvent. It is biodegradable and non-toxic and has low viscosity to enable VOC-free compositions. These diluents are therefore considered an improvement over their predecessors for application in radiation/ UV curable coatings and inks. Besides this, their use in industrial coatings for films, flooring, furniture, and plastics is expected to rise.
Future Market Insights sees this as an incredible opportunity for the reactive diluents market. Better biodegradability will make it stronger against competition especially since people around the word are rooting for greener construction and manufacturing.
Other High-performing Alternatives is Impeding Growth
Despite witnessing significant opportunities for growth, foray of more efficacious alternatives is impeding the growth of the reactive diluents market. For instance, alternatives such as phenolic diluent offer better heat and fire resistance. They also demonstrate an improved phobic nature toward toxic gases and reactive materials.
These alternatives are witnessing surging demand especially due to their better performance in structural applications. Better ablative properties of these alternatives are in turn swaying industries away from reactive diluents.
Region-wise Analysis: Reactive Diluents Market
Asia Pacific is expected to emerge as one of the lucrative markets for reactive diluents. Besides industrialization, infrastructural development and surging constructions activities will give tailwinds to the growth of the market in the region.
Demand from adhesives & sealants and paints & coatings is expected to remain strong in Asia. This, coupled with low labor costs and relaxed norms for investment will support growth in both East and South Asia markets for reactive diluents.
In East Asia, growth exhibited by the market will be driven by high demand from China. The country has emerged as a global electronics manufacturing hub besides being home to sophisticated automotive industry. The same is with countries such as Japan, Taiwan, and South Korea.
Steered by high demand, the East Asia market for reactive diluents will demonstrate growth at an impressive. In countries such as India, Malaysia, Thailand, and other the market will witness incremental opportunities stemming from rising construction activities.
Spurred by high demand witnessed in East and South Asia, reactive diluents market is expected to record better sustainability. Meanwhile, in more developed markets of North America and Europe growth witnessed in the market is forecast to remain steady.
Consistent renovation activities in construction sector will cushion the market against potential threats in Europe and North America.
Leading Suppliers in the Reactive Diluents Market
Companies operating in the reactive diluents market are focusing on tactical expansion of their product portfolio and footprint across regions to gain a stronghold. Future Market Insights underscores their efforts as chief factors driving the market. Some of the leading companies operating in the market are:
Huntsman Corporation
Hexion Inc.
Aditya Birla Chemicals
Olin Corporation
Sachem, Inc.
Arkema Group
ipox chemicals GmbH
Evonik Industries
Atul Ltd.
Adeka Corporation
Reactive Diluents Market: The Way Forward
Future Market Insights foresees impressive growth on cards for the reactive diluents market. The advent of bio-based reactive diluent derived from cardanol for instance will witness surging application in polyurethane acrylate (PUA) coatings, improving their overall performance.
Surging demand for high-performing and UV-curable coatings is expected to foster greater innovations in the market. For instance, bio-resourced reactive diluents have already forayed in the market, offering better performance and functionalities.
In the coming years, it is expected to witness sales uptick of diluents derived from linseed oil. These variants offer improvement over resin blends. Studies suggesting better efficiency of bio-based reactive diluents are already creating buzz across several endues industries, paving way for the market's growth in the near future
World's Most Profilic Intelligence Engine
Get Access To The World's Largest Market Research Database. Ngage with a revolutionary intelligence engine that scale and pricing that flexes as per your needs
Sign Up Now
Key Segment
Type
Aliphatic
Aromatic
Cycloaliphatic
Function
Mono functional
Multi-functional
End Use
Paints & Coatings
Adhesives & Sealants
Composite
Flooring
Others
Region
North America
Latin America
Europe
East Asia
South Asia and Pacific
MEA
Need specific information?