Premium Product Pricing
Pharmaceutical companies hold the dominant position in the auto-injectors market. Major players of auto-injectors market, such as MYLAN N.V., kaléo, Inc., Amgen, Abbott Laboratories, etc., hold over 50% revenue share in the global auto-injectors market. Low competition and complex product development processes have increased the entry barriers for new entrants. High entry barriers for new entrants in auto-injectors market leads to higher product pricing. As a result, auto-injectors available in the global market are sold at premium prices as compared to their alternative -- pre-filled syringes.
Evzio, an antidote for opioid overdoses was approved in U.S in 2014 with list price of US$ 575 for two packs, but has showed a shoot up in price in the last three years. Its list price is currently US$ 4,500, a direct rise of about 680%. Epi-Pen, an epinephrine auto-injectors indicated to treat allergic reaction of Mylan Pharmaceuticals, showed a price hike from $100 in 2008 to about $500 in 2016, an increase on 400%.
Innovations in Materials and Drug Delivery Techniques
Innovations in materials and device functions of auto-injectors are the prime factors driving the growth of the auto-injectors market. In September 2015, Bayer HealthCare launched Betaconnect- an electronic auto-injectors which is used for the treatment of relapsing-remitting multiple sclerosis (RRMS).
This auto-injectors offers complete drug dosage for improved compliance and potentially reduces the overall cost. The SHL Group offers a variety of auto-injectors that can accommodate changes in injection needs, such as larger volumes, high viscosity and others. Auto-injectors manufacturers are focusing on improving the functionality of auto-injectors to improve disease management and treatment.
Increased Development and Use of Biologics / Biosimilars
Majority pharmaceutical companies are shifting from small molecules to biologics and vaccines, driven by increased efficacy and immunogenic of large molecules. The growth of biologics is increasing and this growth is playing a major role in defining company pipelines, acquisition strategies as well as the entry of biologics in established markets of the U.S and Europe.
According to the World Health Organization, 5% of the population suffers from autoimmune diseases. Development of new drug categories may offer new knowledge and new therapeutic agents to cure diseases. About 2/3 of the new drugs to be launched in the coming years will be biologic and sustained release drugs and will push the growth of the auto-injectors in near future.
Preferred Choice by Patients in Self-Injection
Auto-injectors are preferred over conventional devices as they facilitate improved drug delivery and new formulations and thus, are increasing the demand for injectable devices. Auto-injectors enhance and improve efficiency in terms of drug delivery as they are more convenient to use.
The demand for auto-injectors devices is increasing as they are designed in accordance with patient acceptance and compliance. Technological advancements are expected to make auto-injectors more user friendly and convenient to use. This is motivating patients to adopt this technology for chronic illnesses.
Streamline Regulatory Guidelines
Rising healthcare expenditure will provide significant opportunities to hospitals and auto-injectors manufacturers to adopt new advanced technologies for device development and commercialization. Previously auto-injectors manufacturers relied on the U.S Food and Drug Administration (FDA) 2009 draft guidance for Industry and current Good Manufacturing Practices for combination production. In January 2013, FDA streamlined the cGMP for combination products.
In the US and EU, the auto-injectors are classified under combination products. Combination products are separately regulated under different authorities for biologics, devices and drugs
Auto-injectors are considered single-entity combination products (drug/device and biologic/device) and should retain their regulatory status before and after they are combined
Manufacturers should understand regulations and should be technologically advanced with device design innovation to establish market competitiveness.
Shifting Production Base to Emerging Economies
Due to availability of well-developed manufacturing infrastructure and low cost labor, multi-national companies are shifting their focus towards emerging economies, such as the Asia Pacific region. Pharmaceutical companies have their manufacturing plants in Asian countries due to easy availability of skilled labor and low cost of raw materials. The strategy used by companies in these countries includes increasing revenue and at the same time, expanding business geographically by marketing products in.
Also, auto-injectors companies are entering into collaborations with other companies to manufacture more advanced and innovative products by sharing their organic resource. In September 2016, Aptar Pharma formed an agreement with Becton, Dickinson & Co. to develop auto-injectors devices to be used safely and conveniently by patients. The two-step auto-injectors will be exclusively sold by Becton, Dickinson & Co. In December 2016, SMC Ltd. acquired Oval Medical Technologies Ltd., developing next generation auto-injectors to enhance its product portfolio and to expand drug delivery capabilities.
For more such actionable insights on the potential of auto-injectors market, request a free sample copy.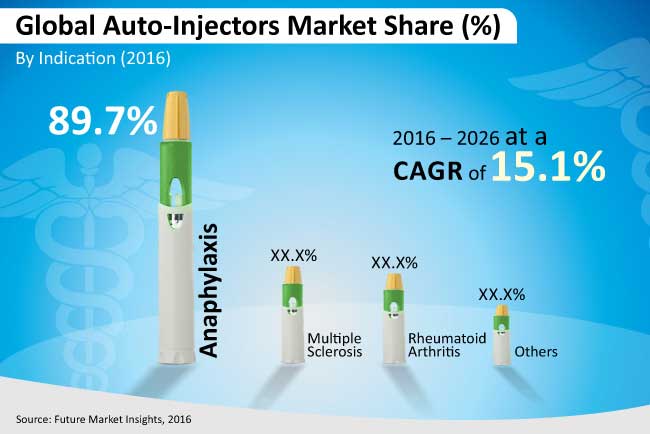 Competitive Landscape
The competition section of the auto-injectors market features profiles of key players operating in the industry based on their auto-injectors market shares, product offerings, differential channel strategies, marketing initiatives, product reach and company dashboard. Some of the key players featured in the auto-injectors market report include Sanofi, Pfizer, Inc., Becton, Dickinson and Company, Mylan N.V., Novartis AG, Janssen Global Services, LLC, Antares Pharma, Amgen Inc. Bayer AG, & Eli Lilly and Company.
Key players are focused on portable and user-friendly auto-injectors to maintain and increase their customer base. Companies, such as Mylan N.V., Eli Lilly and Company and Bayer AG, are more focused on user-friendly auto-injectors to maintain their brand equity. New entrants are more focused on tapping the emerging markets by introducing cost effective auto-injectors devices.
Some of the companies, such as Mylan N.V, Teva pharmaceuticals, etc., are introducing generic versions of cost-effective auto-injectors devices and are targeting emerging countries, such as regions of Asia-Pacific, Middle East and others, to sustain and grow in the global Auto-Injectors Market
The key manufacturers of auto-injectors are focusing on novel marketing strategies to increase their product reach. Companies are conducting awareness campaigns to increase their product usage. Price reduction by branded auto-injectors is leading to head-to-head competition in the market. These companies are rebranding their auto-injectors products with lucrative discounts. Conventional distribution channels, such as retail pharmacies, drug stores, etc. would be the key target channels for product distribution.
Definition
Auto-injectors devices are new injectable with a user-centric design approach that automatically inject a needle and perform the surgical procedure, thereby reducing dependence on healthcare professionals. These are specialized instruments that can be used to avoid needle stick injury and reduce needle phobia among patients. These are revolutionary instruments which have been invented to ensure complete dosage with painless drug delivery.
About the Report
FMI conducted a research study on auto-injectors market for the forecast period 2016 to 2026. The report offers a comprehensive evaluation of the business opportunities prevailing in the auto-injectors market along with insights on the consumption trend, dynamics, incidence, patient awareness level, pricing analysis and market competition. The report elaborates on the macroeconomic factors influencing the dynamics of auto-injectors market and its futuristic potential.
Additional Questions Answered
Some of the additional questions addressed in this report on auto-injectors market are-
What is the revenue potential of generic auto-injectors across regions of North America and Europe?
Who are the key competitors and what are their portfolios in auto-injectors market?
What is the price point for generic auto-injectors manufacturers in developed countries?
How interventions from regulatory authorities and insurance service providers are shaping Auto-injectors market growth?
For answers to all possible questions required for gauging performance of auto-injectors market, get in touch with our expert analyst.
Research Methodology
FMI has analyzed the market size of Auto-injectors market using the triangulation methodology. We tracked the revenue of key players operating in this segment. Key Players have been segmented at a Tier-level with respect to their revenues, product portfolio and geographical presence.
This process involved analysis of various company investors' presentations, SEC filings, annual reports, earning call transcripts, 10k reports and press releases. This task was done to fetch substantial information about the key players, their respective revenues and estimate their respective auto-injectors market share.
The forecast for auto-injectors was conducted based on several macro factors, such as per capita healthcare spending, per capita pharmaceutical spending and availability of reimbursements, patient awareness and other macro factors associated with the healthcare industry. In addition, we have considered the following assumptions during the market forecasting:
Growth in number of patients using auto-injectors and treatment seeking rate
Change in price/ per patient spending on drugs
Adoption curve for available treatment
Impact of launch of new products
Trends pertaining to price sensitivity, patient preference, prescription pattern and pipeline development
Key Segment
based on product type
Prefilled Auto-injectors
Fillable auto-injectors
based on distribution channel
Traditional sales channels
hospital pharmacies
retail pharmacies
based on regions
North America
Latin America
Europe
Asia Pacific Excluding Japan
Japan
MEA
Need specific information?
Talk Show:
The Rise of Intelligent Packaging
Personalized, Connected and Sustainable
November 18, 2021
11:00-11:45 AM PST (USA & Canada)
This is a LIVE session