Introduction
The report covers comprehensive information about market trends, volume (Tons) and value (US$ Mn) projections, market dynamics, competition landscape and recent developments regarding the global busbars market for the study period 2018 to 2028.
The global busbars market is expected to reach over US$ 23,177.7 Mn by the end of the forecast period, registering a CAGR of 4.0%. According to the analysis, the demand for busbars is expected to keep increasing and gain significant traction in the coming years. Increasing installations of busbars in commercial spaces such as hotels, research centers and hospitals and residential buildings are expected to reinforce the positive outlook of the global busbars market.
By conductor type, the copper busbars segment dominates the global busbars market
The two major types of busbars covered in thd e research study are copper and aluminum busbars. Copper busbars are the most commonly used busbars for residential, commercial and industrial purposes.
The greater electrical conductivity of copper busbars helps installers use smaller busbars, reducing the overall system cost and improving system reliability. Moreover, the reduction of wiring errors helps lower quality costs, service costs and the number of reworks.
Copper bus bars are widely preferred in higher current applications that require superior inbuilt resistance against corrosion to withstand tough weather conditions.
The aluminum busbars segment is estimated to gain 170 BPS between 2018 and 2028, owing to the strong demand from North America, Europe and Japan. The segment is estimated to be more attractive as compared to its counterparts and is expected to expand at a CAGR of 4.8% and reach US$ 5,327.1 Mn by the end of 2028.
Busbars reduce system cost and improve reliability
Busbars are extensively used in high current, low -medium voltage distribution and control equipment. They are used for heavy electrical uses in various industries and commercial buildings as feeder systems and plating cells. Furthermore, switchboards, panel boards, bus-way systems and low & medium voltage switchgear, among others are some of the major conductor types where busbars are used.
Simple installation and ease of maintenance of busbars
The busbar system consists a circuit breaker and an isolator. The faulty section of the busbar can be easily disconnected from the circuit on the occurrence of a fault where the circuit breaker is tripped off. Furthermore, the selection of busbars is majorly dependent on various factors such as cost, flexibility and reliability.
Different busbar systems such as single bus-bar arrangement, main and transfer bus arrangement and double bus double breaker arrangement, among others are easy to install as per specific requirements and are thus, being offered by several players in the market.
Regional outlook of the busbars market
North America is expected to dominate the global busbars market in terms of new sales per annum of copper and aluminum busbars for industrial, commercial, and residential sectors. MEA and South East Asia are expected to gain traction over the forecast period, owing to the anticipated increase in adoption and installation in these regions. All other regions are expected to exhibit moderate growth in the same period.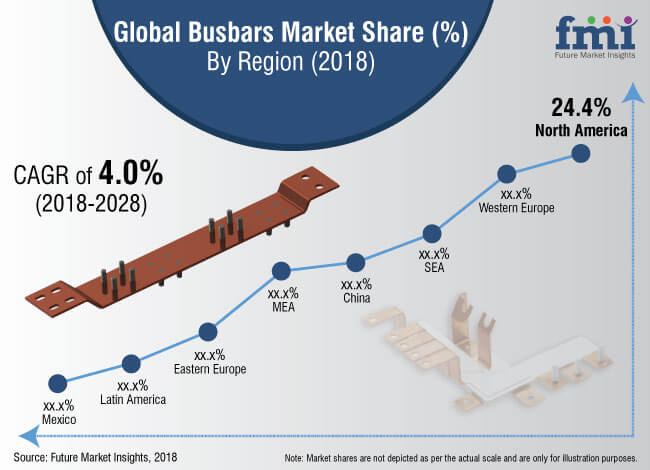 Busbars Market – Competitive Landscape
The global busbars market is moderately consolidated where the top players, i.e. Schneider Electric SE, Eaton Corporation Plc, Siemens AG, ABB and Methode Electronics, accounted for over a 35% market share by 2017 end.
In the recent past, the busbars market has witnessed significant developments from a competition perspective. Product innovations, mergers and acquisitions are some of the preferred strategies opted by key players to sustain and enter in the global busbars market.
In April 2018, Schneider Electric signed an agreement with several public and private companies in Saudi to foster innovation and develop infrastructure and mark their presence
In August 2018, Eaton was awarded a contract to help an electric utility power transient natural gas by adding new power distribution capacity in Southeast Wyoming, U.S.
Prominent players covered in the busbars market include Schneider Electric SE, Eaton Corporation Plc, Siemens AG, ABB, Methode Electronics, Nacobre, IUSA Group and Rittal GmbH & Co. KG, among others.
Key Questions Answered in the Busbars Market Report
How has the busbars market evolved over the past five years?
How is the busbars market expected to take shape in terms of volume and value during the study period?
What are the prevailing dynamics in the busbars market?
What are the competition developments and trends in the busbars market?
What are the underlying macro-economic and industry factors impacting the growth of the busbars market?
Which are the key challenges, opportunities and improvement factors for busbars market players?
What are the market positioning and key strategies of key manufacturers as per the busbars market taxonomy?
How is the competition structured in the busbars market and how has it evolved over the past few years?
Busbars Market: Segmentation
Conductor Type
Power Rating
End User
Residential
Commercial

Hotels
Hospitals
Academics

Industrial

Chemical
F&B
Metal & Mining
Others
Region
North America
Latin America
Western Europe
Eastern Europe
China
Mexico
SEA & Pacific
Middle East & Africa
Need specific information?