Global Catechin Market to Reach US$ 23.33 Mn by 2029
The global catechin market is projected to reach US$ 23.33 Mn by the end of 2029. The market was valued at US$ 16.28 Mn in 2019. If these figures hold true, the catechin market will exhibit a CAGR of little above 3.7% between 2019 and 2029. Regionally, North America is expected dominate the market.
Growth witnessed in the region to an extent is attributable to the U.S., which is also the largest market for catechin in North America. The region is expected to offer steady growth opportunities to the catechin market through the forecast period. The rising demand for healthy food and dietary supplements will aid the market's expansion
Catechin Market - Rising Demand for Functional Beverages Remains Key Growth Driver
Catechin market is steadily increasing, albeit at a moderate pace. The expansion of the functional beverages market gives tailwinds to catechin sales across the world. As a result of the rising incidence of cardiovascular ailments and the increasing prevalence of obesity, the demand for healthier foods that complement consumers' healthy lifestyle has increased. This change in consumer lifestyle has been a crucial factor encouraging market growth.
In addition to this, catechin finds use in pharmaceutical applications for the prevention and treatment of various ailments. Catechin is also used in a range of beverages. For instance, it is used in instant green tea besides other functional drinks. Spurred by increasing applications in diverse sectors, the catechin market will exhibit growth at a positive rate.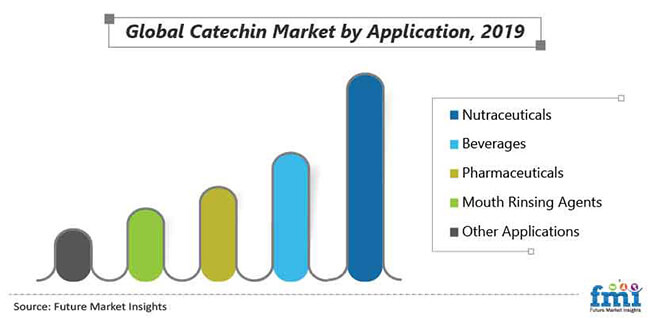 Asia Pacific and North America Emerge as Lucrative Markets for Catechin
Regionally, the global catechin market is segmented into North America, Latin America, Europe, South Asia, East Asia, Oceania, and the Middle East and Africa. North America currently leads the global market. Factors such as higher demand for functional beverages will support the growth of the catechin market in North America.
In addition to this, the demand for catechin market is expected to remain high in Asia Pacific. China has emerged as the largest consumer and producer of catechin in region. The rising disposable income of consumers in China, coupled with their increasing spending on functional food and beverages will stoke the demand for catechin in Asia Pacific. In addition to this, the demand for catechin will remain high in India and Japan, supporting the growth of the market in the region.
Catechin Market - Rising Health Awareness among Consumers will Stoke Growth Opportunities
Consumers around the world have become more conscious about their health. Their focus on living a fit and healthy life to a large extent is attributable to their increasing awareness. A key point to note here is that information from around the world is easily available to consumers via the internet and other channels of media. This has rendered them more conscientious about living choices, in turn tipping scales in favour of functional food and beverages. This will boost the catechin market in the long run.
FREQUENTLY ASKED QUESTIONS ABOUT CATECHIN MARKET
What drives the global catechin market?
The rising demand for functional food and beverages among consumers will boost catechin sales. This change is brought about by their increasing focus on health and fitness.
Which factors put catechin market at risk?
Lack of awareness about benefits of functional food among consumers from lower-middle income group negatively impacts catechin market, especially in developing countries.
Which countries will lead the global sales of catechin?
China is the leading producer and consumer of catechin in the world. Besides this, India and Japan exhibit high demand for the product. In North America, the U.S. has emerged as a lucrative market for catechin.
Which application segments offer most lucrative growth opportunities?
The demand for catechin is considerably high in nutraceutical, beverages, and pharmaceutical industries.
What is the chief growth strategy adopted by leading players in catechin market?
Leading players in the market are focusing on gaining competitive edge through integrating the value chain. Besides this, they are investing in increasing their product offerings to stay relevant in the market.
World's Most Profilic Intelligence Engine
Get Access To The World's Largest Market Research Database. Ngage with a revolutionary intelligence engine that scale and pricing that flexes as per your needs
Sign Up Now
Market Segmentation
The global Catechin market is segmented in detail to cover every aspect of the market and present complete market intelligence to readers.
Application
Nutraceuticals
Beverages
Pharmaceuticals
Mouth Rinsing Agents
Other Applications
Region
North America
Latin America
Europe
East Asia
South Asia
Oceania
MEA
Need specific information?