About the Report
With an increasing number of companies within the pharmaceutical sector considering outsourcing services, the demand for services from contract manufacturing and contract development manufacturing organizations will rise. Future Market Insights (FMI) sees incredible potential for the expansion of the CMO/CDMO market in the near future. The rising demand for generic medicines and biologics will pave way for the growth of the market.
Currently an increasing number of consumers are shifting towards locally sourced and natural products rather than big brands. Achieving this will require state-of the-art technology besides other resources. As a result an increasing number of pharmaceutical companies are seeking services of contract manufacturing / contract development and manufacturing organization (CMO/CDMO).
In its new study, Future Market Insights (FMI) offers insights into key factors driving contract manufacturing / contract development and manufacturing organization market. The study points toward skin products being the most sought-after. East Asia acquired about 20% of the market share, globally. The report also tracks current trends in manufacturing of cosmetic products, adoption rate of personal care products across regions.
What Does Future Holds for CMO/CDMO?
Increasing shift towards private label brands have created vast opportunities for the CMO/CDMOs. Now a days, shift in consumer preferences have increased the demand for private label brands and is expected to present opportunities for CMOs in near future. The shift is majorly attributable to price, accessibility, assortment, and reviews & ratings.
Social medical and e-commerce play a vital role behind the rising demand for private label brands. According to a study, private label brands exhibited considerable growth as they increased their visibility online. The major advantages of private label brands are their price point and retail availability, consumer can have the products at a cheaper rate with high accessibility due to wide availability through various vendors.
As of now, Europe remains a mature market as well as the largest one for private label brands followed by North America, where penetration is still relatively low. Similarly, in Latin America and Asia-Pacific the demand is small in terms of value share due to limitation of production capacity and consume brand loyalty.
CMOs have lucrative opportunity in the regions including Latin America, Asia-Pacific, and the Middle East where there is a rising issue of production capacity.
All these factors are expected to create opportunities for the expansion of the CMO/CDMOs market size over the forecast period. This analysis projects a CAGR of over 6% for the market growth through 2020 to 2030
What Impact Do Market Consolidation Activities Have on CMO/CDMOs Market?
Key players in the market are focusing on strategic collaborations to strengthen their position in terms of services they provide. These activities also expand their geographical foothold and help them tap the emerging markets.
For instance, In February 2020, Biofarma Srl C.F. collaborated with Nutrilinea to enhance its healthcare product development and production of health care products.
In October 2020, C.O.C. Farmaceutici acquired Tubilux Pharma. The acquisition generated complementarity within the offering and integration of the respective areas of expertise, reinforcing both companies' ophthalmic market share.
In July 2019, Kolmask, a subsidiary of Kolmar Korea Holdings, acquired Jayjun Cosmetic's sheet mask manufacturing plant in Incheon, boosting its production capacity of sheet masks and giving the company access to Jayjun's distribution channels in China.
Why Meeting Demand From Millennial Are Key To Market Growth?
Consumers of all ages are showing a deeper interest in the contents and ingredients used in the grooming and personal care products they use. This is especially the case among millennial consumers, who are leading the path by exhibiting the demand for extremely safe and high-quality products.
Many companies are therefore focusing to meet the demand for hyper-personalized products such as paraben-free cosmetics, creating a need for high-quality and safe contents.
The Environmental Working Group had created a database in 2004 called the Skin Deep Database which tests and rates over 70,000 personal care products. The database was the first third-party resources to investigate the toxicity of products.
The growing trends from the customers is not only to seek the details of the content within the product but also innovative and distinctive packaging, which includes new shapes, sizes and colors. New age contract manufacturers are aiming at flexibility and improved responsiveness to keep pace with changing requirements of consumers.
How is Growing Inclination towards Herbal Products Creating Opportunities?
In the recent times, there is a huge demand for natural/herbal beauty products from consumers, hence herbal ingredients are increasingly used in various cosmetics and personal care products. The herbal cosmetics and personal care industry is growing at the rate of ~25-30% every year.
Along with that, companies are focusing on replacing synthetic chemicals with natural ingredients, primarily because of growing consumer demand and also to move towards a viable source of raw material.
While natural products remaining highly popular among consumers, many are choosing locally sourced and produced personalized products. This is creating a significant amount of pressure on manufacturers and making them to focus on large scale production of herbal cosmetics to fulfil consumer needs.
So, to cater to this ongoing demand organizations are shifting their manufacturing processes to third party CMOs, which in turn help to accelerate the growth of the CMOs in cosmetics and personal care sector.
In addition, CMOs allow companies to focus on their core competencies and rapid production while saving production costs. These companies have a recognized vendor directory, a storage list, huge manufacturing facilities, and a distribution channels. For these features, the demand for third party manufacturing including herbal cosmetics is increasing day by day.
How will Expanding Male Grooming Industry Boost the CMO/CDMO Market?
The male grooming industry including skin care and other beauty products is expected to grow rapidly in the next 5-10 years. Men skin care is a fast growing segment that includes exclusive men's brands such as Bulldog, and Kiehl's. These companies offer products addressing men's skin care needs. Their extensive range often includes moisturizing, anti-aging, and oil-control products.
Along with this, new entrants are moving up the segment, for example Redken Brews which is a complete men's grooming company that includes hair, skin care, and other essential grooming products range. The surging demand for such products is creates burden on the production line, and thus creates new opportunities for CMOs to enter in this segment.
Country-wise Insights
Why is China Considered a Lucrative Market for CMO/CDMO?
China is a major supplier of the raw materials required or the beauty and personal care product manufacturing. Moreover the labor cost in China is extremely low compared to developed countries such as the U.K. and the U.S. There are a lot of contract manufacturing companies in China and the number of CMOs and CDMOs are increasing. China's CMO industry is a preferred choice by top brands of cosmetic manufacturers. China CMO/CDMO market was valued around US$ 2.0 Bn in 2020 and is expected to grow rapidly across 2021.
How will increase in usage of cosmetics benefit the U.S. CMO/CDMO market?
Cosmetic and personal care industry in the U.S. is growing remarkably. People in the U.S. pay extreme attention towards aesthetics and body. Due to this, adoption of personal grooming and cosmetic products is increasing. Favorable regulatory policies in the US towards cosmetic manufacturing is a major driving force the CMO/CDMO market growth.
Why is Italy a Prominent Market for Cosmetic CMO/CDMO Development?
Italy is known as the valley of cosmetics and is a major hub for cosmetic manufacturing. Massive investments and facility expansion, mergers and acquisitions, and increasing capital growth have made Italy a lucrative market. It holds the maximum share of around 20% within the Europe market. Contract manufacturers such as Sinerga S.P.A, Gi Picco's and Intercos S.P.A are located in Italy. Presence of some of the leading players has been working in favor of the expansion of the market in Europe
Why is India the Most Lucrative Market in South Asia?
The CMO/CDMO market in South Asia was valued at around US$ 2.0 Bn in 2020. India has emerged as a lucrative market within South Asia due to the presence of a large number of CMO and CDMOs in the country. This number is constantly growing as many new entrants are investing in the market for personal care manufacturing. In India, manufacturing costs are cheaper because of cheap labor and other infrastructure costs. The materials used for manufacturing are also produced in India and thus makes it a preferred location for contract manufacturing.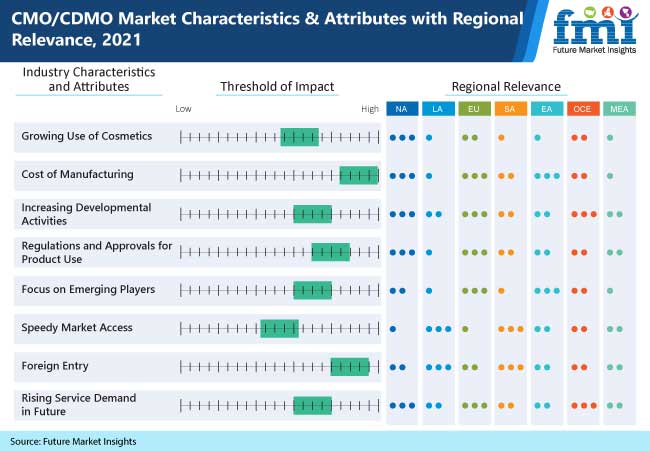 Category Insights
How will Increasing Focus on Skin Care Enable Growth?
The rising demand for face care creams, sunscreen lotions, face serums and body lotions is expected to have a progressive impact on the market through the forecast period. Furthermore, the growing popularity of online purchases is expected to boost the market rapidly.
The rising awareness regarding the advantages of using personal care products has resulted in high demand for these products. Besides this, the increasing demand for natural and organic skincare solutions has proven vital for the growth of the market.
Skin care is thus a major sector in the personal care and cosmetics industry. Growing awareness regarding the adverse effects of synthetic products has created huge opportunities for both development and manufacturing of natural or organic products.
Why is Filling & Packaging Sought-after in Contract Manufacturing?
Filling and packaging is an important part of the entire contract manufacturing process. This step is crucial and adds to the cost of manufacturing process as efficient packaging is crucial to protect products against potential risk of damages.
The materials used for storing products have to be non-reactive and should not spoil your product. Filling & Packaging acquired around 37% of the total CMO/CDMO business in 2019. There are several packaging options available and the prominent ones and highly demanded include close jars, Bottles, tubes, roll ons and others. Adoption of bottles for filling cosmetic / beauty products is more than others in the category.
Competitive Landscape
The CMO/CDMO market has a consolidated vendor landscape. There is need for continued research and development, which remains a key strategy among market players. Besides this, strategic collaborations are among common strategies adopted to gain competitive edge.
For instance, in February 2020, Catalent entered into an agreement with Zumutor Biologics Inc. to produce Zumutor's ZM008 to offer treatment for solid tumors.
Some of the companies operating in the market are:
Swiss American CDMO
Pierre Fabre Group
Zymo Cosmetics
Fareva
Biofarma Srl C.F.
Chemineau
C.O.C. Farmaceutici Srl
Paragon Nordic
Scope of Report
Attribute

Details

Forecast Period

2020-2030

Historical Data Analysis

2015-2019

Market Analysis

USD Million for Value

Key Regions Covered

North America, Latin America, Europe, South Asia, East Asia, Oceania and Middle East & Africa

Key Countries Covered

US, Canada, Germany, U.K., France, Italy, Spain, Poland, Russia, China, Japan, South Korea, India, Thailand, Malaysia, Indonesia, Australia, New Zealand, GCC Countries, Turkey, Northern Africa and South Africa

Key Segments Covered

By Service, Product and Form

Key Companies Profiled

Swiss American CDMO
Pierre Fabre Group
Zymo Cosmetics
Fareva, Biofarma Srl C.F
Chemineau, C.O.C.
Farmaceutici Srl
Paragon Nordic
Cosmetic Solutions
Kolmar, Lonza
Cho Chuang Industrial Co., Ltd.
Vive Cosmetics
Ori BioNature Sdn Bhd
Zoic Cosmetics
Samriddhi Life Sciences
Natrocare
Others

Report Coverage

Market Forecast, Company Share Analysis, Competition Intelligence, DROT Analysis, Market Dynamics and Challenges, and Strategic Growth Initiatives

Customization & Pricing
Key Questions Answered in Report
Which is the Top-selling Form in CMO/CDMO Market?

Creams are the frequently produced form of products. The creams segment is expected grow at a rate of 6% over the forecast period.

Which are some of the leading companies offering CMO/CDMO services?

The leading CMO/CDMOs include Lonza, Catalent, Swiss American CDMO, Pierre Fabre Group, Zymo Cosmetics, Fareva, Biofarma Srl C.F, Chemineau, C.O.C. Farmaceutici Srl and others.

What are the challenges associated with CMO/CDMOs market?

Risk associated with the loss of intellectual property poses threat to the market.

What is encouraging manufacturers to shift towards contract manufacturing?

Contract manufacturing offers several benefits over in-house manufacturing, starting from cost effectiveness to provide knowledge support. CMOs allow to save on costs significantly. By outsourcing product manufacturing, companies can save valuable in-house resources and cost incurred on labor.
CMO/CDMOs Market By
Service
Contract Development

Formulation development
Pilot studies

Contract Manufacturing

Bulk preparation & scale up
Safety Testing
Filling & Packaging

Close jars
Bottles
tubes
roll ons

Others
Product
Hair Products
Skin Products
Lip Products
Eye Products
Body hygiene
Oral hygiene
Form
Solid form & powder
Lotions
Creams
Others
Region
North America
Latin America
Europe
South Asia
East Asia
Oceania
Middle East & Africa
Need specific information?