Dicamba Market By Physical Form (Liquid, Dry), Time Application (Post-emergence, Pre-emergence), Crop Type (Cereal & grains, Oilseeds & pulses, Pastures & forage crops) & Region – Forecast 2016 - 2020
Dicamba Market - Analysis, Outlook, Growth, Trends, Forecasts
December 2016

REP-GB-2556

108 pages
Dicamba Market Overview
[108 pages Report] The global dicamba market is anticipated to exhibit robust growth over the next few years. During a four-year forecast period 2016-2020, the market is likely to expand at a CAGR of 15.4%, attaining a value of over US$ 457 Mn by 2020 end.
Dicamba is widely used as an herbicide that regulates broadleaf weed in various domestic, commercial, and non-commercial applications, including farmland maintenance. Widespread availability of dicamba and easy usage primarily support the market for decamba across developed regions. Increasing awareness about efficient crop protection will provide an impetus to the dicamba market in developing countries.
Swelling Awareness about Crop Protection Remains Primary to Drive Demand
The increasing need for food safety and security, coupled with growing awareness about crop protection will benefit the market for dicamba globally. With a burgeoning population across the world, the demand for food is constantly on the rise, and the need for minimal food wastage is repeatedly highlighted. As dicamba supports maximum crop yield with minimised crop loss, this will continue to be the key driver to dicamba herbicide market. In addition, attributed to higher tax rebates, exports from China are consistently increasing, which will continue to favour the Dicamba Market growth in the near future.
Growing Adoption to Replace or Complement Glyphosate Continues to Drive Dicamba Market
Dicamba herbicide is rapidly replacing glyphosate. In some regions, agricultural practices involve the usage of dicamba and glyphosate in combination. This will remain a major factor bolstering the demand for dicamba herbicide over the forecast period. Moreover, rapid adoption of IMP (integrated pest management) will spur the demand for dicamba-based herbicides during the forecast period.
EPA Approval for Non-volatile Dicamba Will Spur the Demand and Application
Recently, in November 2016, the U.S. Environmental Protection Act (EPA) approved over-the-top usage of Monsanto's non-volatile dicamba-based herbicide. This will certainly create a wide range of growth opportunities for established as well as newly entering players in the global dicamba market. Manufacturers can capitalise on an opportunity to formulate several types and forms of dicamba to deal with different types of crops and weeds. Emerging applications of dicamba in the destruction of multiple weed types to address the growth of a plethora of crops, will fuel the market over the forecast period.
Challenges May Persist despite EPA's Approval to Dicamba-based Herbicide
Volatility of dicamba has been found to be the key cause for drift damage, which may continue to be a key restraint to mass adoption of dicamba over the next few years. Stringent regulatory approvals will also remain a major factor hampering the growth of dicamba market over the forecast period. Moreover, dicamba can reportedly cause a variety of illnesses and allergic reactions in humans if injested, inhaled, or adsorbed. This may remain a major limiting factor detaining the penetration of dicamba herbicide in emerging economies.
Agriculture Remains the Largest Application Segment with over 85% Dicamba Market Share
Based on application, the global dicamba market is categorised into three key segments viz. agriculture, lawn and turf, and others, including forests, gardens and plants, and other non-commercial applications. Among the three, agriculture segment is anticipated to continue dominance in terms of consumption, reaching a value of over US$ 391 Mn in 2020. This growth is primarily attributed to growing preference for dicamba over conventional herbicides. Agriculture segment is predicted to account for over 85% by 2020, expanding at a CAGR of 8.1%. Whereas, lawn and turf segment will also witness a promising CAGR of 7.0% over 2016-2020.
North America Dicamba Market Outpaces Europe by 2020 due to Higher Market Penetration by Leading Herbicide Manufacturers
The global Dicamba Market for dicamba is regionally classified as North America, Latin America, Europe, Asia Pacific, and Middle East and Africa. Europe is anticipated to continue the leading market position globally, reaching the revenues worth US$ 120.6 Mn by the end of the forecast period. North America, owing to rising investments in dicamba R&D and rapidly advancing agricultural practices, will remain the second largest market. However, this region is expected to witness a the highest CAGR of 8.5%, accounting for over 23% market share by 2020 end, in terms of revenues. Europe's Y-o-Y growth in 2017 over 2016 is estimated at 7.7%, whereas that of North America in 2017 over 2016 is projected to be of 9.2%.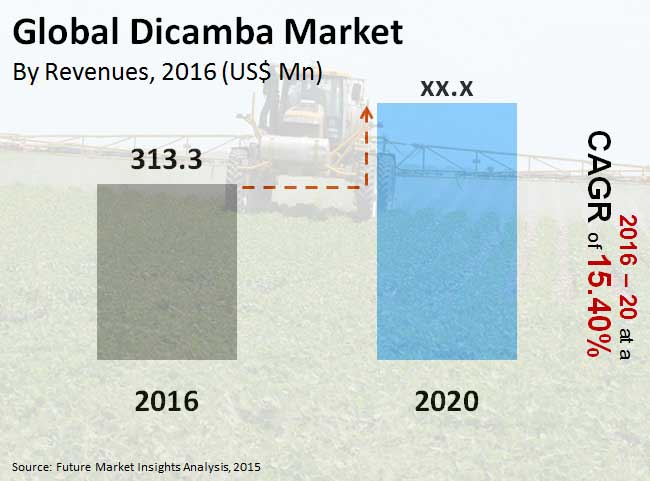 Two of the Market Leaders Sign the Dicamba Supply Agreement for North America
Some of the key players operating in the global dicamba market are BASF SE, Monsanto Co., E I du Pont de Nemours & Company, Bayer AG, The Dow Chemical Company, Syngenta AG, and Nufarm Limited. Two of the leading U.S.-based companies manufacturing agrochemicals and supplying seeds - Monsanto Co. and DuPont, recently announced a supply agreement that will continue for the next few years, especially for dicamba sales across the U.S. and Canada.
World's Most Profilic Intelligence Engine
Get Access To The World's Largest Market Research Database.
Sign Up Now
Dicamba Market by Category
By Physical Form:
By Time Application?:
Post-emergence
Pre-emergence
By Crop Type??:
Cereal & grains
Oilseeds & pulses
Pastures & forage crops
Region:
North America
Latin America
Western Europe
Eastern Europe
Asia Pacific excluding Japan (APEJ)
Middle East & Africa
Japan
Need specific information?
Our Clients