An Incisive, In-depth Analysis on the Dicamba Market
This study offers a comprehensive, 360 degree analysis on the Dicamba market, bringing to fore insights that can help stakeholders identify the opportunities as well as challenges. It tracks the global Dicamba market across key regions, and offers in-depth commentary and accurate quantitative insights. The study also includes incisive competitive landscape analysis, and provides key recommendations to market players on winning imperatives and successful strategies.
Dicamba is widely used as an herbicide that regulates broadleaf weed in various domestic, commercial, and non-commercial applications, including farmland maintenance. Widespread availability of dicamba and easy usage primarily support the market for decamba across developed regions. Increasing awareness about efficient crop protection will provide an impetus to the dicamba market in developing countries.
The global dicamba market is anticipated to exhibit robust growth over the next few years. During a four-year forecast period 2016-2020, the market is likely to expand at a CAGR of 15.4%, attaining a value of over US$ 457 Mn by 2020 end.
Swelling Awareness about Crop Protection Remains Primary to Drive Demand
Increasing need for food safety and security, coupled with growing awareness about crop protection will benefit the market for dicamba globally. With burgeoning population across the world, the demand for food is constantly on the rise and the need for minimal food wastage is repeatedly highlighted. As dicamba supports maximum crop yield with minimised crop loss, this will continue to be the key driver to dicamba herbicide market. In addition, attributed to higher tax rebates, exports from China are consistently increasing, which will continue to favour the market growth in near future.
Growing Adoption to Replace or Complement Glyphosate Continues to Drive Market
Dicamba herbicide is rapidly replacing glyphosate. In some regions, agricultural practices involve the usage of dicamba and glyphosate in combination. This will remain a major factor bolstering the demand for dicamba herbicide over the forecast period. Moreover, rapid adoption of IMP (integrated pest management) will spur the demand for dicamba-based herbicides during the forecast period.
EPA Approval for Non-volatile Dicamba Will Spur the Demand and Application
Recently, in November 2016, the U.S. Environmental Protection Act (EPA) approved over-the-top usage of Monsanto's non-volatile dicamba-based herbicide. This will certainly create a wide range of growth opportunities for established as well as newly entering players in the global dicamba market. Manufacturers can capitalise on an opportunity to formulate several types and forms of dicamba to deal with different types of crops and weeds. Emerging applications of dicamba in the destruction of multiple weed types to address the growth of a plethora of crops, will fuel the market over the forecast period.
Challenges May Persist despite EPA's Approval to Dicamba-based Herbicide
Volatility of dicamba has been found to be the key cause for drift damage, which may continue to be a key restraint to mass adoption of dicamba over the next few years. Stringent regulatory approvals will also remain a major factor hampering the growth of dicamba market over the forecast period. Moreover, dicamba can reportedly cause a variety of illnesses and allergic reactions in humans if injested, inhaled, or adsorbed. This may remain a major limiting factor detaining the penetration of dicamba herbicide in emerging economies.
Agriculture Remains the Largest Application Segment with over 85% Market Share
Based on application, the global dicamba market is categorised into three key segments viz. agriculture, lawn and turf, and others, including forests, gardens and plants, and other non-commercial applications. Among the three, agriculture segment is anticipated to continue dominance in terms of consumption, reaching a value of over US$ 391 Mn in 2020. This growth is primarily attributed to growing preference for dicamba over conventional herbicides. Agriculture segment is predicted to account for over 85% by 2020, expanding at a CAGR of 8.1%. Whereas, lawn and turf segment will also witness a promising CAGR of 7.0% over 2016-2020.
North America Outpaces Europe by 2020 due to Higher Market Penetration by Leading Herbicide Manufacturers
The global market for dicamba is regionally classified as North America, Latin America, Europe, Asia Pacific, and Middle East and Africa. Europe is anticipated to continue the leading market position globally, reaching the revenues worth US$ 120.6 Mn by the end of the forecast period. North America, owing to rising investments in dicamba R&D and rapidly advancing agricultural practices, will remain the second largest market. However, this region is expected to witness a the highest CAGR of 8.5%, accounting for over 23% market share by 2020 end, in terms of revenues. Europe's Y-o-Y growth in 2017 over 2016 is estimated at 7.7%, whereas that of North America in 2017 over 2016 is projected to be of 9.2%.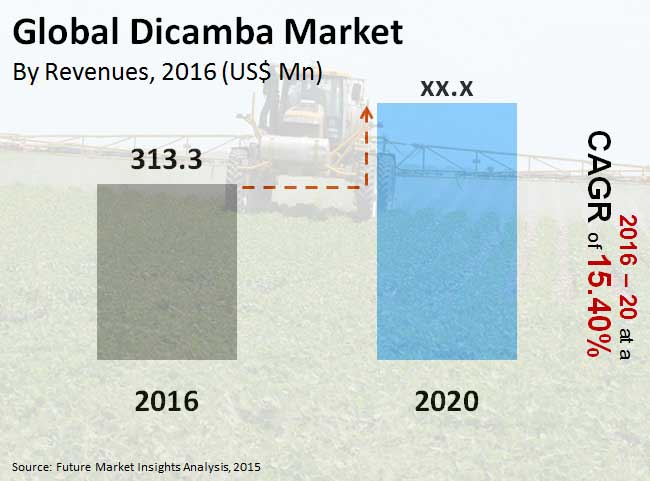 Two of the Market Leaders Sign the Dicamba Supply Agreement for North America
Some of the key players operating in the global dicamba market are BASF SE, Monsanto Co., E I du Pont de Nemours & Company, Bayer AG, The Dow Chemical Company, Syngenta AG, and Nufarm Limited. Two of the leading U.S.-based companies manufacturing agrochemicals and supplying seeds - Monsanto Co. and DuPont, recently announced a supply agreement that will continue for the next few years, especially for dicamba sales across the U.S. and Canada.
While weed can be harmful for the production of soybean, the use of herbicides to control the growth of weed may have even more negative impact on the yield or agricultural production. Thereby, a mounting number of soybean farmers are reducing the use of harmful herbicides such as glyphosate, due to increasing growth of glyphosate-tolerant weeds, and are shifting to newer herbicides such as dicamba. With the rising number of farmers adopting dicamba-tolerant seeds of soybean, the global market for dicamba is expected to witness incremental growth.
However, the weather has a negative impact on the use of dicamba in agricultural practices, and due to dicamba drift, its demand may decline in the coming years. Also, governing bodies across the world have imposed stringent regulations to curb the impact of dicamba drift on farms and yield, which only allows certified applicators to incorporate the herbicide. This may have a significant impact on growth of the dicamba market in the coming years.
Future Market Insights offers a four-year forecast for the global dicamba market between 2016 and 2020 in a newly published report, titled "Dicamba Market: Global Industry Analysis and Opportunity Assessment, 2016–2020". The primary objective of the report is to offer updates and in-depth analysis of market opportunities in the global market for dicamba. This report provides market dynamics and trends that are likely to influence the current nature and future status of the global market, directly or indirectly over the mentioned forecast period.
Report Description
Future Market Insights analyses the global dicamba market in terms of value and volume. The primary objective of the report is to offer updates on developments in the global dicamba market and conduct a quantitative as well as qualitative assessment of the market across various application-based segments and regional market segments. To understand and assess key market trends and attractive growth opportunities, the report is categorically split into different sections such as market introduction and overview, market analysis scenario, market dynamics, analysis and forecast by application, and by region. Each section discusses the qualitative and quantitative aspects of the global dicamba market. To offer a brief idea about revenue opportunities from various applications and geographies, the report also provides absolute $ opportunity and total incremental opportunity for each segment and region over the forecast period.
The report begins with market introduction and provides market definition followed by a market analysis scenario. This section offers an extensive pricing analysis, supply chain overview, and cost structure analysis. The market dynamics section provides analysis of the drivers, restraints, and key trends influencing the global dicamba market. For market data analysis, the report considers 2015 as the base year, with market numbers estimated for 2016 and a comprehensive forecast made for 2017–2020.
The final section of the global dicamba market report provides in-depth profiles of key industry players in order to evaluate their long-term and short-term business strategies and recent developments. This section of the report also includes market share analysis of tier-1, tier-2, and tier-3 manufacturers and a dashboard view of key companies operating in the global dicamba market. This section is primarily designed to provide clients with an objective and detailed comparative assessment of key providers specific to a market segment in the global dicamba market.
Research Methodology
We have leveraged extensive secondary research to ascertain overall market size and top industry players. To calculate market size, we have considered the average price of dicamba herbicide across geographies. The forecast assesses the total revenue as well as consumption of the global dicamba market. When developing the market forecast, we have started by sizing the current market, which forms the basis for forecasting how the market is anticipated to take shape in near future. Given the characteristics of the market, we have triangulated the outcome on the basis of supply and demand side analysis and dynamics of the various regional markets. The report also takes into consideration year-on-year (Y-o-Y) growth to understand the predictability of the market and to identify the right opportunities across the global dicamba market.
Further, the different market segments have been analysed in terms of Basis Point Share (BPS) to understand individual segments' relative contribution to market growth. This detailed level of information is important for the identification of various key trends governing the global dicamba market. Another key feature of our report is the analysis of the global dicamba market revenue forecast in terms of absolute dollar opportunity, critical in assessing the level of opportunity that a provider can look to achieve, as well as to identify potential resources from a sales perspective in the global dicamba market. Further, to understand key segments in terms of growth and performance in the global dicamba market, FMI has developed a market attractiveness index to help providers identify existing market opportunities across the global dicamba market.
COVID -19 : Impact Analysis
Request the coronavirus impact analysis across industries and markets
Request Covid -19 Impact
CASE STUDIES
See how our work makes an impact.
At FMI, we design strategies that are adaptive, impactful, and implementable.