Sintered Dolomite Accounts for Higher Revenue Share
Sintered dolomite finds utilization in the iron & steel industry for manufacturing refractory raw materials such as bricks and LD converter lining. The mineral would generate around 70% total return to stakeholders throughout the foreseeable timeframe. On the other hand, calcined dolomite is utilized as a fluxing material in iron production for manufacturing fluxed sinters. This FMI study reveals that, value creation of sintered dolomite will be over thrice that of its calcined counterpart by 2029.
Opportunities Emanate from East Asia
Capturing over one-third of total market value, market players continue to allocate their resources to East Asia. While an upsurge in steel production in countries such as China, Japan, and India is measurably contributing to the regional market value, swelling construction and infrastructure projects is further offering conducive ground for manufacturers. In similar fashion, market players are also targeting North America and Europe for meaningful business opportunities. Furthermore, both these developed regions will share almost identical divide in the global dolomite market.
Water and Wastewater Treatment Plants to Expand Profit Windfall
Growing environmental concerns and stringent government regulations mandating the recycling of water, especially in the industrial sector, are increasing the deployment of various water and wastewater treatment equipment across the globe.
Dolomite is an integral component in the filtration and processing of potable water, in order to optimize the pH of the distilled water after reverse osmosis (RO). In addition, it offers natural minerals, including magnesium, calcium, and carbonate, to the purified or RO water (remineralisation). Market players must capture this value-creation prospect to maintain competitiveness in the global scenario.
How Growth will Unfold
The mining & metallurgy sector would materially shape the global dolomite market, wherein, dolomite is used in the smelting of iron and steel. Procuring over 80% share of overall market stack, manufacturers cite this end-use sector as the immediate adopter of dolomite mineral.
Going forward, dolomite will be increasingly used in the cement industry for manufacturing cement and asphalt aggregates. While market players are exploring potential opportunities in other industries - glass & ceramics, and agrochemicals - the mining & metallurgy industry would continue to attract huge capital investments.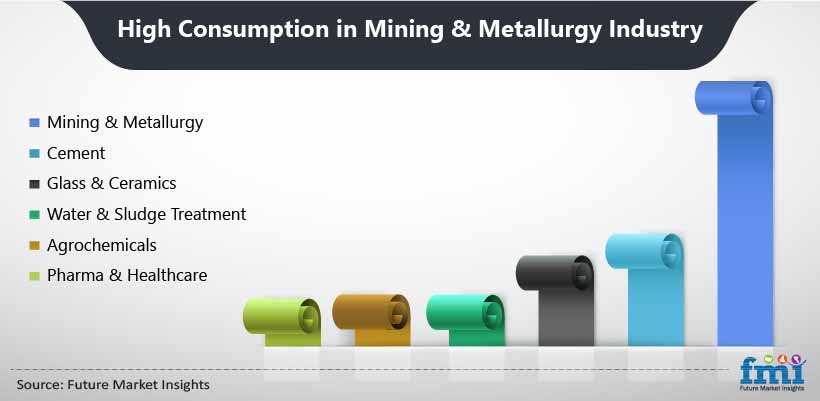 FREQUENTLY ASKED QUESTIONS ABOUT DOLOMITE MARKET
Which region is expected to lead the global dolomite market?
East Asia remains in the vanguard of the dolomite mining market, whereas, Germany and India have been identified as emerging countries in the global dolomite market. Manufacturers in Germany are continuously working to achieve self-sufficiency of dolomite to reduce imports from overseas markets.
What are the market dynamics that will affect the global dolomite market?
Dolomite has numerous application in the steel & iron industry, for fluxing material, refractory lining protection, and refractory raw material. This factor is responsible for driving the global market of dolomite over forecast period. However, the increasing prominence of alternatives such as olivine can be a barrier to the growth of global dolomite market space.
Which end use holds potential growth opportunities for dolomite market player?
The mining & metallurgy segment is projected to hold a major share in the global dolomite market. Other than this, the dolomite market is gaining popularity in construction & infrastructure activities for road base material and as an aggregate in concrete and asphalt railroad ballast, rip-rap, or fill. Dolomite is also used for making building stones and chips & powder used in flooring tiles.
How will the dolomite market fare in the future?
Demand for the production of construction materials as well as from the steel industry in coking applications will drive the global dolomite market over the forecast period.
What is the degree of competition in the dolomite market?
The global dolomite market is understood to be primarily consolidated in nature, with a limited number of regional and local players operating in the landscape. Key players such as Imerys, Sibelco, RHI Magnesita, and Essel Mining are estimated to account for a prominent share in the global dolomite market.
DOLOMITE MARKET TAXONOMY
The global dolomite market is segmented in detail to cover every aspect of the market and present a complete market intelligence approach to the reader.
Material
Calcined
Agglomerated
Sintered
End Use
Cement
Agrochemicals
Mining Metallurgy
Pharma & Healthcare
Glass & Ceramics
Water & Sludge Treatment
Animal Feed
Region
North America
Latin America
Europe
East Asia
South Asia
Oceania
Middle East & Africa
Need specific information?