Dredging Market By Application (Trade Activity, Trade Maintenance, Energy Infrastructure, Urban Development, Coastal Protection), Customer (Government, O&G Companies, Mining Companies) & Region – Forecast 2020-2030
Dredging Market - Analysis, Outlook, Growth, Trends, Forecasts
November 2020

REP-GB-4821

192 pages
Dredging Market Overview
The global dredging market is expected to grow modestly, expanding at approximately 4% through 2030, attributed to stagnation induced by the COVID-19 pandemic.
This sluggishness is a result of volatility in the oil & gas industry, owing to plummeting exploration projects. Consequently, the need for port maintenance and dredging projects has dwindled, leading to a downturn across the near-term forecast.
On the other hand, efforts to sustain international maritime trade are creating pockets of growth.
Expansion of Global Tourism Sector - Dredging Market
Dredging projects have experienced an uptick due to the growing focus on boosting the tourism sector. For instance, Maldives is strengthening its tourism sector through its ambitious iHavan project. This is likely to enhance the scope of reclamation projects, providing traction to the dredging industry.
According to Ministry of Tourism, Government of India, in 2019, foreign tourist inflow increased by 3.5%, while domestic tourism surged by a quarter, prompting it to undertake dredging projects. In February 2020, the Kerala tourism department announced the Akkulam lake rejuvenation project worth US$ 8.5 million.
As per the 2019 European Union Tourism Trends Report, 538 million tourists arrived in Europe in 2018, with the EU registering maximum inflow (82.2%). Consequently, the number of dredging projects throughout Europe has witnessed a substantial increase in recent years.
Credible opportunities also exist across Latin America, with Mexico at the forefront. Inbound tourist inflow increased by nearly 1% in August 2020 from July 2020, attributed to a flattening COVID-19 infection curve. Therefore, dredging projects are witnessing an upsurge. In February 2020, the Mexican navy deployed two new dredgers for land reclamation.
However, cessation of cross-border travel due to COVID-19 is impacting the tourism industry, with the UN World Tourism Organization estimating an over 20% decline during Q1 2020. This is bound to impact dredging operations in the short run.
Increasing Urbanization Projects
As the global population expands, urbanization is rising rapidly. This is exerting pressure on existing land and water resources, with several sources becoming extremely polluted, thus requiring dredging projects. Compared to 2000, urbanization rates have immensely proliferated in recent times across North America (3.4%), the European Union (3.9%), and the Asia-Pacific (46%).
Compared to the beginning of the 21st century, the United States comprises 9 out of 10 urban areas today. As a result, major land reclamation projects to facilitate housing projects have increased the need for dredging projects across North America.
As of 2019, nearly 3 out of 5 people in China reside in urban areas, registering a twofold increase since 2017. By 2020-end, the government aims to integrate 100 million migrant workers into urban life, necessitating a revamp of existing urban infrastructure. However, COVID-19 has caused a temporary cessation of expansion projects.
Since 2018, a massive environmental dredging project is under progress in the Chinese city of Xi'an. Municipal authorities undertook this project to address pollution caused by sewage discharge from an upstream sewage treatment plant into the Chanhe River.
Likewise, in 2016, Vitens Evides International assisted the government of Dhaka, Bangladesh, by implementing an urban dredging project to address flooding problems affecting millions of inhabitants and businesses across the city annually.
Accelerating Seaborne Trade
According to UNCTAD's Review of Maritime Transport, 2018, seaborne trade surged by 4% in 2017. This trade volume rose to an all-time high of 11 billion tonnes in 2018. Developing economies accounted for the largest share of seaborne trade, both in terms of imports as well as exports.
In spite of prevalence of protectionist policies by several countries, the volume of global maritime trade is anticipated to burgeon in the future. Notwithstanding the COVID-19 pandemic's recessionary impact, the global seaborne trade shall remain positive. This is expected to widen the scope for dredging projects in the future.
Innovations Pave Way for Future Growth
Like other industries, the dredging market is also witnessing an uptick in smart technology solutions deployment to enhance operational efficiency. A case in point is that of IMOTEC's Intelligent Dredging Assistant (IDA).
This automated dredging monitoring system is derived from a state-of-the-art software, providing such functionalities as acquisition of signals from sensors such as pressures, digital signals and suction tube angles, processing these signals and process visualization. The technology has been developed in conjunction with the Twente University.
In June 2019, Semiotic Labs and IHC Merwede announced the development of smart solutions pertaining to the dredging industry. The collaboration is aimed at leveraging Semiotic Labs' SAM4 condition monitoring solution to monitor performance and energy consumption of rotating assets and electric motors used in the dredging process.
Ecological Concerns to Hinder Expansion
Various environmental organizations and activists have raised concerns regarding the potential damage inflicted on natural ecosystems due to dredging. The case of Abbot Point's plan to dump dredge spoil on land is a poignant one with respect to this.
Findings have advocated that out of the nearly 6.4 million cubic meters of spoil dumped since the past decade, more than 8 out of 10 spoils have been dumped close to the World Heritage Area around the Great Barrier Reef.
Since the last half-a-decade, reports of death and smothering of corals in Miami, USA, has attracted attention of numerous environmental protection agencies and NGOs who have called for a cessation of dredging practices. Such pressure movements are likely to hinder growth prospects in the long-run.
Dredging Market Region-wise Insights
North America Dredging Market
The North American dredging market is forecast to reach US$ 1.6 Bn by 2030. Upcoming dredging projects in various U.S cities is expected to propel the market in a positive direction.
In October 2020, Ocean Floor Geophysics Inc. (OFG) collaborated with Electromagnetic Geoservices ASA (EMGS) to promote use of controlled source electromagnetic (CSEM) technology for numerous dredging and extraction operations.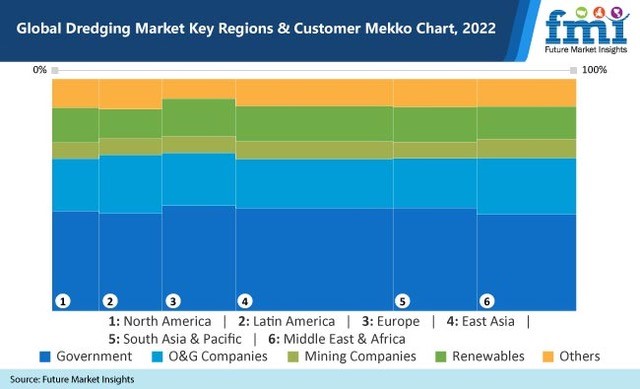 In February 2020, the U.S Army Corps tabled the 2020 Work Plan, part and parcel of the U.S. Federal Budget. Over US$ 85 million was allocated to initiate construction of deepening the Mississippi River Ship Channel near Louisiana to 50 feet.
While the COVID-19 pandemic has temporarily ceased operations, construction activities are expected to resume in the latter half of 2020, restoring predicted growth trajectory. By 2021, the North America dredging market is likely to increase to US$ 1.4 Bn.
Request a sample specific to the North American market.
Europe Dredging Market
Recessionary downturns ushered in by COVID-19 due to suspension of construction and dredging projects is likely to peg growth at a modest trajectory.
In the past, numerous dredging projects have been undertaken across key European countries. Germany, UK, Netherlands, Belgium and Denmark are the most opportunistic markets. The Dutch-German Exchange (DGE) platform is a landmark development in this regard, implemented in the beginning of the 21st century.
In October 2016, the United Kingdom initiated the Portsmouth Naval Base dredging project spanning 3 million m3 to enable the Queen Elizabeth Class aircraft carriers to operate from this port. Such projects are attraction numerous dredging operators.
Request a sample specific to the European market.
East Asia Dredging Market
Majority of the growth in East Asia is contributed by China, owing to its Belt & Road Initiative (BRI). Various Chinese dredging companies have found firm footing in overseas markets, leading to a compounded growth exceeding 3% until 2019.
Presently, Chinese growth prospects are suffering due to it being the epicentre of the global pandemic crisis. Resultantly, port maintenance has taken a backseat. Fortunately, the elimination of port construction fees and a 20% reduction in port facility fees has helped the market survive.
Request a sample specific to the East Asian Market
South Asia & Oceania Dredging Market Insights
The South Asia & Oceania dredging market presently accounts for over 17% of the global revenue, expected to increase in the forthcoming years.
However, near-term growth prospects appear slow in the wake of stringent lockdowns imposed by governments to curb the pandemic.
Rising number of dredging projects to curb flooding is pivoting growth across countries such as India, Bangladesh and Sri Lanka. In 2017, the government of Assam in North-eastern India pledged Rs. 40,000 crores (US$ 5.3 billion) to address excessive silt deposition in the Brahmaputra river which causes incessant flooding.
Also, increasing capital and maintenance dredging activities at Indian ports are likely to accelerate future growth prospects. Until 2017, 126.8 million cubic meters of capital dredging was undertaken across key ports such as the Jawaharlal Nehru Port Trust (JNPT) and Kamarajar Port at a cost of Rs. 34.2 billion.
Request a sample specific to the South Asia & Oceania Market
Middle East & Africa Dredging Market
The Middle East & Africa dredging market is likely to soar on the back of increasing water body expansion projects for multiple infrastructure development purposes.
In September 2020, the National Marine Dredging Company (NMDC) secured a US$ 163.36 million contract for expanding Lake Manzala in north-eastern Egypt. The project is expected to last until 2022, with the objective of regulating freshwater inflow and increasing Biochemical Oxygen Demand (BOD).
Until last year, the MEA dredging market was valued at US$ 2.7 Bn, registering a substantial decline in 2020 due to the pandemic crisis. Falling crude production has been a major reason for this decline.
Following a short-term contraction, the market is expected to rebound sharply by 2021, while global oil demand is expected to remain sluggish in the long-run due to increased reliance on alternative fuel sources. This is likely to confine the dredging market outlook to moderate figures.
Request a sample specific to the MEA Market
Category-wise Insights
Trade Maintenance Retains Lucrativeness
Trade maintenance dredging applications are likely to remain lucrative across the forecast period, generating over 30% of global revenue. Until 2021, growth is expected to remain sluggish due to the recessionary impact of COVID-19.
Energy infrastructure is touted to be the fastest expanding application segment, registering a value CAGR worth 5.1%. Massive construction projects, such as the second APM container terminal at Abidjan, Ivory Coast, shall steer growth. The project is worth € 400 million.
Government Entities Key Customers
Government bodies are likely to remain potential dredging equipment customers, with over 2 out of 5 purchases undertaken by state-sponsored dredging ventures. This is in response to accelerating government-funded hydrocarbon exploration, river cleaning and other projects.
Uptake is anticipated to be high across the oil & gas companies as well, owing to continued investments in oil exploration projects across the world. Some major projects include the Alaska LNG Liquefaction Project (US$ 43 billion) and the Rovuma LNG Project (US$ 33 billion).
COVID-19 ushers in Sluggishness in the Short-Run
The COVID-19 pandemic has resulted in an unprecedented recession which is expected to influence the dredging market size to a large extent. Massive production crunches across the oil & gas and tourism sectors are adversely impacting the dredging market.
As the pandemic spread, the grounding of airplanes and automobiles led to a massive downswing in the transportation sector. This resulted in an abrupt demand shock across the oil and gas industry, compelling oil producing giants to cease production, leading to a glut in product inventories.
Fortunately, recent months have witnessed a shoring up of oil prices. Still, OPEC+ countries have curbed supply, with cuts amounting to 7.7 million barrels per day prevailing until December 2020. Such downswings are impacting dredging projects throughout the entire world.
The present-day slump in oil prices is akin to the 2008 financial crisis. Possible recovery is anticipated in 2021 or 2022, restoring prices to pre-crisis levels of US$ 50-60 per oil barrels. This projected favourable outlook is likely to restore prospects for the global dredging market, as companies are expected to resume exploration projects.
Global Dredging Market Structure Analysis
FMI's dredging market analysis has incorporated the following market players within its ambit*:
China Communications Construction Company Limited
Jan De Nul Group
Royal Boskalis Westminster N.V
Dredging, Environmental and Marine Engineering NV (DEME)
Van Oord
Great Lakes Dredge & Dock Corporation
Royal IHC
National Marine Dredging Company
Penta-Ocean Construction Co., Ltd.
TOA Corporation
Hyundai Engineering & Construction Co. Ltd.
Vosta LMG
J.F. Brennan
*This list is indicative- full details about global dredging market players is available upon request.
Presence of multiple vendors renders the landscape highly competitive, prompting them to forge strategic alliances, undertake joint ventures and enter into acquisitions. In addition, technological enhancements in dredging technology and equipment are imperative to ensure a firm footing in the market.
In 2019, Jan De Nul Group initiated maintenance dredging works in Nieuwpoort, Belgium. This project was part and parcel of the company's commitment to reduce CO2 emissions by 15%. To achieve this, it incorporated renewable biofuel from sustainable waste flows.
In October 2020, Royal Boskalis Westminster N.V secured multiple dredging contracts across Germany worth € 45 million from a host of regional maritime transport vendors. These contracts aim to provide flood protection, construction of a shipping fairway and port maintenance across numerous locations.
Companies are also penetrating lucrative market by establishing regional offices and manufacturing units. Recently, Great Lakes Dredge & Dock Co. announced the transfer of its corporate headquarters to Houston from Oak Brook. This relocation will help it inch closer towards its regional clients in the Gulf Coast along the Mississippi River.
Global Dredging Market- Report Scope
| | |
| --- | --- |
| Attribute | Details |
| Forecast Period | 2020-2030 |
| Historical Data Available for | 2015-2019 |
| Market Analysis | US$ Mn for Value |
| Key Regions Covered | North America, Latin America, Europe, South Asia & Oceania, East Asia and Middle East & Africa |
| Key Countries Covered | U.S., Canada, Brazil, Mexico, Argentina, Germany, Italy, France, U.K., Spain, India, Thailand, Malaysia, Singapore, Australia & New Zealand, China, Japan, South Korea, GCC, South Africa, Nigeria and Israel |
| Key Segments Covered | Application & Customer |
| Key Companies Profiled | China Communications Construction Company Limited, Jan De Nul Group, Royal Boskalis Westminster N.V, Dredging, Environmental and Marine Engineering NV (DEME), Van Oord, Great Lakes Dredge & Dock Corporation, Royal IHC, National Marine Dredging Company, Penta-Ocean Construction Co., Ltd., TOA Corporation, Hyundai Engineering & Construction Co. Ltd., Vosta LMG and J.F. Brennan |
| Report Coverage | Market Introduction, Ports Sector Outlook, Market Background, Demand Analysis, Segmental Overview, Regional Profiling, Market Structure Analysis & Competition Analysis |
| Customization & Pricing | |
Enquiry before Buying
Is the dredging market research conducted by Future Market Insights?

Yes, the dredging market report has been compiled by expert analysts of Future Market Insights through a combination of primary and secondary research. To know more about how the research was conducted, you can speak to the research analyst

What research methodology is followed by FMI?

FMI follows a methodology that encompasses the demand side assessment of the market, and triangulates the same through a supply side analysis. This methodology is based on use of standard market structure, methods and definitions.

Who are the respondents for primary research?

FMI speaks to stakeholders across the spectrum, including C-level executives, distributors, product manufacturers, industry experts. For a full list of primary respondents, please reach out to us.

What are the sources of secondary research?

FMI conducts extensive secondary research through proprietary databases, paid databases, and information available in the public domain. We refer to industry associations, company press releases, annual reports, investor presentations, and research papers. More information about desk research is available upon request.

Is a sample of this report available for evaluation?

Yes, you can request a sample and it will be sent to you through an email.

How can I buy this report?

FMI provides a secure online payment system to buy report seamlessly. You can buy the report securely and safely.
World's Most Profilic Intelligence Engine
Get Access To The World's Largest Market Research Database.
Sign Up Now
Key Segments
Application
Trade Activity
Trade Maintenance
Energy Infrastructure
Urban Development
Coastal Protection
Leisure
Customer
Government
O&G Companies
Mining Companies
Renewables
Others
Region
North America (U.S & Canada)
Latin America (Brazil, Mexico, Argentina & Rest of Latin America)
Europe (Germany, Italy, France, U.K., Spain, BENELUX & Rest of Europe)
East Asia (China, Japan & South Korea)
South Asia & Oceania (India, Thailand, Malaysia, Singapore, Australia & New Zealand and Rest of South Asia & Pacific)
Middle East & Africa (GCC, South Africa, Nigeria, Israel & Rest of MEA)
Key Questions Answered in the Report
What is the growth outlook for the global dredging market?
The global dredging market is likely to expand moderately at a CAGR of nearly 4% for the 2020-2030 forecast period. Growth is underpinned by increasing global trade and urbanization projects
Who are the leading consumers of the dredging market?
Governments are expected to remain the key customers of dredging projects, attributed to an increasing emphasis on maritime trade, oil & gas exploration projects and river cleaning & land reclamation projects to accommodate the exploding global population
What drivers determine the global dredging market demand-supply analysis?
Increasing incidence of tourism, rapid urbanization thus increasing the need to purify water bodies, and surging seaborne international trade are all responsible for shaping the dredging market's demand-supply equation in the long run
Which are the prominent dredging market players?
Prominent players in the global dredging market landscape include China Communications Construction Company Limited, Jan De Nul Group, Royal Boskalis Westminster N.V, Dredging, Environmental and Marine Engineering NV (DEME), Van Oord, Great Lakes Dredge & Dock Corporation, Royal IHC, National Marine Dredging Company, Penta-Ocean Construction Co., Ltd., TOA Corporation, Hyundai Engineering & Construction Co. Ltd., Vosta LMG and J.F. Brennan
Need specific information?
Our Clients