Expanding Port Infrastructure
Expansion of ports to facilitate larger ships, along with increasing demand for new storage facilities, is expected to drive growth of the global dredging market. Shipping companies are investing in larger cranes, building new locks, and deepening shipping channels due to the introduction of large shipping containers carriers having capacity of 18,000 TEUs.
More often, trade across the globe is carried out via sea routes. Therefore, well-functioning naval transport is a major element in the overall development of countries participating in global trade. Port operations require heavy manpower and equipment investments.
This is resulting in the adoption of Public Private Partnership (PPP) in several countries, in which, processes and administration responsibilities are delegated to private companies, while some land and assets remain with the government. This trend is more often witnessed in developing countries and some developed nations, owing to high initial investment associated with the development of terminals. This, in turn, is estimated to drive the growth of the dredging market across the globe during the forecast period.
Insistent Development Driving Governments to Invest in Land Reclamation
Infrastructure development in the past 20 years has led to the growth and transformation of many cities as centers of innovation. Though, it has numerous benefits, the transformation has also posed significant challenges to governments with respect to planning and accommodation. According to UN Habitat's 2016 report, nearly 54% of world's population resides in urban areas. As per anticipations, urbanization is expected to witness continuous growth, with more number of citizens shifting to urban areas. Governments are focusing on constructing public housing, posing a significant challenge owing to shortage of land.
Owing to these factors, land reclamation is gaining traction among city planners. Singapore, Philippines, Hong Kong, and Middle East countries are among the prominent regions witnessing growth in land reclamation. This is subsequently contributing to the growth of the dredging market during the forecast period.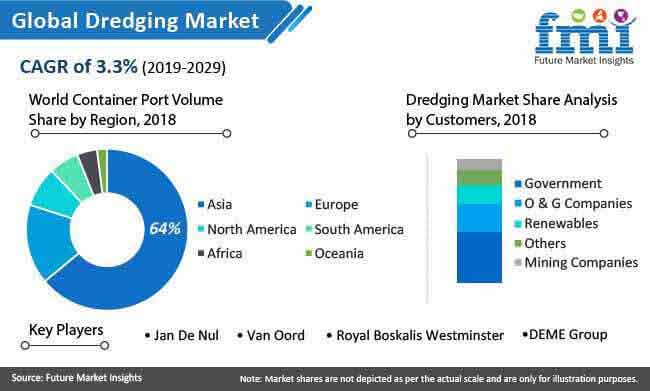 Dredging Market Structure Analysis
Matured markets are ruled by global players operating in the dredging market and entry of new entrants is very difficult. Investment feasibility is high in the short run since the risks are less because of the growing demand for automation. However, investment feasibility in the long run is risky because there is not much space left for innovation and new construction in comparison to the emerging markets.
Royal Boskalis Westminster, China Harbour Engineering Company, Van Oord, Deme Group, and Jan De Nul are identified as some of the key participants in the global dredging market.
Dredging Market: Taxonomy
The global dredging market is segmented in detail to cover every aspect of the market and present complete market intelligence to the reader.
Application
Trade Activity
Trade Maintenance
Energy Infrastructure
Urban Development
Coastal Protection
Leisure
Customer Type
Government
O&G Companies
Mining Companies
Renewables
Others
Region
North America
Latin America
Europe
East Asia
South Asia & Oceania
Middle East & Africa
Need specific information?