An Incisive, In-depth Analysis on the Ediscovery Market
This study offers a comprehensive, 360 degree analysis on the Ediscovery market, bringing to fore insights that can help stakeholders identify the opportunities as well as challenges. It tracks the global Ediscovery market across key regions, and offers in-depth commentary and accurate quantitative insights. The study also includes incisive competitive landscape analysis, and provides key recommendations to market players on winning imperatives and successful strategies.
COVID -19 : Impact Analysis
Request the coronavirus impact analysis across industries and markets
Request Covid -19 Impact
Increasing dependence on digital information management for efficiencies and accuracy has led towards adoption of solutions such as eDiscovery especially among legal firms and enterprises.
Computer forensics, also known as cyber forensics, is a specific form of eDiscovery. Cyber forensics is carried out on contents stored in the hard drive of a particular computer system for the purpose of investigation. This enables investigators to make a digital copy of contents that can be produced in a law suit in response to a request. The global eDiscovery market is forecast to grow from US$ 7,230.6 Mn in 2015 to US$ 21,089.1Mn by 2022, at a CAGR of 16.5% from 2015 to 2022. eDiscovery solutions find widespread applications in government and regulatory agencies, small, mid and large-sized enterprises, and law firms.
Government and regulatory agencies, enterprises (small, mid and large), and law firms are the end-users of eDiscovery solutions. Among these end user segments, government and regulatory agencies was the largest segment in 2015 which accounted for around 51% revenue share of global eDiscovery market. Use of eDiscovery solutions by government agencies is increasing due to rise in the number of civil cases. Moreover, these solutions enable government agencies to achieve significant cost savings. Major players in the global eDiscovery services market are emphasizing on the development of solutions and services to address the end to end eDiscovery needs of government agencies and organizations. Further, players are focusing on developing their capabilities to sell directly to government and law agencies. In North America, growing volume of ESI in organizations and increasing volume of government investigations due to rise in criminal cases has resulted in increased utilization of eDiscovery solutions in the region. In 2015, the government and regulatory agencies segment was the largest end-user in the North American eDiscovery market. In the U.S. and Canada, agencies such as CIA and FTC are using eDiscovery software and services for the purpose of investigation. However, the enterprise segment is likely to dominate the market by 2022, due to increasing adoption of eDiscovery solutions in organizations to meet increasing compliance requirements imposed by Federal Government agencies.
Enterprises was the second largest segment with around 40% share in 2015. Different enterprises including small, medium and large-sized enterprises use eDiscovery software and services to maintain eDiscovery documents with data mapping. In addition, organizations use eDiscovery solutions to mitigate risks associated with legal actions. Increase in adoption of eDiscovery solutions in organizations has been seen in recent years due to increasing electronically stored information (ESI) volume every year. Furthermore, regulations imposed by governments to preserve ESI in organizations for discovery of digital data are expected to drive growth of this market in the enterprise segment. Growing use of social media is creating huge amount of metadata (hidden data), which contains creation date, modification date, and name of author. This type of data is only discovered through eDiscovery solutions. In addition, increasing use of mobile devices for organizational operations is creating need of mobile eDiscovery, which will further drive the growth of the eDiscovery market over the forecast period. Enterprise segment is expected to exhibit fastest growth owing to the rising adoption of eDiscovery solutions across all sizes of organizations in countries such as the U.S., UK, South Africa, Brazil, China and South Korea. These organizations are implementing eDiscovery solutions to ensure efficient internal investigation related to corporate and human resource policies.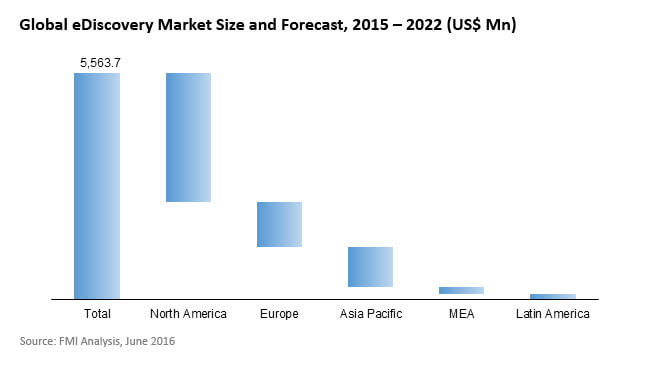 Report Description
The global market for eDiscovery continues to grow owing to the increase in volume of ESI (electronically stored information) in organizations. eDiscovery is the process of identifying, collecting, processing, and preserving ESI. eDiscovery process can be carried out on-premise and off-premise. This enables data in the form of text, emails, images, databases, animations, audio files, websites, spreadsheets and computer programs to be presented as evidence in criminal cases. eDiscovery solutions are being increasingly used by government and regulatory agencies, and by all size of enterprises to enhance internal investigation process. In addition, growing use of social media portals such as LinkedIn, Instagram, and Facebook in organizations for marketing purpose is increasing the demand for eDiscovery solutions that can run on these portals for eDiscovery process. Furthermore, increasing use of smartphones and tablets in all types of organizations is expected to give rise to mobile eDiscovery.
This report analyzes the eDiscovery market on a global basis, with further breakdown into various sub-segments. It provides thorough analysis and forecast of the global eDiscovery market, based on its components, end-users, and geography for the period from 2015 to 2022. The market overview section of the report demonstrates the market dynamics and trends that influence the current nature and future status of this field. Impact factors such as Porter's five forces and value chain analysis have also been explained in the market overview section of the report in order to give a thorough analysis of the overall competitive scenario in the global eDiscovery market.
The study emphasizes advancement in eDiscovery solutions as it has immense influence on the decision making process in almost all socioeconomic and business aspects. Furthermore, the report provides a detailed analysis of the global eDiscovery market along with the market forecast in terms of revenue growth (US$ Mn) for all segments from 2015 to 2022.
The global eDiscovery market is categorized on the basis of components and end-users. The component segment includes eDiscovery software and eDiscovery services. eDiscovery software market is further segmented on the basis of type (deployment type) into two broad categories, namely, on-premise and off-premise software. End-user segment can be classified into three major categories namely, government and regulatory agencies, enterprises (small, mid and large-sized), and law firm. A detailed market analysis and forecast for these segments has been provided in this study, in terms of market revenue for the period 2012 to 2022. The market revenue has been forecasted for the period 2015 to 2022, considering 2014 as the base year.
In terms of geographical distribution, the global eDiscovery market has been classified into five regions, namely, North America, Europe, Asia-Pacific, Middle East and Africa, and Latin America. This section includes market revenue (2012 – 2022) and forecast (2015 – 2022) for the components and end-user markets in each region, in terms of US$ Mn.
Apart from the detailed sub-segment analysis, this report also provides company profiles of the key market players. The competitive profiling of these players includes company and financial overview, business strategies adopted by them, and their recent developments which can help in assessing competition in the market. Some of the major companies included in this report are HP Autonomy, IBM Corporation, Daegis Inc., EMC Corporation, Symantec Corporation, Guidance Software Inc., Xerox Corporation, Epiq Systems Inc., FTI Consulting Inc., Navigant Consulting Inc., Integreon Managed Solutions Inc., and Catalyst Repository Systems Inc. among others.
Global eDiscovery Market Segmentation:
eDiscovery Market, by Component:
Software

On-premise software
Off-premise software

Services
eDiscovery Market, by End-users:
Government and Regulatory Agencies
Enterprises (Small, Mid and Large-Sized)
Law Firms
eDiscovery Market, by Region:
North America
Europe
Asia Pacific
Middle East and Africa
Latin America
Harish Tiwari
Global Head - Business Development
Akshay Godge
Client Partner - Global Business Development
CASE STUDIES
See how our work makes an impact.
At FMI, we design strategies that are adaptive, impactful, and implementable.