e-Discovery Market Outlook & Key Findings
Global e-Discovery market expected to surge at a CAGR of 9% between 2020 and 2030
Volume of electronically stored information (ESI) to surge by 50% annually as 90% organization opt for cloud storage, generating demand for e-Discovery solutions
Adoption of e-Discovery solutions by the government & regulatory agencies, SMEs and large-sized enterprises, and law firms for effective management to generate 13% higher demand
With more than 5 billion IoT devices worldwide and rising Bring-Your-Own-Device (BYOD) trend among the enterprises, adoption of e-Discovery solutions is expected to showcase an impressive rise
Discoverable Metadata, Otherwise Invisible to Naked Eye, Fuels e-Discovery Adoption
The growing volume of communication over e-mails has led to a rise in the volume of documents in electronic format, resulting in ESI. Governments across the globe mandate that every organization must preserve business records for e-Discovery purposes to keep a clean track every transaction.
Incorporation of machine learning and artificial intelligence algorithms eventually makes it easy to review fat volumes of documents pertaining to specific cases. Furthermore, employment of e-Discovery solutions to identify patterns in the long run will fasten understandings in cases for end users. Keeping the documents tamper-proof has also been identified as a huge potential for driving the market.
Additional benefit of e-Discovery solutions such as ability to see the metadata or hidden data, which includes information about document author and changes made in documents, is also winning it tremendous attention.
Governments of various countries such as the U.S., Canada, and the U.K. have introduced rules and regulations to make metadata of ESI discoverable with the help of e-Discovery solutions.
For example, the U.S. Supreme Court approved amendments to the Federal Rules of Civil Procedure (FRCP) to address electronic discovery of ESI, which was amended on 2015. The e-Discovery solution is capable of exhibiting metadata and also helps in pulling out records and information from the huge volume of ESI. This has encouraged large enterprises to bring e-Discovery in-house, leading to its soaring demand.
Increasing Volume of ESI Creates Excellent Growth Opportunities for e-Discovery Solutions
With the rise in adoption of digital technologies and devices, whether a small startup, midsized enterprise, or a large conglomerate, data stored in electronic format or electronically stored information (ESI) is surging rapidly. From data storage, emails, and corporate computing systems, to social networking and cloud computing resources, organizations rely on ESI to record, drive, and conduct business transactions.
Study indicates that ESI volume is growing by approximately 80% per year in large organizations due to increasing use of social media and repositories such as smart-phones and tablets. Today, as social media stands to play a vital role in gathering of legal evidence, which makes a pressing case for employing e-Discovery solutions in legal firms to operate at optimal efficiency. This has increased the need for e-Discovery software and services to manage and control huge volumes of data effectively for litigation purposes.
Industry research highlights that 2.5 quintillion bytes of data is created every day by people, and around 293 billion emails were generated by users daily in 2019 alone. Thus, growing complications in litigation and rising volume of stored data continues on daily basis will drive the e-Discovery market at a breakneck speed during the forecast period.
Small & Medium Enterprises to Invest in Cloud-based e-Discovery Solutions for Flexibility
The adoption of cloud-based e-Discovery solutions has been in upswing due to its remarkable cost-effectiveness with smooth management, scalability, and real-time maintenance. Thus, businesses of all sizes are expected to opt for this solution to ensure business continuity and availability that comes with security, compliance, and portability features.
The cloud-based solutions segment is set to increase around 4x and expected witness a growth rate of around 13% during the forecast period of 2020-2030.
Impact of COVID-19 on e-Discovery Market
The outbreak of COVID-19 pandemic has represented a mass experiment in remote working worldwide, impacting the growth of e-Discovery market positively. With the increasing volumes of data and rising adoption of cloud-based solutions due to COVID-19, the eDiscovery market is expected to increase 1.2x in terms of its current market value during 2020-2022. However, in coming 1-2 years, as per the industry survey, budgetary constraints and data security are expected to emerge as a major challenges for the e-Discovery solution providers.
With the growing demand for work from home, the use of non-standard and non-enterprise communication tools to discuss business are increasing, which adds to the burden of preservation and collection when responding to discovery requests for information that could be created during this time period. Lockdowns have also made it difficult to have in-house or third-party forensic vendors to collect various types of potentially relevant documents that require physical access to the device. Such extraordinary circumstances are expected to disrupt the data collection and transfers processes, creating a huge demand for e-Discovery solutions.
In the light of these factors, the e-Discovery market is expected to witness slow growth in coming three to four years. From 2014-2019, the e-Discovery market registered a CAGR of around 10%, which will plummet to 7% between 2021 and 2023 due to COVID-19 outbreak, predict analysts.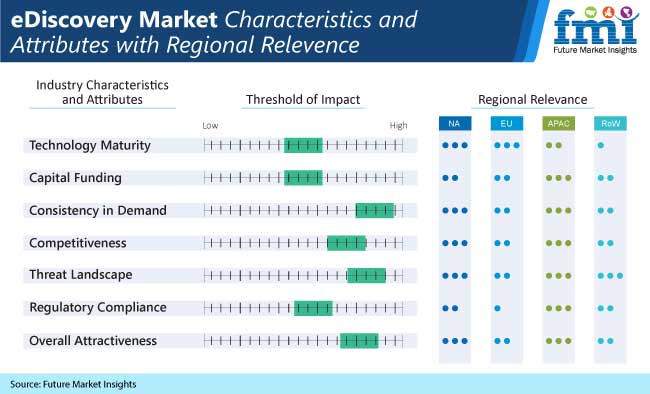 The large enterprises segment, with their increased need and availability of resources, is reaching a maturity point. However, mid and small sized enterprises are expected to offer plethora opportunities as streamlining work becomes essential to saving costs.
Moreover, in terms of value, North America is leading the e-Discovery market with a market share of almost 50% in 2020. However, with the proliferation of IoT devices, growing cloud computing, and advancement in the IT infrastructure in countries of Asia Pacific, the eDiscovery market in this region is expected to witness highest growth rate of around 12% during the forecast period.
Moreover, as most organizations collect data from common data sources like employee computers, shared drives, data archives, and cloud software, risk of threat to data is high, which is expected to pose as a major challenge for the e-Discovery solution providers.
Moreover, with the consistent demand for e-Discovery solutions among the enterprises along with the growing competitiveness, the market is expected to increase 2.1x of its current market value during the forecast period.
e-Discovery Market: Regional Analysis
The rise in adoption of digital solutions and growing cloud computing landscape in countries such as India, Indonesia, and other countries in South Asia are some of the key factors propelling the growth of e-Discovery market in the region. For instance, according to Future Market Insights, the cloud computing market in China, India, and Indonesia has witnessed a growth rate of more than 25% in 2019 and the trend is expected to continue through the next few years.
Despite the growth of cloud computing in emerging economies, there lies a challenge of lack of awareness about Internet amongst the masses due to language barrier. At the same time, lack of provision in the law to fully employ the power of e-Discovery is expected to make these countries a budding market with opportunities if hurdles are overcome.
Meanwhile, North America and Europe are leading the e-Discovery market as adoption and comprehensive of technological benefits is exceptionally high. These regions collectively held more than 3/5th of the global value in 2019. The strong growth in cloud computing applications and rising demand for cloud-based solutions in countries such as the U.S., the U.K., Germany, and France are playing a crucial role in driving the adoption of eDiscovery solutions
e-Discovery: e-Discovery Solution Providers
Continuous focus on collaborative partnerships to develop and innovate digital capabilities and to leverage new business models has become a key strategy of e-Discovery solution providers. Moreover, with growing regulatory concerns at a regional level, e-Discovery solution providers are coming up with solution differentiation and expansion strategy along with the collaboration with regional players to strengthen their market presence.
Key Players in the EDiscovery Market are:
IBM Corporation
Opentext
Microsoft Corporation
Micro Focus
Nuix
Catalyst
AccessData
ZyLAB
Conduent
Fronteo
e-Discovery: Mobile Devices to Become Next e-Discovery Wave
Currently, bring your own device (BYOD) and mobile device management (MDM) trends are stimulating the use of smart phones, tablets, and cell phones in corporate applications or data. These devices are being increasingly used for work-related emails, which inadvertently leads to storage of files and documents. Analysts aniticipate that these will become critical sources of unique ESI for corporate executives and other essential personnel.
Rise in mobile workforce, mobile applications for business operations, and integrated communications are collectively making tablets and smart phones crucial repositories of information in electronic form. These factors have increased the need for preserving and collecting electronic information stored in mobile devices an apt area for application of e-Discovery solutions.
In order to offer eDiscovery solutions which can run on mobile devices, mobile forensics companies are expected to become the next wave of growth in the market. Some examples of existing mobile forensics companies are BlackBag Technologies, AccessData, and Paraben Corporation.
Key Segments
Component
Deployment
End Users
Government & Regulatory Agencies
Enterprises (SMEs and Large)
Law Firms
Region
North America
Latin America
Europe
Asia Pacific
Middle East & Africa
Need specific information?