About the Report
Electroplating, which is also known as electro deposition is a process in which depositing of material is done on a work-piece using an electric current. It is a process by which a thin layer of metal is deposited on a work-piece known as the substrate. The primary use of electroplating is to change the physical properties of an object. With the expansion of the electronics industry, the demand for electroplating is expected to surge in the coming years.
In its new study, ESOMAR-certified market research and consulting firm Future Market Insights (FMI) offers insights about key factors driving demand for electroplating. The report tracks the global sales of electroplating in 20+ high-growth markets, along with analyzing the impact COVID-19 has had on the product type and end-use industry in general, and electroplating in particular.
What is the Future Outlook for Electroplating Market in Comparison to Historical Pattern?
Rising environmental concerns and stringent regulations in developed regions such as North America and Europe, over the use of electroplating and its adverse impact on health and environment have remained the key concerns for manufacturers and end user alike.
The electroplating industry is counted among the major polluting industries as its process discharges toxic materials, solid wastes, heavy metals through effluents and air emissions in the environment. For instance, cyanide, lead and cadmium plating are highly toxic & hazardous in nature, making their disposal very difficult. Subsequently, the clean and environment friendly electroless nickel plating method is gaining popularity and has become a preferred option now a days.
According to FMI's analysis, electroplating sales have grown at 2.3% CAGR between 2016 and 2019.
Manufacturers are continuously launching new substrate materials for electroplating which are environment friendly and have good aesthetics. With surging demand for materials such as plating on plastics which improve the aesthetics of product, the electroplating demand is set to grow steadily through 2030.
Rapid industrialization, coupled with high disposable income in developing countries is fuelling the demand for the automotive, electronics, and jewelry industry, which in turn is boosting electroplating market. The rising demand for electroplating from different end-use industries is propelling the growth of the market. For instance, the electrical & electronics industry uses copper, nickel, silver and gold plated components for various end-use applications to improve characteristics such as corrosion resistance, wear resistance, solderability and electrical conductivity. FMI expects global electroplating market to grow at 4.3% CAGR through 2030.
How Lucrative is the Automotive Sector for Electroplating Applications?
The adoption of electroplating for aesthetic appeal and protecting electronic components has grown steadily. The rising adoption of nickel and ABS is a favorable factor for electroplating manufacturers. Electroplating is increasingly used in the automotive sector to refurbish old chrome parts such as grills, bumpers, and tire rims to improve their longevity and make them look brand new.
Growth in the automotive industry is driven by the rising demand for zinc and zinc-nickel alloy plating; for corrosion protection and to improve aesthetics of automotive parts. Demand for gold plated exterior parts is fueled by the luxury car segment for aesthetic appeal, as well as corrosion and wear resistance the process offers.
What is the Commercial Potential of Electroplating?
The global market for electroplating will exhibit impressive expansion in the South Asia & Pacific region. According to FMI, the demand in ASEAN will be significantly high. According to ASEAN Automotive Federation, nearly 256,158 motor vehicles were sold in November 2020. Despite considerable decrease in sales in comparison to cars sold over the same period previous year, the automotive sector continues representing high scope for electroplating.
With several companies prioritizing the use of plating on plastics, growth opportunities seem impressive. The rate at which electronic products are being sold in the world effectuates a robust growth in demand for electroplating services. Manufacturers of electronic products and electrical devices & components are obligated to use electroplating techniques for coherently coating metal surfaces.
Why Proximity to End-Users is Key to Successful Collaboration?
Some of the leading companies are investing in collaboration activities to gain competitive advantage. Collaboration and partnerships with OEMs of respective end-use industry to be key strategies that could help electroplating companies to thrive in the market space.
Proximity to the end-users helps in better communication and acquisition of projects. It also helps in expanding the equipment and service coverage as well as availability of wide range of services for different applications.
What is the Regulatory Impact on Global Sales?
In order to ensure compliance with extremely strict environmental standards and to create a cleaner operating atmosphere, electroplating companies have had to find ways to adapt their procedures. The electroplating procedure on plastics is one particular field where metal finishers have had to make significant alterations.
Over time, it became apparent that the hexavalent chromium used for chrome plating resulted in significant health hazards. Specifically, it was determined that the health effects of exposure to hexavalent chromium in an occupational setting included eye irritation and damage, perforated eardrums, respiratory irritation, kidney and liver damage.
The Occupational Safety and Health Administration established and implemented a set of rules about its use in the workplace because of the health risks associated with hexavalent chromium. Companies that use chrome for plastics and other products are also expected to comply with stringent environmental laws to protect their employees.
Instead of incurring increasings costs that can negatively impact their bottom line, many manufacturers are turning to more environmentally friendly materials for plastic electroplating. A trivalent chromium plating procedure is currently being used in the industry. Furthermore, a coating that gives many plastics greater functionality, including greater power, conductivity and toughness, can be given by some metals such as copper and gold without presenting such environmental risks.
Country-wise Insights
How Big is the Electroplating Opportunity in US?
FMI has projected North America to remain one of the most lucrative markets throughout the course of the forecast period. Within North America, the U.S. is expected to spearhead growth. One of the key factors supporting expansion is the presence of a large number of and growing manufacturing and automotive sector in the country. The U.S. is considered one of the biggest automotive markets in the world. According to the Select USA, sales of light vehicles reached 17.2 million units in the U.S. alone in 2018. The country's mature automotive sector has been among key end users of electroplating.
Although price moderation will to some degree limit market value changes, real growth will intensify, driven by higher-than-average gains in the large-scale market for transport equipment. Furthermore, increasingly strict restrictions on the climate and workplace welfare will help raise demand for higher-value and cleaner alternatives.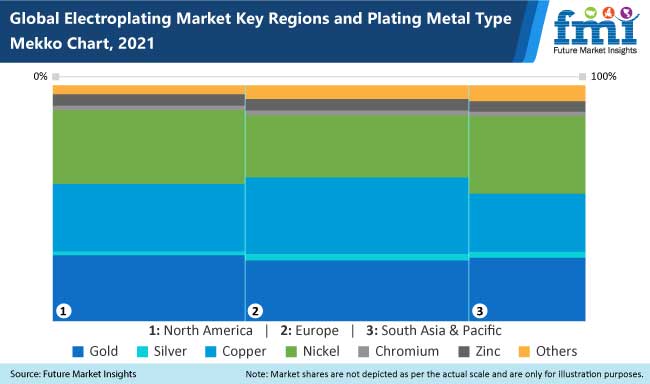 The country has huge demand electroplating from high end passenger cars. Increasing demand for plating on plastic especially from automotive industry and presence of large number of prominent plating on plastic manufacturers is leading to high growth of plastic based electroplating in the country.
Favorable policies, coupled with high per capita spending, has created a conducive environment for the growth of electroplating industry in the U.S. Also the presence of leading players such as Allied Finishing, Inc. and Pioneer Metal Finishing Inc. is supporting growth in the U.S. Strategies undertaken by these companies include product launches and expansion plans, which will continue aiding overall expansion in the U.S.
Germany's Electroplating Demand Will Continue to Rise Steadily
The adoption of electroplating is expected to rise considerably across various end-use industries in Germany. The country is likely to witness stable growth over the next few years on account of growing automotive development. Germany is identified by FMI as the leading market in Europe, a position it is likely to hold on to through the forecast period.
The electroplating market in Germany is expected to witness high demand due to the expanding manufacturing and automotive sectors. The region also has well-established infrastructure and the presence of major luxury automotive manufacturers such as Mercedes, BMW and Volkswagen. In Germany, chrome complete cars have gained substantial success. The increasing stringent environmental regulations, and increasing demand for electric, lightweight and aerodynamic cars is leading to increasing consumption of electroplating in the country.
Key Trends in India for Electroplating Market?
Primary hiccups and threats faced by the market on a regular basis include price pressure, product growth and creativity, fighting emerging coating solutions on par with consumer trends. Spurious growth of the electroplating market in India is attributable to the expansion of the country's industrial sector. According to the India Brand Equity Foundation (IBEF), the thriving domestic market with rapidly increasing middle class population will be key to manufacturing expansion in the country.
Furthermore, initiatives such as "Make in India" and launch of Production Incentive Scheme for large manufacturing units will enable growth of manufacturing sector. Consequently, India has emerged as a lucrative market for electroplating. As per IBEF, the sector's gross value added (GVA) grew at 5% between 2016 and 2020, exhibiting attractive potential for expansion of electroplating sales.
Sales in Japan Tied Closely to Electronics and Automotive Industries
Japan has established electronics and automotive industries. The growing electronics and electrical sector in Japan is expected to fuel the demand for electroplating in the country. According to the Japan Electronics and Information Technology Industry Association (JEITA), production by the Japan's electronic industry stood at US$ 8326.43 Mn in November 2020.
The country has been showcasing increasing production of electronic components. Japan is one of the largest exporters of electronic components such as PCBs. The large automobile manufacturing base in Japan is also contributing to the significant demand for electroplating in this country. By plating metal, copper segment is expected to grow at the fastest rate owing to the large electronics industry in the country.
U.K. to Remain Lucrative Market for Electroplating
Manufacturing growth and the expansion of industries are presenting lucrative scope for expansion within the U.K. Manufacturing sector in the country offers employment to millions of people. According to the Office for National Statistics, British manufacturers registered product sales worth £364.7bn in 2016. Besides this, surging research and development initiatives in the field of integrated transport, clean energy, sustainable manufacturing among others have been boosting industrial production, creating attractive opportunities for electroplating applications.
What's the Market Share of Nickel Plating Metal?
The nickel plating metal segment will continue accounting for largest share in the market among plating materials through the forecast period. According to FMI, the segment is expected to hold a little below 31% of the market, in terms of product type, by the end of 2031. Nickel based plating provides corrosion resistance, as the process creates a microcrystalline structure that is less porous and provides a strong barrier to basis metals. Sulfamate nickel plating and sulfate nickel plating all give exceptional wear resistance and can be further improved by intense heat treatments and the use of diamond composites.
Why is Base Metal Plating Leading?
Accounting for over 96% of the overall share through the forecast period, base metal plating continue to account for bulk of demand. High market share can be attributed to the properties of metal finishing chemicals, such as resistance to corrosion, electrical, wear, torque, hardness, and chemicals coupled with electrical conductivity, appearance, and reflectivity to the metal surface.
The need for base metal plating is motivated by the rise in demand for high-performance automotive products that have excellent corrosion resistance to improve the quality of exterior automotive parts, including emblems, door handles, hood ornaments, and tire rims.
Electroplating Demand for Functional Purposes Rising
While use for decorative purposes is gradually increasing, the functional segment continues to lead the market. It is expected to hold nearly 88.2% in the market in 2021. Growth within the segment will remain positive, however, in the coming years the demand for electroplating will rise for decorative purposes.
Plating metal such as nickel is increasingly used for decorative purposes because of its glossy deposit. This metal is used for accessorizing and jewelries, as an intermediate layer or finishing.
Automotive and Electronics Continue Leading Growth
Among end users, the demand from automotive and electrical and electronics segment will continue rising. FMI also has identified both industries among key end-use industries within the market. According to the report, the automotive segment will continue dominating the market through the course of the forecast period. It is expected to hold over 34% of the global market in terms of end use in 2021.
The electrical and electronics segment will trail closely. Spurring electronic sales in China, India, and other emerging nations will remain a key growth enabler. Besides this, continued growth opportunities across developed markets will fuel demand for electroplating within the segment.
Competitive Landscape
Companies operating in the electroplating market are aiming at strategic collaborations with OEM manufacturers to address the requirements of an expanding base of end users. For instance, BOLTA Werke GmbH started its joint venture with NicroBolta S.A. de C.V., and started a new production system. The system had the same vertical integration as that of Germany in Puebla, Mexico. Since then the company produced injection-molded and chrome plated components for the automotive industry.
Some of the players are focusing to expand for specific demography. For instance, Roy Metal Finishing Inc. expanded its facility by adding a new line of alkaline and acid zinc nickel alloy electroplating. The line was equipped with excellent corrosion production, heat resistance and barrier for galvanic corrosion for automotive under hood parts and under body parts.
Meanwhile, Atotech Deutschland GMBH has launched a new plating line for corrosion resistant coatings DynaSmart, for flexibility, compliance and efficiency with the highest sustainability and safety standards. The line was produced in Asia following the company's expansion in the same region. Through these developments, companies are aiming at competitive advantage. A slew of new launches are likely in the coming years.
Some of the leading companies operating in the market are:
Atotech Deutschland GMBH
Interplex Holdings Pte. Ltd
Kuntz Electroplating Inc.
Pioneer Metal Finishing Inc.
Roy Metal Finishing Inc.
Bajaj Electroplaters
J & N Metal Products LLC
Peninsula Metal Finishing, Inc.
*The list is not exhaustive, and only for representational purposes. Full competitive intelligence with SWOT analysis available in the report.
Scope of the Report
Attribute

Details

Forecast Period

2021-2031

Historical Data Available for

2016-2020

Market Analysis

USD Million for value and Units for Volume

Key Regions Covered

North America, Latin America, Europe, East Asia, South Asia, Oceania Middle East & Africa

Key Countries Covered

US, Canada, Germany, U.K., France, Italy, Spain, Poland, Russia, China, Japan, South Korea, India, Thailand, Malaysia, Vietnam, Indonesia, Australia, New Zealand, GCC Countries, Turkey, Northern Africa, South Africa

Key Segments Covered

Product Type, Modality, Disease Indication, and Region

Key Companies Profiled

Atotech Deutschland GMBH
Interplex Holdings Pte. Ltd
Kuntz Electroplating Inc.
Pioneer Metal Finishing Inc.
Roy Metal Finishing Inc.
Bajaj Electroplaters
J & N Metal Products LLC
Peninsula Metal Finishing, Inc.
Sharretts Plating Co. Inc.

Heimerle + Meule GmbH

Report Coverage

Market Forecast, brand share analysis, competition intelligence, DROT analysis, Market Dynamics and Challenges, Strategic Growth Initiatives

Customization & Pricing
Key Questions Answered in the Report
Q1. Which is the most lucrative market for Electroplating?
US currently leads the global market for Electroplating. Sales in US will be over 40% of total demand throughout the forecast period.
Q2. Which is the top-selling plating metal?
Nickel based plating highly sought-after in every market. The demand for nickel based plating is expected to remain high in the near future, especially due to its rising demand from automotive and electronic industries.
Q3. Which plastic substrate is mostly in demand?
ABS based plastic substrate continue to remain the leading choice among End-users. While the availability of Metal based plating substrate is high, sales is likely to accelerate at a slower pace in comparison ABS.
Q4. Which are some of the leading companies offering Electroplating?
Some of the leading companies offering Electroplating are Allied Finishing, Inc., Atotech Deutschland GMBH, Interplex Holdings Pte. Ltd, Kuntz Electroplating Inc., Pioneer Metal Finishing Inc.among others.
Key Segments
Plating Metal
Gold
Silver
Copper
Nickel
Chromium
Zinc
Others
Substrate
Manually Operated Inhaler Devices
Base Metal Plating

Copper
Nickel
Aluminum
Zinc
Lead

Plastic Plating

ABS
PPA
PC
PP
Polysulfone
Others
Function
End-Use
Automotive
Electrical & Electronics
Aerospace & Defense
Jewelry
Machinery Parts & Components
Others
Region
North America
Latin America
Europe
East Asia
South Asia
Middle East and Africa (MEA)
Oceania
Need specific information?
Talk Show:
The Rise of Intelligent Packaging
Personalized, Connected and Sustainable
November 18, 2021
11:00-11:45 AM PST (USA & Canada)
This is a LIVE session