ePassport Market By Technology (RFID, Biometrics), Application (Business Travel, Leisure Travel), Security (Basic Access Control, Password Authenticated Connection Establishment, Supplemental Access Control, Extended Access Control) & Region - Forecast to 2018 - 2028
ePassport Market - Analysis, Outlook, Growth, Trends, Forecasts
February 2019

REP-GB-8987

218 pages
Introduction
ePassport is the term used for passports equipped with electronic devices or contactless integrated circuits (IC) such as RFID chips. The RFID chip contains biometric data and hence, ePassports are also known as biometric passports, MRTD (Machine Readable Travel Documents) with ICC Chips. The increasing efforts and investments for the development of smart borders and smart airports to ensure fast and secure travel have created an upsurge in the demand for ePassports.
The report on the ePassport market offers a detailed analysis of the market volume (Units), market drivers, challenges, opportunities and trends, industry growth factors, and value chain along with the collective opinion and perspectives of ePassport market participants. According to FMI analysis, the global ePassport market was valued at 16,458.1 Mn in 2017 and is projected to witness 7.4X expansion at an estimated CAGR of 22.1% during 2018-2028.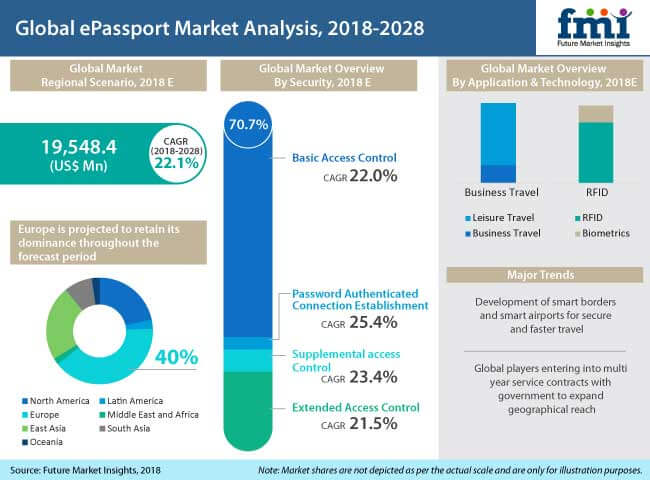 Key Dynamics: Global ePassport Market
International organizations such as ICAO (the International Civil Aviation Organization), IATA (the International Air Transport Association), and ACI (Airports Council International) have projected that the number of air travel passengers will nearly double to 7.2 billion by 2035 end. Additionally, there has been an increase in the Y-o-Y growth percentage of the number of air travel passengers annually.
With the growing number of passengers, there has been an increase in the demand for advanced digital security and data encryption solutions to ensure reliability and fast processing at airports, which in turn has been generating high demand for ePassports.
Prominent Trends Governing Global ePassport Market
The global ePassport market report highlights various supply and demand side trends along with strategic recommendations and a detailed analysis of the ePassport market on the basis of various segments.
With the growing incidences of terror attacks and illegal activities on an international level, there is a strong demand for data encryption and data protection. Regulatory bodies such as ICAO, IATA, and ACI have formed numerous protocols to improve border security and thus, ePassports have been witnessing strong demand.
In terms of security or from a technological point of view, conventionally-used ePassports were based on BAC (Basic Access Control) and were chip based, having basic information; however, with technological advancements, ePassports are being deployed with biometric information and advanced SAC (Supplemented Access Control) and PACE (Password Authenticated Connection Establishment) technologies.
Assessment of the ePassport Market Competition (Supply-Side Trends)
The global ePassport market is a consolidated market with prominent players such as Gemalto N.V., HiD Global Corporation, Entrust Datacard Corporation, and IDEMIA, amongst others
Manufacturers are entering into long-term multiyear service supply contracts with government bodies for the deployment of ePassports. For the continuous and uninterrupted supply of raw materials, manufacturers have also entered into long-term contracts with chip and other suppliers.
The global ePassport market has also witnessed an increase in the number of mergers and acquisitions to expand their global reach and product offerings based on the latest technologies for the development of advanced digital security solutions.
There has been a rapid rise in the demand for ePassport solutions across the developing countries of Asia Pacific. The governments in developing countries such as India have made noteworthy investments in the development of airport infrastructure and adoption of latest and more secure digital solutions, which is expected to drive the demand for ePassport during the latter half of the forecast period.
Data Security – A Key Challenge in Global ePassport Market
Although numerous advantages are associated with the use of ePassports, there are also a couple of disadvantages. For instance, if the owner loses an ePassport, someone can gain access to the chip for free. Fake chips can also be easily uploaded and hence, these passports are also not totally secure.
Biometric and chip-based information can also be hacked and utilized for illegal purposes, which is one of the major limitations of ePassports.
Key Players in Global ePassport Market
Some of the key players reported in this study of the global ePassport market include Gemalto N.V., HID Global Corporation, 4G Identity Solutions Private Limited, CardLogix Corporation, Infineon Technologies AG, IDEMIA, Eastcompeace Technology Co., Ltd., Primekey Solutions AB, and Entrust Datacard Corporation, among others.
Global ePassport Market Research Methodology Overview
Future Market Insights focuses on using a modelling-based approach and triangulation methodology for market estimation and forecast development. The unique frameworks and approaches include data collection, market profiling, hypothesis generation, forecast development, pricing analysis (on the basis of region, technology, manufacturers, application and competition benchmarking.
In order to ascertain the global volume and value for ePassports, data from secondary sources such as ICAO, companies' annual reports, and white papers, amongst others were referred while the penetration and adoption rate of ePassports across different countries were gauged. The current number of ePassports issued and in circulation were tracked to arrive at the global volume (units) of ePassports.
The price for ePassports was tracked individually for countries and the global weighted average was arrived at, which was then utilized to obtain the value of the global ePassport market.
Various macro-economic factors have also been taken into consideration to develop an apt forecast for the demand of ePassport across various regions. Prominent factors taken into consideration include air traffic growth, international and domestic travel and tourism industry growth, airport infrastructure spending, semiconductor and chip manufacturing industry, investment in IoT, global biometric technology market demand, GDP, population growth, and urbanization, amongst others, which have been influencing the demand for ePassports globally.
World's Most Profilic Intelligence Engine
Get Access To The World's Largest Market Research Database.
Sign Up Now
Global ePassport Market Segmentation
By Technology
By Application
Business Travel
Leisure Travel
By Security
Basic Access Control (BAC)
Password Authenticated Connection Establishment (PACE)
Supplemental Access Control (SAC)
Extended Access Control (EAC)
By Region
North America
Latin America
Europe
Middle East and Africa (MEA)
East Asia
South Asia
Oceania
Need specific information?
Our Clients