Eubiotics Market By Type (Probiotics, Prebiotics, Organic Acid, Essential Oil, Enzymes), Form (Dry, Liquid), Function (Nutrition and Gut Health, Yield, Immunity), Livestock (Cattle, Poultry, Swine, Aquaculture, Others) & Region - Forecast to 2021 - 2031
Eubiotics Market - Analysis, Outlook, Growth, Trends, Forecasts
December 2021

REP-GB-11087

200 pages
Eubiotics Market Snapshot
[200 Pages Report] As per Future Market Insights (FMI) analysis, the global consumption of eubiotics increased by year-on-year (YoY) rate of 6.7% in 2021 to total sales of US$ 2.68 Bn in the year. The overall demand for eubiotics represents 16.4% of the global animal feed market in 2021 and is poised to increase at 7.4% CAGR to reach a value of US$ 5.47 Bn in 2031.
The eubiotics market is emerging as antibiotic alternatives or animal antimicrobials by-product in the animal feed industry intended to boost livestock immunity and gut health while acting as livestock nutrition. Considering this, the increasing demand for animal feed additives and animal specialty drugs will result in high demand for eubiotics market.
Scope of Report
| | |
| --- | --- |
| Attribute | Details |
| Eubotics Market Size Value in 2021 | US$ 2.68 Bn |
| Eubotics Market Market Forecast Value in 2031 | US$ 5.47 Bn |
| Global Growth Rate | 7.4% |
Eubiotics Market Outlook 2021-2031 In Comparison to Growth Registered in 2016-2020
Rising consumption of meat and food items derived from meat will boost the eubiotics market in the coming years. Intrinsic benefits of eubiotics such as presence of probiotics and prebiotics, which leads to growth of desirable bacteria in gastrointestinal tract of livestock has resulted in higher application as animal feed additives.
The visible indicators of eubiotics benefits for gut health are feed conversion and feed digestion ratios. These rations also represent direct correlation between overall health and wellbeing of animals.
According to FMI, the commercialization of livestock production has been positively impacting the eubiotics market growth. The trend will continue as industrialized meat production surges globally.
Driven by this, the eubiotics market has been forecast to register 7.4% CAGR between 2021 and 2031 in terms of value, up from 5.7% CAGR registered during 2016-2020.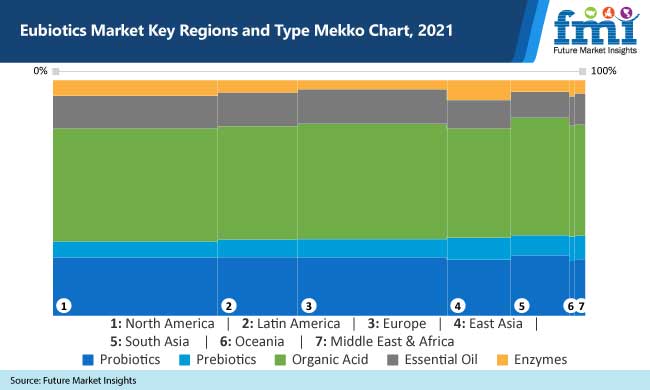 New Alternative Approach of Eubiotics Enzyme is set to Ramp up Production
According to recent scientific findings, using symbiotics (probiotics + prebiotics) in poultry diets can drive healthy and more livestock production rate. Aromatic substances obtained from plant polyphenols that contain antioxidant properties and inhibit bacterial extracellular enzymes and oxidative phosphorylation help in blocking metabolic substrates and nutrient uptake of pathogens.
This function enhances the immune responses of the body. Increasing awareness about importance of healthy animal feed additives is therefore resulting in more adoption of eubiotics globally.
Eubiotics Market Country-wise Insights
No Requirement of FDA Approval is Driving U.S. Eubiotics Market
Probiotics, a type of eubiotics, are referred to as good microorganisms or animal antimicrobials as it helps in promoting immunity-boosting substances, present in a healthy body.
Probiotics are sold as dietary supplements typically in the U.S. and need no FDA approval unless there are any serious health claims associated. This has helped boosting eubiotics sales in the U.S. According to FMI, the U.S. is expected to hold 89.3% share in the North America market in 2021.
What is Driving Australia Eubiotics Market?
Animal welfare concerns, animal feed price volatility, and animal health issues are posing challenge to poultry production and management in Australia. Despite this, demand for eubiotics is expected to surge as focus on healthy livestock production soars in the country. Thanks to presence of some of the leading market players, availability of probiotics and prebiotics for animal feed is considerably high.
For instance, companies like Lallemand are offering a wide range of environmental control and animal housing solutions, bacteria and yeast probiotics, inactive yeast fractions and antioxidants in natural microbial products and service solutions from just born chicks to breeders or layers for each stage in farm poultry upbringing facilities.
Why is Demand High in China Eubiotics Market?
South China Agriculture University (SCAU) has partnered with the giant company BASF recently to deliver a large scale research project to find the role of organic acid as core and effective eubiotics, to reduce the use of AGPs (antibiotic growth promoters) in livestock.
Such developments are fuelling the demand for eubiotics in Australia. China also accounts for 63.7% of eubiotics sales in East Asia in 2021, which is the largest among other countries in the region.
Will Developments in Prebiotics Drive India Eubiotics Market?
Prebiotics are a kind of eubiotics that provides nourishment to the probiotic bacteria living in the gut of an animal, which helps the healthy bacteria to become stronger and protect the animal body from any harmful bacteria. People in India, not only use the product for the sole purpose of animal health, but the usage has surged for human health as well with product development, growing the market with 11.6% CAGR during the forecast period.
Effective Bird Feed Conversion for Eubiotics is Encouraging Production in Brazil
Acute clinical diseases, such as bacterial enteritis (BE) or necrotic enteritis (NE), are some of the main intestinal health issues in broiler production in Brazil. Not only a proper anticoccidial program but good nutrition is required to limit antibiotic usage and prevent wet litter problems in the Brazilian broiler industry.
As a result the demand for cost-effective solution and antibiotic alternative eubiotics is considerably high in Brazil.
Eubiotics Market Category-wise Insights
More Companies are Gravitating to Organic Acid Production
Organic acid, or eubiotics salts, are added to compound animal feed. They work on certain modes of action and have many beneficial effects. These include preservative and antimicrobial effects in the feed, palatability improvement and diet pH reduction effect, reduction of diarrhea, and coliforms with effects on microflora in the gastrointestinal tract, gastric pH reduction, and pepsin activity enhancement, and increased nutrients digestibility. The segment holds a 48.3% share in 2021 among other types of eubiotics.
Why is Demand for Dry Form Eubiotics Rising?
Combinations of different kinds of eubiotics like probiotics, organic acids, and essential oil are now in trend among manufacturers. Meanwhile researchers are consistently improving the feasibility of those combinations with advanced technology. It has been identified that the dry form acts very well for the combinations, increasing the shelf life of the product on a great note. As a result, the dry form of the product holds a 62.5% market share globally in 2021 alone.
Which is the Primary Eurbiotics Function?
Eubiotics can provide a super healthy balance of microbiotas, while used in any animal feed additives, as it supports a healthy immune system and normal digestive health in any livestock nutrition while helping in the GI (gastrointestinal) tract mechanisms, improving overall gut health of the animal. The function of livestock immunity, as a result, is growing with a soaring rate of 8.4% during the forecast period.
Demand in Poultry Segment to Remain High
Eubiotics production for poultry, among all other livestock species, is gaining much traction due to the various innovative products offered by top companies like Cargill, such as Enzae®, the best quality enzymes solution to improve poultry performance consistently and optimize animal feed ingredients cost, or Intella™ FIT & Intella™ FIT Plus, a blend of stabilized organic acids and essential oil compounds specifically chosen to improve feed.
Competitive Landscape
According to the market research analysis Cargill Inc., BASF SE, Koninklijke DSM N.V., Novozymes, Eubiotics, Lesaffre Group, Kemin Industries, Inc., Novus International, Inc., Chr. Hansen Holding A/S and Beneo Group are identified as key players in the eubiotics market. Advanced global manufacturers are seeking to enter or reinforce their position in emerging markets with joint ventures and acquisitions.
For instance-
Koninklijke DSM N.V., a science-based global company in sustainable, nutrition, and healthy living has recently acquired Midori USA, Inc., a biotechnology start-up and novel platform, as of 27 July 2021, to develop breakthrough technologies regarding eubiotics, which will improve the health, as well as environmental impact of animals. DSM had 38.5% of the shares of Midori already and further acquired the remaining shares of 61.5% for a whopping amount of US$ 63 Mn.
Report Scope
Attribute

Details

Market Size Value in 2021

US$ 2,686.4 Million

Market Forecast Value in 2031

US$ 5,471.1 Million

Global Growth Rate

7.4%

Forecast Period

2021-2031

Historical Data Available for

2016-2020

Market Analysis

MT for Volume and US$ Million for Value

Key Regions Covered

North America, Latin America, Europe, East Asia, South Asia, Oceania, and Middle East and Africa

Key Segments Covered

Type (probiotics, prebiotics, organic acid, essential oil, and enzymes), form (dry and liquid), function (nutrition and gut health, yield, and immunity), livestock (cattle, poultry, swine, aquaculture, and others), and Region (North America, Latin America, Europe, East Asia, South Asia, Oceania, and Middle East and Africa).

Key Companies Profiled

Cargill Inc.
BASF SE
Koninklijke DSM N.V.
Novozymes
Eubiotics
Lesaffre Group
Kemin Industries, Inc.
Chr. Hansen Holding A/S
Beneo Group
Others

Report Coverage

Market Forecast, Company Share Analysis, Competition Intelligence, DROT Analysis, Market Dynamics and Challenges, and Strategic Growth Initiatives

Customization and Pricing

Available upon Request
World's Most Profilic Intelligence Engine
Get Access To The World's Largest Market Research Database.
Sign Up Now
Eubiotics by Category
By Type, eubiotics is segmented as:
Probiotics
Prebiotics
Organic Acid
Essential Oil
Enzymes
By Form, eubiotics is segmented as:
By Function, eubiotics is segmented as:
Nutrition and Gut Health
Yield
Immunity
By Livestock, eubiotics is segmented as:
Cattle
Poultry
Swine
Aquaculture
Others
By Region, eubiotics is segmented as:
North America
Latin America
Europe
East Asia
South Asia
Oceania
Middle East and Africa
Key Questions Answered in the Report
How big is the eubiotics market?
The sales for eubiotics are estimated to total over US$ 2.68 Bn by 2021.
What is the eubiotics market demand outlook?
According to FMI, the demand for eubiotics is forecast to surpass US$ 5.47 Bn by the end of 2031.
At what rate will eubiotics sales grow in the next 10 years?
Between 2021 and 2031, the sales of eubiotics will grow at 7.4% CAGR.
Who are the top 5 players in eubiotics market?
Cargill Inc., BASF SE, Koninklijke DSM N.V., Novozymes, and Novus International, Inc. is the leading companies in the market.
Which are the top 5 countries driving consumption of eubiotics?
Australia, the US, China, Brazil, and India are the top countries registering consistently high demand for the product.
At what rate will the eubiotics shipment grow in North America?
The North America eubiotics market will grow by 6.7% CAGR through 2031.
What is the sales outlook for Europe eubiotics market?
Sales in Europe will grow at 5.7% CAGR between 2021 and 2031.
Which region has the most favorable shipment condition for eubiotics?
Due to heavy demand, eubiotics shipment will soar in South Asia at a CAGR of 10.4% during the forecast period.
Need specific information?
Our Clients