Feldspar - A Key to Transforming Glass & Ceramics Landscape
By far, feldspar is considered the most abundant group of minerals in the earth's crust. It encompasses a whole range of minerals and includes alumina and alkalis such as sodium oxide and potassium oxide. Today, most of the products used on a daily basis are made using feldspar - from glassware to bathtub to and bathroom floor tiles.
Increasing demand for glass and ceramic products and coatings for welding rods along with extenders and fillers in the paint industry are the major factors driving growth of the feldspar market. Additionally, rising number of construction activities and growing need for electronics are other dynamics that are expected to augment the market growth over the forecast period, 2019-2029.
According to Future Market Insights' new study, the global feldspar market revenue surpassed US$ 1.3 Bn in 2018, and is poised to increment at a CAGR of 5% over the predefined timeframe. In recent times, continuous expansion of the construction industry in developing countries is significantly catapulting sales of feldspar.
Gains Underpinned by Increased Usage in Glass and Ceramics Manufacturing
Feldspar is one of the major materials used in glass and ceramics industries. In glass manufacturing, feldspar is widely used as a fluxing agent - a rich source of alumina, silica, and alkali. This fluxing agent used in ceramic and glass bodies decreases the high melting point of the main glass forming constituents. Furthermore, in ceramics industry, after clay, feldspar is the most important ingredient. It provides toughness, strength, and durability to the ceramic body.
Feldspar melts over a range of temperatures easily and it facilitates the melting of clays and quartz through suitable mixing and allows modulations in ceramic manufacturing. These factors continue to play an instrumental role in growth of the feldspar market.
However, some of the ceramics and glasses are recycled that limits the feldspar usage in their manufacturing. This, in turn, is creating a hindrance in demand for feldspar. Further, stringent government regulations and concerns over environmental impact of mining feldspar are likely to represent potential threat for market players.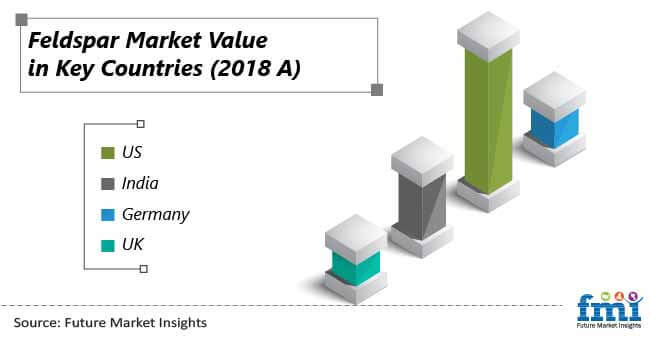 Europe to Take the Lead
Europe will remain at the forefront of the global feldspar market, accounting for close to 59% of the total revenue share. Growing production and consumption of feldspar in countries such as Germany, Italy, Spain, Poland and western parts of Russia has expected to benefit the market participants in region, in terms of raw material procurement.
The region will continue to mark a significant growth rate, in view of mounting demand for glass and ceramics in construction and automotive industries and in manufacturing of electronic sensors and medical devices. Moreover, Germany is the major producer of feldspar and the production capacity is expected to increase in the future. Therefore, manufacturers should be looking at a period of sustained demand.
Feldspar Market: Competitive Landscape
Acquisitions, R&D activities, and adoption of advanced technologies are some of the major strategies adopted by feldspar market players. In the current scenario, the market shows a high level of consolidation, with a small of manufacturers accounting for relatively large revenue share.
Competitive pricing strategy remains a key focus area of these manufacturers. For instance, in October 2019, The Quartz Corp - one of the leading feldspar market players - declared a rise in prices of feldspar on an average of 5% to 10%, effective from 1st January 2020. This will be implemented through changes in packaging and product prices, as it is necessary to offset rising costs in labor, material, and regulatory compliance.
Feldspar Market: Segmentation
The global feldspar market is segmented in detail to cover all aspects of the market and provide a detailed market research insights to readers.
Product
K-Feldspar
Plagioclase Feldspar
Application
Glass
Ceramic
Construction
Decorative
Electrical
Region
North America
Europe
APAC
Central & South America
MEA
Need specific information?
Talk Show:
The Rise of Intelligent Packaging
Personalized, Connected and Sustainable
November 18, 2021
11:00-11:45 AM PST (USA & Canada)
This is a LIVE session