Less than 97% - Less than 100% Grade/Purity Holds Dominance With 84.7% Share
The assay required for food grade should be less than 97% and more than 100.5% of (C6H10O6) gluconolactone. The increasing consumption of dietary supplements and energy drinks is one of the key factors which is increasing the demand in the gluconolactone market. 97% -100% grade/purity is mainly used in the food industry as a curing and pickling agent as well as pH agent. On account of the expansion of the food and beverage industry the demand for gluconolactone market is anticipated to rise across the globe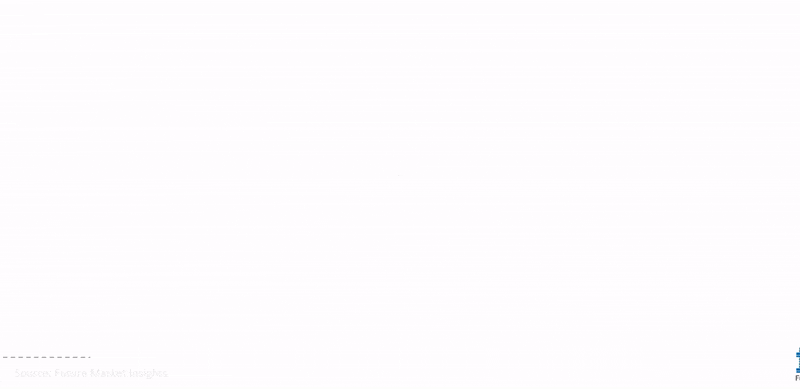 Innovation and technological developments in the Ethylene Oxide process for waste management
North America is expected to account for highest share in the global gluconolactone marekt by 2029. Gluconolactone production in the North America and Europe has stopped because of the environmental issues and waste production. However, recent research and development activities by manufacturers in China have demonstrated the possibility of minimizeing the waste production in the Ethylene Oxide process. Such research and development activities are creating growth opportunities in the global gluconolactone market.
Increasing Consumption of Energy Drinks to Create Growth Opportunities
Energy drinks are more popular among the teenagers. The consumption of the energy drinks is highly affected by the consumer perception about the energy drinks, weight status, and socio-demographics. It has been found that the Polynesian teenagers consume more energy drinks than the Europeans adolescents due to the good and neutral perception about the energy drinks. Given the scenario, the market is expected to gain considerably from the rising consumption of energy drinks among young adults and teen agers.
How Growth will Unfold
Utilization of cosmetics and personal care products is rising in the global market in the last few years. Research and development in the cosmetic industry has led to the launch of innovative products. As a result, K-beauty and J-beauty products are gaining tremendous popularity in the global cosmetics and personal care products industry. Due to gradual shift in life style and eating habit of consumer the demand for dietary supplement is rising which in turn propel the demand of gluconolactone market across the globe.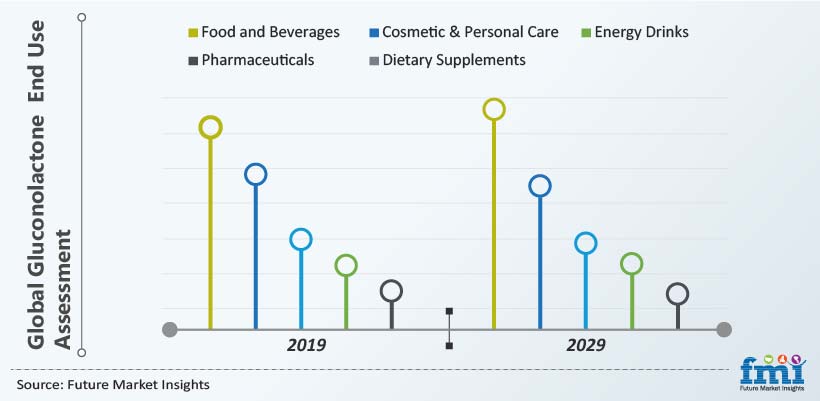 FREQUENTLY ASKED QUESTIONS ABOUT Gluconolactone Market
Which regions will offer attractive growth opportunities to gluconolactone segment?
The global gluconolactone market is expected to grow at a rapid pace in North America and Europe owing to the increasing consumption of energy drinks and food products such as tofu and meat.
Which grade/purity segment of gluconolactone witnesses high demand?
Gluconolactone market earns major share of revenue from the less than 97% -less than 100% segment a majority of gluconolactone produced is used in the food and beverage industry.
What factors drive gluconolactone market?
Food and food processing industry is flourishing due to the increasing consumer preference for convenient food products. Gluconolactone acts as an emulsifier and flavoring agent, used in various food products such as dairy, energy and energy drinks. The expansion of food and beverage industry is aiding the gluconolactone market growth.
Which region will lead the global sales of gluconolactone market?
North America remains the largest shareholder in the global gluconolactone market followed by Europe in terms of consumption and anticipated to show higher growth.
GLUCONOLACTONE MARKET TAXONOMY
The global Glucuronolactone market is segmented in detail to cover every aspect of the market and present complete market intelligence to readers.
Grade
Greater than 97.0%
Greater than 98.5
Greater than99%
101.0%
102.0%
End-Use
Dietary Supplements
Energy Drinks
Pharmaceuticals
Cosmetics
Functional Food
Region
North America
Latin America
Europe
East Asia
South Asia
Oceania
Middle East & Africa
Need specific information?