0.99% Grade/Purity Holds Dominance With 74.2% Share
Glucuronolactone market is used as a food additive in food and functional beverages. In terms of purity, 0.99% grade of Glucuronolactone is highly preferable among manufacturers. Increasing consumption of energy drinks is one of the key factors fuelling the demand for Glucuronolactone in the market.
Use of Glucuronolactone in functional beverages is increasing as it acts as detoxifying agent and removes toxic substances through body waste. Therefore, driven by the rising health awareness among consumers, the market for Glucuronolactone will witness growth at a positive pace.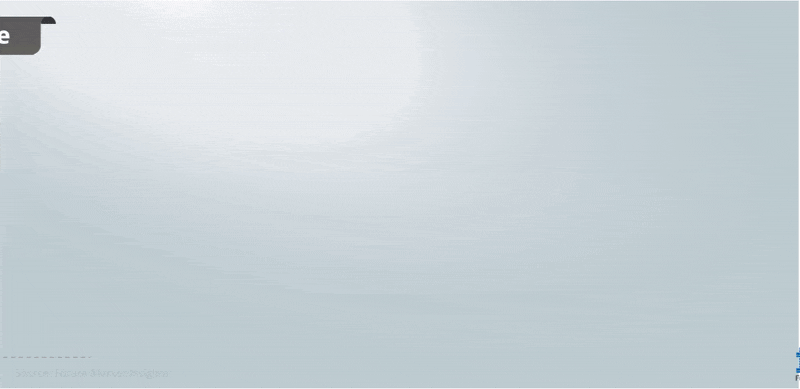 North America Holds Dominance
North America is expected to accounts for highest share in the global gluconolactone market. Gluconolactone production in the North America and Europe has stopped because of the environmental issues and waste production. However, recent research and development activities by manufacturers in China have demonstrated the possibility of minimizing the waste production in the Ethylene Oxide process. Such research and development activities are creating growth opportunities in the global gluconolactone market
Rising Awareness about Health benefits is Increasing Demand for Gluconolactone
Glucuronolactone is endogenously present in the brain, heart, liver of the humans and plays a vital role in various physiological processes. It's metabolic actions include, bile acid conjugation, osmoregulation, and membrane stabilization. Deficiency of Glucuronolactone can lead to various conditions such as, cardiovascular diseases, retinal degradation, epilepsy, and others.
Taking Glucuronolactone supplements has proven beneficial for health. The demand for dietary supplements has been increasing around the world due to increasing health consciousness. This has also increased the consumption of supplements contsisting of Glucuronolactone, in turn creating growth opportunities for the market.
How Growth will Unfold
Dietary supplements and energy drinks are increasingly preferred by millennial and consumers who are health conscious. Energy drinks category has transformed from being a niche segment to the one exhibiting a high rate of growth segments in the drinks market. This has been brought about by increasing number of health conscious people. In addition, energy drinks are gaining popularity as supplements for carbonated drinks.
Hence, consumers are switching from carbonated drinks to energy drinks as the latter gives an energy boost to improve physical as well as cognitive performance Furthermore, consumption of dietary supplements are also increasing dramatically since the last two decades, particularly among millennial and generation Z. This is expected to bode well for the overall market.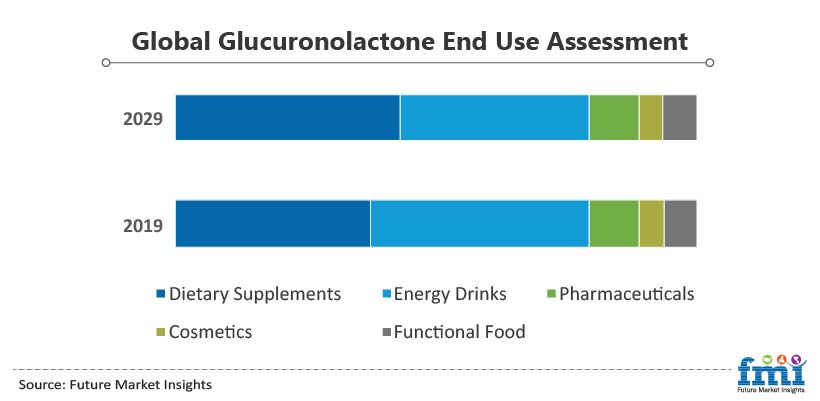 FREQUENTLY ASKED QUESTIONS ABOUT Glucuronolactone Market
Which regions will offer attractive growth opportunities to gluconolactone segment?
The global gluconolactone market is expected to grow at a rapid pace in North America and Europe owing to the increasing consumption of energy drinks and food products such as tofu and meat.
Which grade/purity segment of gluconolactone witnesses high demand?
Gluconolactone market earns major share of revenue from the less than 97% -less than 100% segment a majority of gluconolactone produced is used in the food and beverage industry.
What factors drive gluconolactone market?
Food and food processing industry is flourishing due to the increasing consumer preference for convenient food products. Gluconolactone acts as an emulsifier and flavoring agent, used in various food products such as dairy, energy and energy drinks. The expansion of food and beverage industry is aiding the gluconolactone market growth.
Which region will lead the global sales of gluconolactone market?
North America remains the largest shareholder in the global gluconolactone market followed by Europe in terms of consumption and anticipated to show higher growth.
GLUCURONOLACTONE MARKET TAXONOMY
The global Glucuronolactone market is segmented in detail to cover every aspect of the market and present complete market intelligence to readers.
Grade
Greater than 97.0 %
Greater than 98.5
Greater than 99%
101.0%
102.0%
End-Use
Dietary Supplements
Energy Drinks
Pharmaceuticals
Cosmetics
Functional Food
Region
North America
Latin America
Europe
South Asia
East Asia
Oceania
MEA
Need specific information?
Talk Show:
The Rise of Intelligent Packaging
Personalized, Connected and Sustainable
November 18, 2021
11:00-11:45 AM PST (USA & Canada)
This is a LIVE session