Organic Hydroponics Solution Accounts for About 28% Share
The consumers are becoming conscious about the raw materials and source of the raw materials used in the food products. Due to the increasing awareness about health and wellness, consumers are increasingly preferring sustainable and chemical-free food products. Therefore to maintain a healthy lifestyle, consumers have become more willing to spend on organic and natural food products. Due to the increasing demand for organic food products the farmers are adopting organic hydroponics solutions. The food manufacturers are preferring hydroponics based organic vegetables and fruits.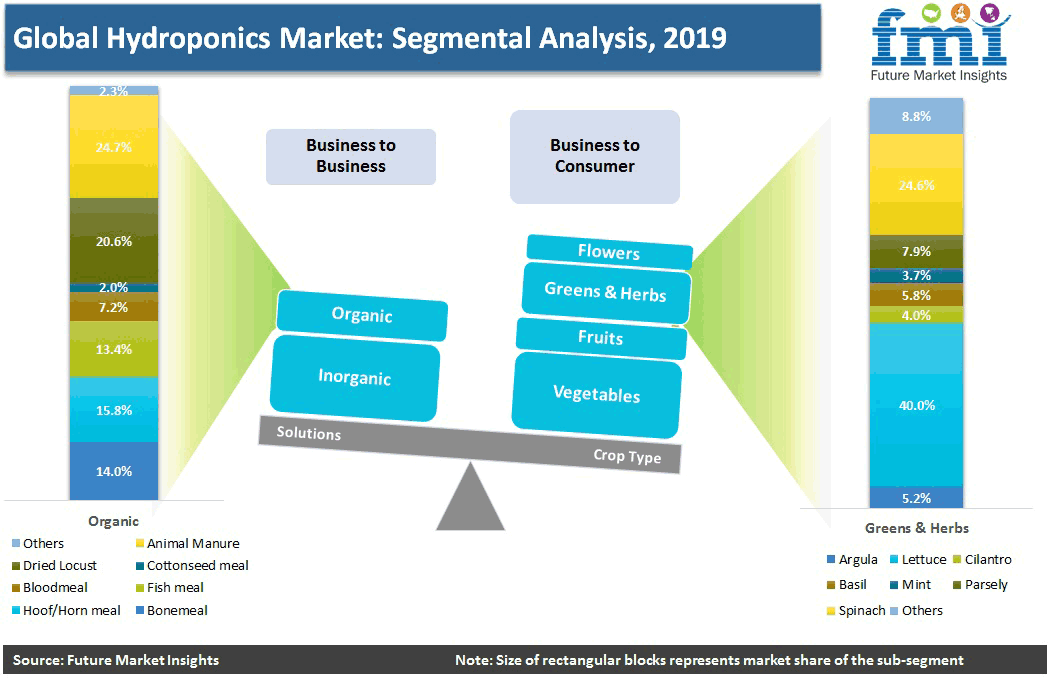 Developing Countries Offer Lucrative Growth Opportunities
Developing nations such as India, Brazil, South Africa, and Thailand are anticipated to offer substantial growth opportunities for hydroponics farming.
Real potential for progress in the global food and beverage industry lies in the developing markets that are fast becoming opportunity centers for several global markets. With a drastic population growth, high urbanization rate, and increased disposable incomes leading to improvements in the basic standard of living, developing markets offer greater potential for producers to address the dietary shifts of customers headed for nutritional products, while catering to confined tastes and needs.
This creates novel growth markets for producers across the world's food value chain. Geographical growth no longer remains the secondary growth strategy. Food manufacturers are adopting go-to-market strategies such as partnerships, collaborations, divestitures, merger & acquisition.
Increasing Demand for Exotic Vegetables & Fruits Improving Adoption of Hydroponics Systems
High demand for exotic vegetables such as kale, lettuce, broccoli, cucumber, and cilantro for use in multi-national and inter-continental cuisines is a chief factor driving the hydroponics market. This is due to the increasing inclination of consumers towards natural and chemical-free food products. This factor contributes to the growth of the hydroponics market. The developing regions are focusing to build the technological advancements to accelerate the production to surge the market demand of hydroponic based products.
How Growth will Unfold
Increasing awareness regarding health and wellness worldwide is one of the factors that contributes to the sales of natural food products. In 2014, there were around 14,000 farms that are organic-certified and generated a revenue of approximately US$ 5.5 Bn from organic products in the United States as per a survey conducted by NASS (National Agricultural Statistics Service, U.S.). This scenario has been very beneficial for the hydroponics as well as the organic crops industry.
Naturally-grown food products are more preferred over conventionally-grown ones due to the rising awareness about the presence of harmful additives and chemicals in food products. Buyers show a higher preference for naturally-grown products, such as produce grown using hydroponic systems, as these products are free from harmful pesticides, chemicals or additives. With the rise in the demand for naturally/organically-grown food, the sales of hydroponics-based products is anticipated to increase exponentially in the foreseeable future. The farmers are preferring outdoor hydroponics farming method as compare to indoor hydroponics farming method.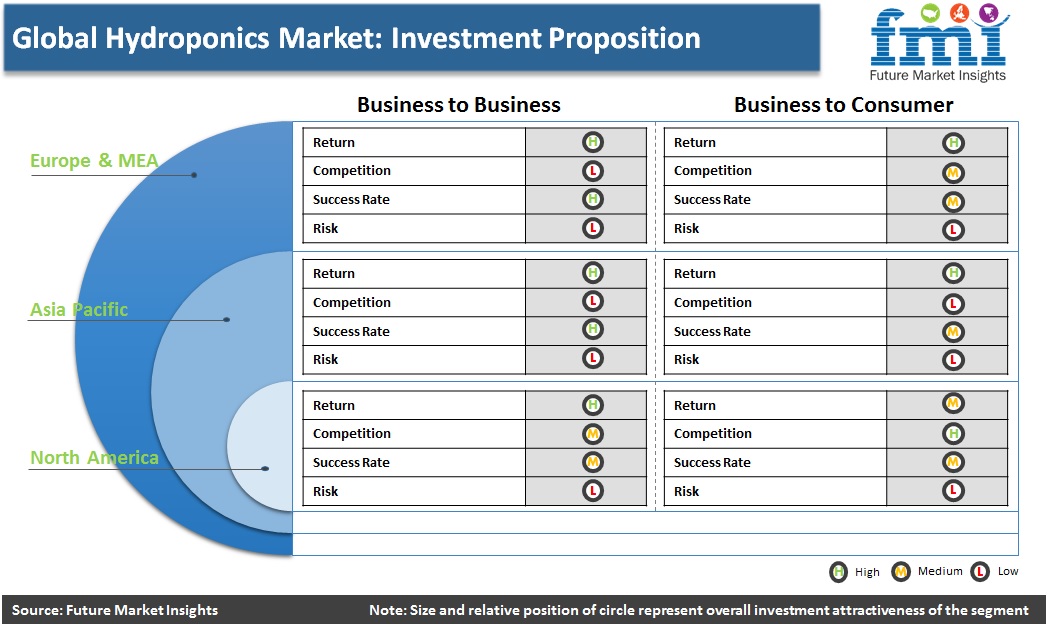 HYDROPONICS MARKET TAXONOMY
The global hydroponics market is segmented in detail to cover every aspect of the market and present complete market intelligence to readers.
Crop Type
Vegetables

Kohlrabi
Radish
Cucumber
Tomatoes
Peppers
Others

Herbs & Greens

Arugula
Lettuce
Cilantro
Basil
Mint
Parsley
Spinach
Others

Fruits

Strawberry
Blueberry
Watermelons
Grapes
Cantaloupe
Others

Flowers
Solutions
Organic

Bone meal
Hoof / Horn meal
Fish meal
blood meal
Cottonseed meal
Dried locust or Grasshopper
Animal Manure
Others

In Organic

Macronutrients
Micronutrients
Farming Type
Indoor Farming
Outdoor Farming
Distribution Channel
B2B
B2C

Modern Trade
Grocery Stores
Specialty Stores
Bulk Suppliers & Distributors
Online retailers
Region
Global
North America
Latin America
Europe
East Asia
South Asia
Oceania
Middle East & Africa
Need specific information?