Hydroxyapatite Market By Grade (Medical Grade, Cosmetic Grade, Research Grade), Application (Dental, Orthopedic, Biochemical research) & Region - Forecast 2020 – 2030
Hydroxyapatite Market - Analysis, Outlook, Growth, Trends, Forecasts
August 2020

REP-GB-12308

200 pages
Hydroxyapatite Market Outlook & Key Findings
Hydroxyapatite market is anticipated witness a growth rate of around 9% by 2030
The dental implants and prosthetic industry is anticipated to directly influence the consumption of hydroxyapatite in the wake of increasing preference for biomaterials
Biochemical research for extending the application areas for 3-D printing and artificial bones will propel the hydroxyapatite market growth over the forecast period. FMI's analysis positions China followed by South Asia & Pacific as the top potential markets of Hydroxyapatite over the coming decade
China is expected to witness healthy growth owing to demand from the domestic population for related medical surgeries, implants and research activities
China have the access to raw materials and houses affordable cost of production, the end user procurement cost of hydroxyapatite in China is lower compared to other countries
3D printing has been a prominent development in prosthetics manufacturing prompting the producers of hydroxyapatite to formulate the desired prototypes
Key hydroxyapatite market participants such as Fluidinova, Bonesupport AB and Berkely Advanced Biomaterials are adopting inorganic growth strategies such as collaboration with the market participants to widen its presence in untapped regional markets
Increasing Geriatric Population coupled with Accident and Trauma cases Instrumental in Augmenting Demand of Dental and Orthopedic Implants – Key Growth Driver
The percentage of population above 65 years of age has significantly increased over the past decade, particularly in Europe and North America. Consequently, the risk of tooth decay, osteoarthritis and other hip, knee and joint problems have increased.
This will have a direct impact on the global bio-ceramics and hydroxyapatite market demand. Also, as per the Medical Implants Association data, there has been a major increase in the number of per 10,000 capita orthopedic implants worldwide in 2017-18.
This heightened demand from dental and orthopedic implants will thus propel hydroxyapatite consumption over the forecast period.
Efficient Physical and Chemical Characteristics Have Popularized Hydroxyapatite as a Preferred Material in Prosthetics and Implants
In terms of structural stability, hydroxyapatite has been found to be more stable when compared to other calcium phosphates. Thermodynamically, it has been proven to be the most stable calcium phosphate compound under such physiological conditions as temperature, pH and composition of the body fluids.
It has, therefore, been a preferred material for dental implants and prosthetic material by healthcare professionals. It has been found that the crystallography and chemical composition of hydroxyapatite has been found to be the closest match with actual human hard tissue.
Moreover, research on teeth enamel has proven that they are largely composed of a form of this mineral.
Emerging Trend: Product Formulation in Compliance for 3D Printing
Significant research and investment is being done on the use of hydroxyapatite for 3-D printing applications to create artificial bones. . Hydroxyapatite is a major constituent of bones. 3-D printing would enable and re-design 3-D printable prosthetics.
There has been rise in demand for manufacturing implants with better Osseointegration performance. To comply with the desired properties, the hydroxyapatite producers have been continuously engaged in development of superior product grades to ensure greater durability.
The hydroxyapatite market demand and healthy margins generated from the sales of hydroxyapatite have enabled them to invest a substantial amount of capital for product R&D on a consistent level.
The prices of Hydroxyapatite in terms of categories varies in key regions. The above Price benchmark signifies the view of hydroxyapatite grades in the key regions, including North America, China, Rest of Asia-Pacific, Europe, Middle East & Africa and Latin America. Research grade hydroxyapatite has been priced at a premium rate compared to other grades across all the regions. China has been offering cost effective grades of hydroxyapatite as compared to North America, Europe, MEA and Latin America.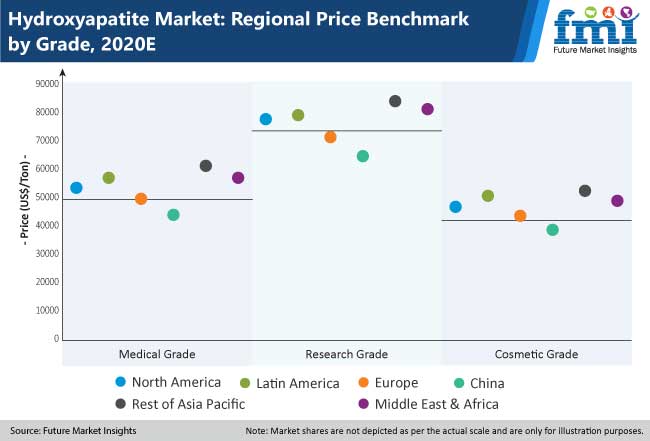 Predominance of Conventionally Used Titanium Implants in Developing Countries: Possible Growth Restraint
Titanium and other metal based implants currently dominate the hydroxyapatite markets in developing countries due to limited awareness and relatively cheaper price as compared to bio-ceramics and hydroxyapatite.
With lower capita spending across developing countries in Latin America, Asia Pacific and Africa, availability of substitute materials at low prices compared to hydroxyapatite may compel end users to resort to substitutes resulting in slowdown of hydroxyapatite sales in these countries.
Hydroxyapatite Market: Region-wise Analysis
North America is estimated close in at 35% of the hydroxyapatite market value share, accounting for a prominent weightage during the forecast period. Asia Pacific is another prominent region whose growth rate is expected to leapfrog over other regions in the forecast period.
China and South East Asia are estimated to hold a prominent market share in terms of consumption of Hydroxyapatite.
Demand from North America and Europe is largely attributable to treatment of geriatric population, prosthetic implants for professional purposes, whereas, the demand from Asia Pacific and other countries are due to surging accident and trauma related cases and commercial development of the product.
It can also be reasoned that developed countries have been the early adopters whereas the developing countries are in the introductory stage of product adoption.
Leading Suppliers in Hydroxyapatite Market
The global Hydroxyapatite market is consolidated owing to the presence of limited players across the globe. Fluidinova, Bonesupport AB, Berkeley Advanced Biomaterials, Sigma Graft, Nano Interface Technology, SofSera, Plasma Biotal Ltd., and Premier Biomaterials.
Bonesupport AB and Berkeley Advanced Biomaterials have been pioneers in the global hydroxyapatite market with a significant share, focusing on innovation and diversification of product portfolio in order to establish a business footprint across prominent geographical regions.
Hydroxyapatite Market: The Way Forward
Over the forecast period, Hydroxyapatite market is expected to witness a healthy growth of around 9% throughout the forecast period
Investments to explore and expand the application areas for hydroxyapatite are projected to boost demand for research grade
Orthopaedic implants are projected to witness growing demand for hydroxyapatite for coating applications whereas dental implants are projected to witness significant growth in the latter half of the forecast period
Having a strong product base and establishment of business footprint across regional markets have been the governing benchmark of the leading players of hydroxyapatite market.
World's Most Profilic Intelligence Engine
Get Access To The World's Largest Market Research Database.
Sign Up Now
Hydroxyapatite Market Key Segment
By Grade
Medical Grade
Cosmetic Grade
Research Grade
By Application
Dental
Orthopedic
Biochemical research
Others
By Region
North America
Latin America
Western Europe
Eastern Europe
China
India
Japan
SEAP
Middle East & Africa
Need specific information?
Our Clients