About the Report
Non-cariogenic sugar demand, in particular from the food and beverage industry and the healthcare industry, is driving the expansion of the isomaltulose market worldwide. Isomaltulose is labelled as a non-cariogenic sugar as it cannot be metabolized by oral bacteria and thus minimizes the threat of mouth cancer and caries. Manufacturers have successfully produced products that contain non-cariogenic sugar, including chocolates, yogurt, energy drinks, bakery goods and many more in response to the increasing demand for food items containing non-cariogenic sugar. In addition, growing demand from fitness enthusiasts for healthy and non-caloric food products fuels development of the global isomaltulose market.
In its new study, ESOMAR-certified market research and consulting firm Future Market Insights (FMI) offers insights about key factors driving demand for taurine. The report tracks the global sales of taurine in 20+ high-growth markets, along with analyzing the impact COVID-19 has had on the food and beverage industry in general, and taurine in particular.
How Does Historical Trajectory of Isomaltulose Market Match Up with Future Outlook?
Weidenhagen and colleagues discovered and identified isomaltulose in the premises of SUEDZUCKER's large sugar production site in the Palatinum region of Germany. This root is still referenced in the brand name PalatinoseTM, under which it is commercially sold today. SUEDZUCKER further investigated this carbohydrate and its advantages, making it available to food producers and customers as a "slow release" sugar substitute. By enzymatic rearrangement, BENEO GmbH, a member of the SUEDZUCKER Group, produces isomaltulose from sucrose today.
Isomaltulose-containing foods were first available in Japan and Asia, then in the United States and Europe, Oceania, and Latin American countries. Isomaltulose was approved as a novel food in the European Union. The FDA granted it GRAS status in the United States. Isomaltulose-containing foods and beverages can now be sold in all major supermarkets. According to FMI's analysis, isomaltulose sales have grown at 4.6% CAGR between 2016 and 2020.
As, isomaltulose is a carbohydrate and is a "slow release." It provides the body with the full strength of carbohydrates in a smoother, more balanced manner, and for a longer period of time as compared to traditional carbohydrates. It completes the digestion by human enzymes and eventually absorption by gradual glucose release in the small intestine. Also, the efficacy of the endothelial role of isomaltulose and sucrose loads as measured by brachial ultrasonic flow-mediated dilation.
Compared to sucrose, low-GI isomaltulose has led to better preservation of basal, pre-prandial, and endothelial function in the postprandial process. Particularly, the slow-release carbohydrate isomaltulose appeared to benefit persons with impaired insulin sensitivity. Because of the more balanced and sustained blood glucose profile, substituting sugar with isomaltulose may have beneficial effects on cardiovascular health.
These properties of isomaltulose are gaining attention, which in turn is increasing the demand for isomaltulose in the global market. FMI expects the global isomaltulose market to grow at 5.3% CAGR through 2031.
Will Health Benefits of Isomaltulose Remain Chief Growth Driver?
Isomaltulose offers a number of health benefits. Isomaltulose resembles sucrose but can be slowly digested. With the growing awareness regarding the effects of isomaltulose on human health, the demand for the same is anticipated to increase. Furthermore, diabetic patients may benefit from this sugar substitute, as it reduces blood triglyceride levels. Isomaltulose also increases immunity, and also helps to store more prolonged and balanced energy in the form of glucose in the body. Increasing awareness of health benefits of isomaltulose is anticipated to boost demand globally.
Isomaltulose is hydrolyzed to equal parts of glucose and fructose. For stable and diabetic adults, it is well tolerated at doses of up to 50 g or 1 g / kg of body weight (about 70 g). Thus, clinical study data for fructose were also given in considering the safety of isomaltulose. Since the ingestion of pure fructose was associated with symptoms of malabsorption, the risk of malabsorption resulting from isomaltulose intake has been investigated. This factor may create a negative perception of isomaltulose.
How Will Demand for Healthy Beverages Increase Affect Isomaltulose Sales?
Rising demand for healthy drinks in Europe is expected to provide lucrative opportunities. The rising demand for natural ingredients in beverages and chocolate bars is expected to drive sales of isomaltulose-based goods. Companies are expected to capitalize on this advantage over the forecast period.
Food & beverage companies are concentrating extensively on research and development (R&D) to improve the nutritional and multifunctional profile of their food products to provide various health benefits.
The perceived need for dietary fiber as a functional ingredient is small, due to the historically high fiber content in European diets. Isomaltulose has increased exposure in the market for nutritional products, which would have a good spill over into the mainstream consumer industry.
There is a strong presence of multinational manufacturers in East Asia, who have the advanced technology and resources to meet this market's growing needs. Their presence has therefore catapulted East Asia as a key market.
How will Isomaltulose Fare as Sugar Alternative?
Isomaltulose is a sugar alternative found in honey and cane juice in trace amounts. Since it contains glucose and fructose, it has the same properties as normal sugar. Some of the renowned international organizations have identifies the use of isomaltulose safe as sugar alternative. For instance, FSANZ permitted the use of isomaltulose as a substitute for sugar in foods. Approvals from international organizations are expected to bode well for the market.
At present the pandemic has changed the lifestyle of many people. Working from home has led to over eating and obesity. This obesity typically results from excessive fat, calorie, and sugar, which increases the risk of various health issues such as adverse lipid concentrations, hypertension, and type 2 diabetes.
These health concerns can lead to strokes, heart-related diseases, and other body-organ failures. The U.S. has historically had the highest obesity rate in the world, with the number of adult and child obesity cases rising since the 1980s. In 2010, the latest health and obesity recommendations rated 35.7 per cent of all Americans over the age of 20 as obese. With a plenty of cases of childhood obesity occurring in the United States, these health issues have become crucial in the healthcare sector. At the same time, promoting healthier eating habits and creating awareness of obesity nationally has become of upmost importance.
Country-wise Insights
How Big is the Opportunity for Isomaltulose in the U.S.?
The U.S. isomaltulose market is amongst the biggest and fastest growing ones, expanding at a rate of 5.8% CAGR over the forecast period. Due to the rise in patients suffering from lifestyle diseases such as diabetes, obesity, and cardiovascular disease, the market is expected to expand. In addition, the desire to live a healthier lifestyle and the rise in demand for low-calorie food products are two key factors driving the isomaltulose market in the area.
Also, the use of isomaltulose as a clean-labeled sweetener has sparked interest for isomaltulose, which food and beverage manufacturers have backed up with developments and product launches.
Will India's Isomaltulose Market Continue Exhibiting Rapid Growth?
The India market is projected to grow at a notable CAGR of 7.5%, highest among the other South and East Asian countries. In India, as in many other countries, sweetening agents, especially carbohydrates, have long been used to improve food taste. Sucrose also has been a popular sweetener. Sucrose intake, on the other hand, is linked to increasing health issues among modern consumers.
As a result, food scientists were on the lookout for new sweeteners to meet market demand. Isomaltulose, also known as palatinose, is a naturally occurring portion of honey that is also commercially extracted from sugar cane. Isomaltulose has a higher stability than sucrose, is tooth-friendly, has a slow digestibility, and has a sweetening capacity of 40–50%.
Isomaltulose has a low glycemic index, provides long-term energy, and has no negative health effects. Dairy products, Breakfast cereals, chocolate, chewing gums, and especially ice cream and yoghurt, have all been successfully incorporated. Isomaltulose may also be used as a substitute for sucrose because of its unique properties, such as being tooth-friendly and having no negative effects on food consistency or human health.
What are the Factors Driving Isomaltulose Use in Germany?
Germany is the biggest and the most important market for sweeteners in Europe. The Germany market is drive the rising consumption of processed foods. For manufacturing of soft drinks, sugar alternatives such as stevia, isomalt, and isomaltulose are commonly used. Sugar intake is projected to continue to decline over the forecast period, despite efforts to encourage sugars and sweeteners, as a result of an increasing focus on health and wellness.
How Did COVID-19 impact Isomaltulose Market in China?
COVID-19 was first discovered in December 2019 in Wuhan, China, and soon spread across China and the rest of the world. Isomaltulose suppliers supply goods to food manufacturers and foodservice providers such as food and beverage, but COVID-19 has severely impacted the lockdown in most countries around the world, including China.
Fear of a pandemic has made people more conscious of their eating habits, making it more necessary for consumers to preserve good health. Since isomaltulose intake protects the body from diabetes and cholesterol, people with these underlying health problems suffered the most during the pandemic. Sellers in China are also coming up with new beverage varieties to draw customers and ensure sales in the event of a pandemic.
Category-wise Insights
Which Grade of Isomaltulose is Gaining Better Traction?
Isomaltulose is mostly used in food. The food grade is expected to hold 93.6% market share in terms of value in 2021. Isomaltulose is used in several food products owing to its properties of crystalline and clean sweet taste roughly half the strength of sucrose.
In Europe, it is used for producing non-cariogenic chewing gums, candies, pastries, cookies, and specialty chocolates. It is also used as a sucrose substitute in the formulation of diabetic dietary goods and beverages, e.g. milk drinks, sports drinks, alcohol-free beer, and helps prevent tooth decay.
Who is the Leading End User of Isomaltulose?
Currently the ingredients segment is expected to hold the leading share of 22.9% in terms of value and is expected to grow with 5.3% CAGR in the forecast period. Isomaltulose is used in all the these sectors like confectionery, bakery products, breakfast cereals and bars, dairy products, frozen desserts, beverages, flouridated salt, table top/ spoon-for-spoon sweeteners, supplements and otc medicine, and ingredients. Thus manufacturers of these industries have increased the use of isomaltulose in their products to satisfy consumers demand.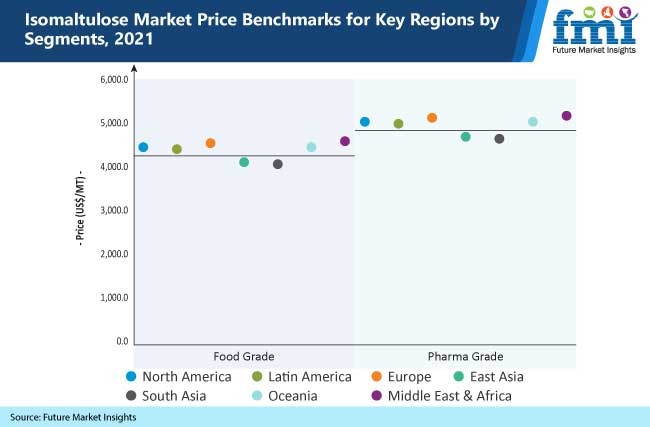 Competitive Landscape
Increasing research capacity for new product creation among manufacturers in developing regions such as Asia Pacific and the Middle East is creating opportunities for the growth of the global isomaltulose market. It is primarily due to the growing number of consumers suffering from diabetes and the perception of obesity that manufacturers' emphasis has also shifted to developing low-calorie food products, thereby generating opportunities for players in the global market for isomaltulose. Isomaltulose market players are focusing on product launches via online and ecommerce retailing to gain edge.
Some of the leading companies operating in the market are:
Anhui Elite Industrial Co.,Ltd
Now Foods
BENEO GmbH
ErgoNutrition
Qingdao Oriental Tongxiang International Trading Co.,Ltd
*The list is not exhaustive, and only for representational purposes. Full competitive intelligence with SWOT analysis available in the report.
Scope of the Report
Attribute

Details

Forecast Period

2021-2031

Historical Data Available for

2016-2020

Market Analysis

USD Million for value and MT for Volume

Key Regions Covered

North America, Latin America, Europe, East Asia, South Asia, Oceania, and Middle East & Africa.

Key Countries Covered

US, Canada, Brazil, Mexico, Chile, Peru, Argentina, Rest of Latin America, Germany, France, Italy, U.K., Spain, BENELUX, Nordic, Poland, Russia, Rest of Europe, China, Japan, South Korea, India, Malaysia, Singapore, Indonesia, Thailand, Rest of South Asia, Australia, New Zealand, GCC Countries, South Africa, Turkey, North Africa, Central Africa, Rest of MEA

Key Segments Covered

Grade, End Use and Region

Key Companies Profiled

Cargill Inc
Anhui Elite Industrial Co.,Ltd
Merck KGaA
Now Foods
BENEO GmbH
ErgoNutrition
Qingdao Oriental Tongxiang International Trading Co.,Ltd

Report Coverage

Market Forecast, brand share analysis, competition intelligence, DROT analysis, Market Dynamics and Challenges, Strategic Growth Initiatives

Customization & Pricing
Key Questions Answered in the Report
Which is the most lucrative market for Isomaltulose?

Europe currently leads the global Isomaltulose market. The region is expected to account for over 27% of the overall market during the forecast period.

In Which Grade Isomaltulose is most used?

Food grade isomaltulose is expected to be the preferred grade in the global isomaltulose market.

What are the key factors driving Isomaltulose Market?

The global isomaltulose market is driven by the rising demand for non-cariogenic sugar. The increasing focus on convenience and functional food products besides the rising demand for healthy beverages will continue driving isomaltulose sales.

Which are some of the leading companies offering isomaltulose?

Some of the leading companies offering isomaltulose are Cargill Inc, Anhui Elite Industrial Co.,Ltd, Merck KGaA, Now Foods, BENEO GmbH, ErgoNutrition, Qingdao Oriental Tongxiang International Trading Co.,Ltd and others.
Isomaltulose Market by category:
By Grade
Food Grade Isomaltulose
Pharma Grade Isomaltulose
By End Use
Confectionery

Chewing Gums
Hard Candies
Soft Candies
Gummies and Jellies
Chocolates

Bakery Products
Breakfast Cereals and Bars
Dairy Products
Frozen Desserts
Beverages

Fruit Juice Beverage
Malt Beverages
Powder Based Drinks
Carbonated Beverages

Flouridated Salt
Table Top/ Spoon-for-spoon Sweeteners
Supplements and OTC Medicine
Ingredients

Intense Sweeteners
Non Carcinogenic Sweeteners
Others
By Region
North America
Latin America
Europe
East Asia
South Asia
Oceania
Middle East and Africa (MEA)
Need specific information?