Lactoferrin Market to Surpass US$ 237 Bn by 2029
Medical applications of Lactoferrin thrust global lactoferrin market to grow at a healthy CAGR of more than 5% between 2019 and 2029. Traction from medical community can be attributed to the increase in number of skin diseases, iron & inflammatory homeostasis issues, and anemia of inflammation in the world. This cationic glycoprotein (Lactoferrin) is a nutritional ingredient in food & beverage products such as infant formula, food supplements, sports nutrition, non-alcoholic beverages, and bakeries.
Clinical Nutrition Paves Way for Rapid Adoption
Clinical applications of lactoferrin poise clinical nutrition segment as the share-wide and growth-wise leader of the market. The red fraction of milk, lactoferrin has an antimicrobial characteristic that protects human body against numerous pathogens. It is regarded as a nutraceutical protein proposed to play a vital role in neuropathic and neurodevelopment mechanisms. Owing to surging demand from anemic patient community, product manufacturers in clinical nutrition segment are increasing the demand for lactoferrin.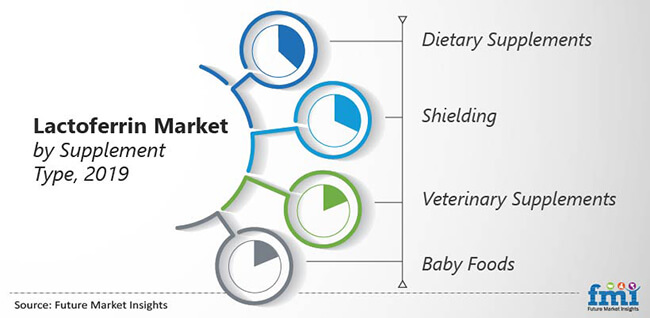 North America and Latin America Leads Global Market
North America and Latin America collectively account for more than 35% of market share. Rising cases of skin disease is the driving force behind this market dominance. The American Academy of Dermatology suggests that over 50 Mn Americans suffer from skin diseases such as acne every year.
East Asia offers gainful growth opportunities with an astounding growth rate of more than 7% during the forecast period. Developing economies in this region are invested in decreasing the cases of iron deficiency and promoting consumer health. Europe and Middle East & Africa also offer remunerative prospects with a robust growth rate of around 7% during the forecast period.
Dietary Supplements Shape Competitive Landscape
Dietary supplements will lead demand generation by supplement type. Lactoferrin has found numerous applications amid confirmation of its benefits from the medical community. Consumers are increasingly looking for lactoferrin dietary supplements that help in managing gut health. Market players are investing in research and development to devise innovative lactoferrin variants that can be used in unexplored medical conditions. Liquid form-factors prevail as the most preferred in lactoferrin market. The segment exhibits share-wide and growth-wise dominance throughout the forecast period.
Drugstores Lead Share-wide and Growth-wise Demand Generation
On the basis of distribution channel drugstores lead the segmentation in share-wide and growth-wise trajectories. Other sales channels that market players employ are specialty stores, modern trade channels, third party online channels, and direct-to-customer channels. Despite the prevalence of e-commerce platforms across industry verticals medicinal products continue to be bought from physical stores in developed, as well as, developing economies.
Tailwinds from the e-commerce era are however showing signs of increased penetration in the form of third party online and direct-to-consumer sales channels. The third party online channel is expected to present lucrative growth opportunities as consumers become increasingly comfortable in buying medicinal drugs and multi nutritional supplements online. Major players in the market are Glanbiaplc, Fonterra Co-operative Group Ltd., Vitalus Nutrition Inc., NutriSciences, Milei GmbH, Pharming Group NV, Nestle SA., Bega Cheese Group, Farbest Brands, and InVitria.
FREQUENTLY ASKED QUESTIONS ABOUT LACTOFERRIN MARKET
What drives the lactoferrin market?
Application of lactoferrin in skin diseases, iron deficiencies, inflammatory issues, and anemia of inflammation drives the lactoferrin market. The rising awareness about iron nutrition plays a central role in mass-adoption of lactoferrin.
What is the expect market valuation by the end of 2029?
The global lactoferrin market is expected to cross US$ 237 Bn in market value by the end of forecast period (2029).
Which region will lead the global sales of lactoferrin?
North America will lead the global sales of lactoferrin. Worrying statistics about skin diseases in North American countries is a major factor that drives growth in this region.
Which product segment is likely to witness highest growth?
Dietary supplements segment will register the highest growth in lactoferrin market. This growth can be attributed to rising health concerns among consumers and prevalence of plant-based diets that require dietary supplements.
Which segment based on application will record the highest growth?
Clinical nutrition is expected to record the highest growth. The anti-microbial nature of lactoferrin protects the human body against harmful pathogens. This coupled with the pivotal role of lactoferrin in neuropathic and neurodevelopment drive adoption in clinical applications.
Which segment based on distribution channels will generate highest demand?
Drugstores will maintain its share-wide dominance and prevail as the highest demand generator by the end of forecast period. Online distribution channels such as third party platforms and direct to consumer online sales will offer lucrative growth opportunities.
Market Segmentation
The global lactoferrin market is segmented in detail to cover every aspect of the market and present complete market intelligence to readers.
By Form
By Supplement Type
Baby Foods
Shielding
Dietary Supplements
Veterinary Supplements
By Application
Sports Nutrition
Infant Formulas
Clinical Nutrition
Veterinary Nutrition
By Sales Channel
Specialty Stores
Drugstores
Modern Trade Channel
Third Party Online Channels
Direct-to-Customer Channels
Region
North America
Latin America
Europe
South Asia
East Asia
Oceania
Middle East & Africa
Need specific information?