Global Macroalgae Market – Key Research Findings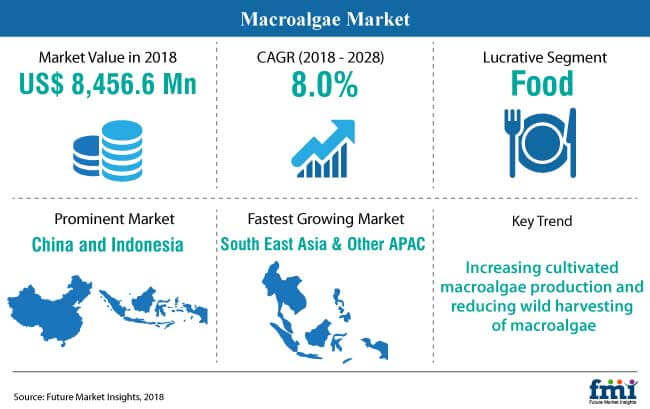 The global macroalgae market was valued at around US$ 7,882.6 Mn in 2017, and is projected to grow at an 8% CAGR over 2018–2028.
Escalating production of macroalgae is observed in China, Indonesia, Korea, Philippines, Japan, and other Asian countries.
China and South East Asia, together, contribute more that 90% of the global production and consumption of macroalgae.
The food industry is a prominent consumer of macroalgae, globally. However, other end uses such as cosmetics, fertilizers, and pharmaceuticals are also gaining market share in terms of consumption of macroalgae.
A large part of macroalgae that is produced is converted into food hydrocolloids, which have wide applications in food and related products.
Increasing awareness about the nutritional value of macroalgae is expected to push the global demand for macroalgae.
Top 3 Factors Shaping the Macroalgae Market
Increasing Demand for a Variety of Food Products Leads to an Increase in the Demand for Macroalgae
Increasing population in Asian countries is putting pressure on food production industries, including agriculture, poultry, and others. Increasing interest in high-nutrition food products is leading to a surge the demand for macroalgae from the food industry. The growing demand for seaweed snacks, along with the increasing popularity of Japanese cuisines, is expected to drive the demand for macroalgae in the food industry.
Asia Pacific countries are emphasizing more on increasing the production of macroalgae. Various programs and initiatives have been launched by the governments in these countries to support macroalgae farming.
Increasing Demand for Animal Feed Creating a Positive Impact on the Macroalgae Market
Due to the increasing population and growing animal industry, the demand for animal feed additives from industries and animal feed from poultry farms and other end users is rapidly increasing. Macroalgae can be used as an animal feed, which plays a vital role in improving animal health by giving them proper nutrition. Increasing demand for animal feed results in the growth of the macroalgae market.
Currently, the annual global demand for chicken is around 90 million tons. Thus, the poultry market is observing huge demand, which is expected to rise further. Owing to this, poultry farm owners are focusing on the quality of poultry with good nutrition feed for their animals. As a result, opportunities for the growth of the macroalgae market are increasing all over the world, as it a rich source of proteins and other nutrients.
Other End Uses Also Adding Growth to the Market of Macroalgae
Macroalgae plays a significant role in the wellness and beauty industry, due to its wide variety of applications. As the consumption of bio-based health supplements increases, the consumption of seaweed and seaweed extracts in the pharmaceutical and personal care industries is also rising. Macroalgae is also a rich source of plant supplements.
Macroalgae has been seen as a good alternative to chemical-based fertilizers. The increasing demand for ecofriendly fertilizers is expected to boost the demand for macroalgae from the agricultural industry. The rising demand for nature-based ingredients in skin care products such as gels, shampoos, cleansers, and oil is also creating a positive impact on the market of macroalgae.
Manufacturers are exploring new applications of macroalgae extracts through continuous research. Large players are investing in R&D for the development of various new products from macroalgae for the benefit of human beings and other animals. This is expected to bolster the growing market of macroalgae during the forecast period.
Macroalgae Market: Structure Analysis
Top key players operating in the macroalgae market include Dow Dupoint Inc., Cargill Inc., Biostadt India Limited, CP Kelco, Acadian Seaplants Limited, Nantong Tianfu Seaweeds & Aquatics Co., Ltd., Qingdao Rongde Seaweed Co., Ltd, Haian Qingxin Food Co., Ltd., Extractos Naturales Gelymar S.A., Seasol International Pty Ltd, Qingdao Seawin Biotech Group Co., Ltd., Compañía Española de Algas Marinas S.A., and Indigrow Ltd., among others
These players are trying to expand and grow in the macroalgae market through strategic steps of development, such as acquisitions, expansion, and joint ventures. This report on the macroalgae market is designed to provide relevant information regarding these players, and also about the key strategies that they have adopted.
Manufacturers are focusing on the sales of macroalgae by extracting its ingredients and developing new products through it. This could be a differentiating strategy for the growth of revenue in the coming years.
Easy entry into the market and growth in demand are attracting new small players so as to access the increasing opportunities in the global macroalgae market.
Key Segment
By Source
By Type
By Application
Hydrocolloids
Feed
Others
By End Use
Food
Fertilizers
Cosmetics
Animal Feed
By Region
North America
Western Europe
SEA & Other APAC
China
India
Japan
Middle East & Africa
Need specific information?