Manual Resuscitator Market Outlook and Key Findings
The global manual resuscitator market is expected to witness a CAGR of over 4.1% between 2020 and 2030
North America and Europe collectively account for more than 50% of market share and the scenario is expected to remain the same in the years to come.
Outbreak of Covid-19 has resulted in more than 60% of growth since Mar 2020
Automation of manual resuscitators is expected to restrain the market in the near future
Manual Resuscitator Market Snapshot
Manual resuscitators, better known as BVM (Bag Valve Masks), are anticipated to witness a staggering growth in the forecast period (2020-2030). This can be attributed to growing incidences of cardiac arrests, neonatal care, and awareness initiatives coupled with simulation websites.
As per the WHO, the number of people suffering from cardiac ailments is expected to reach 23.6 Mn by the year 2030. Out of the three materials (rubber, PVC, and silicone) used, silicone is being used extensively in outpatient setting and hospitals to treat pediatric and adult patients contracting cardiac and respiratory diseases. Silicone is expected to prove to be frugal in the long run due to its durability.
Several measures are being taken with regards to safe administration of manual resuscitator. For example – The AHA (American Heart Association), has, of late, established the NRCPR (National Registry of Cardiopulmonary Resuscitation), which acts as multi-site data collection source.
Inter-facility comparison between several hospitals is also enabled. This, in turn, establishes a standard mechanism.
The demand for prehospital/out-of-hospital/community resuscitators has been witnessing an upsurge recently. This could be attributed to the growing requirement for provision of bystander cardiopulmonary resuscitation.
The trends mentioned above are expected to influence the manual resuscitator market in the forecast period (2020-2030).
Innovative Measures to Catalyze the Manual Resuscitator Market
The manual resuscitator market players as well as research organizations are coming up with novel products to manage cardiovascular diseases and respiratory disorders. Also, explicit research is being conducted in this regard.
For instance –
ROC (Resuscitation Outcomes Consortium) has been established for studying better ways for treating outside trauma and cardiac arrest cases. ROC encompasses a clinical research network of 10 regional centres all through Canada and the US.
In May 2020, a resuscitator was tabled by the Faculty of Energy and Environmental Engineering at South Poland's Silesian University of Technology. It's being claimed as a cost-effective ventilator in form of manual resuscitator. A crank drive has been provided. A small electric motor powers it.
In Apr 2020, Boston Scientific announced manufacturing of an emergency resuscitator. Initially it went for 3,000 devices and upscaled the production as per demand.
In Jul 2018, NeuroGym Technologies was acquired by Medline Industries. The former comes across as a rehabilitation equipment and therapy maker based in Canada. This acquisition helped Medline focus on offering improved solutions regarding post-acute healthcare all across North America.
Companies are also making way for providing resuscitation training material/workshops for increasing awareness pertaining to cardiac resuscitation.
For instance – Laerdal Medical, in Jan 2016, collaborated with SonoSim, Inc. for launching ultrasound solution for SimMan and SimMon. Classroom training is provided with respect to critical care, trauma care, and pregnancy.
Covid-19 Impact
The demand for resuscitators has increased manifold since Mar 2020. On these grounds, several innovations are seeing the light of the day. Also, the methods to speed up the operation of manual resuscitators are being floored.
For instance – In Jun 2020, MIT came up with US FDA-approved emergency ventilator system (E-Vent) using a manual resuscitator. An Arduino-controlled motor has been added for automating the process, so that treatment related to Covid-19 could be fast-tracked.
In Jun 2020, Fitbit designed a ventilator based on manual resuscitation bags to treat Covid-19 patients. The ventilator has several sensors for helping in monitoring patients, and controls volume and pressure regarding sensors.
In Apr 2020, Trine University's staff, along with Parkview Health, developed a secondary machine for pumping the manual resuscitator. Post approval from the US FDA, the production is expected to expedite.
Automated Resuscitators: Restraint to Manual Resuscitator
Though manual resuscitators have been doing the rounds since the last few years, they are falling short of coping with the ongoing pandemic. As such, automated resuscitators are likely to gain traction.
In Apr 2020, India-based Biodesign Innovation Labs devised a portable ventilator for dealing with Covid-19. It is known as "RespairAID", which claims to address exhaustion, unreliability, and inconsistency caused due to manual ventilation. The portable size lets healthcare personnel carry it effortlessly during emergency and also transportation.
In Apr 2020, Monolithic Power Systems, Inc. announced assembling an emergency ventilator drawing inspiration from open-source MIT design for aiding in combating Covid-19. Automation of manual resuscitators is on the anvil, especially when there is a shortage of a complete ICU ventilator.
In Mar 2020, Binghamton University Foundation, along with engineers of CMP Advanced Mechanical Solutions, came up with the B resuscitator, which is a power-assisted emergency ventilator.
Manual Resuscitators Market Characteristics and Attributes, 2020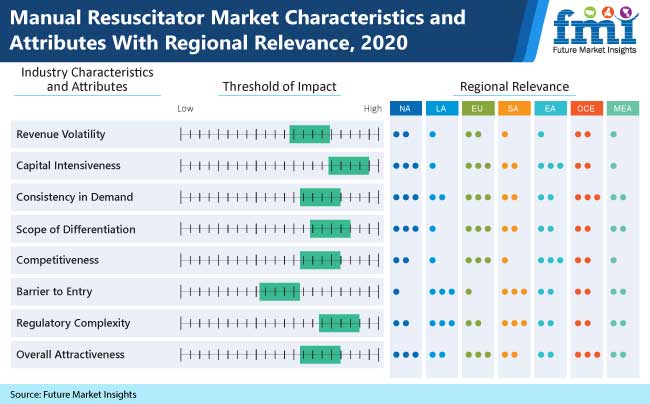 The manual resuscitator market continues to witness a high degree of volatility. Though the attribute of manual resuscitator market of being exposed to high revenue volatility is limited to established markets, companies operating in the Latin American market have been reported to reflect nominal volatility in demand growth.
This is evident from the fact that the demand – supply gap is well absorbed by consumption in domestic market. The graph above highlights some of the key attributes of the market with impression of regional variance of the same.
Manual Resuscitators Market: Region-Wise Analysis
North America and Europe are among the most lucrative markets for manual resuscitators globally.
Market players are introducing novel, technologically advanced products for providing flawless resuscitation. On these lines, "Inspire" is expected to improve urgent care through support lent to resuscitation and transfusion.
Asia-Pacific is expected to grow at the fastest pace in the forecast period due to growing need for ventilation in the wake of an upswing in respiratory disruptions due to steep increase in air pollution. In economies like India, neonatal care is also being looked into.
Key Players in the Manual Resuscitator Market
The manual resuscitator market players are onto the new product launching spree to grab the mind share of the consumers as well as have a competitive edge over their competitors.
For instance –
Koninklijke Philips N.V., in Apr 2018, launched the "Augmented Infant Resuscitator" as an addition to manual resuscitator designed keeping in mind "birth asphyxia".
Weinmann recently launched its COMBIBAG bag-valve mask, through which, one could easily adapt tidal volume related to ventilation to relevant patient group by merely rotating the bag. In other words, it's a single bag for all kinds of patients.
CareFusion has come up with its AirLife Disposable Self Inflating Resuscitation Device that is pocket-friendly as well as reliable. It has a manometer port, low-profile textured bag, double-swivel elbow, removable accumulator along with U/Connect-It fitting to enable easy connection to the oxygen source.
The other players in the manual resuscitator market include:
HUM Systems for Life
GE Healthcare
Covidien Plc
Hopkins Medical Product
Drager Medical AG and Co.
Laerdal Medical
Me. Ber. Srl
Hill
Ambu A/S
Medline Industries
Manual Resuscitator Market: The Way Forward
The manual resuscitator market is expected to go strong, with FMI's analysts predicting the Y-o-Y growth to be over 4.1% between 2020 and 2030.
The outbreak of Covid-19 has resulted in an exponentiation since Mar 2020 – in terms of both – manufacturing and sales. This scenario is expected to persist till the end of 2020. From 2021, linear transition is expected.
The key market players are coming up with new products, but they need to look up to newer markets to strengthen their customer base. Inorganic growth strategies will certainly help the market players to enhance their winning streak in the forecast period (2020-2030).
Key Segment
Type
flow-inflating resuscitator
self-inflating resuscitator
T-piece
Modality
Technology
pop-off valve
PEEP valve
others
Type of Patient
Pediatric
Adult
Others (Neonates and Infants)
End-Use
hospital
out-of-hospital (home care, community care, primary care)
ASC
Military
others (specialized diagnostic centres, specialized clinics)
Geography
North America
Latin America
Europe
East Asia
South Asia
Oceania
MEA
Need specific information?