Molybdenum Market By End Use industry (Oil and Gas, Chemicals and Petrochemicals, Automotive, Mechanical Engineering, Building and Construction, Power Generation), Application (Full Alloy, Stainless Steel, HSLA, Tools, Carbon, Cast Iron, Catalysts) & Region – Forecast 2017 – 2026
Molybdenum Market - Analysis, Outlook, Growth, Trends, Forecasts
November 2017

REP-GB-5643

170 pages
Global Molybdenum Market to Register a CAGR of 3.8% in Terms of Volume during 2017-2026; APEJ and Europe Estimated to Dominate the Global Molybdenum Market over the Forecast Period
Future Market Insights delivers the key insights on the global molybdenum market in its latest report titled 'Molybdenum Market: Global Industry Analysis 2012 – 2016 and Opportunity Assessment 2017 – 2026' The long-term outlook on the demand for molybdenum remains positive, with the market in terms of volume expected to increase at a CAGR of 3.8% during the forecast period (2017 – 2026).
Molybdenum is used in various sectors such as in industrial, aerospace, consumer, medical, energy, agricultural and transportation sectors. Molybdenum is a silvery-white hard metal and possesses the sixth highest melting point of any metal and is commonly used in creating high strength alloys and super alloys. When molybdenum is added to steel and cast iron, it brings many desirable properties to them such as improved hardness, strength and weld ability.
It also elevates the temperature strength of steel and makes it corrosion resistant. When molybdenum is added to nickel-based alloys, it brings high-temperature deformation and gives a high resistance to corrosion.
The APEJ market is expected to dominate the global molybdenum market in terms of volume in 2017, and the trend is projected to be followed throughout the forecast period. The APEJ molybdenum market is the most attractive market, growing at a CAGR of 4.1% over the forecast period.
The Oil and Gas is one of the large end-use industries in the market, which represents 55,678.1 Mn lb of the market, or 20.9% in 2017, and 80,061.9 Mn lb in 2026, or 21.5%, and a CAGR of 4.1%. It is growing at 4,876.8 Mn lb annually over the course of the forecast period, and this absolute growth is larger than the any other segment
As the demand for molybdenum bearings in the steel and chemicals sector is high, the prices of molybdenum are increasing, which is likely to benefit the market. As the energy sector in North America is expanding, the demand for molybdenum is expected to further increase and put this element in a strong position.
Moreover, acceleration in the industrial activities, and an expansion in infrastructure growth in countries such as China is likely to generate more demand for steel, and this is likely to give a boost to the molybdenum market.
However, the drop in demand from the Chinese oil and gas sector, has led to a fall in exploration and production activities where molybdenum steel bearings are widely used, which is likely to affect the molybdenum market in an adverse manner.
Molybdenum is Used in the Chemical Industry as a Catalyst
Molybdenum is also used in the field of chemicals. For instance, it is used in the production of refined petroleum products and as a catalyst. Molybdenum helps to remove sulfur from natural gas. This process is known as hydrodesulphurization, in which heat and pressure is applied along with catalysts such as cobalt, alumina and molybdenum. In some of the instances in this process, in order to treat difficult feedstock, molybdenum and nickel are used in the place of cobalt.
Such low-sulfur containing fuels are clean and produce less emissions. Countries such as the U.S. and Canada have mandated the use of ultra-low sulfur diesel fuel in road vehicles. Molybdenum is also used as a catalyst in the production of polymers and plastics.
Molybdenum is also Used as a Lubricant, as a Pigment and in Fertilizers
Molybdenum is used as a lubricant in bullets, bicycle coaster brakes, two-stroke engines and many more. Molybdenum when mixed with sulfur gives molybdenum disulfide, which is used in lubrication purposes and used as greases for roller and ball bearings in industries such as transportation, manufacturing, mining etc. Molybdenum disulfide is geothermal in origin and hence can withstand pressure and heat. It also protects engines against wear and tear, corrosion and oxidation.
Other application of Molybdenum includes pigments and as fertilizers. Production of paints and dyes also uses Molybdenum as a raw material. For instance, zinc molybdate is used as a paint primers to protect the paint against corrosion and in order to stabilize the color. Lead chromate, lead, lead, lead sulfate and molybdate are used to make Molybdenum oranges. This chemical combination produces a paint which do not fades in light and weathering over time.
In 2015, Molybdenum was One of the Worst-performing Commodities
In the year 2015, molybdenum was a worst-performing commodity, falling 49 percent during the year. The future outlook for molybdenum isn't positive, since it has been over produced. Coupled with this, the demand in China is continuing to slip, and there has not been enough supply adjustment. Most of the molybdenum is used for the production of steel, which is largely governed by the industrial activities in China. China is the largest producer of molybdenum.
Since the past few years, several molybdenum mines have been closed in North America, which along with China, has more than two-thirds of the production of molybdenum. Freeport-McMoRan, which was the largest producer of molybdenum in the year 2015, has cut back production by 19 percent. Chinese producers have also scaled back molybdenum production in 2016. This may help molybdenum prices to recover.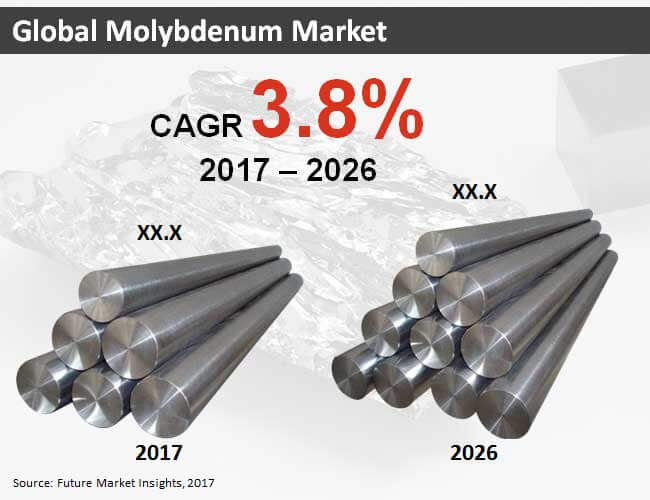 Molybdenum Reserves Need to be Conserved
The ores that can be extracted of scare minerals such as antimony, molybdenum and zinc may get exhausted within several decades to a century, if they are extracted at the same rate. Hence, if the conservation of such scarce minerals is left to market forces, it is not certain that such scarce minerals will be timely and sufficiently conserved for our future generations.
Hence, it is recommended by several scholars to prepare international policy measures so that price of such scarce mineral resources is increased, in order to ensure that substation and recycling processes start and such scarce minerals can be conserved.
Segmentation Analysis
The molybdenum market is segmented on the basis of application and end users. On the basis of application type, the full alloy molybdenum market segment is projected to witness robust growth in terms of volume over the forecast period. The chemicals and petrochemicals segment in the molybdenum market is projected to create total opportunity of 19,578 Mn lb between 2017 and 2026. This segment is expected to account for a 15.3% share in the global market volume.
Oil and Gas molybdenum segment is expected to expand at 4.1% CAGR over the forecast period and to be valued at 80,061.9 Mn lb. by 2026 end. The largest share is contributed by APEJ region in oil and gas market. This is expected to represent 28,964.2 Mn lb., or 50% of the market in 2018, to reach 41,138.0 Mn lb. in 2026, or 51.4%, representing a CAGR across forecast period of 4.5%.
Asia Pacific Excluding Japan is Expected to Remain the Dominant Regional Market over the Forecast Period
On the basis of geography, the global Molybdenum market is segmented into North America, Latin America, Europe, Asia Pacific Excluding Japan, Middle East & Africa, and Japan. Europe just produced four metric tons of molybdenum in the year 2012 and the figure stood at eight tons in the year 2013, and all the production was carried out in Norway.
The consumption of molybdenum stood at 63.5 kt in the year 2013. However, Europe is the world's second biggest consumer of molybdenum, with an average consumption of 63,500 tons, representing 25% of the yearly production of molybdenum in the world.
It is perceived that as Europe has good trade relationships with the molybdenum producing countries, and possesses a strong industrial base and due to its relatively low cost and high abundance, the demand and supply balance of molybdenum should not be of high concern for Europe at least for the medium term.
FMI forecasts the China molybdenum market to grow from 83,186.6 Mn lb in 2017 to 119,895.6 Mn lb in 2026. This represents a compound annual growth rate (CAGR) of 4.1% from 2017 to 2026.
Volume from India molybdenum market is anticipated to increase at a CAGR of 4.8% over 2017-2026, to reach 17,115.4 Mn lb by 2026. By the end of 2026, Thailand molybdenum market is projected to reach 6,271.1 Mn lb, expanding at a CAGR of 5.1% over the forecast period.
Leading Market Players Dominating the Global Molybdenum Market
Manufacturers are focused on production and supply of molybdenum for the consumer base to retain the market share. Key players are increasing penetration in the market by increasing their global presence. New entrants need to comprehensively study Molybdenum market in order to penetrate and sustain in price sensitive market.
Many industries such as Oil & Gas, Infrastructure, Energy production, and Automotive etc. are focusing towards Steel Moly alloy products for the consumers help in prevailing the growth of the market and creating new opportunities for new entrants.
Companies profiled in the Molybdenum market report include Freeport-McMoRan Inc., China Molybdenum Co., Ltd., Compania Minera Dona Ines De Collahuasi S.C.M., Antofagasta plc, Jinduicheng Molybdenum Co., Ltd., Grupo México, Compañía Minera Antamina S.A., Thompson Creek Metals Company Inc., S.A.B. de C.V., BHP Billiton Group and American CuMo Mining Corporation.
Additional Questions Answered
key concerns related to regulatory standards for Molybdenum market
What trends are impacting the sales of Molybdenum and how can Molybdenum manufacturers leverage them?
Which is the most lucrative regional market with respect to the Molybdenum adoption and demand?
Why are the sales of Molybdenum highest in North America?
Why is APEJ attracting most of the leading Molybdenum manufacturers?
How logistics and supply chain management is critical element (as it requires compliance from source to customer) in Molybdenum volume chain?
Which end-user base to target in Molybdenum market?
World's Most Profilic Intelligence Engine
Get Access To The World's Largest Market Research Database.
Sign Up Now
Key Segments Covered in the Report
To understand and assess opportunities in the global molybdenum market, the report has been divided into five sections based on market segmentation as under:
Region
North America
Latin America
Europe
Japan
APEJ
MEA
End Use industry
Oil and Gas
Chemicals and Petrochemicals
Automotive
Mechanical Engineering
Building and Construction
Power Generation
Aerospace and Defence
Electronics and Medical
Process Industry
Other Industries
Application
Full Alloy
Stainless Steel
HSLA
Tools
Carbon
Cast Iron
Catalysts
MO Metal Alloy
Super alloy
Other Applications
Need specific information?
Our Clients