Organoids Market by Product Type (Intestinal Organoids, Hepatic Organoids, Pancreatic Organoids, Colorectal Organoids, Neural Organoids), Application (Bio-banking, Biomedical Research and Drug Discovery, Regenerative Medicine), End User & Region - Forecast to 2021-2031
Organoids Market - Analysis, Outlook, Growth, Trends, Forecasts
April 2021

REP-GB-8106

250 pages
About the Report
Organoids are self-organizing and microscopic3D structures, which are grown from stem cells in vitro.This multipurpose innovation has prompted the advancement of a few novel human cancer models.Preposterous decade, organoids are being progressively utilized in a scope of uses, including pathogenesis, disease modelling, regenerative medicine, and drug screening and the pattern is set to keep in the near future.
The global organoids market is being driven by research advancements in the field. Furthermore, the increase in the inclination towards personalized medicines is expected to result in increasing use of organoids in the coming years. Till November 2020, there were around 21 ongoing clinical trials identified with organoids globally. This number is expected to rise in the approaching years, which is attributable to recent advancements in scientific field.
Leading biopharma companies are focusing on expanding their product scope across various distribution channels in various countries around the world. To improve their industrial research activities, some companies are concentrating on collaborating directly with academic institutions. Few players, on the other hand, are concentrating on changing and building a broad product portfolio by bringing new innovative products into the global market.
In its new study, ESOMAR-certified market research and consulting firm Future Market Insights (FMI) offers insights about key factors driving demand for organoids. The report tracks the global sales of organoids in 20+ high-growth markets, along with analyzing the impact COVID-19 had on the pharmaceuticals industry in general, and organoids in particular.
Historical Trends Positive, But Future Outlook Even Brighter for Organoids Market
The increasing focus on oncological research has propelled the demand for organoids around the world. The U.S. has shown the highest development in the organoids market in the world.This can be attributed to an increase in the number of patients suffering from various diseases, increased investment in R&D, commercialization of organoid models, and stem cell research. According to FMI's analysis, organoids sales have grown from 11.5% in 2016 to 17.5%in 2020.FMI expects global organoids demand to grow at 11.3% CAGR through 2020.
What is the Impact of Increasing Life Science Research Funding?
Funding for life science research and investments in organoids products is rising. These researches are undertaken by various organizations such as the National Institute of Allergy & Infectious Diseases, National Institutes of Health (NIH), Department of Health and Human Services (DHHS), and others.
Among these, the National Institute of Allergy & Infectious Diseases includes applied and basic research to evaluate and develop therapeutics and diagnostics, which are funded through a variety of contracts and research grants. Sources of R&D spending include governments, commercial organizations as well as private funding. This will likely create opportunities for market growth.
For instance, the total amount of research grants awarded by the National Institutes of Health (NIH) in the U.S. exceeded US$ $251 million over five years (2015 to 2019).
How Organoids Will Reduce The Cost Of Drug Discovery And Process Timelines?
Traditional methods for drug discovery are less pertinent and insufficient in comparison to the speed of developments in life science. Organoids are, in this way, expected to create a significant revenue share thanks to the increasing drug discovery applications in the coming years. For enhanced humanized therapeutics and medications, organoids are capable in identifying the target and non-target responses and connections of the candidate drug.
Organoids additionally have applications in shortlisting the potential medication molecules and removing the rest by considering the 'in-vitro' conditions, which are very near to the natural environmental surroundings. As indicated by the International Federation of Pharmaceutical Manufacturers and Associations, around 22% of the complete expenditure consumed on drug discovery is needed for preclinical testing.
Application of organoids for drug discovery reduces the extremely long process and saves expenditures, adding to the more need for organoids in the market. North America continues to be a prominent region in the organoids research, with sales growing at a relatively higher rate.
How Is Better Resemblance toIn-Vivo Environment Boosting Growth?
The focus is on attaining a greater degree of resemblance to the cell specific structure of the specific organ in vivo environmental conditions. This is thought to be the primary driver of the market. Organoids are used for cell toxicity monitoring, cell-based assays, and organ-specific cell functions. Because of the morphological and locomotion constraints imposed by the 2D setting, cell cultures in this setting are limited in their ability to reflect traits found in in vivo systems.
Organoids' ability to meticulously imitate the individual cells of the organs from which they were created results in accurate tissue models. This aspect has emerged as a key growth drivers. Organoids' diverse range of applications contributes to the market's rising demand from end users. Organoids allow for more accurate simulation of living organism conditions and the generation of more relevant cell models. The expansion of the organoids market is expected to be driven by improved and better organoids systems.
How Is Establishment of Biopharmaceutical Companies Enabling Growth in Organoids Market?
Multinational health-care organizations play a vital role in ensuring that people in developing countries have access to high-quality care and medicines. Jobs are created, public policy is shaped, training is provided, and infrastructure is built as a result of their focus on providing access to health care services and medicines.
In recent years, pharmaceutical firms have posted good financial performance. The growing number of pharmaceutical companies and research and development activities not only create jobs, but also necessitate manpower to provide quality services such as sterilization and infection control, which are essential for good manufacturing practices.In 2017, the biopharmaceutical industry in the United States employed approximately 307,585 people, making a major contribution to industrial, state, and local economies. Expansion of the biopharmaceutical companies will emerge as a chief growth driver.
What Is the Impact Of COVID-19 Crisis On Global Organoids Market?
The COVID-19 pandemic had a limited influence on the organoids market. The outbreak is expected to creategrowth prospects for those participating in the existing organoids market. Human and animal organoids are expected to progressively prove their utility as an experimental virology tool as researchers continue to evaluate the biology of the novel coronavirus. Furthermore, many researchers from around the world have turned to organoid technologies to determine the novel SARS-COV-2 virus's tissue tropism.
On the other hand, the industry is confronted with manufacturing and supply chain problems, such as supplying goods to end consumers on time and catering to an unequal demand for the sector's products and services.
In addition, a dearth of qualified lab personnel to conduct diagnostic studies, reduced operations in most sectors, inadequate funding for research and academic institutes, the temporary closure of major academic institutes, a fragmented supply chain, and difficulties in supplying essential/post-sales services due to lockdowns have been negatively affecting growth.
Despite the difficult situation, economies are steadily recovering from the effect.Company activities have begun to grow at a slow and steady pace as supply and distribution networks recover. Against this backdrop, the pandemic is unlikely to have a long-term effect on the organoids market.
Country-wise Insights
How Big is the Opportunity forOrganoids Market In The U.S.?
North America is predicted to remain one of the most attractive markets during the forecast period, according to Future Market Insights. The United States' high healthcare spending is one of the main factors supporting the market growth. Overall healthcare spending grew at a faster rate of about 4.6 percent in 2019 than overall economic growth of 4.0 percent in the United States calculated by Gross Domestic Product (GDP), according to CMS' Office of the Actuary estimates.
Furthermore, the United States remains one of the world's largest markets for biopharmaceuticals, making it a lucrative market for organoids manufacturers. The U.S. dominated the organoids industry, owing to an increase in the execution of organoid-based examination models in the biotechnology sector in both United States and Canada. These cutting-edge developments have helped scientists resolve the limitations of 2D cell culture phases, as 3D organoids provide a microenvironment that mimics the properties of human tissue structures.
This allows for the prediction of in vivo test results. The introduction of organoids in the United States has been supported by high per capita healthcare spending and favorable healthcare policies. Thus, this in turn is anticipated to boost the growth of organoids market in U.S.
How is Expanding Healthcare Sector Favoring Organoids Market Growth in Japan?
The market registered swift expansion in Japan, which is attributable to consistent advancements in the area of stem cell research. Increase in collaborations among key market players is observed, which is aiding the overall expansion of the market. For example, in March 2020, Nichirei Biosciences and UPM Biomedicals collaborated together to give UPM culture products in Japan. This upgraded the accessibility of normal hydrogels for organoid culture.
Furthermore,during the assessment period, research and development activities are expected to play a significant role in the overall development of the Japan organoids market. Furthermore, it is expected that increasing collaborations between researchers and medical experts would bolster the production of complex organoids.
Two recent findings are expected to improve Japan's overall prospects for next-generation organoid production. In August 2020, a group of scientists from Cincinnati Children's Hospital Medical Center and Japan announced a new research partnership. The findings from the recent research partnership, according to the researchers, would likely be one of the most important factors in the growth of a new generation of complex organoids. As a result, the market for organoids in Japan is expected to increase.
RiseIn Prevalence Of Infectious Diseases Driving Organoids Market in U.K
The market in U.K. is likely to grow at a rapid pace during the forecast period. Over the next few years, the organoids market in the country is expected to be driven by the production of cerebral organoids for neurological disorders, as well as an increase in the prevalence of infectious and other diseases.
During the forecast period, investments in cancer, liver diseases, gastrointestinal diseases for organ regeneration, and stem cell research are expected to fuel the organoids market in Europe.
Category-wise Insights
What's the Market Share of Intestinal Organoids?
The intestinal organoids will continue accounting for maximum of the global share among products through the forecast period. According to Future Market Insights, the segment was expected to hold slightly more than athird (1/3rd) of the market, in terms of component, in the year 2020. Intestinal organoids offer higher availability compared to other organoids, which are the leading factors behind the dominance of this segment.
Toxicology, drug discovery, and cancer research all depend heavily on organoid cultures. This is due to the fact that organoids have a tumor-like growth pattern, which can be cultured to produce a large number of cells of uniform shape and size, and can be studied, morphologically measured, and counted using a variety of instruments and techniques.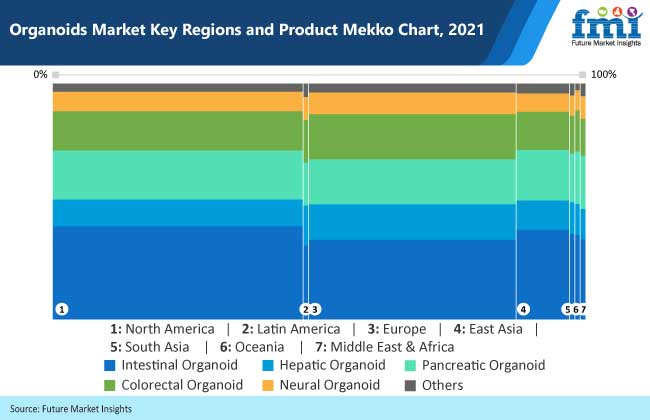 Which application of organoids is highly sought-after?
Accounting for more than a third (1/3rd)of overall market share in 2020, bio-banking continues to account for bulk use of organoids. The demand is due to higher inclination towards studying disease epidemiology and human developmental biology. Moreover, rise in trend of preserving organ specific tissue diversity and quest to study diseases worldwide is attributing towards the market growth of this segment among all applications.
Why are Academic and Research Institutes Dominating the Organoids Market?
The Academic and Research Institutes segment is estimated to hold for the largest revenue share of 68.8% in 2021 owing to higher adoption of organoid into research studies. Organoids' possible therapeutic applications have been increasing in academic and research institutes.
The rapid growth rate of the academic and research institutes segment is expected to be driven by the increased adoption of organoid culture in university projects and government-based research bodies.
In June 2019, for example, researchers from the Stanley Center and Harvard University for Psychiatric Research (Broad Institute) developed enhanced human brain organoids to help research into neurological disorders. Thus, this in turn is expected to increase the demand for organoids.
Competitive Landscape
Companies operating in organoids market are aiming at strategic collaborations with other manufacturers to expand their product manufacturing and address the demand of an expanding patient pool.
For instance, in January 2021, BIOIVT (US) partnered with Upcyte Technologies GmbH (Germany) as the exclusive commercial worldwide distributor for its cell products and media, including cells derived from hepatocytes and liver sinusoidal endothelial cells (LSECs).
In September 2020, Ubrecht Organoid Technology (HUB) and BGI-Qingdao announced that they have signed a Memorandum of Understanding (MoU) to form a collaboration to establish a joint Next Generation Diagnostics (NGD) center to improve personalized care, better treatments and cure as well as faster development of new safe medicines in China.
Manufacturers are also focusing on the expansion of their product portfolios by launching new technologically advanced products.
For instance, in November 2020, Cellesce Ltd. recently announced the impending arrival of new patient-derived Breast Cancer organoid lines. These new lines have been fully validated for compatibility with their proprietary organoid expansion process.
Some of the leading companies operating in the market are:
Cellesce Ltd
DefiniGEN
Qgel
Hubrecht Organoid Technology (HUB)
OcellO B.V.
STEMCELL Technologies Inc.
*The list is not exhaustive, and only for representational purposes. Full competitive intelligence with SWOT analysis available in the report.
Scope of Report
Attribute

Details

Forecast Period

2021-2031

Historical Data Available for

2016-2020

Market Analysis

USD Million for Value

Key Regions Covered

North America, Latin America, Europe, East Asia, South Asia, Oceania, and the Middle East & Africa

Key Countries Covered

US, Canada, Germany, U.K., France, Italy, Spain, Russia, China, Japan, South Korea, India, Thailand, Malaysia, Indonesia, Australia, New Zealand, GCC Countries, Turkey, Northern Africa, and South Africa

Key Segments Covered

Product, Application, End User, and Region

Key Companies Profiled

Cellesce Ltd
DefiniGEN
Qgel
Hubrecht Organoid Technology (HUB)
OcellO B.V.
STEMCELL Technologies Inc.

Report Coverage

Market Forecast, Company Share Analysis, Competition Intelligence, DROT Analysis, Market Dynamics and Challenges, and Strategic Growth Initiatives

Customization & Pricing
World's Most Profilic Intelligence Engine
Get Access To The World's Largest Market Research Database.
Sign Up Now
Organoids Market by Category
By Product Type, Organoids market is segmented as:
Intestinal Organoids
Hepatic Organoids
Pancreatic Organoids
Colorectal Organoids
Neural Organoids
Others
By Application, Organoids market is segmented as:
Bio-banking
Biomedical Research and Drug Discovery
Regenerative Medicine
Cancer Research
Therapeutic Tools
Others
By End User, Organoids market is segmented as:
Biopharmaceutical Companies
Contract Research Organizations
Academics and Research Institutes
By Region, Organoids market is segmented as:
North America
Latin America
Europe
East Asia
South Asia
Oceania
Middle East and Africa (MEA)
Key Questions Answered in the Report
Which is the most lucrative market for organoids?
North America currently holds dominance in the globalorganoids market. Within the region, the U.S. has emerged as the leading market.
Which organoid type exhibits higher sales?
Intestinal organoidsare expected to emerge as the leading product category, exhibiting high sales in the market.
Which are some of the leading companies offering organoids?
Some of the leading companies operating in the organoids market are Cellesce Ltd, DefiniGEN, Qgel, Hubrecht, Organoid Technology (HUB), OcellO B.V., STEMCELL Technologies Inc. and others.
Which is the key application oforganoids?
Bio-banking has emerged as a leading application segment, exhibiting high demand for organoids.
Who is the leading end user of?
Academic and research institutes are expected to dominate the organoids market over the forecast period as the leading end user.
Need specific information?
Our Clients