Organoids Market - Key Research Findings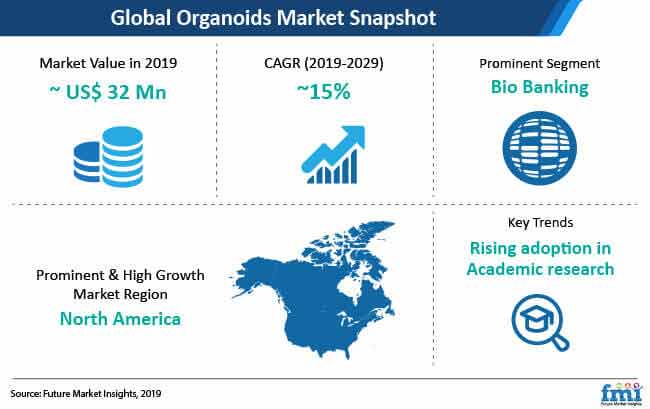 The global organoids market size in 2019 is estimated to reach ~ US$ 32 M
The organoids market is projected to grow at a significant CAGR of ~ 15% during 2019-2029.
North America and Europe markets are anticipated to remain prominent regional markets for organoid products.

North America and Europe are prominent regions in the organoids market owing to the increasing research activity on organoids for the potential application in organ specific models, regenerative medicines, and preclinical studies.

Manufacturers are primarily focusing on targeting research groups and connecting with highly skilled professionals for training and guidance of fellow junior researchers, in order to keep a standard flow for knowledge and keep researchers engaged in the development of organoids.

Major players in the organoids market are Hubrecht Organoid Technology (HUB), STEMCELL Technologies Inc., Cellesce Ltd., DefiniGEN, Qgel and OcellO B.V., and others.

The intestinal organoid is expected to be the most lucrative product.

The growth of this segment can be largely attributed to the increasing demand from toxicological research studies and research on clinical drug response in organoid models. It is expected to be the most preferred product of the organoids market in the upcoming years.
Key Factors Shaping the Organoids Market
Organoids – Increasing Demand for Preclinical Drug Testing in Biopharmaceuticals
Biopharmaceuticals are restorative medications delivered by utilizing biotechnology, i.e., these are remedial or therapeutic substances made by genetic manipulation of living cells or organisms. With the increasing occurrences of several virus or bacteria borne infections or diseases, the scope of biopharmaceuticals is also increasing. The monoclonal antibody therapeutics segment is growing by providing the most dynamic and promising drug pipelines in the biopharmaceuticals market.
Gradually, most vaccine manufacturing processes will involve the use of cell strains and cultures made up of only a single type of cell. Recently, the advancement in driven by 3D-cell culture and organoid research. Additionally, in recent years, the entire pharmaceuticals industry was facing single-digit growth, weak pipeline, and pressure of the generics industry, but biopharmaceuticals segment have become the rapidly growing sector of the industry.
Above 200 biopharmaceutical products are marketed, and many more are in the development process. Technological advancement is based on the developments in 3D-cell culture and organoids research. The development of organ-specific organoid models and adoption of biopharmaceutical together is expected to generate high revenue sales for the organoids market during the forecast period.
Market Set to Grow 4X between 2019 and 2029
Key players in the market are focusing on developing their product portfolio and expand their footprint in emerging markets to strengthen their position in the organoids market. Key players are entering into the market with novel and innovative organoid models with features, such as organ-specific organoid, cancer model organoids, supplementary products, and others, to differentiate themselves in the market and generate maximum revenue.
Manufacturers in North America and Europe are focusing on strategic tie-ups to leverage the development potential of organoids. These strategic reliance have primarily contributed to the growth of the organoids market.
In 2018, JSR Corporation, the parent organization of Crown Bioscience and Hubrecht Organoid Technology, entered into an intentional collaboration to provide services for preclinical oncology validation and drug development services by incorporating HUB Organoid Technology platform.
Low Drug Discovery Costs & Short Processes for Organoid Development
Traditional methods of drug discovery are inadequate and less relevant to the pace of the growing life science research and development. Organoids are, therefore, expected to generate a major revenue share in the market for drug discovery applications in the near future.
For improved humanized medicines and therapeutics, organoids are proficient in detecting the target and non-target reactions and interactions of the candidate drug. Organoids also find applications in shortlisting potential drug molecules and eliminating the rest by studying 'in-vitro' conditions, which are very close to the natural environmental conditions.
Ground-breaking discoveries to incorporate the characteristics of living tissues, such as respiration, nutrient transport, and metabolic functions to precisely determine drug properties, are driving the organoids market. According to the International Federation of Pharmaceutical Manufacturers & Associations, about 22% of the total expenditure spent on drug discovery is required for preclinical testing.
Implementation of organoids for drug discovery shortens the very lengthy process and saves money, contributing to the higher demand for organoids in the market. North America continues to be a prominent region in the organoids research landscape, with sales growing at a relatively higher rate.
Improved Resemblance to In Vivo Environment
The primary driver for the organoids market is considered to be the attainment of a higher degree of resemblance to the cell-specific structure of the specific organ, in vivo environmental conditions. Organoids are used for cell toxicity screening, cell-based assays, and organ-specific cell functions. Cell cultures in 2D-environment limit or restrict their ability to depict traits exhibited by in vivo systems because of the morphological and locomotion limitations imposed by the 2D atmosphere.
The ability of organoids to meticulously mimic specific cells of organs from which they are derived leads to accurate models of tissues. This factor is considered to be a strong driver for the growth of the organoids market. A wide range of applications of organoids further contributes to the growing demand from end users in the market.
A survey report of Drug Discovery World Summer 2010 suggests that around 70% of the scientists are preferring 3D cell culture involving specific organs over 2D cell culture, the most important reason being greater biological relevance attained by organoids.
Organoids enable better simulation of conditions in a living organism and generate more relevant cell models, driving the organoids market growth. Improved and better organoid systems are anticipated to expand the organoids market further. This factor is facilitating the organoid research and increasing the market growth of the organoids market.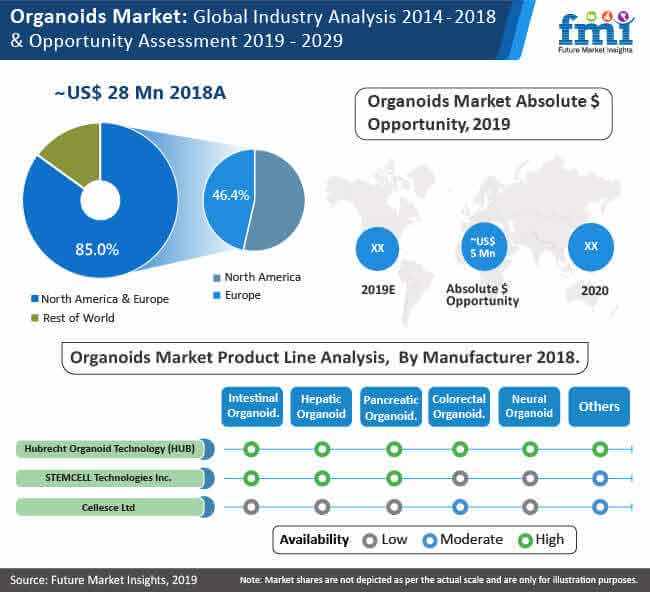 Organoids Market Structure Analysis
The global organoids market is a highly consolidated market owing to the presence of limited manufacturers.
Some of the prominent companies in the organoids market includes Hubrecht Organoid Technology (HUB), STEMCELL Technologies Inc., Cellesce Ltd.,
Companies are focusing on collaborations to realise the potential of developed markets and re-strategizing their collaborations with technology facilitators to gain market share and develop organ specific models.
Manufacturers of organoids are focusing on implementing vertical integration strategies for their organoid product lines and additionally working on distribution and lead time as obtaining organoids from a cell bank currently registers a lead time of 3-4 months. Key players are providing custom services to produce organoids from patient-derived cell biopsy. Such patient deriver organoid models that are gaining significant acceptance for the use in human disease testing. All these factors are significantly boosting the organoids market growth.
Organoid Culture: The Future of Human Developmental Biology is 'In Vitro'
With the recent advancements in the medical research, which are driving the evolution of the way research is conducted in the healthcare sector, scientists and healthcare researchers are making a move away from in vivo cultures to in vitro cultures. The scope of in vitro cultures is no more limited to physiologically aberrant environments, as it has been expanded to organoid cultures, which are derived from progenitor or stem cells and show great resemblance to in vivo cultures.
This is mainly attributed to the advancements in technologies that have expanded the boundaries of developmental biology, opening new opportunities for stakeholders in the organoids market.
The global market for organoids as well as organoids kits has been witnessing exponential growth with most researchers transitioning from two-dimensional (2D) cell culture, which was the most-preferred method of producing diseases models 'in a dish', to a three-dimensional (3D) environment or culture vessel. Researchers are expected to take in vitro methods of developing organoid culture, with growing awareness about organoids as a promising model that can mimic the in vivo situation vis-à-vis most diseases.
With emerging advancements in the fields of tissue engineering for development of tissue engineered skin substitutes, regenerative medicines and stem cell research, the expansion of the organoids market is likely to expedite in the coming years.
Organoids to Become an Integral Part of Drug Discovery and Testing Processes
The incidence of several virus- and new bacteria-borne diseases has been on the rise worldwide, in turn giving rise to the need for discovering efficient restorative medications that are delivered by utilizing biotechnology through genetic manipulation of living cells or organisms. Eventually, the applications of organoids and 3D cell culture in the discovery of biopharmaceuticals and in the manufacturing vaccines have witnessed a significant upsurge in the past few years.
With recent developments in the human developmental biology, organoids have enabled researchers and scientists to recapitulate morphogenetic events in the process of organ and tissue formation in human body. As organoids replicate the complexity of human organs and tissues to a great extent, their applications in the drug discovery and testing landscape have reached new heights in the past few years.
Stakeholders in the organoids market are exploring new opportunities in the field of drug delivery and testing by promoting the benefits of organoids in investigating various complex diseases and predicting the in vivo mechanism of action and efficacy for novel drug. In addition, as the implementation of organoids in drug discovery and testing eliminates the need for preclinical testing, in turn limiting the cost and expediting the process, the organoids are expected to likely to replace the tradition methods of drug discovery in the coming years.
Developed Economies Discern Immense Growth: Anti-vivisection Activities Play a Key Role
Developed countries in North America as well as Europe have been the top revenue pockets for stakeholders in the organoids market, and are likely to continue to remain the same in the coming years. Apart from the ballooning expenditure for research & development, government policies and consumer awareness against animal experiments and testing have triggered the development of 3D cell culture and organoids as an alternative to vivisection, especially in the United States. Further, Europe will create lucrative opportunities for stakeholders with technological expertise in leading countries such as the United Kingdom, followed by Germany.
Potential Applications in Oncology Research to Drive Future Developments
Organoids technology has been witnessing incremental adoption in a wide range of verticals in the field of medical research to study the pathophysiology of diverse, complex human diseases. In the recent years, with the alarming rise in prevalence and incidence of genetic diseases, especially cancer, leading stakeholders are adopting strategies of developing cancer organoids that represent tumours and making them commercially available for researchers.
In addition, with the increasing demand for personalised medication is expected to create new avenues of growth for organoids used in various branched of oncology research. Developing cancer organoids for individual patients suffering from cancer, allowing researchers to investing the genomic changes in cancer with better efficiency is gaining popularity as a strategy among stakeholders in the organoids market.
Thereby, market players are likely to increase focus and investments in research & development directed towards creating organoids with microstructures that match with individual patients' tumours' original structures.
Apart from the increasing applications in the oncology research, another emerging trend in the organoids market is increasing innovation in development of intestinal organoids. Being among the very first organoids developed by researchers in the history, the demand for intestinal organoids has remained high ever since. Nevertheless, though most ongoing activities focus on the development of intestinal organoids, the demand for neural, pancreatic, hepatic, and colorectal organics is expected to increase exponentially in the coming years.
How Growth Will Unfold
Despite being a relatively newer discovery in the medical research landscape, organoids have grown tremendously in popularity across various verticals of the healthcare sector. With the high potential of organoids in the discovery of innovative disease-fighting drugs for complex health disorders, the global market for organoids is set to grow 4x in the coming decade. Increasing awareness about the benefits of organoids and 3D cell cultures over existing approaches for drug discovery is expected to drive growth of the market.
Furthermore, ongoing activities and campaigns against the use of animals for experimentation and testing, coupled with the resemblance of organoids with in vivo situations will continue to provide an impetus to the organoids market in the coming years.
Key Segment
By Product Type
Intestinal Organoid.
Hepatic Organoid.
Pancreatic Organoid.
Colorectal Organoid.
Neural Organoid
Others
By Application
Bio-banking
Biomedical Research and Drug Discovery
Regenerative Medicine
Cancer Research
Therapeutic Tools
Others
By End User
Biopharmaceutical Companies
Contract Research Organizations
Academics and Research Institutes
By Region
North America
Europe
Latin America
South Asia
East Asia
Oceania
Middle East And Africa
Emerging Countries
Need specific information?