Introduction
Orthokeratology (Ortho-K), an emerging treatment option for myopia, presbyopia, hyperopia, and astigmatism, is non-invasive and works on the principle of corneal replacement. Currently, the market has two FDA approved Ortho-K therapies, viz. Corneal Refractive Therapy (CRT) and VisionShaping Treatment (VST). Patients undergoing this treatment are advised to wear the Ortho-K lenses for 6-8 hours at night while sleeping, which reshape their cornea to deliver clear vision in the day time.
As projected by a recent research study conducted by Future Market Insights, the global orthokeratology market will possibly reach the revenue worth US$ 88.7 Mn by the end of 2028, witnessing robust expansion at 7.4% CAGR over 2018-2028.
Ortho-K May Gain Excellent Traction among Young Myopia Patients
The recent Sydney Myopia Study found that 31% of 17 year olds are myopic, which is double the prevalence reported earlier by the Blue Mountain Eye Study - more than a decade ago. Orthokeratology is considered to be an ideal treatment alternative for young aged patients, as they are not eligible for laser surgery such as LASIK. Bolstering prevalence of myopia is thus a predominant factor expected to drive the growth of the orthokeratology market over the forecast period.
Moreover, several advantages of orthokeratology lenses over conventionally used contact lenses, especially for sportspersons will also be a key factor fuelling the market growth.
A few limitations of LASIK surgery are also identified to be responsible for robust growth of orthokeratology market, over the projection period. Additionally, the increasing online campaign is expected to increase awareness among people about the use of orthokeratology lenses for the treatment of myopia, eventually pushing the demand of orthokeratology lenses up in next few years.
Myopia Pegged to Continue its Lead through 2028
Based on indication, the global orthokeratology market has been segmented into myopia, hyperopia, astigmatism, and presbyopia. Among these, myopia accounted for more than 72% value share to the total market revenue in 2017, which has been attributed to high prevalence of myopia in Asian countries, including South Korea, Taiwan, Singapore, China, and Japan.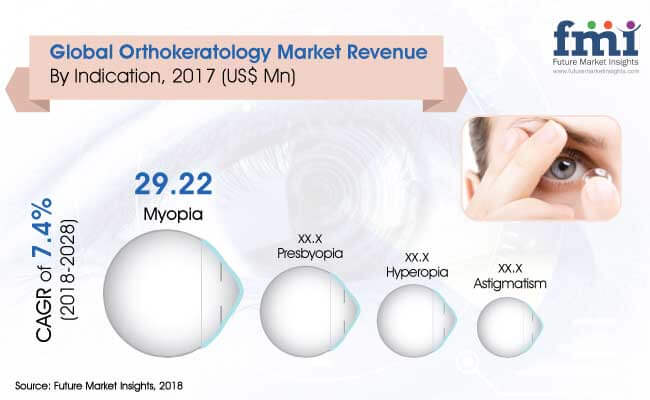 North America Slated for Continued Dominance over Other Regions
Among the key distribution channels, including hospitals, optometry clinics, and ophthalmic clinics, Future Market Insights predicts the dominance of the optometry clinics segment through 2028. Regionally, the global market for orthokeratology has been segmented into eight major regions, i.e. North America, Latin America, Western Europe, Eastern Europe, Asia-Pacific excluding China and Japan (APECJ), China, Japan, and Middle East & Africa (MEA).
While sharp increase in the prevalence of myopia and presbyopia will continue to enable North America's market to dominate globally, Western European region is likely to represent the second largest market, followed by APECJ.
Market Leaders Target China & Japan for Expansion
As China and Japan have been identified to hold lucrative opportunities through the assessment period, the manufacturers leading the global market for orthokeratology will reportedly focus on expansion within Chinese and Japanese markets. Collaborations and acquisitions will remain on the bandwagon, for a majority of key players operating competitive market landscape.
Need specific information?