Orthokeratology Market by Indication (Myopia, Presbyopia, Hyperopia, Astigmatism), Distribution Channel (Hospitals, Optometry Clinics, Ophthalmology Clinics) & Region – Forecast 2022 – 2028
Orthokeratology Market - Analysis, Outlook, Growth, Trends, Forecasts
January 2022

REP-GB-3142

194 pages
Orthokeratology Market Outlook (2022-2028)
[194 Pages Report] The global Orthokeratology Market is estimated to reach US$ 58.1 Mn in 2022, and is further projected to be valued at US$ 88.7 Mn by 2028, rising at a CAGR of 7.3% from 2022 to 2028.
| | |
| --- | --- |
| Orthokeratology Market Size (2022) | US$ 58.1 Mn |
| Sales Forecast (2028) | US$ 88.7 Mn |
| Global Market Growth Rate (2022 to 2028) | 7.3% CAGR |
| Share of Top 5 Orthokeratology Equipment Suppliers | 55% |
The orthokeratology market accounted for around 0.7% market share of the global contact lens market. Ortho-K in optometry clinics is projected to account for around 50% revenue share of the orthokeratology market across the assessment period of 2022 to 2028.
Orthokeratology Market Historical Analysis (2013-2021) Vs. Market Outlook (2022-2028)
The global orthokeratology market value increased at around 6.9% CAGR from 2013 to 2021.
Orthokeratology (Ortho-K), an emerging treatment option for myopia, presbyopia, hyperopia, and astigmatism, is a non-invasive process and works on the principle of corneal replacement. At present, there are two FDA approved Ortho-K therapies: Corneal Refractive Therapy (CRT) and Vision Shaping Treatment (VST).
Patients availing these treatments need to wear the Ortho-K lenses for 6 to 8 hours at night during their sleep, and this reshapes their cornea to facilitate clear vision during the daytime.
Orthokeratology has been considered to facilitate the elimination of contact lens-related vision problems, providing patients with the freedom to experience an active lifestyle. While this factor will continue to play a pivotal role in the growing adoption of Ortho-K lenses.
Increasing online efforts in patient education and awareness about Ortho-K, coupled with an intensifying rate of success of orthokeratology lenses in recent years, is expected to strengthen the prospects for the global orthokeratology market, over the coming years.
While increasing prevalence of myopia stands as a key factor impacting market growth, several advantages of orthokeratology lenses over conventional contact lenses have been recognized to be pushing the adoption of orthokeratology devices among sportspersons.
The orthokeratology market is projected to expand at a CAGR of around 7.3% from 2022 to 2028.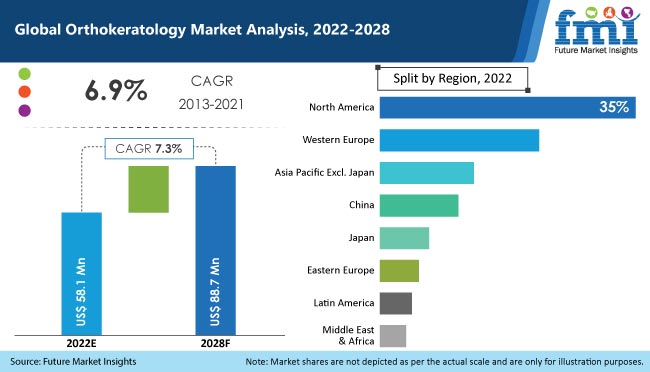 What Makes North America a Prominent Regional Market for Orthokeratology Solutions?
The North American regional market is projected to hold 35% share of the global market in 2022 because of the growing elderly population and the necessity for diagnosis and treatment of Corneal Refractive Therapy (CRT) and Vision Shaping Treatment (VST).
The need for orthokeratology in North America has been increasing as the ophthalmology field has grown rapidly in the United States and Canada. Moreover, government organizations in the region have offered significant reimbursements for eye treatments, boosting market growth.
Country-wise Analysis
Why is the U.S. Witnessing Positive Growth in the Orthokeratology Industry?
The presence of a well-established and highly developed healthcare sector in the United States fuels market expansion. Furthermore, rising government measures to increase access to improved quality treatment is another factor driving orthokeratology demand growth in the country.
The United States is expected to bring in a big revenue share in the worldwide orthokeratology market by 2028, attributed to the high occurrence of short-sightedness among the population.
How is the Orthokeratology Devices Market Faring in China?
The China orthokeratology market is estimated to rise at a high CAGR over the forecast period due to the prolonged usage of laptops, smartphones, and tablets, resulting in digital eye strain and chronic eye damage among children and the young population.
Rise in the number of people with refractive defects such as myopia and hyperopia is likely to boost orthokeratology industry expansion in China.
Access to high treatment centers, growing number of people with eye problems, and rising healthcare expenditure and infrastructure are major factors contributing to orthokeratology solution market growth in China.
Category-wise Insights
Which Indication is Poised to Gain Huge Popularity in Orthokeratology?
Myopia is expected to remain a key indication driving the demand for orthokeratology, worldwide. With the highest share of the total market value estimated for 2028, myopia will also provide extensive scope for innovation opportunities.
The recent Sydney Myopia Study found that 31% of 17-year-olds are myopic, which is double the prevalence reported earlier by the Blue Mountain Eye Study - more than a decade ago.
Orthokeratology is considered to be an ideal treatment alternative for young aged patients, as they are not eligible for laser surgery such as LASIK. Bolstering prevalence of myopia is thus a predominant factor expected to drive the growth of the orthokeratology market over the forecast period.
Moreover, several advantages of orthokeratology contact lenses over conventionally used contact lenses, especially for sportspersons will also be a key factor fueling the market growth.
A few limitations of LASIK surgery are also identified to be responsible for the robust growth of the orthokeratology market, over the projection period. Additionally, the increasing online campaign is expected to increase awareness among people about the use of orthokeratology lenses for the treatment of myopia, eventually pushing the demand for orthokeratology contact lenses up in the next few years.
Which Distribution Channel is Fueling Sales of Orthokeratology Equipment?
Among all the distribution channels, optometry clinics will reportedly continue to generate maximum demand for Ortho-K, accounting for a share of more than 50% of the total market value through 2028.
Ophthalmic clinics are expected to hold a decent revenue share throughout the assessment period, whereas hospitals are likely to emerge as the most opportunistic distribution channel.
Ocular errors, age-related maculopathy, blindness, diabetic retinopathy, and other eye illnesses can all be diagnosed with optometry. Optometrists are licensed and certified healthcare practitioners who can prescribe medicines and corrective lenses for poor eyesight or eyesight.
Improving understanding and acceptance about eye disease prevention, preventative care, and access to vision care will almost certainly improve the market growth.
The optometry clinics segment is supported by an increase in the number of patients who require complete eye examinations and medical care, as well as an increase in the frequency of eye disorders around the world.
Impact of COVID-19 on Orthokeratology Demand
Physically, intellectually, and emotionally, COVID-19 has not been kind to anyone. The sight of loved ones dying as a result of the pandemic is a source of emotional misery that individuals must live with. In the business world, lockdowns resulted in work-from-home scenarios, and people's eyesight has been affected by varied early morning, afternoon, and night shifts.
Government organizations are working to improve the quality of drugs and facilities that will aid in the treatment of those with poor vision. In addition, orthokeratology lens providers are building solutions and launching them on a global scale to benefit the target audience and take advantage of global expansion potential.
Orthokeratology device manufacturing companies are implementing automation to boost their production capacity, and, as such, the market is expected to grow over the coming years.
Competitive Landscape
As China and Japan have been identified to hold lucrative opportunities through the assessment period, orthokeratology equipment manufacturers leading the global market will reportedly focus on expansion on the Chinese and Japanese markets. Collaborations and acquisitions will remain important for a majority of key orthokeratology solution providers.
For instance,
In January 2019, Contamac introduced Optimum infinite high-oxygen gas permeable contact lenses with a strong mix of processability and elastic strength.
In March 2019, Alcon, Inc. purchased PowerVision, Inc., a medical equipment development firm based in the United States. With this agreement, the company will be able to focus on developing a fluid-based corneal lens surgery. This will enhance the overall engagement of the company.
Orthokeratology Industry Report Scope
Attribute

Details

Forecast Period

2022-2028

Historical Data Available for

2013-2021

Market Analysis

Value in US$ Mn

Key Regions Covered

North America
Latin America
Europe
East Asia
South Asia & Pacific
Middle East & Africa (MEA)

Key Countries Covered

U.S.
Canada
Mexico
Brazil
Mexico
Argentina
Germany
Italy
France
U.K
Nordic
Spain
Japan
China
India
Malaysia
Thailand
Australia
GCC Countries
South Africa
Turkey

Key Market Segments Covered

Indication
Distribution Channel
Region

Key Companies Profiled

The Cooper Companies Inc.
Euclid Systems Corporation
Menicon Co., Ltd.
TruForm Optics, Inc.
Art Optical Contact Lens, Inc.
MiracLens L.L.C.
Contex, Inc.

Pricing

Available upon Request
World's Most Profilic Intelligence Engine
Get Access To The World's Largest Market Research Database.
Sign Up Now
Key Segments Covered in Orthokeratology Industry Survey
Orthokeratology Market by Indication
Myopia
Presbyopia
Hyperopia
Astigmatism
Orthokeratology Market by Distribution Channel
Hospitals
Optometry Clinics
Ophthalmology Clinics
Orthokeratology Market by Region
North America Orthokeratology Market
Latin America Orthokeratology Market
Europe Orthokeratology Market
East Asia Orthokeratology Market
South Asia & Pacific Orthokeratology Market
Middle East & Africa (MEA) Orthokeratology Market
Key Questions Answered in the Report
At what CAGR is the orthokeratology market projected to rise?
The global orthokeratology market is projected to rise at a 7.3% CAGR from 2022-2028.
Which region is expected to lead the global orthokeratology market?
North America, with 34.9% share, is leading the global market for orthokeratology.
Who are the leading providers of orthokeratology lenses?
The Cooper Companies Inc., Euclid Systems Corporation, Menicon Co., Ltd., GP Specialists, Inc., and TruForm Optics, Inc. are leading providers of orthokeratology solutions.
What is the projected value of the orthokeratology market for 2028?
Orthokeratology demand is predicted to touch US$ 88.7 Mn by 2028.
What is the key factor driving orthokeratology market growth?
One of the major factors expected to drive demand for orthokeratology is rising prevalence of myopia and high myopia around the world.
Need specific information?
Our Clients