Perfluoropolyether (PFPE) Market By Form (PFPE Oil, PFPE Grease), Product (Linear, Branched), Application (Automotive, Aerospace, Electronics, Chemical) & Region Forecast to 2019 - 2029
Perfluoropolyether Market - Analysis, Outlook, Growth, Trends, Forecasts
September 2019

REP-GB-5647

283 pages
Perfluoropolyether (PFPE) Market - Key Research Findings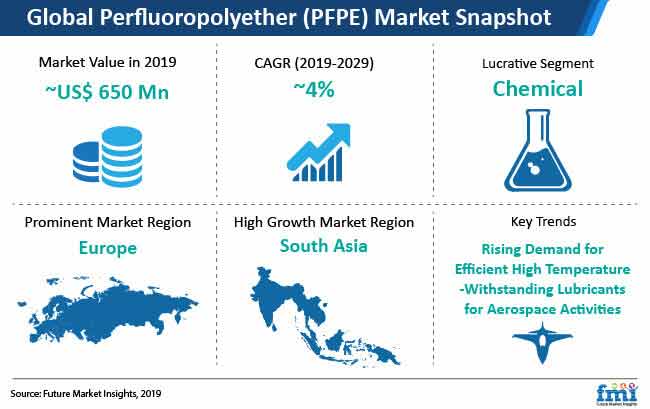 The global perfluoropolyether market size in 2019 is estimated to reach ~ US$ 650 Mn.
The perfluoropolyether market is expected to grow at a CAGR of ~ 4% during the forecast period of 2019-2029.
The snowballing requirement for lubricants, which can face extreme chemical conditions is expected to drive the growth of the perfluoropolyether market.
North America and Europe are expected to collectively account for almost half of the revenue share in the perfluoropolyether industry by the end of 2029.

North America and Europe, due to the strong presence of aerospace, electronics, and chemical industries, will continue to be prominent regional markets for manufacturers of perfluoropolyether.

Linear product is expected to remain one of the prominent segments in the perfluoropolyether market throughout the forecast period. Linear product is projected to maintain a market share of over ~60%.

Multiple applications require lubricants to undergo various processes at extreme temperature conditions. Linear perfluoropolyether is a preferred option for multiple end users, hence, PFPE manufacturers are emphasizing more on the production of this type.
Key Factors Shaping the Perfluoropolyether Market
Rising Deployment of New Aircraft, as More Consumers Prefer Air Travel
In recent years, there has been a significant increase in air travel, which is expected to propel the demand for new aircraft to deal with the anticipated increase in air traffic. Furthermore, factors such as growth in the tourism industry, increasing international travel, competitive air travel fares, and improving amenities provided during air travel, are largely contributing to the increasing consumer preference for air travel.
This all aggregates towards airline carriers deploying more aircrafts, which, in turn, is a very positive sign for the perfluoropolyether market.
Increasing Demand for Uninterrupted Power Supply Driving the Market Growth
Energy and power are some of the most prominent elements of the rapidly growing modern industrial world. Rapidly growing industrialization supported by the economic growth in developing countries and increasing population have fuelled the demand for continuous power supply.
Tremendous amounts of lubricants are used in the production of electricity and power, which is expected to drive the growth of the perfluoropolyether market over the forecast period.
Growing Chemical Industry Anticipated to Bolster the Market Demand
Increased industrialization, coupled with the trending demand for various chemical products from end users is driving the GDP growth in the world. Significant growth in the manufacturing sector as well as the chemical industry has also led to an exponential growth in GDP, worldwide.
The growing chemical industry is expected to drive the growth of the perfluoropolyether market owing to its various applications. This, in turn, will have a positive impact on global investments in manufacturing, thereby increasing the demand for perfluoropolyether in the forecast period.
Increasing Production of Automotive Vehicles Propelling the Market Growth
The production of automotive vehicles has significantly increased in the recent years. Rapid industrialization in regions, such as Asia Pacific, is expected to elevate automotive production. The growth in automotive production is thus, expected to upsurge the demand for lubricants, such as perfluoropolyether, in the near future.
Rising per capita spending, increasing affordability, and growing population are some factors that are driving the demand for automotive vehicles in developing regions. This, in turn, is expected to create a significant opportunity for market growth in the OEM sector. Perfluoropolyether retains an important position as one of the non-toxic lubricants, which are used in multiple automotive applications, which, in turn, is expected to drive the perfluoropolyether market growth over the coming years.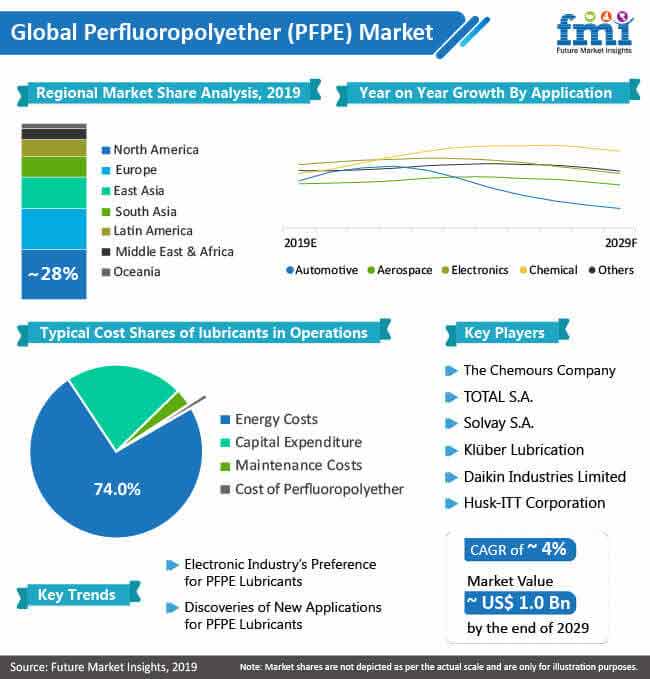 Perfluoropolyether Market Structure Analysis
The global perfluoropolyether market represents a highly fragmented market, where majority of the key players maintain their strategic focus on the development of solid distribution partnerships and joint ventures, targeting a firmer global footprint.
The perfluoropolyether market has been relatively moderate in size, which remains a key factor for its dynamic competitive nature.
Leading manufacturers of perfluoropolyether are currently prioritizing R&D and capacity expansion to resonate with the increasing end-use activities.
Portfolio extension is also identified to remain one of the key developmental strategies adopted by manufacturers of perfluoropolyether.
For a stronger foothold in target markets, perfluoropolyether manufacturers will continue to rely on inorganic strategies, such as mergers and acquisitions.
Deeper understanding of the market trends and preferential shifts of end-use segments across various regions are likely to create a bottleneck for prominent players, looking forward to untapped opportunities in the perfluoropolyether market.
Stable 'Chemical' Bonds Enhancing 'Inertness' in Extreme Settings
Perfluoropolyether (PFPE) is practically inert against chemical and oxidizing influences owing to the existence of highly stable C-O and C-F bonds, making it a great fit for environments where extreme chemical exposure, and high temperature instability are prominent, particularly in aerospace bracket. High viscosity of PFPE – about 144 – is creating leeway in applications requiring superior vacuum, including mass spectrometers, ion implantation, and particle accelerators.
Further, perfluoropolyether, following high resistance against strongly oxidative and reactive substances, is used in vacuum pumps for handling gases such as ozone, and nitric oxides without affecting the parent the fluid.
Since the PFPE chain is impermeable to a majority of fluids, perfluoropolyether is cross-linked with elastomers to avoid swelling-induced leakage during dye diffusion experiments. The PFPE-based elastomers exhibit considerably lower swelling ratios against the legacy polydimethylsiloxane (PDMS), thereby substituting PDMS as the choice of material in microfluidic studies.
However, studies are claiming that PFPEs are unable to solubilize newly-formulated additives. Further, the lubricant is non-resistant to autocatalytic decomposition, declining its prominence in addressing aerospace bracket solutions.
Perfluoropolyether (PFPE) - A 'Protective' Coating against Corrosion
Excellent film-forming ability of perfluoropolyether makes it widely accepted as an added ingredient in cosmetics. PFPE creates a thin protective layer to enhance corrosion against all sorts of injury. Perfluoropolyether oil is applied on dry and oily skin on the account of lipo and hydrophobic characteristics.
Nanostructured hybrid PFPE is coated on brick surfaces on grounds of high aqueous resistance, halving the amount of absorbed water and enhancing the protection degree up to 80-100%. Application of a monolayer of perfluoropolyether on hard disk drives (HDD) decreases the head flying clearance above the lubricant coating to sub-nanometer level to reduce the head-medium distance, thereby improving recording density (storage capacity) of the HDDs.
Studies have suggested that perfluoropolyether aids in preventing irritant contact dermatitis. Perfluoropolyether is utilized as a food grade lubricant, owing to high physiological inertness, to avoid accidental contact with products and packaging materials in food processing.
North America and Europe Remain Frontrunners Despite Steady Growth in South Asia
Although the primacy of developed regional markets prevails, developing economies in South Asia are likely to exhibit promising growth. Recognizing increased aircraft deployment, in the view of surging domestic and international air travels across Europe, North America, and South Asia, market players are targeting the aviation industry in both developed and developing economies. Upswing in vehicle production in ASEAN countries – Vietnam, and Philippines – is encouraging perfluoropolyether manufacturers to cater to lubrication demands of the automotive bracket.
Manufacturing Application-Specific Lubricant/Product Underpinning Stakeholders' Tactics
The global perfluoropolyether market is observing high fragmentation with major participants – Solvay S.A., and NYE Lubricants Inc., collectively accounting for ~30% of the total market revenue.
Gears in industrial robots are majorly lubricated with lithium grease containing synthetic hydrocarbon oil, mineral oil and molybdenum compound, which separate from the solution and discharge from the seals due to heat. As such, market players are launching high-efficiency PFPE lubricant for industrial robotic gears.
Good dielectric properties of perfluoropolyether are influencing players, including M&I Materials Ltd. to kick-start the production of fire safe and biodegradable ester dielectric fluids for electricity transformers in 2018. Perfluoropolyether is highly compatible with myriad of solvents and offers shielding against wear, thereby motivating market forces such as, Total S.A. to manufacture high efficiency PFPE lubricant for automotive air compressors.
How Growth Will Unfold
The quest for uninterrupted operations of diverse equipment is amplifying, especially in aerospace, and automotive sector. With manufacturers seeking long-lasting life span of equipment, perfluoropolyether perfectly fills the gap as a highly efficient lubricant.
PFPE-based elastomers are almost completely recyclable and do not release CFC, and other ozone depleting gases – a better substitute for conventional polluting lubricants for instance, perfluorooctanoic acid (PFOA), in paramount applications. As such, governing bodies across the globe are approving the utilization of perfluoropolyether – a next leg of growth for the perfluoropolyether market.
On the flip side, gradual preference for oil-free equipment, as a product of advanced technologies, among manufacturers tends to be the pain point for the market growth. This is credited to the fact that oil-free equipment offer reliable performance, longer shelf life, and reduced initial cost.
World's Most Profilic Intelligence Engine
Get Access To The World's Largest Market Research Database.
Sign Up Now
Key Segment
By Form
By Product Type
By Application
Automotive
Aerospace
Electronics
Chemical
Others
By Region
North America
Latin America
Europe
South Asia
East Asia
Oceania
Middle East & Africa
Need specific information?
Our Clients