About the Report
With growing phycocyanin applications in food and beverage, cosmetics and personal care industries due to high nutrition value of phycocyanin, the global phycocyanin market is anticipated to witness a substantial growth rate throughout the period of assessment. However, factors such as growing demand of phycocyanin due to cost efficiency, satisfactory government initiatives for the production of phycocyanin, and increasing health benefits awareness accompanied with phycocyanin making it a super food are pushing the growth of the global market.
Customer awareness is increasing regarding the use of Spirulina which is high in nutrients and used as a food source since last many years. Phycocyanin is a blue color pigment extracted from Spirulina and is utilized by manufacturers in food and beverages industry.
In its new study, ESOMAR-certified market research and consulting firm Future Market Insights (FMI) offers insights about key factors driving demand for phycocyanin. The report tracks the global sales of phycocyanin in 20+ high-growth markets, along with analyzing the impact COVID-19 has had on the food and beverage industry in general, and phycocyanin in particular.
Historical and Future Outlook
Since 2013, the U.S. Food and Drug Administration (FDA) approved phyocyanin usage in food and beverage industry. In the last few years, many manufacturers have started producing phycocyanin due to the growing demand for natural and organic products. Additionally, many manufacturers have launched new and innovative colors made from phycocyanin which can propel the market to newer heights.
In 2016, phycocyanin extracted from Spirulina has become the most striking color globally and the regulatory bodies approved the utilization of phycocyanin in cosmetic and personal care industries owing to its texture and features. The European Food Safety Authority (EFSA), for food safety has banned the utilization of artificial colors in food products consumed in EU countries. This has improved growth prospects in the market.
Besides stringent regulations banning the use of artificial colors, rising awareness regarding health benefits of phycocyanin has been aiding the overall expansion. With regards to nutrition, 100 grams of phycocyanin consists of more than 60 grams of protein with various vitamins such as Vitamin A, B, C, E and K, carbohydrates, fibers with various minerals such as calcium, iron, magnesium, phosphorus, potassium, sodium, zinc and others.
Increasing awareness of harmful effects of artificial colors used in the food and beverage products has resulted in a surge in demand for more natural ingredient in the formulation of the product which is increasing the traction of phycocyanin as natural colorant in the market as key brands for food colors are going clean label and more natural.
However, phycocyanin contamination is critically affecting production, constant variations in import and export of phycocyanin and rough environment change stimulating the production of phycocyanin are disturbing the growth of the global phycocyanin market.
According to FMI's analysis, phycocyanin sales have grown at 5.2% CAGR between 2016 and 2020.
Consumers' interest is piqued in natural products, creating opportunities for products obtained from organic sources. Companies functioning in the phycocyanin market are expected to leverage this opportunity during the forecast period. Key players in phycocyanin market are greatly concentrating on research & development (R&D) activities to develop multi-functional profiles of naturally obtained phycocyanin from Spirulina which offers high health benefits.
Nowadays, manufacturers are increasingly examining phycocyanin, however, some companies have implemented new practices. Driven by trends such as incorporating anti-oxidant properties in cosmetics, new entrants within the market have been focusing on innovations. These advances present a progressive outlook for growth. FMI expects global phycocyanin market to grow at 6.8% CAGR through 2031.
Why Phycocyanin is Gaining Traction in Cosmetic Industry?
Application of phycocyanin in the cosmetic industry is increasing since it contains anti-oxidant properties. Nowadays, micro-algae is been utilized for the treatment of skin problems, which includes pigment disorders, tanning and aging. Furthermore, prospects for skin whitening, anti-aging and pigmentation reducing products are considerably high and this will create lucrative growth opportunities for the market.
For example, Kunye's Nourish Face Mask, also known as the "green smoothie for your face" is gaining acceptance among the health conscious customers. Nourish Face Mask is an organic face mask that combines formula such as phycocyanin, wheatgrass, neem, sea kelp, and Canadian bentonite Clay.
Why Super Food is Creating Positive Buzz in the Phycocyanin Market?
Due to the growing demand for natural products, phycocyanin demand in industries such as beverage, food, animal feed, pet food, cosmetics and nutraceutical has increased. Phycocyanin is considered as super food as it is a naturally grown food with highest amount of protein. Natural health benefits of phycocyanin lowers the LDL cholesterol and raises HDL cholesterol in the body. Additionally, phycocyanin also helps in preventing medical conditions such as macular degeneration and arthritis.
What is the Regulatory Impact on Global Phycocyanin Sales?
Key manufacturers got FDA approval for the use of natural colors produced from phycocyanin in 2013. Furthermore, till the end of 2016, various companies globally were producing natural colors from phycocyanin such as green, blue, red, and brown. However, the blue color phycocyanin has become the most active color globally due to its texture and features and also primarily due to its utilization in food and beverage industry.
FDA and EFSA have published regulations related to phycocyanin and its products which state that these products can have arsenic and lead in acceptable limits. Due to high contamination, phycocyanin products of many China-based companies are banned in 2015 and 2016 due to high soil and water pollution in China.
EFSA, the regulatory agency of EU countries has banned the utilization of synthetic color for food safety for the products that are consumed in EU countries, which subsequently promotes the growth for natural color market.
Manufacturers have also started launching new innovative colors which can change the course of action of the whole industry.
DDW Inc., a U.S. based food colorant's manufacturer launched a new blue color phycocyanin liquid with improved light stability by up to 40%.
Country-wise Insights
How Big is the Opportunity in U.S.?
FMI has projected the U.S. to remain one of the most lucrative markets throughout the forecast period. The North America food and beverage industry remains on a steady pitch, due to stable consumer spending in the region. In the U.S., variations in the Food Safety Modernization Act (FSMA) can define that America's food safety laws focuses less on claims of food adulteration and more on prevention of food contamination.
Rising awareness regarding the role of food in well-being of the people has made consumers in U.S. and Canada more observant towards the ingredients utilized by manufacturers. Moreover, due to inclination towards healthy foods, the North American food and beverage companies has been expanding their portfolios.
Companies such as DDW Inc. and Cyanotech are investing increasingly in creating new products of phycocyanin which can help in strengthening of the market.
How big is the opportunity in UK for phycocyanin market?
FMI has projected the U.K. to remain one of the most lucrative markets among the Europe phycocyanin market throughout the course of the forecast period. It holds14.5% market share in the European phycocyanin in 2020. The key factor supporting the growth of phycocyanin market is health concern of consumers.
In June 2020, GNT Group, the supplier of Coloring Foods had established a variety of blue powders EXBERRY® obtained from phycocyanin with considerably greater color strength. They are offered in both micronized powder and standard form.
How big is the opportunity in Germany for phycocyanin market?
Germany remained dominant in the Europe phycocyanin market with a share of 27.1% in 2020. Some of the leading companies operating in Japan have been entering into collaborations to foster growth. This will remain one of the chief drivers.
For instance, Ecoflora and Chr. Hansen signed exclusive partnership in 2020. The new partnership added a complimentary new blue shade to the collection of natural colors, taking new opportunities for new applications and color blends.
How big is the opportunity in China for phycocyanin?
China is one of the key markets in East Asia due to the increasing health disorders prevalence such as obesity in the country, which is attributed by the shifting consumption patterns and consumers opting for more plant-based products. China is projected to generate the substantial revenue of US$ 13.9 Mn as compared to the other countries during the forecast period of 2031.
How big is the opportunity in Japan for phycocyanin market?
The demand for phycocyanin is rising in Japan. One of the key factors supporting expansion is increasing consumer demand for natural products which is a driving factor for market, which has been encouraging leading companies focus on product launches.
In June 2020, DIC had launched a liquid version of its Linablue® naturally derived blue food coloring.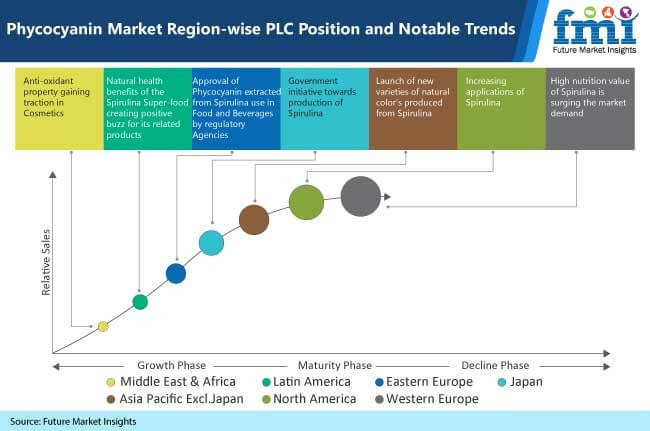 Category Wise
Why Food & Beverage Exhibits High Demand for Phycocyanin?
The food and beverage segment holds the largest share of the overall phycocyanin market which is attributed to the increasing consumer inclination towards ready-to-drink beverages, growing trend of substituting artificial colorants with natural ones, rising health issue awareness related with the utilization of synthetic colorants in soft drinks. Additionally, increasing demand for protein-enhanced drinks is boosting phycocyanin demand globally.
Why is Phycocyanin more preferred in Powder form?
Consumers are preferring powder form over liquid as powder allows high flexibility with dosing and offers active nutrient delivery. In powder form, the absence of water prevents the occurrence of oxidative phenomena which degrades blue protein.
Why Phycocyanin E18 Grade holds Largest Share?
Phycocyanin E18 is made up of natural food colourant as it is used in food and beverage industry in candies, frozen desserts, solid beverages, noodles etc. Additionally, is the most widely used specification in the world, with high-cost performance and excellent solubility.
Why is Organic Nature More Preferred for Phycocyanin?
Organic food has gained a large consumer base as in the last decade and has developed rapidly in developed countries. With increasing awareness, the consumer base is shifting towards organic and non-GMO products. The rapidly emerging organic food products market is driven not just by healthy eating beliefs, but also by the increasing acceptance of the opinion that producing organic foods is kinder to the planet.
Opportunities Abound in Phycocyanin Industry
Increasing utilization of phycocyanin as Spirulina in animal and fish feed industry due to the rising demand for nutritional foods is boosting the phycocyanin market growth. According to a journal A Potential Drug for Cancer Treatment phycocyanin which is extracted from marine organisms has low toxicity and high efficiency and can also be utilized as a functional food. Furthermore, it has been reported that phycocyanin has anti-oxidative properties and imitates anti-cancerous property as well. Thus, it is utilized as a potential drug and has become a new hot spot in the field of drug research. As a result, there is a mounting opportunity for consumers opting for natural products for the treatment of diseases.
Moreover, there are several technological advancements taking place in the field of phycocyanin. Few examples of the technological innovations in this filed are: launch of phycocyanin in Granule agent, gelling agent and launch of natural colors made from phycocyanin. Also, companies are developing new food and beverage products developed that can increase the nutritional value of the food as well as decrease the cost of production of various products.
Additionally, phycocyanin manufacturers are shifting their focus towards producing phycocyanin in closed environment instead of producing it in natural water bodies due to contamination issues. Industrialization has affected the environment adversely due to the waste generation during production, transport and consumption of all the products globally.
Although, the environment has no negative effect from phycocyanin production. Phycocyanin is 100% eco-friendly and bio-degradable natural product which doesn't affect soil or air in any way. However, Spirulina grows on water and thus can create a friendly environment with water.
Competitive Landscape
Phycocyanin sales have improved in past 5 years due to changing perception among consumers towards super-food, which consists of enormous amount of nutritional contents. Moreover, one teaspoon of phycocyanin is sufficient to provide a good quantity of minerals, proteins and vitamins which is usually obtained from food consumed in a whole day.
Nowadays, manufacturers are aiming towards providing phycocyanin at an optimum cost, owing to the high demand from consumers. Companies have implemented numerous integrated production approach for delivering cost-effective products.
Recently in 2020, The Chr. Hansen application and R&D team had developed an exclusive, liquid blue that guards the color in the instant it hits the tremendously hot candy mass.
Fermentalg, a french microalgae player had sign up a multi-year technological, commercial development, and industrial contract with DDW a US industrial group to bring the natural blue color developed by Fermentalg Blue Origins, to market.
Some of the leading companies operating in the market are:
Chr. Hansen Holding A/S
Cyanotech Corp
DDW Inc.
DIC Corporation
Dongtai City Spirulina Bio-Engineering Co., Ltd.
Fuqing King Dnarmsa Spirulina Co., Ltd.
GNT Holding B.V.
Sensient Technologies Corp.
Parry Nutraceuticals Limited
Döhler GmbH
Naturex S.A.
Naturalin Bio-Resources Co., Ltd
Far East Bio-Tec Co., Ltd.
Fraken Biochem Co., Ltd.
*The list is not exhaustive, and only for representational purposes. Full competitive intelligence with SWOT analysis available in the report.
Scope of the Report
Attribute

Details

Forecast Period

2021-2031

Historical Data Available for

2016-2020

Market Analysis

USD Million for Value and MT for Volume

Key Regions Covered

North America, Western Europe, Eastern Europe, Latin America, Japan, APEJ, MEA

Key Countries Covered

US, Canada, Germany, France, U.K., Spain, Italy, Rest of Western Europe, Russia, Poland, Rest of Eastern Europe, Brazil, Mexico, Rest of Latin America, Japan, China, India, Australia & New Zealand, ASEAN, Rest of APEJ, GCC Countries, South Africa, Rest of MEA

Key Segments Covered

Nature, Form, Grade, Application and Region

Key Companies Profiled

Chr. Hansen Holding A/S
Cyanotech Corp
DDW Inc.
DIC Corporation
Dongtai City Spirulina Bio-Engineering Co., Ltd.
Fuqing King Dnarmsa Spirulina Co., Ltd.
GNT Holding B.V.
Sensient Technologies Corp.
Parry Nutraceuticals Limited
Döhler GmbH
Naturex S.A.
Naturalin Bio-Resources Co., Ltd
Far East Bio-Tec Co., Ltd.
Fraken Biochem Co., Ltd.

Report Coverage

Market Forecast, brand share analysis, competition intelligence, Drivers, Restraints, Opportunities and Threats analysis, Key factors, Market Dynamics and Challenges, Strategic Growth Initiatives

Customization & Pricing
Key Questions Answered in the Report
Q1. At what rate the demand for phycocyanin is expected to grow for the next 5 years?
The global phycocyanin market is estimated to grow by CAGR of 6.8% for the next 5 years.
Q2. Which form of phycocyanin is more preferred?
The powder form of phycocyanin holds the dominant share in the market and is forecast to grow at 6.7% CAGR by 2031. Powder form is more preferred because it allows high flexibility with dosing and offers active nutrient delivery. In powder form, the absence of water prevents the occurrence of oxidative phenomena which degrades blue protein.
Q3. Which are the leading companies offering phycocyanin?
Some of the leading companies offering phycocyanin are Chr. Hansen Holding A/S, Cyanotech Corp, DDW Inc., DIC Corporation, Dongtai City Spirulina Bio-Engineering Co., Ltd., Fuqing King Dnarmsa Spirulina Co., Ltd., GNT Holding B.V., Sensient Technologies Corp., among others.
Q4. What are the key factors supporting phycocyanin use?
Some of the key factors supporting use of phycocyanin includes the increasing awareness about high nutrition value of Spirulina, approval of phycocyanin extracted from Spirulina for use in food and beverages by regulatory agencies, government initiative towards production of Spirulina, and launch of new varieties of natural color's produced from Spirulina and many others.
Enquiry before Buying
Is this research conducted by Future Market Insights?
Yes, the research has been conducted by expert analysts of Future Market Insights through a combination of primary research and secondary research. To know more about how the research was conducted, you can speak to research analyst
What research methodology is followed by FMI?
FMI follows a methodology that encompasses demand side assessment of the market, and triangulates the same through supply side analysis. This methodology is based on use of standard market structure, methods and definitions. Request detailed methodology
Who are the respondents for primary research?
FMI speaks to stakeholders across the spectrum, including C-level executives, distributors, product manufacturers, industry experts. For a full list of primary respondents, please reach out to us.
What are the sources of secondary research?
FMI conducts extensive secondary research through proprietary databases, paid databases, and information available in the public domain. We refer to industry associations, company press releases, annual reports, investor presentations, and research papers. More information about desk research is available upon request.
Is a sample of this report available for evaluation?
Yes, you can request a sample and it will be sent to you through an email.
How can I buy this report?
FMI provides a secure online payment system to buy report seamlessly. You can buy the report securely and safely.
Phycocyanin Market by Category
Nature
Form
Grade
Phycocyanin E18
Phycocyanin E25
Phycocyanin E3.0
Application
Food & Beverage

Confectionery
Beverages
Dairy Products
Bakery Products
Baby Food Formula
Others

Cosmetics & Personal Care

Face Cream
Moisturizers & Lotions
Lipsticks
Eye Liners
Eye Shadow
Soap
Body Wash

Nutraceuticals
Animal Feed
Aquaculture
Region
North America
Western Europe
Eastern Europe
Latin America
Japan
APEJ
MEA
Need specific information?