Polysilicon Market By Grade (Solar Grade, Electronics Grade), & Region – Forecast 2022 – 2028
Polysilicon Market - Analysis, Outlook, Growth, Trends, Forecasts
December 2021

REP-GB-6439

171 pages
Polysilicon Market Outlook (2022-2028)
[171 pages Report] The global polysilicon market is expected to hold a valuation of US$ 8.5 Bn in 2022, and progress at a steady CAGR of 5.6% to attain an estimated net worth of US$ 11.8 Bn by 2028.
| | |
| --- | --- |
| Polysilicon Market Size (2022) | US$ 8.5 Bn |
| Projected Market Value (2028) | US$ 11.8 Bn |
| Global Market Growth Rate | 5.6% CAGR (2022-2028) |
| Country With Dominant Market Share (2022) | China – 61.7% |
Currently, worldwide polysilicon sales account for 52% share in the global silicon market. Demand for polycrystalline silicon products is expected to be majorly driven by increasing number of solar photovoltaic (PV) installations across the world.
As solar energy generation becomes more popular, demand for solar grade polysilicon products is also expected to see a major rise over the forecast period of 2022 to 2028. Rising demand for electronics and semiconductors is also set to propel sales of electronics grade polysilicon materials.
Demand Analysis of Polysilicon (2013 to 2021) Vs Market Outlook (2022 to 2028)
Sustainability has been a prominent trend over the past few years, and it has picked up quite the pace in recent times and completely changed the course of many industry verticals. Polysilicon has gained impetus as its scope of application in solar panels and semiconductors and electronics has increased substantially.
The market for polycrystalline silicon experienced growth at a CAGR of 5.4% from 2013 to 2021.
Solar installations across the world are rising rapidly and are expected to surge over the coming years due to rapid urbanization and increasing adoption of renewable energy sources across multiple geographies.
Top polysilicon manufacturers in India are expected to see a significant rise in business potential as the production of polycrystalline silicon increases. Polysilicon production through the Siemens process is one of the most common methods used at production facilities globally.
Increasing use of consumer electronics and other electronic devices is propelling demand for electronics grade polysilicon materials from the semiconductor and electronics industry. This polysilicon research analysis studies polysilicon production by country, and finds that China leads production by a huge margin relative to other countries.
Demand for polysilicon is anticipated to rise at a healthy CAGR of 5.6% from 2022 to 2028.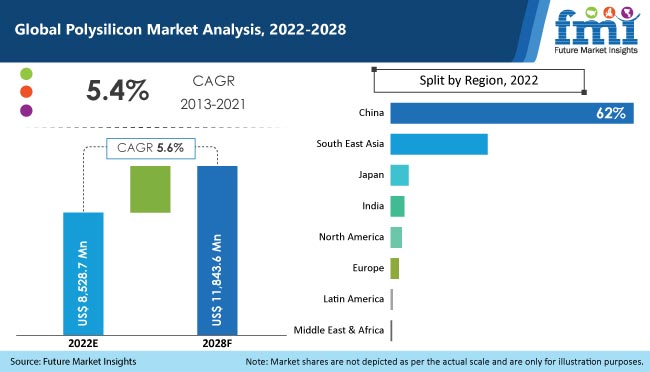 How are Polysilicon Sales Expected to Fare across Various Regional Markets?
This polysilicon industry analysis studies regional market such as North America, Latin America, Europe, East Asia, South Asia & Pacific, and the Middle East & Africa (MEA), and gives detailed assessment specific to each region.
Collectively, East Asia, South Asia, and the Pacific regions are expected to account for more than 90% of the global polysilicon market share in 2022. Demand is expected to be extremely high from nations such as China and India. This can be attributed to rapid development of the Chinese solar industry and government backing for the industry.
In comparison, polysilicon consumption in North America is anticipated to only account for a mere share of 2.8% of the global market. The regional market is expected to show steady growth over the forecast period as solar installations increase and drive demand for polysilicon materials.
The European polysilicon market is also expected to rise on similar lines and have a very small market share of 2.1% in the year 2022.
The polysilicon industry in the MEA region is expected to hold a very small market share and is expected to see sluggish growth over the coming years. Demand for polysilicon is expected to pick up moderately as industrialization and urbanization in the region paces over the coming years.
Demand for polysilicon materials in Latin America is also expected to follow the same trends as the MEA region.
Country-wise Analysis
How Lucrative is India Set to Be for Polysilicon Manufacturers?
India provides a lucrative setting for polysilicon shipments and is expected to be one of the most prominent markets in the Asian region. The government plays a crucial role in promoting solar energy generation in India, and this is expected to drive demand for solar grade polysilicon products.
The Indian government has also green-flagged 100% foreign direct investment for renewable power generation, which is expected to attract investors from all over the world. Top polysilicon manufacturers from 2020 and 2021 have also been profiled in this polysilicon market survey.
What Makes China Such a Dominant Polysilicon Market?
China is expected to dominate the global polysilicon market like no other and is predicted to hold more than 3/5 of the global market share. This astonishingly high demand for polysilicon in China can be attributed to its position as one of the most important manufacturers of electronics and semiconductor devices and components.
Sales of polysilicon materials are expected to rise as government investments in the solar industry of China increase to make a major transformation towards renewable energy generation.
Polysilicon manufacturers in China are expected to have a bright business outlook over the forecast term as government funding increases in various electronics and semiconductor manufacturing projects and attracts more investors and investments in the regional marketplace.
Category-wise Analysis
Which Polysilicon Grade Dominates the Marketplace?
Demand for solar polysilicon materials is dominating the global market and is expected to continue its dominance over the forecast period as well. This can be attributed to rising installation of solar energy generation units across the world citing global warming and climate change concerns.
As consumers grow more environment-conscious, demand for renewable and sustainable energy is growing globally.
Technological advancements and rise in the production of mono-silicon materials are majorly driving the revenue potential of polycrystalline silicon suppliers. Demand for electronics grade polysilicon materials is also expected to see a steady rise as technological proliferation increases across the world and digitization picks up pace.
COVID-19 Impact Analysis
The manufacturing sector for all industry verticals took a serious hit in 2020 as the world was faced with the COVID-19 pandemic. Coronavirus spread across the world and bought it to a standstill as lockdowns were imposed to contain the spread of the virus.
These restrictions made it impossible for manufacturing activities to be carried out since actual human presence was required for effective manufacturing.
Apart from this, the supply and demand chain also was disrupted to a major extent and made it hard for manufacturing activity to be carried out. All of these factors caused a negative impact on demand for polysilicon materials across the world.
This lowered the market share for polysilicon on a global level as demand for semiconductor electronic devices dropped during the pandemic. This trend is expected to change soon as the world returns to normalcy in the post-pandemic era and manufacturing activity returns to its full capacity.
Demand for semiconductors is expected to increase from the automotive sector substantially, and this is expected to propel the sales of polysilicon products across the globe.
Competitive Landscape
The polysilicon market is partially fragmented and offers fair opportunities to major players as well as new entrants in the industry, but high capital investment restrains new entrants in the market.
Polysilicon manufacturers are majorly focusing on bolstering their production capacity across multiple geographies to meet increasing demand from emerging economies with high manufacturing activity.
In May 2021, REC Silicon ASA, Norway-based polysilicon and silicon gas supplier stated that it would be restarting its Lake Moses Plant in Washington in the year 2023. The comment came after the company reported its first-quarter (Q1) results. The plant was shut down in May 2019 over the imposition of Chinese tariffs on US-produced polysilicon.
In December 2021, Daqo New Energy Corp., a Chinese polysilicon manufacturer, started its pilot production at a new plant. The plant is expected to produce 35,000 tonnes of polysilicon per year initially and then gradually would ramp to 105,000 tonnes per year.
Polysilicon Industry Report Scope
Attribute

Details

Forecast Period

2022-2028

Historical Data Available for

2013-2021

Market Analysis

US$ Mn for Value

Key Regions Covered

North America
Latin America
Europe
East Asia
South Asia & Pacific
Middle East & Africa (MEA)

Key Countries Covered

United States
Canada
Brazil
Mexico
Germany
U.K.
France
Spain
Italy
China
Japan
South Korea
India
Indonesia
Malaysia
Singapore
Australia
New Zealand
Turkey
South Africa
and GCC Countries

Key Market Segments Covered

Key Companies Profiled

GCL-Poly Energy Holdings Limited
Tokuyama Corporation
Mitsubishi Materials Corporation
Hanwha Chemical Co. Ltd
Osaka Titanium Technologies Co. Ltd.

Pricing

Available upon Request
World's Most Profilic Intelligence Engine
Get Access To The World's Largest Market Research Database.
Sign Up Now
Key Segments of Polysilicon Industry Survey
Polysilicon Market by Grade:
Solar Grade Polysilicon
Electronics Grade Polysilicon
Polysilicon Market by Region:
North America Polysilicon Market
Latin America Polysilicon Market
Europe Polysilicon Market
East Asia Polysilicon Market
South Asia & Pacific Polysilicon Market
Middle East & Africa (MEA) Polysilicon Market
Key Questions Answered in the Report
What are the major strategies adopted by key players in the enhancement of the polysilicon market?
Major strategies such as acquisitions, mergers, and collaborations/joint-ventures are being adopted by prime market players to increase their production capacity and gain market share.
Which are the regions where the polysilicon market is at its maximum flourishment capacity?
East Asia, South Asia, and the Pacific regions where polysilicon demand is high.
What is the predicted growth rate of the polysilicon market?
The global polysilicon market is predicted to rise at a steady CAGR of 5.6% from 2022 to 2028.
What is the predicted market worth for polysilicon by 2028?
By 2028, polysilicon consumption is estimated to attain a market valuation of US$ 11.8 Bn.
How big is the polysilicon market expected to be in 2022?
As per these polysilicon market insights, the market is anticipated to be worth US$ 8.5 Bn in 2022.
Need specific information?
Our Clients