Rheometers Market By Equipment Type (Capillary, Oscillatory, Rotational), Sales Channel (Offline, Online), End User (Industrial, Testing & certification Agencies) & Region – Forecast 2021 - 2031
Rheometers Market - Analysis, Outlook, Growth, Trends, Forecasts
September 2021

REP-GB-8169

250 pages
Rheometers Market Snapshot
Revenue generated in the testing and certification agency segment of the rheometers market increased at a robust 11.5% year over year in 2021. As per Future Market Insights (FMI), demand in the Industrial segment increased by 8.6% between 2020 and 2021, facilitating the combined Rheometer markets year-over-year growth at 9.3% in 2021.
Key Points Covered
Market estimates and forecast 2016-2031
Key drivers and restraints impacting market growth
Segment-wise, Country-wise, and Region-wise Analysis
Competition Mapping and Benchmarking
Brand share and Market Share Analysis
Key Product Innovations and Regulatory Climate
COVID-19 Impact on Rheometers Market and How to Navigate
Recommendation on Key Winning Strategies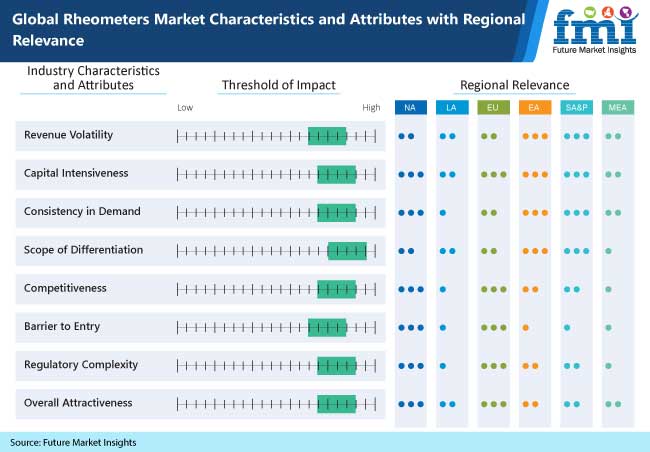 Rheometers Market Outlook in 2016-2020 Compared to 2021-2031 Forecast
Rapid industrialization and increasing investments for precise industrial equipment sector in developing counties will enable the Rheometers market growth at 12% CAGR during the forecast period 2021 to 2031. Whereas between 2016 and 2020, the global Rheometers Market expanded at a CAGR of over 3.8 %.
Along with the rapidly growing industrial sector, awareness about product safety is increasing among customers. This is compelling manufacturers to strictly follow the regulatory frameworks, especially in pharmaceutical and cosmeceutical sector. Also, this regulatory frameworks on country level in respective industries is expected to create plenty of opportunities for the market growth.
Capillary Rheometer have emerged as a top choice across diverse industries. This is expected to enable growth in the market in the coming years.
Leading manufacturing companies are focusing on product development and advancement by highly investing in research & development (R&D) activities. They also are expanding their geographical presence through participating in merger & acquisition.
It has been observed that offline sales channel is driving the demand for Rheometer since of the leading manufacturers have tied up with various institutions. Coupled with this, the market is expected to gain from the increasing demand for rheometer for research in laboratories and testing agencies.
What are the Challenges to Market Growth?
The high installation cost associated with the rheometer is one of the major factors restraining the growth of the Market. Also, expert guidance is highly required during the installation of the equipment for the efficient operation of systems as per the application's requirements.
Therefore, technical support should be pursued in order to achieve desired result whenever required. Hence, requirement of skilled labor force to operate the equipment effectively and high investment cost in setting up rheometers are expected to act as barriers to growth of the Rheometers Market.
What Is the Impact of COVID-19 Crisis on Rheometers Market?
The pandemic crisis is anticipated to have a significant impact on the global economic growth for the period of 2020-2021. The Rheometers market is projected to be affected by the COVID-19 pandemic crisis. As a result, it registered a significant drop in demand in the year 2020.
Production activities for almost all the industries, including manufacturing industry, transportation industry have been halted which has resulted in negatively affected rheometers production and sales.
It has been studied that there are three major ways that COVID-19 has impacted the Rheometers Market. These are by directly influencing manufacturing and demand of rheometer, by disrupting its supply chain and the logistics, and by its financial impact on companies and financial market.
Country-wise Insights
How big is the Opportunity for Rheometers Market in the U.S.?
North America is expected to hold dominant share during the forecast period, according to Future Market Insights (FMI). According to the study, the U.S. is expected to account for nearly 50% of the North America market through 2031.
The USMCA, a new agreement between the U.S., Mexico, and Canada that replaces NAFTA, will provide benefits to businesses in the North America market. The country is home to some of the leading market participants like Thermo Fischer Inc, Ametek Inc, ITW Instron and TA Instruments which are playing key role in fueling the growth of the Rheometers Market over the forecast period.
Furthermore, the U.S. remains one of the world's largest markets for industrial equipment, making it a lucrative market for Rheometer manufacturers. In addition, expansion of the end-use sectors such as building & construction, petrochemical industries and polymer & rubber industries in the U.S. is expected to drive demand growth during forecast period.
Why is Demand for Rheometer Increasing in the Germany?
Demand in the Germany market is expected to rise at nearly 7.1% CAGR over the forecast period. Owing to its industrial expansion and technological developments, Germany is considered the world's fourth largest economy and one of the largest machinery producing nations.
Also, Germany has the most elevated level of expenditure, excellent levels of productivity, a highly qualified labor force, high-quality engineering, good infrastructure, and has access to other markets in Europe due to convenience of a central location.
As per the report, the Germany is recognized as a primary market, and it is expected to continue exhibiting high demand for Rheometer through the forecast period. Moreover, rising research activities, presence of several major players, and growing industrial sectors in the nation are creating attractive opportunities for Rheometers Market in the country.
Why is Innovation Key to Succeed in the China Market?
China's position as a global industrial powerhouse is a primary factor driving the expansion of industrial sectors. This is creating the lucrative opportunities for the market growth of rheometer.
China is one of the world's top most manufacturers and consumers of industrial equipment. It is expected to account nearly for 40% of Rheometer sales within East Asia throughout the forecast period.
China is global provider of high tech solutions owing to its competitive advantage to address the rising demand of their customers, industrial expansion in the country and its continuous investments in manufacturing to increase the production. Shift of manufacturing industry from Europe to China as a consequence of low cost manufacturing capabilities will also pave a strong growth in the market.
What is the potential for Rheometer Sales in India market?
In 2021, India will account for nearly 25% sales in South Asia & Pacific. Various engineering industries are making considerable progress in manufacturing precision instruments and electronic equipment in countries like India owing to the government initiatives like Make in India, and Invest in India.
This is anticipated to facilitate the development of India's industrial sector. These developments also will present attractive opportunities for Rheometers sales in the country.
Category-wise Insights
Which equipment type is dominating the market for Rheometer?
In polymer melting process, capillary rheometer has its origins. However, it is also directly relevant to many other material processes such as high speed coating and printing applications as it enables material flow and deformation properties to be characterized under conditions of high pressure, high shear rate and at elevated temperature.
Therefore this segment holds dominant share in the global market. Equipment based Capillary Rheometer account for nearly 40% of the market by 2031.
Which is the Preferred Sales Channel for Rheometers?
The offline segment is estimated to hold highest share in the Rheometers Market. In 2020, offline segment accounted for 60% of sales in the market. To an extent, sales via offline channels were facilitated by collaborations and partnership between manufacturers and institutional laboratories, as the latter purchased rheometers in bulk quantities.
Will Polymer & Rubber Industry Remain the Leading End User?
According to the research, the industrial sector is projected to hold maximum share as compared to testing & certification agencies over the forecast period. In industrial segment, the polymer & rubber industry is expected to contribute maximum revenue share which is more than 15% in the global Rheometers Market owing to growing usage of polymer instead of plastic.
Competitive Landscape
Companies operating in rheometers market are aiming at expanding their product range for precise applications for which they are investing huge in R&D activities. Also manufacturers are targeting end users by providing customized products for specific application which is enhancing their market share. Companies are focusing on strategic collaborations and partnerships with other manufacturers to expand their product manufacturing capability and to meet the increasing demand of their customer base.
Scope of Report
Attribute

Details

Forecast Period

2021-2031

Historical Data Available for

2016-2020

Market Analysis

USD Million for Value and Units for Volume

Key Regions Covered

North America, Latin America, Europe, East Asia, South Asia & Pacific and the Middle East & Africa

Key Countries Covered

US, Canada, Brazil, Mexico, Argentina, Colombia, Chile, Peru, Germany, U.K., France, Italy, Spain, Russia, NORDICS, BENELUX, Hungary, Poland, Czech Republic, Switzerland, CIS States, China, Taiwan, Japan, South Korea, India, Bangladesh, ASEAN, ANZ, GCC Countries, Turkey, Israel, Iran, Nigeria, Kenya, Ghana, Northern Africa, and South Africa

Key Segments Covered

By Equipment type, By Sales Channel, By End User and Region

Key Companies Profiled

Thermo Fisher Scientific
AMETEK.Inc.
TA Instruments
Anton Paar GmbH
A&D Company
Fann Instrument
Freeman Technology
Brabender GmbH
Cannon Instrument Company
Lamy Rheology Instruments
Shanghai Nirun Intelligent Technology Co., Ltd.

Report Coverage

Market Forecast, Company Share Analysis, Competition Intelligence, DROT Analysis, Market Dynamics and Challenges, and Strategic Growth Initiatives

Customization & Pricing

Available upon Request
World's Most Profilic Intelligence Engine
Get Access To The World's Largest Market Research Database.
Sign Up Now
Rheometers Market by Category
By Equipment Type:
Capillary Rheometers
Oscillatory Rheometers
Rotational Rheometers
By Sales Channel:
By End User:
Industrial

Pharmaceutical
Industrial Oils and Lubricants
Paints & Coating
Food & Beverages
Petrochemicals
Cosmetics
Polymers & Rubber
Others (Research & Academician and Building & Construction Materials)

Testing & certification Agencies
By Region:
North America
Latin America
Europe
East Asia
South Asia & Pacific
Middle East and Africa (MEA)
Key Questions Answered in the Report
Which Is the Highest Grossing Regional Market Identified for Rheometers?
North America is expected to dominate, accounting for 30% of the Rheometers Market in 2021.
Which Industry Segment Is Touted As The Leading End User Of Rheometers?
Polymer & rubber and petrochemical industries are expected to dominate the market over the forecast period, collectively generating revenue of US$ 549 Mn by 2031.
Which is the Top-selling Equipment type in the Rheometers Market?
Capillary Rheometers will remain top-selling product in the market, accounting for over 34.6% of revenue generated throughout the forecast period.
Which are some of the Leading Companies Offering Rheometers?
Some of the leading companies in the rheometers market are Thermo Fisher Scientific, TA Instruments, Anton Paar GmbH, A&D Company and others. As per FMI, over 35% of the market share is currently covered by the top 10 players.
What is the Demand Outlook for Rheometers Market?
The demand for rheometers is expected increase at 12% CAGR between 2021 and 2031.
At What Rate Did Rheometers Sales Increase in the Last 5 Years?
The demand for rheometers increased at 3.8% CAGR between 2016 and 2020
What is the Outlook for Rheometers Sales in North America?
The sales of rheometers will increase at 11% CAGR in North America between 2021 and 2031.
What is Demand Outlook for Rheometers in Europe?
The demand for rheometers will increase at 11.9% CAGR in Europe through the assessment period of the report.
Who are the Key Exporters of Rheometers?
The U.S., Japan, and Germany are the key producers and exporters of rheometers.
What is Japan and South Korea's Contribution towards the Global Rheometers Market?
As per FMI, Japan and South Korea will account for 6% of global rheometers sales in 2021.
Need specific information?
Our Clients