About the Report
The rockbreakers market has been exhibiting significant growth in the recent years. This growth is projected to continue over the forecast years, starting from 2021 to 2031 due to increasing demand for blasting materials from mining and construction industries. The increasing population and rapid urbanization will create significant growth opportunities leading to a rise in ongoing and upcoming Industrial and commercial construction projects. This is expected to help the market grow in the next few years.
In its new study, ESOMAR-certified market research and consulting firm Future Market Insights (FMI) offers insights about key factors fueling the demand for Rockbreakers. The report tracks the global sales of Rockbreakers in 20+ high-growth markets, along with analyzing the impact COVID-19 has had on the construction industry in general, and Explosive in particular.
What Are The Historical And Future Prospects For Rockbreakers Market?
As per FMI, the global rockbreakers market has been exhibiting a steady growth in the mining sector. This growth is observed in Europe and East Asian countries. Moreover, based on technology, explosives segment is likely to grow at a rapid pace particularly in the coal and metal mining industry.
Facing challenges such as storage safety for explosives, risks associated with operation of rockbreakers, and achieving more cost efficient solution have always been prime concerns of researchers. Choosing a right product for specific application has been the difficult for end-use industries, hence manufacturers have increased the features to offer improved efficiency and to fulfil the consumer requirements.
The market is likely to gain considerably from the increasing demand from end-use industries, also new research and developments have made use of rockbreakers more convenient for end users. According to FMI's analysis, explosive sales have grown at 3.8% CAGR between 2016 and 2020.
Rockbreakers have been consistently employed in mining and construction sector. The demand has escalated due to excessive production of coal in developing countries, China is the largest producer of coal worldwide and has many coal mines, which is the reason behind excessive demand for rockbreakers in the country.
Furthermore, substantial increase in investments in construction and infrastructure activities in the developing countries from Asia Pacific also will provide impetus to the market.
Owing to the ongoing crisis caused by COVID-19 outbreak, production and supply chain activities have seen a minor set-back, yet the demand will improve with the economic recuperation post the period of curbs following the pandemic. With a number of end-use industries affected in regions such as Europe, East Asia, and South Asia-Pacific, the supply and shortage in demand are expected to result in a significant drop in Y-O-Y growth yet FMI expects global rockbreakers Market to grow at 5.9% CAGR through 2031.
Will Emerging Applications in Construction Industry Influence Demand?
The growth in the construction industry is expected to have high impact on the demand in. The demand for rockbreakers is increasing with the ongoing developments in transportation constructions, commercial, and residential construction sectors. In the past few years the demand for construction of tunnels has surged on account of expansion of transport infrastructure including railways and roadways development.
For instance, in 2021 India inaugurated longest highway tunnel in the world in the state of Himachal Pradesh which has a length of 9.02 km and it is 10,000 feet above sea level. Thus, the increasing use of Rockbreakers in these areas will have significant influence on the market growth.
What is the Commercial Potential of Rockbreakers?
Rockbreakers have wide range of applications in construction sector, particularly for tunnel making, building demolitions, and others activities. The increasing demand for minerals and metals, coupled with the pressure to increase output cost-effectively, has led to digital transformation in the mining industry. This is expected to boost the demand of Rockbreakers. In addition, opportunities for mining in the deep sea, space, and abandoned mines are expected to create significant opportunities for rockbreakers' manufacturers.
What is the Scope for R&D in Rockbreakers Market?
Leading manufacturers are significantly investing in research and development activities to manufacture more convenient and handy products. Competitive price offering, increase in end user satisfaction on the performance, and use of advanced technologies are the end results of the research and development (R&D) activities.
Increasing research and development activities through collaboration or partnerships help companies to reach their growth targets. Moreover, establishing good supply chain networks in emerging countries coupled with long term partnerships with regional distributors also plays pivotal role for the diversification of channel reach.
Country-wise Insights
How big is the Opportunity in China?
FMI has projected China to remain one of the most remunerative markets throughout the course of the forecast period. One of the key factors supporting expansion is the growth of the mining sector in the country. China is a leading coal and metal producing country. Also the construction segment is rapidly growing in the country which is expected to accelerate the total sales in the forecast period.
Despite a worrying start, the second half of 2020 provided a steady picture of the market. Commodity prices moved towards stability, creating sustainable market opportunities across regions and translating into positive growth opportunities especially on account of recovering construction activities. Driven by these factors, China remains one of the largest markets for rockbreakers in the world.
What Are The Market Prospects in India?
India rockbreakers market is the largest market in South Asia & Pacific. The demand for rockbreakers is expected to be high during forecast period due to the growing coal mining and quarry sectors in India. India is one of the fastest growing countries in the world, exhibiting rapid industrialization. This has resulted in high demand for power supplies and manufacturing raw materials.
Also India is the second largest producer of coal worldwide. The expansion of the mining sector in India will continue supporting growth in the country. Besides this, favorable incentive plans by the government and increasing investment in infrastructure development by both private and public sector will create a conducive environment for growth in India.
Which End Use Industry is Exhibiting High Demand in U.S.?
Construction segment is fastest growing segment for the rockbreakers market in the U.S. Many new construction projects have been announced by government, which will enhance the demand for the rockbreakers in the country.
Additionally, widespread mining activities are being carried out in the country which is leading to high growth of rockbreakers market.
Why Russia Holds Maximum Potential in Europe?
Russia is world's largest country and one of the largest producer of metals. More than 70% of worlds copper is produced in Russia. Russia is among top 5 crude steel producers and also one of the largest producers of coal worldwide. Due to these factors the mining activities in Russia are growing significantly which is driving the market for Rockbreakers in the country.
Sales of rockbreakers in Russia have grown significantly in the past few years and the further growth is anticipated in the forecast period due to presence of many key players in the country. The mining and metallurgical industries account for almost 20 percent of the country's industrial output. Bulk Explosive are expected to provide significant scope for the manufacturers in the country.
What is the Scope for Expansion of Rockbreakers Market in GCC countries?
On the back of increasing population, the construction industry in the UAE and Saudi Arabia has witnessed substantial growth in the recent years and this growth is expected to persist over the forecast period. As housing preferences evolve, with a move away from extended family homes to those based around nuclear families, appetite for smaller affordable units are set to increase.
Furthermore, with young population and an increasing population entering the workplace, the demand for housing and offices is expected to remain high. Moreover, the government is also significantly investing on the infrastructure activities to cater the demands of increasing population.
The aforementioned factors are ascending the construction industry in GCC countries. Subsequently, estimated to propel the demand for Rockbreakers during the forecast period.
Category-wise Insights
Why Explosives has dominant market share?
Explosives have application in industrial activities such as in mining, quarrying among others. Explosives have comparatively higher costs than other technologies which also results in higher market values for the segment. Moreover, Increasing use of explosives in the construction industry for tunneling and other applications along with inclination of construction professionals toward the use of explosives to save time & labor costs is leading towards growing use of explosives in construction industry. These factors are expected to account for dominance of explosives in market value share.
Who is the Leading End User of Rockbreakers?
Mining sector has dominance in the global rockbreakers market. This is due to the highest demand in new and upcoming mining activities across the globe. Major segments includes coal mining, metal mining, quarry and non-metal mining. In past few years mining sector has witnessed substantial growth due to increasing demand for coal from power sector, which has boosted the demand for rockbreakers.
Metal mining sector has grown significantly due to heavy development in industrialization globally which has led to increase in demand for metals from various end-use industries like automotive and construction. Quarry and non-metal mining sector has increased with incremental growth in past few years which is raising the market for Rockbreakers.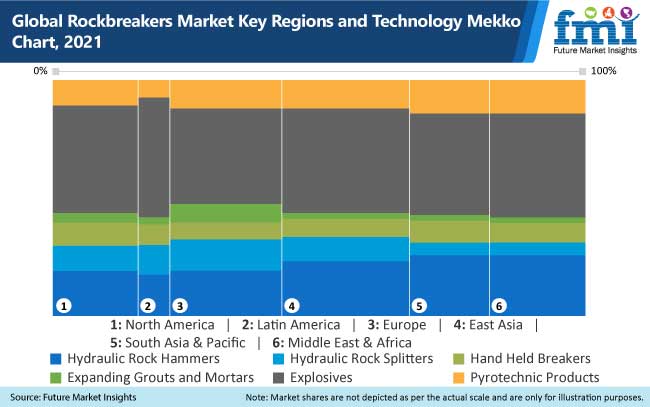 Competitive Landscape
The rockbreakers market is a highly competitive owing to presence of large number of manufacturers operating in the market. The leading players account for nearly 15% of the global market share. Some of the players are focusing to carve a niche for particular penetrated area. It is characterized by large supplier base and strong B2B networks. The market has robust partnerships throughout the value chain. There is ample focus on strong research and development activities with innovations. Companies operating in the market are aiming at strategic collaborations with end users and regional distributors to address the requirements of an expanding customer base. Brand consciousness and aggressive marketing makes it challenging for new entrants in the market. Through these developments, companies are aiming at competitive advantage.
Moreover, manufacturers in the Rockbreakers market are into development of new products owing to the increasing competition in Rockbreakers market with the domestic local manufacturers.
Some of the leading companies operating in the market are:
Enaex S.A.
BME Mining
NOF Corporation
Sichuan Yahua Industrial Group Limited
Yantai Eddie Precision Machinery Co., Ltd
Furukawa
*The list is not exhaustive, and only for representational purposes. Full competitive intelligence with SWOT analysis available in the report.
Scope of the Report
Attribute

Details

Forecast Period

2021-2031

Historical Data Available for

2016-2020

Market Analysis

USD Million for Value and Kilotons for Volume

Key Regions Covered

North America, Latin America, Europe, East Asia, South Asia & Pacific, Middle East & Africa

Key Countries Covered

US, Canada, Germany, U.K., France, Italy, Spain, Russia, China, Japan, South Korea, India, ASEAN, Oceania, Turkey, Northern Africa, South Africa

Key Segments Covered

Type, End-Use, and Region.

Key Companies Profiled

Orica
Hanwha Corporation
Enaex S.A.
Dyno Nobel
BME Mining
Sandvik
NOF Corporation
Sichuan Yahua Industrial Group Limited
ASTEC Industries
Yantai Eddie Precision Machinery Co., Ltd
Furukawa

Report Coverage

Market Forecast, Brand Share Analysis, Competition Intelligence, DROT analysis, Market Dynamics and Challenges, Strategic Growth Initiatives

Customization & Pricing
Key Questions Answered in the Report
Which is the most lucrative market for Rockbreakers?

East Asia currently leads the global market for Rockbreakers. Sales in East Asia will be nearly 25% of total demand throughout the forecast period.

Which is the top-selling type in Rockbreakers?

Explosives have emerged as top-selling rockbreakers. The demand for explosives is expected to remain high in the near future, especially because of it versatile applications in wide range of end-use industries.

Who is the key end user of Rockbreakers?

Rockbreakers are widely used in the mining sector. The increasing population and rapid industrialization in emerging countries is expected to steer growth in the rockbreakers market.

Who are some of the leading companies providing rockbreakers?

Some of the leading companies manufacturing Rockbreakers are Orica Limited, NOF Corporation, Hanwha Corporation, Enaex S.A., Dyno Nobel., etc.
Rockbreakers Market
Technology
Hydraulic Rock Hammers
Hydraulic Rock Splitters
Hand Held Breakers
Expanding Grouts and Mortars
Explosives
Pyrotechnic Products
End User
Construction

Residential Construction & Excavation
Commercial Construction & Excavation
Industrial Construction & Excavation
Infrastructure Construction & Excavation

Mining
By Region
North America
Latin America
Europe
East Asia
South Asia & Pacific
Middle East & Africa
Need specific information?