Sailcloth Market Key Research Findings
The Sailcloth Market will surpass US$ 400 Mn by 2020, Future Market Insights (FMI) predicts impressive growth for the sailcloth market. Spurred by versatility of use across various segments
Aramid fibers are in high demand thanks to their high strength to weight ration
The U.S., the U.K., Germany, and Oceania will reign as key production hubs of sailcloth
Nylon and polyester will record sails uptick as favored materials used for manufacturing sailcloth
Sailcloth market is not immune to economy and policies. Trends impacting an economy will demonstrate its effect on the market as well. For instance under developed regions with larger population and faster growth will exhibit higher demand for sailcloth.
Cost-effectiveness of Sailcloth Has made it A New Favorite for Strong Fabric in Textile Sector
Sailcloth more commonly known as the fabric component for tents or sails, have evolved into a sought-after material in the fashion industry. The expansion of sailcloth market stemmed from the demand for advanced backpack fabric.
Advances in sailcloth technologies are intended to improve diverse performance parameters. The strength and durability, abrasion resistance, and strength to weight ration are among the key parameters regarded while developing fabric. Besides these, fray prevention is a crucial parameter.
Continuous advances and the advent of smart materials have enabled engineers to develop synthetic fiber with higher strength at a commercial level. A case in point is when companies harnessed a comparatively novel concept of polymerization technique to derive sailcloth.
The demand for sailcloth has surged in the last few years, primarily attributable to markedly growing harsh sailing weather. The key business proposition however remains its cost-effectiveness. Prevailing opportunities have catapulted aramid fibers to the fore to cater to the rising demand for sailcloth among manufacturers.
Identified by its high stress and heat resistance besides impressive strength-to-weight ratio, aramid fibers are causing a stir in the sailcloth market. Apparently their versatile usability has spurred their application in racing sails and cruising sails.
Several other fabrics have caught the fancy of manufacturers in the sailcloth market. FMI sees this as a lucrative prospects, which will bear fruits of success for the market in due course.
As depicted in the image below the market is expected to witness scope for differentiation, however, the factor is likely to have a lower impact in certain regions than others.
Visibly the markets exhibiting lucrative opportunities are those with better consistency in demand such as North America and Europe. Evidently both these regions also offer higher scope for differentiation.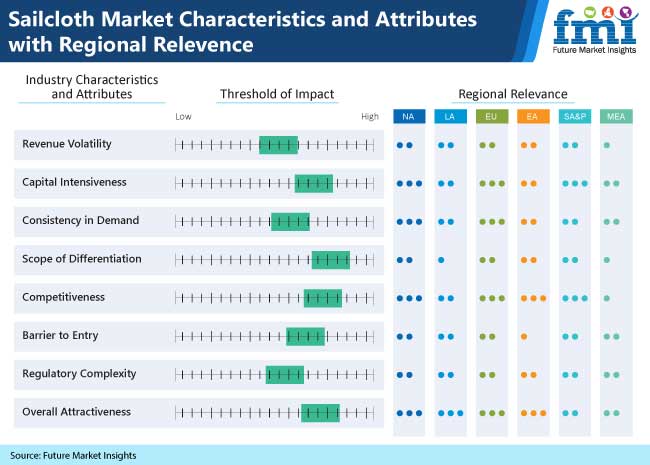 Advent of Innovative Blending Technologies and Diverse Materials are Attracting Chemical Companies to Sailcloth Market
Sailcloth market is transformed into a highly lucrative sector. This has intrigued several chemical companies who are seeking to capitalize on the prevalent opportunities by incorporating diverse blending technologies.
Their efforts are backed by breakthroughs in the last few years that have unveiled materials at the convergence of high performance and right price.
Manufacturers are leveraging novel sailcloth technologies to expand their product portfolio. They are tapping into the synergistic properties of carbon and the ultra-high molecular weight of polyethylene.
Further, their efforts are enabled by improving science of petrochemical processes in high potential markets. These developments are in turn giving impetus to innovations conducted by leading players in the sailcloth market.
Fabric Manufacturers Helm Sailcloth for its Durability and Ability of Getting Spun for Various Applications
Fabric manufacturers are attracted to several new types of materials. However, many of these materials are priced higher than their aramid counterparts. Aramid sailcloth has an array of properties to display, which are helping them gain traction in the sailcloth market.
More traditionally, sailcloth is used to make tents and sails because they are sturdy and heavy fabric. Sail is a key strategic component supporting a boat structure. However, sunlight and sea wind can weaken their tensile strength.
Technological advancements witnessed in the last few years are intended to make the fabric stronger and more durable. Further, these technologies are used to spin the material in different forms to offer diverse applications.
These fabrics are derived from a range of materials such as flax and cotton and then processed into diverse forms to such as synthetic fibers, canvas, nylon, polyester, aramid, and cotton fiber. Fiber obtained from the process are highly durable and expensive and boasts a shelf life of over 10 years
Polyester and laminated sailcloth are in demand due to their longer lifespan and sturdy features. Cotton sailcloth have become popular due to their increasing use in upholstery and sportswear. Meanwhile Kevlar, nylon, and dyneema materials are used because there are durable and cost-effective.
The market in general will witness high demand from different categories of products. Despite several benefits such as UV light protection and better flexibility, sail cloth is not biodegradable. This stands as a negative attribute hampering growth prospects for the market.
Sailcloth is bound for Landfill – A Key Factor Hampering Growth Prospects
Besides their poor ability of biodegrade, sails deposited in landfills show the tendency of unfurling, covering materials beneath them, all the while emitting toxic substances to the nature. It is difficult to establish the exact amount of sailcloth discarded every year.
More commonly unwanted sails end up mixing in household or commercial rubbish often classified as "unknown". Inquiries by various government and non-government agencies are yet to provide any substantial information on the soaring problem. This could create bottlenecks for the sailcloth market in the near future.
Aesthetic Value of Sailcloth Tents will cushion the Market against Potential Threats
Sailcloth tents have become increasingly popular and are used for decorations in various events, be it wedding or galas. An increasing number of organizers are choosing different styles of tent as per their requirement. According to FMI, this trend is showing no signs of slowing down and in the near future it will enable growth in the sailcloth market.
More event organizers are choosing sailcloth tents over traditional pagoda style tents or white vinyl party tents because the former offer better quality and durability. Sailcloth is often used for making tents to keep them in pristine condition for years.
Sailcloth tents also create a beautiful ambience for these events. Natural fibers used to make them create a translucent glow when the interior is lit properly. It given a sailcloth tent an appearance of a gigantic lampshade with light coming from underneath it when looked at from a distance.
Since consumers today have high standard of aesthetic sensibilities, sailcloth decorations please them more than traditional fabric. This factor solely is responsible for creating a lucrative segment in the sailcloth market.
Sailcloth Market: Region-wise Analysis
North America and Europe have remained key markets for sailcloth driven by demand witnessed in the U.S., the U.K, and Germany. Besides this, Oceania will exhibit lucrative prospects for growth. According to FMI, the U.S. is one of the biggest production centers of sailcloth, followed by the U.K. and Germany.
Besides, the U.K. and Germany, the market in Europe is backed by the demand witnessed in countries such as France, Italy, and Switzerland. The region exhibits high investment in the market which will support its growth. FMI predicts the market to witness continued growth in Europe on account of various economic and social benefits it brings to the region.
The U.S. produces large volume of sailcloth every year for racing sails and cruising sails. It is also one of the major exporting countries in the market. In the coming years however the demand for sailcloth is expected to surge in high potential markets spurred by economic growth and the presence of a large base of population.
Both Asia Pacific and Oceania will therefore emerge as lucrative markets for sailcloth. The diversity of its uses will enable the market gain impetus in these regions. Higher sailing activities in Australia is forecast to support growth of the market in Oceania.
Leading Players in the Sailcloth Market
The sailcloth market is poised to witness surging demand, which is making it attractive for domestic companies. Entry of new and local players will make competition fiercer in the market. This has compelled leading companies to invest in innovations and various expansion strategies.
Some of the leading companies operating in the market are:
DIMENSION-POLYANT GmbH
Bainbridge International Limited
Challenge Sailcloth, Inc.
Contender U.S.
Doyle Sailmakers
British Millerain
Aztec Tents
IYU Ltd
North Sails & North Technology Group
Quantum Sails
Other Prominent Players
Sailcloth Market: The Way Forward
Artists and crafts people from across the world have displayed potential of sailcloth as a strong, durable, and lightweight material with ability of getting repurposed into a variety of products. Upcycled products made from sail cloth are practically of more value and interestingly more beautiful than original material.
This prospect has not been left unnoticed by manufacturers. NANU- an Australia based manufactures soft furnishing and bags using sailcloth obtained from Sydney and complements it with Australian leather and various other sailing fixtures.
Each piece has unique design and has a rather high style quotient. These recycled goods promise to survive generations. Endeavors such as this has kept the hope sailing for the sailcloth market. FMI projects it to continue exhibiting a steady growth in the coming years.
World's Most Profilic Intelligence Engine
Get Access To The World's Largest Market Research Database. Ngage with a revolutionary intelligence engine that scale and pricing that flexes as per your needs
Sign Up Now
Key Segment
Type
Laminate Sailcloth
Nylon Sailcloth
Polyester Sailcloth
Application
Cruising Sails
Racing Sails
Region
North America
Latin America
Europe
East Asia
South Asia
MEA
Oceania
Need specific information?