Telehandlers Market By Maximum Lift Height (Up to 30', 30'-60', More than 60'), Ownership (Rental Service Providers) & Region – Forecast 2020-2030
Telehandlers Market - Analysis, Outlook, Growth, Trends, Forecasts
August 2020

REP-GB-4934

280 pages
Telehandlers Market Outlook and Key Findings
Global telehandlers market to grow at 5% CAGR through 2030
Telehandlers with lifting height more than 60' to witness rapid demand
Rental service providers hold a significant pie of the revenue share
East Asia's telehandlers market to offer potential growth avenues in near future
Telehandlers Market Analysis – An All-Encompassing Material Handling Equipment
Telehandlers are witnessing increasing demand in construction and infrastructure development projects. Being multifaceted in application and possessing the capability of having various attachments, telehandlers are serving customers in mineral processing, manufacturing, and mining industries.
While mobile cranes are specific to lifting loads by using crane hooks, telehandlers are equipped with several attachments to handle various sorts of loads – loose as well as solid.
The growth trajectory is driven by their versatility that enables easy replacement of at least two traditional material handling equipment at operation sites and need for reduced manual labor.
With recent regulatory norms stressing safer working conditions at job sites, global industries are eventually accepting telehandlers as reliable and effective investment over traditional material handling equipment.
With regards to applications, timelines for project implementations, and investments in manpower and equipment, there is revived optimism on governments' proactive development plans and promising initiatives to invest heftily to fuel the infra sector. These activities are further faring well for telehandlers market players.
Telehandlers Market Trends – Electrification to Emerge as Disruptive Force
The trend of electrification of telehandlers is gaining grounds owing to rising stringency in environment policies. High levels of noise, vibration and harshness (NVH) contribute to inferior product quality.
Electric powertrains in telehandlers curb carbon footprint on construction sites, thereby, creating greener working conditions, as well as improving air quality for workers and local community. In addition, electric telehandlers offer significant fuel, and cost saving, with lesser refueling of the machinery, leading to reduced plant movement.
These ecofriendly electric drive units perform nearly in line with conventional models, yet sans emissions and noise of internal combustion (IC) engines. They offer a plethora of further benefits such as decreased charging times and significant savings in maintenance compared to IC engine telehandlers.
That said, at-scale electrification of job sites require better mains feeds equipped with high-capacity battery storage systems to balance out demand peaks. This will eventually propel further R&D activities into energy storage systems on sites that are key assets in order to meet emission reductions targets and enhance air quality for on-site workers.
Telehandlers Market - Rental Demand to Pick Pace
Rental customers are seeking more capabilities and greater versatility in new models. Telehandlers are becoming one of the most prevalent pieces of machinery in rental fleets. From excavation stage to building completion, telehandlers are expected to be used in every phase of construction processes.
Their first-out/last-in rental status implies these equipment are a great addition to rental fleets. As customers are getting increasingly comfortable deploying these telehandlers, they are seeking additional ways to leverage them, as such, manufacturers are launching novel variants that fit in myriads of job sites and perform more than lift-and-carry operations.
Several leading aerial work platforms (AWP) rental companies also incorporate telehandlers in their fleets. Customers who hire telehandlers from rental companies are always in profit as they do not need to invest in buying new machinery. The construction equipment rental market is evolving, especially in developing regions, yet is somehow unorganized.
Moreover, customers look for various product options such as telehandlers to fulfil their project requirements. In a bid to grab this opportunity, several OEMs are likely to enter the rental business in the coming years. Furthermore, FMI states that about 85% of total telehandlers market would be realized from rental service providers through 2030.
Telehandlers Market Regional Analysis – East Asia's Market to Exhibit Double-digit Growth
North America and Europe telehandlers market would remain the ground zero of investment opportunities over the forecast period. Demand for about 7 out of 10 telehandlers would come from both these regions collectively.
While North America is home to prominent OEMs with industry-best portfolios, Europe is showcasing growth of small-sized telehandlers including, compact wheeled handlers, and skid steer handlers.
In addition, both these developed regions are promoting the adoption of eco-friendly techniques for industrial as well as residential use cases. For instance, the National Energy & Climate Plans (NECP) has introduced 'Clean' energy law, wherein major European industrials are developing eco-friendly drivetrains for telehandlers.
In the same vein, the telehandlers market in East and South Asia are experiencing meteoric growth. Government in India has introduced National Clean Air Program (NCAP) that offers insights about prevention, control, and reducing air pollution.
China and India are further characterized by booming construction industry. FMI finds that the telehandlers market in the former is expected to grow at double-digit CAGR through 2030.
Having said that, the telehandlers market is still in its nascent phase in these regions. Players are taking initiatives to spread information regarding several functionalities of telehandlers to potential customers, as well as are promoting huge potential of telehandlers across end-use industries.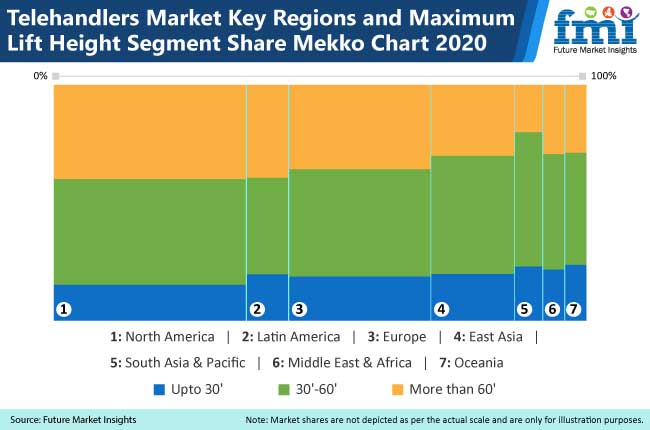 Telehandler Market Manufacturers – Product Upgradation to Hold Key to Success
Lifting height and lifting capacity play crucial role while choosing telehandlers as per industrial applications. In addition, high-lift telehandlers are high in demand in construction projects in developing regions. For instance,
JCB has rolled out broad array of telehandlers in India with lift height ranging from 7-17 m to serve the country's mushrooming infra sector. Moreover, the company has developed telehandlers with enhanced lift performance, better safety and driver convenience, and its proprietary next-gen Command Plus cab designed primarily for agricultural operators
Genie, a Terex Corporation company, has launched telehandlers that possess lift height of 17 m and high lift capacity of 5443 Kg (12, 000 lb) beneficial for manufacturing, construction, ad transport industries
Furthermore, telehandler manufacturers are turning to "green logistics" - curbing ecological burden by minimizing pollution due to logistics operations. This offer telehandler manufacturers a competitive edge over their peers as customers are demanding for eco-friendly logistics services.
Case in point, Manitou BF and Battery Power Industries (BPI) have developed battery-driven telehandlers with high-speed charging systems for infrastructure and mining operations
JCB has rolled out electric telehandlers for manufacturing units, recycling facilities, and distribution centers. These new telehandlers are well suited for indoor operations with low noise levels and zero emissions
Faresin Inudstries Spa has developed high-tech electric telehandlers with load bearing capacity of 2.6-7 tons and lifting height of 6-17 m
Telehandlers Market Future Outlook – Technological Advances for Smarter and Safer Jobsites
Increasing electronic content within telehandlers is paving way for cabin innovations. Lasers, scales, and global positioning systems (GPS) all come with electronic displays and sensors.
With telematics, fleet operators are able to collect, store, assess and report data regarding assets to ensure most effective usage of resources. This electronic content allows operational efficacy, yet demands protection against radio frequency interference (RFI), electromagnetic interference (EMI), and vibration.
As the importance of ROI surges, telematics is also on rapid growth curve. Telematics enables telehandler owners and operators to access to critical equipment and engine operational data in order to make better decisions on their investments.
Data points such as engine hours, location, maintenance schedules, and fuel and battery levels - are comfortably available in real time and accessible from mobile devices or desktops. In addition, telematics monitors fault codes and other important alerts.
Furthermore, telematics aid owners and operators in maintenance planning, staving off downtime and unnecessary maintenance expenses.
EMI creates disturbances that lead to system failures or temporary data losses, putting equipment and workers at risk. To protect against EMI, manufacturers are equipping telehandler cabins with enclosure gaskets made from silicones that are packed with metal-coated particles.
In a bid to shield electronic displays, telehandlers market players are leveraging anti-vibration mounts, which contain threaded fastener or metal flange and molded rubber component.
As the global market for telehandlers continues to flourish, customer are expecting cabins that offer better operator safety and comfort. Manufacturers optimizing cabin designs for these technology trends are well-placed for outsized returns.
'Renting Over Buying' Remains an Influential Trend
'Renting over buying' will continue as a prominent trend in the telehandlers market space, as renting makes more sense if the end users are utilizing the equipment for less than 60 percent of the time.
However, sales of telehandlers for agricultural and construction applications are likely to soar upwards through 2029. Meanwhile, manufacturers are focusing on fine-tuning their expansion plans, refurbishing their offerings, and entering into definitive alliances, which will help them achieve long-term growth.
World's Most Profilic Intelligence Engine
Get Access To The World's Largest Market Research Database.
Sign Up Now
Telehandlers Market Taxonomy
The global Telehandlers market is segmented in detail to cover every aspect of the market and present a complete market intelligence approach in front of the reader.
By Maximum Lift Height
Up to 30'
30'-60'
More than 60'
By Ownership
By Region
North America
Latin America
Europe
Middle East & Asia
South Asia
East Asia
Oceania
Need specific information?
Our Clients