About the Report
Tilapia, is widely considered as a pioneer seafood species that thrive in difficult habitats and an is seen as an invasive species in multiple countries. Producers are leveraging lucrative opportunities in the global market as governments are encouraging tilapia production to bolster their food security index. Cutting edge technology is finding roles in the production of tilapia owing to which an increase in the number of commercial-medium sized farms has been observed in the global market.
In its new study, ESOMAR-certified market research and consulting firm Future Market Insights (FMI) offers insights about key factors driving demand for tilapia products. The report tracks the global sales of tilapia in 20+ high-growth countries, along with an analysis of the impact from COVID-19 on the food and beverage industry in general, and seafood in particular.
How Does Historical Data Compare with Future Outlook for Tilapia Market?
Tilapia is native to the Middle East and Africa region, and was first imported to India from Thailand in 1952. Ever since, the commercialization of the market has brought in numerous developments for large scale cultivation of high-grade tilapia.
Numerous countries are issuing guidelines for responsible farming of tilapia, to ensure minimal environmental impact from tilapia farming. However, at present over 90 tilapia processing plants and 92 tilapia farms are Best Aquaculture Practices (BAP) Certified. Of these, over 75% of farms are located in China. According to FMI's analysis, tilapia sales have risen at more than 3.1% CAGR between 2016 and 2020.
Technological advancements such as recirculating aquaculture system (RAS), Y-Y technology, biofloc technology, and many more are proving to be stepping stones towards the development of the global tilapia market. Such technology has allowed a more sustainable farming system of tilapia. Sustainable farming is one of the prime driving factors for the global tilapia market. Consequently, FMI expects the global tilapia market to grow at 4.2% CAGR through 2031.
How are New Farms in Key Countries Influencing Tilapia Supply?
Asia represents over 70% of the global tilapia production, with key countries in the region setting up new farms for bolstering tilapia production. China is the leading tilapia producing country, followed by Egypt which reported a rapid increase in production in the last two decades. On the other hand, production in Indonesia has developed rapidly in the last decade in terms of volume.
Developed as well as emerging markets for tilapia are setting up sustainability regulations for tilapia aquaculture. Emerging markets such as India, has well established guidelines, as well as regulatory committees for responsible tilapia farming. These guidelines assist tilapia producers in establishing new tilapia farms by stating regional farming requirements for higher tilapia yield with operational and technical suggestions.
Why is R&D Important in Tilapia Market?
Tilapia is a widely consumed seafood source for the food, pharmaceutical, and personal care and cosmetic industry. The rapidly rising demand and use of tilapia, has pushed major manufacturers to focus on the consolidation of their network with distributors to enhance market penetration. Leading manufacturers are striving to enhance global presence by acquiring or partnering with small local players.
The rising demand for sustainability is the driving force of developing technology in the global tilapia market. An optimum culture environment is to be maintained to grow tilapia, owing to which research and development investments are proving crucial. Many manufacturers such as Baiyang Investment Group, Inc, Blue Bridge Aquaculture, and many more are striving to enhance their technological profile to support the production of tilapia on a large scale.
How is Nutrition Awareness Strengthening Market Position?
Macronutrients requirements from tilapia are complicated and widely vary under different environmental conditions. This gives tilapia manufacturers a margin to optimize individual farm output. Tilapia farms in same region, using different feeds can significantly affect tilapia yield influencing commercialization efforts. Tilapia growing in warmer water bodies require lower energy levels to ration protein and more.
Plant based protein feed is now gaining traction in tilapia aquaculture. Producers are keenly aware of appropriate feed ingredients for proper growth of fish from alternatives including legumes, cereal grains, and leaf meals. These plant-based ingredients in feed are not only used for enhancing nutritional profiles but also used as starch to bind other ingredients together.
Consumers across the globe are now more inclined towards a nutritious and healthy lifestyle. This rising trend can be easily observed among athletes, gym-goers, and others who aim for weight management. Tilapia, being a great source of protein is certainly gaining more demand from this segment of consumers. Many health-conscious consumers focus only on exercising and neglect to ensure required protein intake, due to which they suffer from various deficiencies. To avoid deficiencies and to maintain healthy lifestyles, consumers are consuming more protein-based products over calorie-based products. Increasing consumption of protein-based products indicates that demand for tilapia is expected to grow over the forecast period, as tilapia is one of the highest and richest sources of protein.
Why is Preference for Tilapia Among Other Seafood Rising?
The rise of popularity, as well as consumption of tilapia, has been observed particularly in the United States. Restaurants are now serving sustainably grown fish. Restaurants in the United States are acting as a prime driving force as they present tilapia as nature friendly farmed fish while complying with organizations such as the Global Aquaculture Alliance (GAA) Best Aquaculture Practice (BAP).
Country-wise Insights
What are the Opportunities for Tilapia in the Singapore Market?
Developing countries such as Singapore are anticipated to witness considerable growth in the market. The country has envisioned production of over 305 farms of tilapia to meet the country's domestic requirement by 2030 to eliminate the reliance on exports. For achieving the same, the aquaculture industry of Singapore is adopting new technology, production processes to raise productivity, and efforts to overcome resource constraints of the country. Producers in Singapore have started investing in technologies such as Internet-of-Things (IoT) solutions and are striving to develop a robust R&D ecosystem to address the technology gaps.
How Big is the Opportunity in U.S.?
The United States is anticipated to witness rapid growth in the consumption of tilapia. Rapid expansion of the packaged food sector, and the growing popularity of tilapia dishes on the menu of restaurants is the prime rationale for the development of the tilapia market in the region.
Regional consumers are specifically concerned about the labels associated with, non-GMO, eco-friendly, and organic, tilapia to minimize potential side-effects, driven by rising levels of health awareness in the country.
What are the Favorable Factors for Chinese Tilapia Market to Grow?
Technological advancements, easy availability of land for aquaculture, and a wide spread domestic and global consumer base has led to the production of Chinese tilapia yields to quadruple in the past couple of decades. Manufacturers in China are pushing for vertical integration to ensure quality standards being achieved in every stage of the tilapia supply chain.
Manufacturers are now also striving to develop the domestic market as trade scenarios with other major production countries are softening owing to the trade wars between China and U.S. The country is also striving to achieve the maximum level of sustainability to strengthen its market position.
What is the Market Scenario in Egypt?
Egypt is the hot spot for tilapia in the global market, for both productions as well as consumption. The region is equipped with high end technology for tilapia aquaculture. The country is extensively investing in its infrastructure for tilapia production by providing training to the workers, building aquaculture capacity, and more to further strengthen its market position.
Egypt and African countries are partnering for tilapia production for the development of the industry through joint research projects. The country exports its products at a relatively cheaper rate than other countries, which will support long term demand.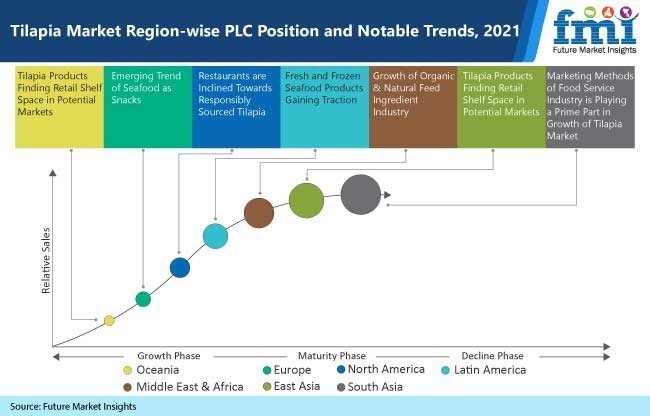 Category Wise Insights
What Source of Tilapia Witnesses Higher Demand?
Organic and conventionally grown tilapia are both displaying strong demand, are important in terms of market growth. Conventional tilapia holds a greater market share as methods used for bulk tilapia production as compared to the organic alternative.
However, demand for organic tilapia is rising at a relatively faster rate as consumers are now more concerned about the production procedures, ingredients involved in feed, and potential effects on sustainability.
Which Tilapia Species Drive Revenue Growth?
Nile tilapia is the most widely consumed tilapia species across all regions, produced primarily in Latin America, Middle East and Africa, and the Asia Pacific. A large number of food service facilities in the United States prefer Nile Tilapia.
On the other hand, European countries have recently witnessed an influx of Nile Tilapia owing to the rapid penetration of Chinese cuisine in the region. Emerging economies in the Asia Pacific are displaying strong demand for tilapia as a low cost source of protein.
Which Form is the Most Preferred in the Tilapia Market?
Fresh fillets of tilapia are currently holding a prominent market share as consumers in the Middle East and Africa, East Asia, and South Asia are primarily inclined towards fresh fillet for cooking according to their preference.
However, processed frozen tilapia is anticipated to gain market attention globally as increasing urbanization is pushing consumers towards ready-to-cook tilapia products.
Which Sales Channel is the Anticipated to Display Higher Growth?
Online retail channels are anticipated to grow faster in terms of tilapia sales, as it is a transparent, and convenient sales channel with a large number of vendors for consumers to choose from.
However, discount stores and specialty food stores are also growing at a considerable rate, owing to easy consumer access and robust supply chains, which will remain unaffected in the coming decade, in the post-pandemic era.
Which is Application of Tilapia is Dominating the Market?
The food industry, which includes packaged and processed, ready-to-cook tilapia is observed to have a prime position in the global tilapia market. The growing demand for convenience foods during the covid-19 pandemic is expected to contribute to sales.
However, food service is also anticipated to hold a considerably large share of the market with restaurants in emerging markets introducing tilapia in their menus, the application is further expected to grow.
Competitive Landscape
Companies like Baiyang Aquatic Group and Nova Sea Foods are fully utilizing waste produced tilapia processing. This is especially true of filleting processes, where byproducts are finding use in the production of healthcare, beauty, biomedicine, and more. With this, manufacturers are finding novel opportunities to enhance market penetration and market presence.
Small and medium-scale players in the market are investing heavily in setting up tilapia nurseries and acquiring equipment for maintaining an optimum environment for tilapia farming.
For instance, in November 2020, Blue Ridge Aquaculture (BRA) invested US$ 2.5 Mn in a nursery facility to support existing as well as increasing farming activities. These investments as also aimed towards attaining vertical integration in the supply chain to eliminate the reliance on other third parties for assistance and thus can take charge of quality assurance.
Some of the leading companies operating in the market are:
Baiyang Aquatic Group
Blue Ridge Aquaculture, Inc.
A.O.Kingdom International Co., Ltd
Nova Sea Foods
Hainan Sky-Blue Ocean Foods Co
Hainan Xiangtai Fishery Co
Guangdong Evergreen Conglomerate Co., Ltd.
Hebei Zhongjie Tilapia Breeding Co. Ltd
Amyco Group Limited.
Regal Springs
*The list is not exhaustive, and only for representational purposes. Full competitive intelligence with SWOT analysis available in the report.
Scope of the Report
Attribute

Details

Forecast Period

2021-2031

Historical Data Available for

2016-2020

Market Analysis

USD Million for value and Metric Tonnes for Volume

Key Regions Covered

North America, Latin America, Europe, Asia Pacific, Oceania, Japan, and Middle East & Africa

Key Countries Covered

U.S., Canada, Brazil, Mexico, Rest of LATAM, Germany, Italy, France, U.K., Spain, BENELUX, Nordic, Russia, Poland, Rest of Europe, China, Japan, South Korea, India, Thailand, Indonesia, Malaysia, Singapore, Rest of South Asia, Australia, New Zealand, GCC Countries, South Africa, and Rest of MEA.

Key Segments Covered

Source, Species, Form, Sales Channel, Application

Key Companies Profiled

Baiyang Aquatic Group
Blue Ridge Aquaculture, Inc.
A.O. Kingdom International Co., Ltd
Nova Sea Foods
Hainan Sky-Blue Ocean Foods Co
Hainan Xiangtai Fishery Co
Guangdong Evergreen Conglomerate Co., Ltd.
Hebei Zhongjie Tilapia Breeding Co. Ltd
Amyco Group Limited.
Regal Springs

Report Coverage

Market Forecast, brand share analysis, competition intelligence, DROT analysis, Market Dynamics and Challenges, Strategic Growth Initiatives

Customization & Pricing
Key Questions Answered in the Report
Which is the most lucrative market for Tilapia?

South Asia currently leads the global market for Tilapia. Sales in South Asia will be over 37.4% of total demand throughout the forecast period.

Which is the top-selling source of Tilapia?

Conventional tilapia is expected to be top selling source the global tilapia market with the market share of more than half.

Why frozen fillet tilapia is expected to grow at a high rate?

Frozen fillet tilapia is expected to grow at highest rate with CAGR more than 6.4%. This is owing to the increasing sedentary lifestyle consumers are inclined towards ready-to-cook tilapia products

Which are some of the leading companies offering tilapia?

Some of the leading companies offering tilapia are Baiyang Aquatic Group, Guangdong Evergreen Conglomerate Co., Ltd., Regal Springs among others.

Which region is expected to witness highest jump in the demand of tilapia in global market?

North America is expected to witness highest growth in demand of tilapia. This increase in demand is certainly due to numerous inclusions of tilapia in menu of restaurants and increasing number of ready-to-cook tilapia products.
Tilapia Market by Category
Source
Organic Tilapia
Conventional Tilapia
Species
Nile Tilapia (OREOCHROMIS NILOTICUS)
Blue Tilapia (OREOCHROMIS AUREUS)
Mozambique Tilapia (OREOCHROMIS MOSSAMBICUS)
Wami Tilapia (OREOCHROMIS UROLEPIS HORNORIUM)
Form
Fresh Tilapia

Whole Tilapia
Fillet Tilapia

Processed Tilapia

Canned Tilapia

Frozen Tilapia
Whole Fillet Tilapia
By Sales Channel
Direct Sales
Retail Sales

Modern Trade
Convenience Stores
Specialty Food Stores
Wholesale Stores
Discount Stores
Online Retail
Other Retail Stores
By Application
Food Industry
Pharmaceutical Industry
Animal Feed
Pet Food
Food Service
Retail
Region
North America
Latin America
Europe
Asia Pacific
Oceania
Japan
Middle East and Africa (MEA)
Need specific information?
Talk Show:
The Rise of Intelligent Packaging
Personalized, Connected and Sustainable
November 18, 2021
11:00-11:45 AM PST (USA & Canada)
This is a LIVE session