Turbidimeter Sales to Hit US$ 1 Bn by 2029 End
Rising stringency in legal policies pertaining to turbidity of potable and industrial waste water has led to implementation of concrete water quality testing and regulation measures. various techniques to regulate water quality across the globe. The impact of such trends is boosting the application of turbidimeter in diverse sectors, such as, chemical, wastewater treatment, and pulp & paper. Constantly increasing demand for high-quality water supply will remain an important booster to turbidimeter sales. With E-commerce and advanced technologies taking the charge, global turbidimeter market is projected to click US$ 1 Bn by 2029 end.
Frequently Asked Questions About turbidimeter market
What are the main trends influencing the turbidimeter market?
Smart turbidimeters designed specifically for water quality monitoring and development of low-cost, smartphone-assisted turbidemeters continue to mark promising trends.
Which turbidimeter will generate the most revenue in the coming years?
Stationary turbidimeter continues to influence growth strategies, accounting for over 3/5th of the revenue share. However, growing frequency of innovation around portability and robust rise in end users' demand for the same will have a significant impact on the sales of portable turbidimeter in coming years.
Which end-use sector is most likely to be highly profitable segment for market players?
Adoption of turbidimeters in wastewater treatment continue to move on an upward swing, accounting for 1/4th of the total market share. Increasing application in pulp & paper and pharmaceutical industry will also work to the advantage of the market players.
Which regional market is touted to procure the maximum revenue share?
With approximately 23% of the revenue share, North America's turbidimeter market remains at the forefront. High growth opportunities are also expected in Middle East & Asia, which is set to record a CAGR of 7.7% over the forecast period (2019-2029).
What are the opportunities of innovation in the turbidimeter market?
With numerous disruptive technologies on the horizon, the war of innovation supremacy will continue to intensify in the turbidimeter space. In order to stay ahead of the curve, manufacturers will need to set their products apart from the competition.
What are key challenges and competitive risks faced by turbidimeter market players?
In an ambitious study to understand the true market potential of turbidimeter, limitation pertaining to custom calibration of stationary turbidemeter and lax regulation implementation in developing countries emerged as key challenges.
Demand for Handheld Turbidimeters Gradually Rising
Owing to their greater measuring range, stationary turbidimeters continue to sell higher in the turbidimeter market. Leading manufacturers of stationary turbidimeters are reaping maximum profits in developing regions. On the other hand, sales of handheld turbidimeters are set to witness rapid growth in the following years, on the back of their compact and user-friendly attributes. Still in their young phase, sales of handheld turbidimeters would surpass the revenues worth US$ 400 Mn by 2029 end. The prices are relatively inexpensive in East and South Asia, owing to strong presence of local manufacturers, which will further complement sales in these regions.
US Turbidimeter Market to Reach US$ 100 Mn in 2022
Accounting for about a fourth of global market value, North America's turbidimeter market continues its primacy - majorly owing to the uptight regulatory scenario. While the worldwide sales of turbidimeters remain concentrated in the U.S., FMI study projects that the U.S. market will exceed the revenues worth US$ 100 Mn by the end of 2022. However, Europe will continue to lead the market over the next decade, led by Germany. On the other hand, establishment of increasing number of desalination and effluent treatment plants (ETP) in Middle East & Africa (MEA) and South Asia would compel market players to realign their strategies.
Developing Advanced Turbidimeters for Time-critical Applications
Online turbidimeters can be easily calibrated and offer turbidity measurements in considerably lesser time. In addition, they eliminate the need for indexing and cut down on usage of silicone oil in laboratories. As time and convenience are quintessential in measuring turbidity of fluids, leading players in global turbidimeter market are developing turbidimeters equipped with sensors for time-critical applications. Manufacturers would howeve be pressurized to innovate their offerings for extended on-field applications such as brewery, and dairy.
High demand for stationary
Surging application in on-field
Modest adoption in off-field
High adoption in chemical & materials
Increasing applicability in wastewater treatment
How Growth will Unfold
Application of turbidimeters remains prominent in wastewater treatment purposes, particularly for desalination and filtration. Turbidimeters are also widely utilized in chemicals & materials domain for regulating turbidity of intermediate chemicals, to eventually develop products of desired quality. There are strong indications of the market witnessing notable demand coming from the pulp & paper industry, particularly in Middle East & Africa (MEA), in line with the region's expanding industrial footprint. Sustained adoption will continue in the oil & gas and pharmaceutical industries.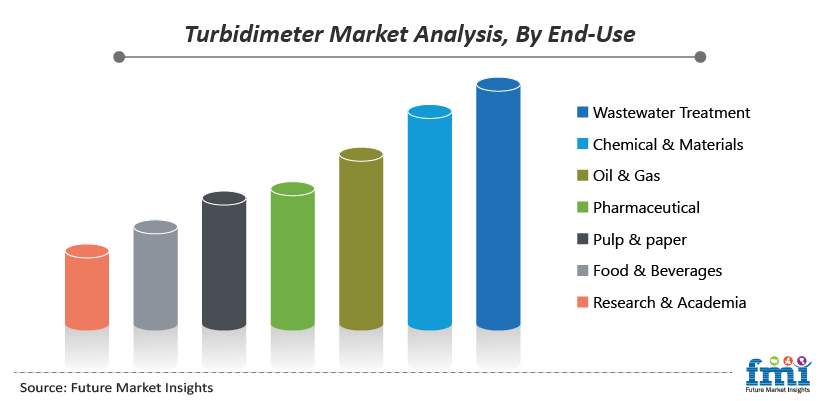 * This data is only a representation. Actual data may vary and will be available in report.
Click Here To Know How The Growth Will Unfold
Custom Market Research Services
FMI offers custom market research services that help clients to get information on their business scenario required where syndicated solutions are not enough.
Overview
Turbidimeter Market Analysis 2019 - 2029
A recent market study published by FMI on the turbidimeter market includes global industry analysis for 2014-2018 & opportunity assessment for 2019-2029, and delivers a comprehensive assessment of the most important market dynamics. After conducting thorough research on the historical as well as current growth parameters of the turbidimeter market, the growth prospects of the market are obtained with maximum precision.
Turbidimeter Market Taxonomy
The global turbidimeter market is segmented in detail to cover every aspect of the market and present complete market intelligence to the reader.
End Use
Wastewater Treatment
Chemical & Materials
Oil & Gas
Pharmaceutical
Pulp & Paper
Food & Beverages
Research & Academia
Others
Region
North America
Latin America
Europe
South Asia
East Asia
Oceania
Middle East and Africa
How the research was conducted?
Primary Research
Chief Executive Officer
Vice President
Sales Head
Product Manager
Marketing Head
Deputy Manager -Marketing & Communications
Marketing Manager
Sales Manager
Distributors
Customer Service Representative
Current market dynamics and challenges
End Use Segment Split and Authenticity
Yesteryear trends
Market characteristics
Competition structure and market structure
Strategic growth initiatives
Market segment splits and authenticity
Near-term and long-term market growth prospects
Opinions on market projections and validity of assumptions
Secondary Research
OICA
World Bank
IEA
Food and Agriculture Organization
U.S. Environmental Protection Agency
European Commission
Turbidity Stanadards
Primary Interview Splits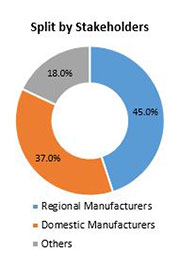 To Learn More About our Comprehensive Perspective on Turbidimeter Market,
Get in touch
COVID -19 : Impact Analysis
Request the coronavirus impact analysis across industries and markets
Request Covid -19 Impact
CASE STUDIES
See how our work makes an impact.
At FMI, we design strategies that are adaptive, impactful, and implementable.