About the Report
The primary driver for allulose market is the growing prevalence of obesity. As consumers have become extremely health conscious they are opting for healthy food choices. Allulose is low calorie sweetener that tastes like sugar. It is derived from various sources such as wheat and certain fruits like jackfruit, figs and raisins, makes it as ideal sweetener obtained from natural sources for people facing weight problems.
Allulose has several health benefits because it is derived from various natural sources. It helps in maintaining blood sugar and in reducing oxidative stress and inflammation thus preventing various chronic diseases such as arthritis and irritable bowel syndrome or IBS.
Allulose is high in antioxidants and it helps in detoxification of the liver by reducing accumulation of fat. The rising demand for is often linked to the increasing focus on health and wellness among consumers that has encourages them to replace regular sugar with naturally-obtained sweeteners. Manufacturers have incorporated allulose in form of powder in various health supplements and beverages as it is great source for consumers inclining towards healthy lifestyle.
In its new study, ESOMAR-certified market research and consulting firm Future Market Insights (FMI) offers insights about key factors driving demand for taurine. The report tracks the global sales of taurine in 20+ high-growth markets, along with analyzing the impact COVID-19 has had on the food and beverage industry in general, and taurine in particular.
How the Historical and Future Outlook for Allulose Market Match Up?
Allulose was identified first in wheat about 70 years ago. Since then it has been found in certain raisins, dried figs, molasses and brown sugar. In 2015 allulose received the Food and Drug Administration (FDA) approval and since then allulose is manufactured for use as a raw material in various end-use applications such as bakery, confectionery, sweet spreads, dairy, ice creams and desserts, beverages, pharmaceuticals and food services providers.
Food producers across the globe are striving to produce food products that offer various health benefits while catering to taste expectations among consumers. Allulose received a great response from the American population. With the increasing popularity and demand for allulose, a large number of manufacturers followed Tate & Lyle to commercially produce allulose products.
According to FMI's analysis, allulose sales have grown at 8.0% CAGR between 2016 and 2020. There are various technologies that are being used in the manufacturing of food ingredients. Among these, emerging technologies such as artificial intelligence and 3-D printings are gaining traction. This is expected to reduce the labor and avoid risk of contamination during allulose production.
Advent of novel technologies used in the food sector will bode well for the allulose market. FMI projects the global allulose market to grow at 8.2% CAGR through 2031.
Will Athletes Remain Key End Users?
Athletes need to manage their weight therefore they always prefer low calorie sugar and allulose as the perfect source of satisfying their sugar cravings with no weight gain. Therefore they have emerged as a key demography for allulose manufacturers. They use it in supplements or beverages to maintain healthy weight by cutting down calorie intake, to feel energetic and detoxify their bodies.
Dieticians around the globe consider allulose as "Panacea on Earth" and suggest consumers to make allulose a part of daily dietary intake. The increasing clinical utility of allulose due to its antioxidant properties has led to its inclusion in the treatment of the most deteriorating diseases such as diabetes and cardiovascular ailments. Therefore, increasing health conscious among consumers has been fuelling the demand.
How Is Focus on Detoxification Affecting Allulose Sales?
Detoxification trend that is gaining traction and it is a key factor driving sales. Consuming allulose in some form every day in morning can help a person to get rid of toxins and improve liver function. As a result of the increasingly unhealthy diet, consumers are looking for drinks that will detoxify the body from the effects of junk food and medicines. Another factor driving the growth of allulose is that it is derived from plant-based source. A rising number of consumers are showing inclination for plant-based diet, which will bode well for the market.
Driven by changing behavior of consumers, market players are focusing on product launches. For instance, in 2020, a leading manufacturer Tate & Lyle launched two new products called as Tasteva M Stevia Sweetener and Dolcia Prima allulose, supporting the purpose of improving lives for generations by offering healthier food and drink choices to their consumers.
How is Rising Prevalence of Diabetes Related to Increasing Allulose Sales?
According to the recent findings of the Diabetes Research Institute Foundation, in 2018, 1.5 million new cases of diabetes were diagnosed among people aged 18 years or older in the United States. Increasing consumption of food and beverages containing excessive sugar is often singled out as a key factor attributing to the rising prevalence of diabetes.
Cold drinks which youngsters really enjoy contain high amount of refined sugar and frequent high calorie sugar intake can adversely affects health or lead to diabetes. Food intake with these ingested food also increases the risk of heart diseases, high blood pressure, stroke, non-alcoholic fatty liver disease, and other health conditions.
Therefore consumers across the globe are demanding beverages with low calorie content. A low-calorie sweetener has many advantages such as it does not increase the rate of blood glucose and insulin, ensures good digestive tolerance at permitted rates of use, and does not encourage tooth decay. This has been increasing the use of sugar substitutes for use in food products.
How Is Demand from Pharmaceutical Industry Affecting Growth?
Owing to its detoxification and anti-oxidation traits, allulose application is increasing in the pharmaceutical industry as they seek opportunity to formulate more tonics to help people overcome the lifestyle diseases. Allulose sugar can be utilized in several cough syrups and vitamin supplements to maintain the sweetness.
Allulose has various medical advantages which are connected with the prevention of cardiovascular problems. Besides this, allulose also helps in lessening digestive issues, it guarantees pulse control, supports weight management, brings down bad cholesterol, improves liver function and lifts the invulnerable framework of the body that is the immune system enhancement. These benefits of allulose are often the reason why it is utilized by pharma industry as a key ingredient.
Country-wise Insights
How large is the Opportunity for Allulose Market in the United States?
FMI has projected that the U.S. will be among the utmost profitable markets throughout the forecast period. Essential factors supporting growth in US is the country's health problem of Obesity. United States population is highly suffering from obesity as they consume a lot of junk food which includes breads, cokes, sugary beverages that leads to the weight issue. Therefore to over these health disorder which the population is facing at large the USFDA (Food and Drug Administration), has approved allulose as general purpose sweetener in foods and beverages where sugar or fructose would usually be used
As well as manufacturers have wider scope and opportunity to study a large population with introducing variation in flavors, as it a highly acceptable product, well-informed consumers to drive the market and convenient packaging format.
How is U.K. Responding to Plant-based or Derived Allulose Market?
Due to stringent regulatory scenario, Manufacturers have filed petition for approval for marketing allulose in Europe. As European regulations need more evidence regarding the safety of allulose and no major side effects on the human body. Manufacturers are trying their best to gain the market access in Europe. Allulose will come in European countries but it will take time as the sweetener needs to be approved as a Novel Food by the European Commission. Manufacturers are providing various results noticed in the population of other countries to lift the ban on allulose. Thus it being plant driven it can gain access in the coming years as U.K population majorly follows vegan diet and are shifting towards plant base food items.
India's Allulose Market to show a surge in the next few years?
India is known to be the largest producer of wheat and allulose being an ingredient derived from wheat, makes India one of the leading producers and consumers for allulose within South Asia. Allulose is being widely used in bakery and confectionery products in India as a natural sweetener following demand from consumers for low calorie cakes, biscuits and cookies.
Rising health awareness among consumers and growing demand for organic products are key factors enabling sales. India being an emerging nation with high population, key market players are aiming at capitalizing on the prevailing opportunities. Also, the expansion of the bakery sector will bode well.
According to the Federation of Indian Chambers of Commerce and Industry (FICCI), the food services industry in India is driven by high percentage of young and working age population in the country. This demography also shows increasing awareness about health and wellness, which will continue driving allulose sales.
How large is the Opportunity for Organic Allulose Market in South Africa?
South Africa is projected to exhibit impressive growth in allulose market over the forecast period. The country is likely to register increasing demand for organic ingredients. Rising awareness regarding health and wellness will continue driving allulose market in South Africa.
Various initiatives undertaken by government and various international organizations to encourage better health and wellness will continue supporting growth. For instance, Healthy Living Alliance (HEALA) works to build a healthy environment by encouraging people in South Africa to make healthy food and lifestyle choices.
Such initiatives have rendered consumers increasingly aware, which has presented a lucrative scope for the expansion of allulose sales in South Africa.
Category-wise Insights
Which is the Top-selling Allulose Form?
Allulose in powder is immensely popular. The powder form is expected to hold 86.8% market share in 2021. Compared to other forms, the powder form is demanded highly by consumers as it's easier to blend with several food and beverages items.
Powdered allulose is used in rolls, cake, pie, pastries, biscuits and frostings, yogurt, carbonated and non-carbonated beverages. It also finds use in several candies, jellies, and desserts. Thus utilization in so many food items is increasing its demand and its gaining traction in allulose market.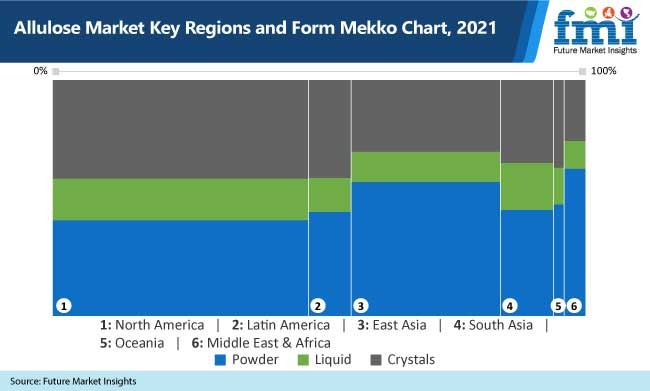 Who is the Key End User of Allulose?
Currently the food and beverages segment is expected to grow at 8.5% and 7.9% CAGR, respectively over the forecast period. The rising demand for low calorie sweetener in confectionery, dairy products, bakery products, sweet spreads, and ice creams and desserts and increasing allulose sales.
Competitive Landscape
Companies operating in the allulose market are investing in research and development activities. Product launches and approvals from international organizations are key focus of market players. Besides this, some of them are even investing in capacity expansion.
For instance, in 2019 Ingredion announced that it opened a new allulose production facility to cater to demand in Asia Pacific and Americas.
Also in September 2019, Blue California, announced its plans for scaling up allulose production to achieve the GRAS status.
Some of the leading companies operating in the market are:
Matsutani Chemical Industry Co. Ltd
CJ Cheil Jedang
Bonumose LLC- At a Glance
Ingredion Incorporated
Samyang Corporation-
Anderson Global Group
Eat Just Inc.
Wellversed
*The list is not exhaustive, and only for representational purposes. Full competitive intelligence with SWOT analysis available in the report.
Scope of the Report
Attribute

Details

Forecast Period

2021-2031

Historical Data Available for

2016-2020

Market Analysis

USD Million for value and MT for Volume

Key Regions Covered

North America, Latin America, East Asia, South Asia, Oceania Middle East & Africa

Key Countries Covered

US, Canada, Brazil, Mexico, Chile, Peru, Argentina, Rest of Latin America, China, Japan, South Korea, India, Malaysia, Singapore, Indonesia, Thailand, Rest of South Asia, Australia, New Zealand, GCC Countries, South Africa, Turkey, North Africa, Central Africa, Rest of MEA.

Key Segments Covered

Form, End Use and Region

Key Companies Profiled

Matsutani Chemical Industry Co. Ltd
Tate & Lyle PLC
CJ Cheil Jedang
Bonumose LLC- At a Glance
Cargill Inc
Ingredion Incorporated
Samyang Corporation-
Anderson Global Group
Eat Just Inc.
Wellversed

Report Coverage

Market Forecast, brand share analysis, competition intelligence, DROT analysis, Market Dynamics and Challenges, Strategic Growth Initiatives

Customization & Pricing
Key Questions Answered in the Report
Which is the most lucrative market for allulose market?

North America currently leads the global market for allulose. Sales in North America is expected to account for over 25% of total demand throughout the forecast period.

Which is the top-selling product form of allulose?

Powder allulose is expected to be the preferred form, exhibiting higher sales than allulose available in liquid and crystal form.

Who is the leading end user of allulose?

The food and beverages industry is currently exhibiting high demand for allulose in response to the expansion of the market for healthier sugar alternative.

Which are some of the leading companies offering allulose?

Some of the leading companies offering allulose are Tate & Lyle PLC, Bonumose LLC, Matsutani Chemical Industry Co. Ltd, Cargill Inc, Ingredion Incorporated, Samyang Corporation, CJ Cheil Jedang, Anderson Global Group, Eat Just Inc., Wellversed and others.
Allulose Market by category
By Form
Powder Allulose
Liquid Allulose
Crystals Allulose
By End Use
Food

Bakery Products
Confectionery
Dairy Products
Sweet Spreads
Ice Creams and Desserts

Beverages

Carbonated Beverages
Fruit Drinks & Juice
Powdered Drinks and Mixes

Pharmaceuticals
Food Service Providers
Retail/ Households

Store-based Retailing
Hypermarkets/ Supermarkets
Convenience Stores
Specialty Stores
Independent Small Groceries
Online Retailing
By Region
North America
Latin America
East Asia
South Asia
Middle East and Africa (MEA)
Oceania
Need specific information?
Talk Show:
The Rise of Intelligent Packaging
Personalized, Connected and Sustainable
November 18, 2021
11:00-11:45 AM PST (USA & Canada)
This is a LIVE session