Alumina Trihydrate Market - Key Research Findings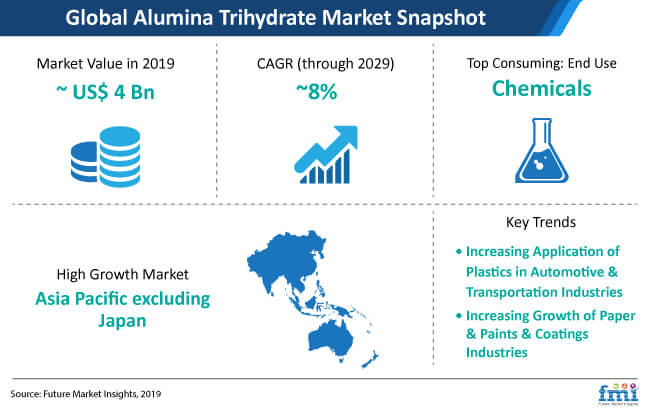 The global alumina trihydrate market size in 2018 was valued at US$ 3.7 Bn.
The alumina trihydrate market is anticipated to rise at a CAGR of ~8% throughout the forecast period of 2019-2029.
The increasing application of plastic in automotive and transportation industries is rising the demand for flame retardants such as alumina trihydrate in automotive plastics.
Collectively, APEJ and North America are likely to account for half of the revenue shares in the alumina trihydrate market by the end of 2029.

North America is expected to continue to be a prominent regional market for alumina trihydrate manufacturers, attributing to the strong presence of the plastics and chemicals industry.

The plastic and chemicals industry is expected to remain as the prominent application area to invest in for alumina trihydrate market

Noteworthy application potential of alumina trihydrate has been identified as a substitute for titanium dioxide pigments.
Key Factors Shaping the Alumina Trihydrate Market
Application of Plastics in Automotive and Transportation Sectors to Hold significant Growth in the Alumina Trihydrate Market
The chemical industry has been accelerating its shift to the advancement that tend to have multiple uses, such as the use of plastic in automotive and transport plastic composites used in an average automobile account for 10–15% of its total weight. Since, plastics are lightweight as compared to metals, they reduce the overall weight of the automobile, which in turn, makes it more efficient.
Heat generation in vehicles is a high-risk factor for fire, due to which, it is essential to have an excellent quality flame retardant properties in almost each part of plastic in the automobile. These factors are driving the demand for alumina trihydrate as a flame retardant in automotive plastics. The rising demand for alumina trihydrate is anticipated to be additionally fuelled by governments across the globe by the implementation of rules and regulations regarding vehicles safety.
Some of the other end-use sectors also prefer alumina trihydrate. For example, alumina trihydrate is price effective and supported by manufacturers because it can decrease the total manufacturing costs by around 25%, this is rising its acceptance as a substitute for titanium dioxide.
Increasing Growth of Paper and Paints & Coatings Industries
Paints and coatings are used in various applications such as automotive refinishing, construction, protective coatings, wooden coatings, and for decorative purposes. While functional aspects of alumina trihydrate continues to position them above other industrial chemicals available in the market, a significant amount of alumina trihydrate is added in paints to preserve the shine and increase transparency.
However, the additional advantage in terms of sustainability is being flaunted as the most prominent factor pushing prospects of alumina trihydrate in the near future. Very low solubility in water associated with alumina trihydrate manufacturing process continues to account for their amphoteric attributes, which is expected to uplift the prospects in terms of adoption in the forthcoming years.
Pigments are very common in paints, coatings, and paper industries and these industries are anticipated to grow approximately 7-8% per year during the forecast period, owing to these factors the global alumina trihydrate market is expected to drive the growth of the over the same period.
Rising Application of Alumina Trihydrate in Engineering Plastics
The growing demand for engineering plastics worldwide owing to the increasing application in electronics, construction, and automobile sectors is increasing the demand for flame retardants. Thus, automobile and electronic manufacturers are using alumina trihydrate as flame retardants in their products due to its cost effectiveness and non-toxicity. While newly developed alumina trihydrates are supposed to replace and overcome limitations, it is likely that the sales of alumina trihydrate will rise.
Increasing Alumina Trihydrate Consumption by Construction Industry in Developing Regions
In addition to the production of aluminium metal, growing in favour of alumina trihydrate sales, the flourishing architecture & infrastructure sector across APEJ and North America regions are boosting the demand for alumina trihydrate. While rising end-use prominently accounts for the growing popularity of alumina trihydrate across developing regional markets, a consistent rise in the number of plastics in automation and transportation, especially engineering plastics, are more likely to contribute to the sales of alumina trihydrate in the near future.
However, the vulnerability of alumina trihydrate to the pricing uncertainty of petrochemicals might remain a universal stumbling block to the rapid progress of the alumina trihydrate market over the next decade.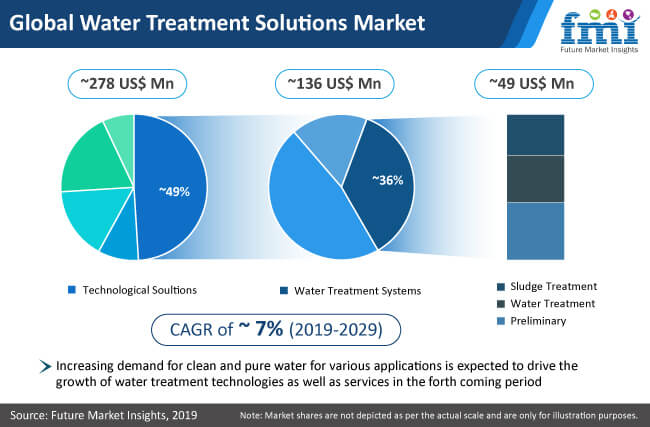 Alumina Trihydrate Market Structure Analysis
The global alumina trihydrate market represents a fairly consolidated competition landscape, where a majority of key players maintain their strategic focus on the development of solid distribution partnerships and joint ventures, targeting a firmer global footprint.
The alumina trihydrate market has been relatively moderate in size, which remains a key factor for its dynamic competitive nature.
Prominent manufacturers of alumina trihydrate are currently prioritizing R&D and new product launches to resonate with the increasing applications of alumina trihydrate in North America, Europe, and East Asia.
Portfolio extension is also identified to remain one of the key developmental strategies adopted by manufacturers of alumina trihydrate.
For a stronger foothold in target markets, alumina trihydrate manufacturers will continue to rely on inorganic strategies, such as mergers and acquisitions.
Deeper understanding of the market trends and preferential shifts of end-use segments across several regions are likely to create a bottleneck for prominent players, looking forward to untapped opportunities in the alumina trihydrate market.
Investments in New Production Lines Targeting Surge in ATH Demand
In recent years, technological advances and innovations are primarily driven by the demand for cost-effective and energy efficient solutions. In the last couple of years, the chemical industry has witnessed significant growth at a global level owing to an increase in demand from multiple industry verticals, end-use industries including paints & coatings, polymer & plastic, cosmetics, adhesives, sealants, and personal care among others. Growth of the chemical industry continues to remain pivotal to the development of the alumina trihydrate market.
The global alumina trihydrate market has witnessed steady growth over the last few years owing to several key factors, such as growing awareness regarding ultra-fine alumina trihydrate as a flame retardant, applications of ATH in cosmetics, and increasing emphasis on lightweight interiors of automobiles.
In addition, the commendable growth of paper, and paints & coatings industries, growing consumption of ATH for water treatment, and support from governments has contributed towards the growth of the alumina trihydrate market worldwide. Concerns surrounding the use of halogenated fire retardants have led to increase in demand for mineral based fire retardants, such as ATH among resin users.
At present, established and prominent ATH manufacturers are investing in new production lines to suffice the growing demand. For instance, in 2018, Huber Engineered Materials announced massive capital investments in ATH production capacities. In addition, ATH manufacturers continue to focus on improving the quality by devoting resources for research and development activities.
New Vehicular Safety Regulations and Changing Consumer Behavior Set to Boost Demand
On an average, plastic components account for nearly 10-15% of the total weight of automobiles. As consumer demand for lightweight and energy-efficient automobiles continues to rise, plastic components in automotive manufacturing remain vital.
In vehicles, high heat generation is a risk factor that cannot be ignored and thus, it is imperative for plastic components in automobiles to have optimum flame retardant properties. As alumina trihydrate is one of the most cost-effective and efficient fire retardants, the demand for ATH in automotive plastics continues to witness steady growth.
Apart from the growing demand for high-quality fire retardants in the automotive industry, the global demand for ATH is further fueled by government norms surrounding vehicular safety. In recent years, governments have laid an added emphasis on vehicular safety that has eventually led to notable demand growth of alumina trihydrate in the automotive industry.
Construction Industry's Progress in Developing Countries Pushing ATH Consumption
The growth of the construction industry, especially in the developing regions, such as Asia Pacific excluding Japan (APEJ), has influenced the demand for alumina trihydrate. Typically, alumina trihydrate is added in paints to achieve the desired luster, shine, and transparency.
The rampant growth in the number of architectural and infrastructural projects in the developing markets across APEJ has boosted the demand for alumina. Further, the growth of the paints &coatings industry continues to complement the market growth at a global level. In the current scenario, APEJ accounts for significant shares the market revenues, which can be majorly attributed to the high growth rate of the paints & coatings industry. Strong presence of established manufacturers will further solidify market positions of North America and APEJ over the coming years.
Paint, Coating, and Paper Industries Fuel Demand for Alumina Trihydrate
Paints and coatings are widely used for multiple applications across major industrial domains, including automotive refinishing, construction, wooden coatings, and protective coatings. Alumina trihydrate is used to enhance and preserve the luster, shine, and transparency of paints. However, apart from the aforementioned advantages, alumina trihydrate is highly sustainable which is touted to be a major factor contributing towards its growing demand.
How Growth Will Unfold
Established manufacturers worldwide are making investments to bolster their production capacity and enhance product quality to gain a competitive edge in the market. Current trends in the ATH market suggest that the demand for ATH in automotive plastics will remain vital in the growth of the ATH market worldwide. Stringent government regulations for vehicular safety will also pave way for ATH manufacturers in the automotive industry as demand for energy efficient and lightweight vehicles continues to rise.
One of the most glaring advantages of alumina trihydrate is its cost-effectiveness. Further, ATH could potentially reduce the overall production costs by nearly 25% in the paints, paper, and coatings industries, thereby proving to be an excellent substitute for titanium dioxide pigments.
Key Segment
By End-use
Plastics
Papers
Paints and Coatings
Adhesives
Chemicals
Pharmaceuticals Industry
Others
By Region
North America
Latin America
Western Europe
Eastern Europe
APEJ
Middle East & Africa (MEA)
Japan
Need specific information?