Aquafeed Market By Species (Crustaceans, Fish), Form (Extruded, Powder, Liquid, Pellets), Function (Health, Digestion, Palatability, Special Nutrition), Ingredients (Marine, Land Animal, Veg/Grain, Carotenoid, Nutrients), Sales Channel (Direct Sales, Indirect Sales, Hypermarket, Supermarket, Wholesalers, Speciality Stores, Online)) & Region – Forecast 2017 – 2027
Aquafeed Market - Analysis, Outlook, Growth, Trends, Forecasts
August 2017

REP-GB-4540

578 pages
Aquafeed Market Overview
[578 Pages Report] The aquafeed market is valued at nearly US$ 64 Bn in 2021. The market is likely to grow at a CAGR of 5.9% CAGR through 2027, reaching US$ 86 Bn by 2027.
In 2021, APEJ region is the largest market for aquafeed market, accounting for nearly US$ 23.59 Bn from the global share. This region will hold the market of US$ 36 Bn growing at 7% CAGR through 2027.
Extruded form of product dominates the aquafeed market currently and is estimated to hold 50% share by 2027.
APEJ has been leading the global consumption of aquafeed for the last 10-20 years with an average per capita production of nearly 53% of the entire global production in million metric tonnes over the period.
An abundant supply of fresh water sources in APEJ along with a rich aquaculture has helped the region retain the top position in the global aquafeed market. The MEA region will hold great potential for aquaculture as most of the big feed manufacturing firms are establishing their aquafeed plants in Egypt owing to the availability of cheap labour. Besides, being the largest tilapia producing region makes Egypt the most promising region for aquafeed production over the assessment period.
Within the APEJ market, China will exhibit significant growth owing to the large water mass surrounding the Asian countries coupled with favourable climatic conditions and a positive trade scenario in countries such as India, Singapore, and Malaysia. The APEJ aquafeed market is predicted to grow 2x over the forecast period of 2017-2027.
From an estimated market valuation of about US$ 18 Bn in 2017, the APEJ regional market will grow at a CAGR of 7.0% to reach a market valuation of about US$ 36 Bn by the end of the forecast period in 2027. In terms of volume, the APEJ market will register a CAGR of 6.3%. APEJ leads the global market in terms of both value and volume CAGR.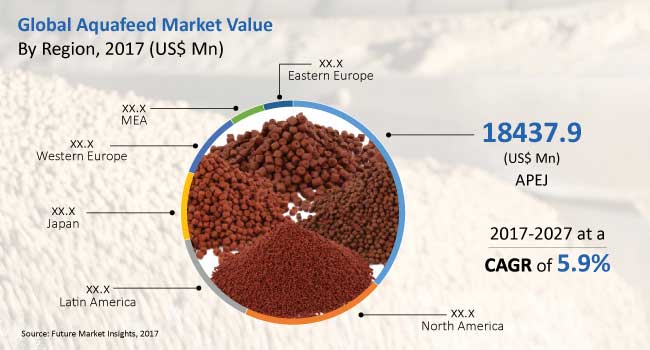 Key factors fuelling revenue growth of the global aquafeed market across various regional markets
Increase in marine and terrestrial land growth> Data acquired from the World Bank indicates that the marine and terrestrial protected areas covered by the UN Environmental Program & the World Conservation Monitoring Centre offer plenty of opportunities for aquaculture companies to meet consumer demand effectively. For instance, in 2000, the percentage of marine and terrestrial land was 8.79% of the total terrestrial land and in 2014 this went up to 12.8% showing significant opportunistic growth.
Increasing global population: A rapid increase in the global population and a subsequent rise in the consumption of food demands modern and advanced technologies as well as sonar equipment, leading to an over-exploitation of marine species and marine resources to meet the expanding consumer demands.
Better arable land: There is vast arable agricultural land available for cultivating wheat, corn, soybean, and maize, which are the main ingredients used in the production of aquafeed. A limited availability of marine resources such as fish meal and fish oil have led to an increased usage of wheat, corn, soyabean, and maize as ingredients for aquafeed production.
Rural population relying on fisheries: In several regions of the world, the rural populace survives on fisheries and aquaculture as fish is a cheaper and economical source of fats, protein, and other micro-nutrients required for proper growth and nourishment.
Global aquafeed market anticipated to grow 1.6x over the forecast period 2017 – 2027
The global aquafeed market was valued at about US$ 48 Bn in 2016 and this is estimated to increase at a CAGR of 5.9% during the 10 year period to reach a market valuation of nearly US$ 86 Bn by the end of 2027. Besides the factors listed above, other market growth drivers include increasing incidence of food borne illness, rising concern for food safety and quality, drifting inclination towards aquaculture growth and increasing demand for sea food across the globe.
World's Most Profilic Intelligence Engine
Get Access To The World's Largest Market Research Database.
Sign Up Now
Market segmentation is the first step in our detailed analysis of the market
For ease of reader convenience, we have segmented the global aquafeed market into the following categories.
By Species
By Form
Extruded
Powder
Liquid
Pellets
By Function
Health
Digestion
Palatability
Special Nutrition
By Ingredients
Marine
Land Animal
Veg/Grain
Carotenoid
Nutrients
Others
By Sales Channel
Direct Sales
Indirect Sales
Hypermarket
Supermarket
Wholesalers
Speciality Stores
Online
Other Retail Formats
By Region
North America
Latin America
Western Europe
Eastern Europe
Asia Pacific Excluding Japan
Japan
Middle East and Africa
Key Questions Answered in the Report
What is the aquafeed market?
The aquafeed market is valued at US$ 64 Bn in 2021 and projected to grow at 5.9% CAGR through 2027.
Which are the aquafeed companies?
The major companies in aquafeed market are Sonac B.V, ADM, Koninklijke DSM N.V., Cargill Inc., and BENEO GmbH, Novus International,
Need specific information?
Our Clients