Aromatherapy Market - Key Research Findings
The global aromatherapy market in 2019 is estimated to be valued ~US$ 6 Bn.
The aromatherapy market is anticipated to grow at a CAGR of ~7% during the forecast period of 2019-2029.
Consumables are likely to remain highly preferred product, with increasing sales of essential oils for home usage.
North America is estimated to account for ~ 30% of the revenue share in the aromatherapy market by the end of 2029.

North America will continue to maintain its leading position in the aromatherapy market, due to strong presence of key market players in the region along with increasing healthcare expenditure to adopt alternative method of treatment.

Direct distribution channels will continue to influence the growth strategies of players in the aromatherapy market.

Over the recent past, sales of aromatherapy products through direct distribution channels have witnessed significant growth. Manufacturers are also likely to tap into opportunities in different channels to attract new segment of customers.
Key Factors Shaping the Aromatherapy Market
Strong Distribution Network Creating High Growth Avenues

Strong distribution network is one of the prime factors responsible for the growth of the global aromatherapy market. Various major essential oil manufacturers are undergoing distribution agreements with big retail firms to make their products available resulting in deeper penetration of aromatherapy products.

Also, some companies have adopted multi-level marketing strategy to increase the distribution of their products and hire many independent distributors. Thus, easier availability and affordability of products are expected to increase the demand for essential oils and aromatherapy diffuser products globally.

Increasing Inclination of Wellness Professionals towards Aromatherapy

A large number of wellness professionals such as spa therapist, aroma therapist, massage therapist, and gym trainers are preferring single and blended essential oils for the treatment of insomnia, anxiety, pain, agitation, alopecia areata, stress, etc. as essential oils provide desired therapeutic effects with minimal or no side effects. This is attributed to the fact that these procedures can be performed without any treatment with drugs.

Also, aromatherapy is ideal for stress relief and curing anxiety and insomnia because of its ability to release hormones such as endorphins, oxytocin, and relaxing. Thus, wide availability of essential oils along with recommendation from wellness professionals are expected to result in significant growth of the aromatherapy market.

Thus, increasing inclination of wellness professionals towards aromatherapy massage for relaxation is a factor expected to contribute to the revenue growth of the aromatherapy market in the near future.

Trend for Using Aromatherapy Diffusers at Home

There has been an increasing usage of aromatherapy diffusers at home to ward off bad smells. Fragrance diffusers also helps with deodorizing and calming the ambience at home. Usage of different essential oils such as chamomile oil, patchouli oil, lemon, or lavender oil, promotes a calm and stress-free environment. In addition to this, aeriel diffusion of essential oils combat microorganisms, decreases the toxicity of chemicals in air and thus, increases atmospheric oxygen.

Thus, increasing number of people are opting to buy aromatherapy diffusers and essential oils for home usage. Availability of different types of aromatherapy diffusers such as nebulizing diffusers, ultrasonic, evaporative diffusers, and heat diffusers also aids in boosting the revenue growth of the aromatherapy market over the forecast period.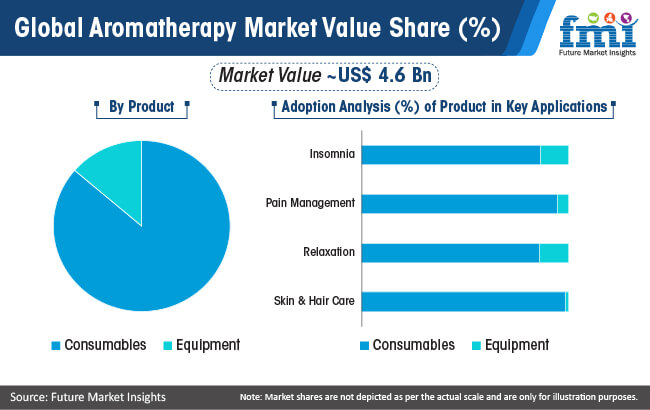 Aromatherapy Market Structure Analysis
The global aromatherapy market is a moderately competitive market. Young Living Essential Oils, Inc,DoTERRA, Edens Garden, and Rocky Mountain Oils are the major key players contributing maximum market share in terms of revenue.
Expansion of the business through mergers, acquisitions, collaborations, and alliances are the strategies followed by key players in the aromatherapy market. Key market players are focused on expanding their aromatherapy product lines.
Noteworthy increasing application of aromatherapy in treatment of insomnia, cancer, and in sports and fitness is further anticipated to boost the growth prospects of the aromatherapy market.
Global and local market players are benefiting from a significant marketing network of distributors. Also, companies are selling their products online, which is further expected to support the growth of the aromatherapy market.
Key Segment
Product
Consumables
Floral
Citrus
Herbaceous
Spicy
Woodsy
Earthy
Camphhorous
Others

Blended Oils
Carrier Oils

Equipment

Nebulizing Diffuser
Ultrasonic Diffuser
Evaporative Diffuser
Heat Diffuser
Application
Relaxation
Insomnia
Pain Management
Scar Management
Skin & Hair Care
Cold & Cough
Others
Mode of Delivery
Topical Application
Direct Inhalation
Aerial Diffusion
Distribution Channel
Retail Shops
Online Channel
Direct Distribution
Region
North America
Latin America
Western Europe
Eastern Europe
APEJ
Japan
Middle East and Africa
Need specific information?