This Balers market study offers a comprehensive analysis of the business models, key strategies, and respective market shares of some of the most prominent players in this landscape. Along with an in-depth commentary on the key influencing factors, market statistics in terms of revenues, segment-wise data, region-wise data, and country-wise data are offered in the full study. This study is one of the most comprehensive documentation that captures all the facets of the evolving Balers market.
Market Overview
Since the advent of agriculture equipment in late centuries, the hay was removed manually by hand or most typically using hay forks to rake and gather hacked grasses into ideal sized heaps. Later in 1860s, mechanical cutting grass were developed, from there modern devices such as balers and mowers were developed. By 1940s, balers were automatically picked up hay from the ground and were attached to tractors. Companies such as New Holland, Hesston, and John Deere have continually refined the balers into a modern farm equipment
The Global Balers market is expected to gain traction in its usage due to large scale livestock feedlot operations, where tons of feeds are rationed every hours. Increasing product awareness amongst end users, preference for stationery wire tying balers have been identified as primary factors responsible for market growth. The market is being governed primarily by a set of tier-1 manufacturers who rule on global as well as on local / regional levels.
Market Growth Analysis
Disclaimer: This data is only a representation. Actual data may vary and will be available in the report.
COVID -19 : Impact Analysis
Request the coronavirus impact analysis across industries and markets
Request Covid -19 Impact
Greater weightage of Baler use in agricultural sector
Owing to increasing demand from agricultural sector balers have high demand in this sector rather used in industrial sector. As in industrial sector balers are used in material recycling facilities, which primarily includes, plastic, metals, or paper for transport whereas, there is much wider application of balers in agriculture industry
Valued added features and services being imparted by manufacturers to gain competitive advantage
Since the launch of balers, major manufacturers have underwent a lot of technological up gradations to enable convergence of balers with a plethora of advancement, such as tractor pulled automatic tie pick up, or a wire tying balers. Additionally, manufacturers are launching new balers with advanced features to sustain their market share over the forecast period. For instance, Claas KGaA mbH introduced new stationary chamber round balers named Rollant 620, with 1.50 m diameter of bale. This has been developed for harvesting of hay and straw with high throughput and bale density. Similarly, Massey Ferguson, launched new series MF 2200 (large square balers) which includes a new Packer Cutter for the MF 2240 and MF 2250 models. Likewise (Aug, 2017), the company (Deere and Company) introduces five new models for precutter baler (1.5m) and round bale accumulators. These all models comprise of the new (0 Series Round Balers) which are build upon the nine series balers and comprise of new features which improve balling speed, hay pickup and productivity in the field.
Therefore, to gain competitive advantage, manufacturers are providing possible services and product training facilities to consumers (farmers) via several initiatives. Aftersales service facilities and training are being provided by manufacturers through distributors/franchisees or direct sales channel in the target regions. Therefore these kind of activities, in turn, enhance the brand image and consolidating companies' business footprint as well as consumer base.
Regional Market Outlook
The global balers market is segmented into the following regions – Middle East and Africa, China, India, North America, Latin America, Eastern Europe, Western Europe, Japan and South East Asia. India and China have been dominant in the Global Balers market mainly due to increased acceptance by farmers on individual as well as commercial level. In North America, the USA is a prominent market due to the high demand from agricultural industry. Western and Eastern Europe are also expected to provide sound growth opportunities due to rising awareness about balers. Latin America is also projected to grow with considerably high CAGR due to rising demand from countries such as Brazil and Mexico. Growth in the Middle East and African region is expected to be considerably less as compared to the other regions.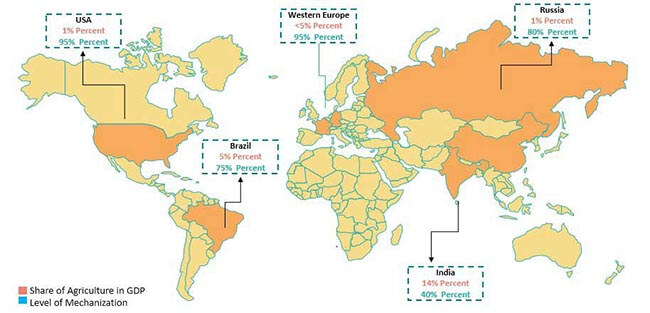 FMI Analysis, 2017
Global Balers Market: Key Players
The key players ruling the global Balers market are Deere & Company, Case Construction Equipment, Caterpillar Inc., Kuhn S.A, AGCO GmbH, Vermeer Corporation, Claas KGaA mbH, Krone UK Ltd., to name a few in the global and regional specific markets.
Opportunities for Market Participants
Increasing opportunities in the agricultural industry due to the advancement in technology, and increase in demand from industrial sector are expected to create demand for balers in the forthcoming years. With the market being less focused, opportunities for market entrants are projected to be on the optimistic side with focus on regional/ local markets by market participants. Also, the value or supply chain is expected to expand due to an entry of retailers and product suppliers catering to high sales volume demand from the farmers receiving significant trade margins.
Brief Approach to Research
FMI will follow a modelling-based approach and triangulation methodology to estimate data covered in this report. A detailed market understanding and assessment of the nature, product type and end uses of the product segments covered in the study is followed by a demand-side analysis to estimate the sales of target product segments, which is then cross-referenced with a supply-side assessment of value generated over a pre-defined period. The statistics and data is collected at a regional level and consolidated and synthesized at a global level to estimate the overall market sizes.
Unique Requirements? Customize this Report
Customize by Region, Country, Application, Product, & other segments
Integrate our Insights with your Existing Data
Determine the scope of the study to suit your requirements
Gain Insights on Key Balers Market Impacting Forces
Know the Winning Strategies of Market Leaders
Get Deep-Dive Analysis on Each Segment
Identify the Sources that will Drive Top-Line Revenue
Product Definition and Segmentation
Balers are generally used by farmers in their field that used to collect cut hay and compact it into compressed form, manageable parcels for efficient transport. Small square balers could harvest a bale hay weighs between 18 to 32 kg whereas, large bales could produce 454 kgs of bales. Therefore, large balers must be moved with the help of tractors. The Balers market can be segmented on the basis of the following criteria:
By type-
Small square/rectangular
Small Round
Large square/rectangular
Large Round
By Size-
Bound with twine
Strapping
Netting
Wire
Key Data Points Covered in the Report
Some of the key data points covered in our report include:
An overview of the Balers market, including background and evolution
Macroeconomic factors affecting the Balers market and its potential
Market dynamics, such as drivers, challenges and trends
Technology Roadmap involved from inception period to present date
Detailed value chain analysis of the Balers market
Cost structure of the products and segments covered in the global Balers market
In-depth pricing analysis, by key product segments, regions and by major Balers market participants
Analysis of supply and demand, such as top producing and consuming geographies, imports/exports and overall trade scenario in the global Balers market
Analysis of the global Balers market structure, including a tier-wise categorization of key Balers market participants
Competitive landscape of the market, including detailed profiles of top players in the Balers market
Frequently Asked Questions
---
What research methodology is used to develop the Balers Market report?
FMI utilizes three branched methods to derive market measurements used to compile any report study (data derivation, triangulation and validation).
These approaches include accumulating data from both primary and secondary sources
Primary research involves interviews with industry operators and FMI's network of contacts spanning the world's value chain of the Balers Market. This is supported by a comprehensive literature analysis of information gathered through secondary sources
Analysis of several middle market stakeholders for country-wise data
What else does FMI offer apart from Balers Market report?
In addition to up-to-date market figures and customized of the Balers Market, FMI offer consulting services to help businesses within industry navigate challenges and take well-informed decisions amidst the breakneck competition.
How do you define competitors based on market structure? What aspects about a competitor are included in the company profile section?
Most of the competitors are segregated according to their market share in 'Tier' wise statures.
Global market participants are scrutinized and global competition metrics are included with numerous competitor profiles referring to their business background and go-to market strategies.
Harish Tiwari
Global Head - Business Development
Akshay Godge
Client Partner - Global Business Development