Bromine Market Outlook and Key Findings
The bromine market is expected to grow at a CAGR of 2.7% during the forecast period (2020-2030)
The top 3 countries in the bromine market accounted for 52% of the overall market in 2019
Decline in underground brines which will impact production of bromine
Bromine extraction through acid method air blowing is gaining traction on back of its simple operability and scope of application
Bromine Market Analysis
The foremost applications of bromine are for the manufacturing of brominated flame retardants. High availability of bromine is seen in seawater, for example the Dead Sea in the Middle East, accounts for one billion tonnes of extractable bromine. Industrial sources of bromine include effluents or waste through which bromine is obtained by bromination process.
Demand for bromine is growing at a fast place which makes it a challenging task for manufacturers to stay apace. Globally, bromine compounds are being increasingly sought-after as raw materials in various end used in oil & gas and petrochemicals. Major consumers of bromine include oil producing companies, pharmaceutical companies and chemical industries.
Bromine Applications- Flame Retardants to Account for Majority Share in Bromine Market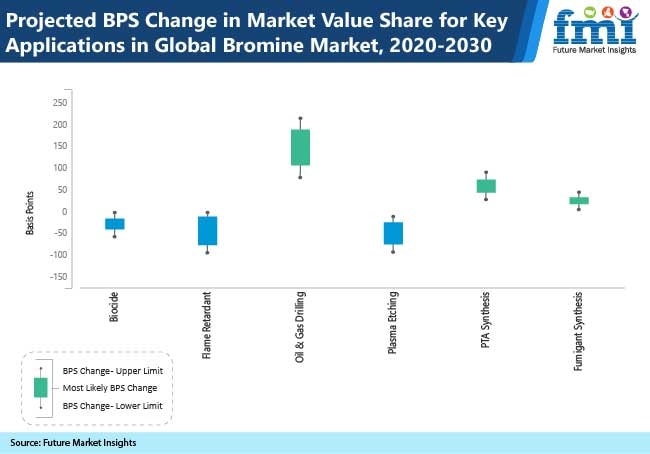 Ever since its discovery, bromine has found high applicability in myriad end uses such as water treatment, fire safety, pharmaceutical production, and mercury emission reduction. In particular bromine is receiving notable attention for its flame retardant properties which make it suitable for a range of end uses as below
Brominated flame retardants comprise nearly 70 chemical substances with properties that make them ideal for washing machines, computers, radio and televisions
Many buildings are now equipped with foam insulation to make buildings more energy-efficient. This becomes vital as energy use in buildings accounts for more than 40% of CO2 emissions. These foams are also highly flammable which makes it important that insulation foams have sufficient flame retardancy. Thus the bromine used in these foams as a flame retardant helps to slow down the combustion in case of fire accidents
In Europe, trade for electronic appliances has grown by ~14% in the last five years. This has led to simultaneous changes in design and production of electronic devices. The plastics used in these are highly flammable and hence are garnering traction for flame retardant brominated polymers. These are used along with epoxy in various electric circuitry and circuit boards
The use of synthetic fibres in home furnishings are bringing about some challenges in terms of fire safety. Here too brominated flame retardants are being used either in isolation or as a synergist
Bromine Production – Purity Remains Prime Agenda
Traditionally, bromine is produced from brines. Within this process, production of bromine becomes advantageous when concentration of bromine is more than 2.5g/l. However, with the use of sea-water, solar evaporation ponds are used in order to achieve that level of concentration.
Production of bromine is done in a distillation column in which purification is achieved through the rectification by separating chlorine from water. Through this process bromine with a purity of 99% can be attained at the bottom of the separation column.
The manufacturing of bromine entails that these plants are at peak efficiency levels and columns have to be corrosion resistant.
Bromine Market Regional Analysis – Use of Bromine in Automotive Industry Drives Market Growth in Europe
Regionally, the US has maintained its position as the number one producer of Bromine. The US is also a key importer of bromine and its associated compounds. Its average import value saw an increase in 2019, up by 20% from 2018.
Following suit is Europe in which Germany is set to add significant clout to the market size for bromine. Automotive sector is a major driver of demand for bromine in Germany and accounts for the largest market share among all commodities that are exported out of Germany.
Anti-knock fluid applications and the use of bromine as a flame retardant is giving a boost to the bromine market in Germany. Following suit are countries such as Spain, France and UK which are using bromine as an emission reducing compound in batteries of electric cars to reduce environmental pollution.
A large chunk of the demand for bromine is also driven by the pharmaceutical industry in this region. Many compounds of bromine are being used in veterinary medicine as well as the manufacturing of sedatives and analgesics.
Bromine Market Trends – Sales of Bromine to Soar in Oil and Gas Drilling
The need for energy security is gathering momentum in developed regions worldwide. Clear brine fluids (CBFs) are witnessing enormous traction in oil and gas extraction process.
This is proving to be a revenue hotbed for potential manufacturers of bromine. For instance ICL-IP, a market leader manufacturing brominated brines supplies its recyclable CBFs to intermediaries who then formulate the brine and sell it to major oil behemoths such as Shell and Exxon.
Regions such as North America, in its quest to reduce its dependency on OPEC is investing heavily in the drilling of shale reserves.
Closing in is Asia Pacific which has a large number of shale gas reservoirs in which China holds the largest share for shale recovery. The incessant exploration for shale and consequent uptick in drilling activities in subsequently boosting the consumption for CBFs within this region.
Bromine Market Manufacturers – Remunerative Opportunities in Asia and Europe
The bromine market is highly consolidated with the presence of a few players who are dominating with a significant chunk of the overall bromine market. Some of the leading players in the market are Tosoh Corporation, Tata Chemicals, Jordan Bromine Company, Vinyl KFT and Lanxess AG.
Tosoh Corporation is one of the major manufacturers of Bromine in Asia. The company sells its bromine in its domestic market of Japan as well as in other parts of Asia.
Despite steady supply for bromine globally, countries such as China are witnessing a shortfall which is creating a demand supply gap. In keeping with this Tosoh is planning to expand its production capacity in order to offer a range of brominated products such as fungicides, agrochemicals and flame retardants.
TrustCapital LLC is expanding its footprint in Europe with large production hubs in Russia. Recently the company opened up a new bromine plant in Krasnokamsk. The plant will hold a capacity of producing 1700 tons of bromide per month. Investments to the tune of US$ 7 million have been made towadrds the first stage of the plant which will see completion by the second quarter of 2020.
Through this, the company plans to supply bromine locally and within the European market. Further, the plant also intends to produce ammonium bromide, calcium bromide and zinc bromide. In 2019 the company's revenues accrued from exports of bromine products amounted to US$ 10 million.
Bromine Market Future Outlook – Charting its Impact on the Environment
Regionally, production of bromine is still dependent on raw brine that is obtained from the sea. With the reduction in availability of underground brines, manufacturers have not been able to sustain optimal levels of bromine production. Desalination of brine that is highly concentrated will aid manufacturers in the near term.
Brominated flame retardants are now all pervasive and have left a ubiquitous impact on the environment. Many industrial set-ups that are producing Brominated Flame Retardants (BFR) as well as facilities that are using them in consumer packaged goods are releasing toxic chemicals into the environment at the time of processing or carrying out some manufacturing practices.
Product disposal using various forms of combustion, recycling and leaching from various landfills is another route of entry for BFRs in the environment. The levels of BFR are highest in the areas or facilities that manufacture them.
The various properties of BFRs that make them highly versatile and suitable as flame retardants such as chemical stability and high adsorption also make them highly unsafe for the environment.
As per new legislations in US, manufacturing of Octa- BDE and Penta- BDE has been clearly banned in many countries of Europe. However some parts are still seeing the high utilization of these products which means that their adversarial impact on the environment will continue for their entire product lifecycle. With their high presence in the environment, it is hardly surprising to also find them in the tissue of both wildlife and humans alike.
Halogenated flame retardants are gradually being phased out due to the threat that they pose to the environment. Within regions, efforts are being championed to develop safer alternatives that leave a lesser impact on the environment.
Over the last decade, regional governments across the world have instituted stringent regulations with regard to the release of hazardous materials. For instance, in Europe has enforced Waste Electrical and Electronic Equipment (WEEE). This ensures adequate recovery and recycling of brominated flame retardants used in electronic equipment. This has enabled manufacturers to mitigate the toxicity of BFRs to some extent.
Bromine Market: Taxonomy
Derivative
Organobromine
Clear Brine Fluids (CBF)
Hydrogen Bromide
Application
Biocide
Flame Retardant
Oil & Gas Drilling
Plasma Etching
PTA Synthesis
Fumigant Synthesis
Others
End Use
Oil & Gas
Chemicals
Pharmaceuticals & Cosmetics
Electronics & Consumer Goods
Textile
Medical
Agricultural & Pesticides
Automotive
Building & Construction
Water Treatment
Other Industrial
Region
North America
Latin America
Europe
East Asia
South Asia-Pacific
Middle East & Africa
Need specific information?