Bromine Derivatives Market - Key Research Findings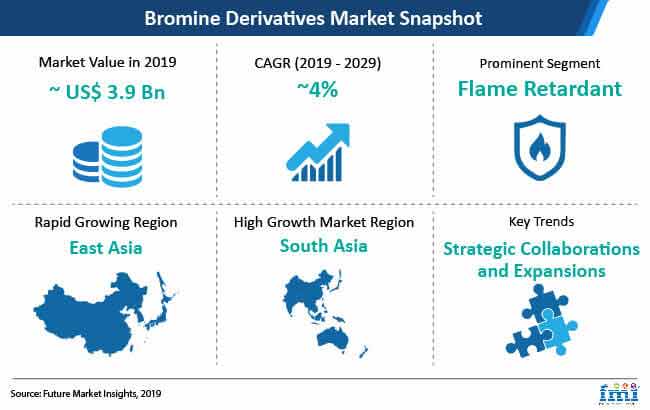 The global bromine derivatives market size in 2019 is expected to be ~US$ 4Bn.
The bromine derivatives market is estimated to grow at a CAGR of ~4% over the forecast period of 2019-2029.
In the bromine derivatives market, the calcium bromide derivative is estimated to gain significant traction.

The increasing use of calcium bromide as an oxidizer for mercury emission control is expected to propel the market growth. The rise in oil & gas exploration activities, which involves the use of brine fluids, is projected to fuel the market demand for bromine derivatives over the forecast period.

Brominated flame retardants are the most preferred applications in end-use industries, such as chemicals, automotive, construction, and others, owing to its great fire inhibiting properties.
In terms of value share, North America and South Asia, are predicted to be prominent regions, which collectively hold more than half of the volume and value shares of the global bromine derivatives
In terms of the growth rate, East Asia is most likely to witness high growth in the global bromine derivatives market.
Emerging market players in the bromine derivatives market are enhancing their product offerings by investing in research and development activities to maintain a low toxicity level in bromine derivatives.
India and China are expected to be the fast-growing markets for bromine derivatives.

Prime driver, backing up the adoption of bromine derivatives, is the growing need for the brominated flame retardants and other applications in chemicals, pharmaceuticals, construction, and other such end-use industries. China is estimated to take the lead in the bromine derivatives market owing to the surge in the bromine production capacity and increasing regional players in the country. This factor aims to position the country as the powerhouse of manufacturing in the world.
Factors Shaping the Global Bromine Derivatives Market
Growing Construction Industry and Urbanization Propelling the Market Growth
Brominated flame retardants find a wide application in plastics, textiles, and electrical/electronic products. Plastics, in turn, play a significant role in the building and construction industry. Furthermore, urbanization is expected to boost the demand for several plastic products for buildings, which require flame retardants as a mandatory requirement. Thus, significant increase in urbanisation is anticipated to further fuel the demand for bromine derivatives used in flame retardants in the near future.
Applications of Bromine Derivatives in Several Industries Boosting the Market
Clear brine fluids, such as zinc bromide, calcium bromides, and sodium bromides, primarily find applications in the oil & gas industry, where these are used as oil drilling fluids during oil & gas exploration. Furthermore, bromide is used in the pharmaceutical industry as raw material to manufacture active pharmaceutical ingredients and products, including analgesics, sedatives, and antihistamine.
The use of bromine-based flame retardants in the manufacturing of electronic equipment, furniture, construction materials, and textiles, have been gaining traction in the bromine derivatives market.
Upsurge in the Demand for Brominated Flame Retardants Augmenting the Market Growth
Chlorine and bromine are the only halogens used as flame retardants in synthetic materials, especially plastics, with bromine being a more effective and cost-efficient retardant with extensive applications than chlorine. Moreover, to meet the fire safety standards, products made from synthetic material are modified with flame retardants containing chemicals that prevent the ignition and spread of flames.
This growth factor is estimated to significantly impel the growth of the bromine derivatives market. However, regions, such as North America and Europe are expected to limit the usage of brominated flame retardants due to certain restrictions imposed by government authorities to comply with the required HSE standards.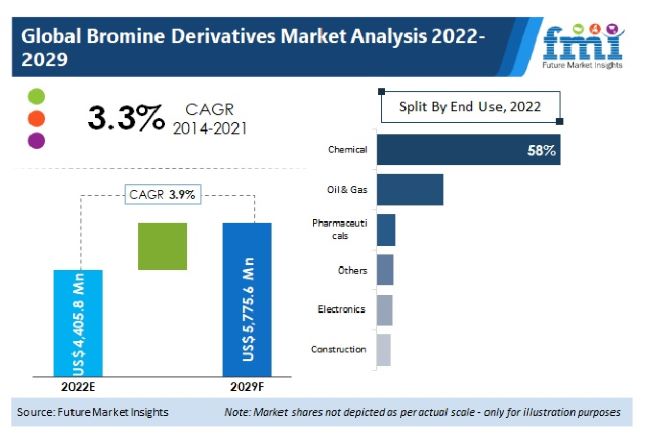 Bromine Derivatives Market Structure Analysis
The global bromine derivatives market is an organized market where tier-1 players hold nearly half of the global bromine derivatives market shares.
Most of the manufacturers in the bromine derivatives market are strategically focusing on the Asia Pacific market. Key market players in the bromine derivatives market, such as Israel Chemicals Limited, Lanxess AG, Albemarle Corporation, Tosoh Corporation, and Tata Chemicals Limited, are focusing on expanding their bromine production capacities to fulfill the growing demand of bromine derivatives in various applications, such as PTA synthesis, organic intermediate, and others.
Tier-1 players are strengthening their positions in the bromine derivatives market by offering different bromine products for different applications.
Lanxess AG, Tata Chemicals Limited, Tetra Technologies Inc., Tosoh Corporation, Israel Chemicals Limited, Albemarle Corporation, Neogen Chemicals Limited, Jordan Bromine Company, Mil-Spec Industries Corporation, Hindustan Salts Limited, Solaris ChemTech Industries Limited, and DSL Chemicals (Shanghai) Co. Ltd. are some of the market participants in the global bromine derivatives
Augmenting 'Heat Resistance' by Thermal Degradation despite Adversarial Events
Bromine derivatives such as, chlorinated and brominated compounds, undergo thermal degradation to release hydrogen chloride and hydrogen bromide, which react with H and OH radicals in the flame, producing chlorine and bromine radicals.
Lower reactivity of chlorine and bromine radicals as compared to H and OH radicals enables retardation of oxidation reactions of the flame. Bromine derivatives combined with synergists for instance, antimony trioxide, catalyzes the release of chlorine and bromine radicals in gas phase radical quenching without degrading the physical aspects of the plastic.
However, it is pertinent to note that, bromine derivatives are in the bad books of governments across the globe, due to critical environmental and health-related issues. Brominated flame retardants, including hexabromocyclododecan (HBCD), persist and bio-accumulate in the ecosystem, affecting the aquatic and marine ecosystem adversely. Further, prolonged human exposure to bromine derivatives is underpinning neurodevelopmental toxicity, and thyroid effects.
Controlling Pressure in Oil Wells and Gas Pipelines
Huge amount of bromine derivatives – brine fluids - is finding purpose in oil and gas exploration on the account of high density, aiding to control the extreme pressures in deep wells. The high density brine solution shield the surroundings by avoiding fluids from migrating between underground formations via the well bore.
Bromine derivatives for instance, calcium bromide, after dissolution in water or other brines, produces completion, workover, and packer fluids with a maximum density of 2.3 g/ml. Sodium bromide fluids are becoming commonplaces in settings where the formation waters contain high concentrations of bicarbonate and sulfate ions. Mixture of sodium bromide and sodium bromate supports the dissolving of gold from its ores.
Rechargeable batteries are incorporating zinc bromide solution in the form of electrolyte, owing to potent reactivity of bromine with zinc metal, producing high energy content in the batteries. Moreover, bromine derivatives have been garnering significant traction as a viable substance to purify potable water on navy ships, and offshore rigs.
South Asia to Overhaul North America despite Lagging Start
Although North America appears to hold the key, South Asia is set to dominate the global bromine derivatives market over the forecast period, with East Asia exhibiting sweeping growth. The growth syncs with apparent progress in diverse verticals – plastic, chemicals, and construction. China accounted for almost a third of the global chemical market while the region of Asia captured about 40% of the global plastic market in 2018 – a driver encouraging market forces to channelize their production footprint towards the Asian economies.
Furthermore, initiatives such as 'Housing for All' and smart cities are driving the growth of urban infrastructure, and construction development in India. On the flip side, advanced economies, including the US, are enforcing regulations on the employment of bromine derivatives on environmental safety grounds.
Synthesizing Compounds in Compliance with Legal Policies – Key Tenet of Stakeholders' Tactics
The global bromine derivatives market is witnessing a fierce competition among market players, with the leading market forces, including Israel Chemicals Limited, Lanxess AG, and Tata Chemicals Limited, accounting for about 43-47% of the total market revenue. Organized participants are transporting bromine in containers designed as per the ISO (International Organization for Standardization) standard.
User penetration into consumer electronics is expected to reach about 34% by 2023 against ~23% in 2019, encouraging market players to supply bromine derivatives to electronics industry for increased insulation purposes. Citing upsurge in natural gas consumption across the globe in 2018, market forces are targeting the advanced economies of the US and China – the primary consumers of natural gas.
Emerging market forces are honing in on producing bronopol – an antimicrobial agent inhibiting the growth of gram negative and gram positive bacteria, in a bid to penetrate into the pharmaceutical sector.
How Growth Will Unfold
The global bromine derivatives market is anticipated to witness modest progress over the predefined timeframe amidst legal prohibition on the application of bromine-containing compounds. According to the European Flame Retardant Association, the demand for BFRs is observing substantial growth, with BFRs comprising of nearly 20% by weight of world use of flame retardants. Battery makers are zeroing in on the production of non-flow zinc-bromine batteries (ZBB) owing to enhanced cost-efficiency, and larger shelf-life against their li-ion and lead-acid siblings.
However, under the Stockholm Convention on Persistent Organic Pollutants, countries, including the U.S., Germany, Canada, and the U.K., have imposed restrictions on the utilization of certain brominated flame retardants in plastic, and electronic products due to adverse environmental impacts.
Key Segment
By Derivative
Sodium Bromide
Calcium Bromide
Zinc Bromide
TBBPA
DPDPE
Others
By Application
Flame Retardants
Organic Intermediate
Oil & Gas Drilling
Biocides
PTA Synthesis
Others
By End Use
Chemical
Construction
Oil & Gas
Pharmaceuticals
Electronics
Others
By Region
North America
Latin America
Europe
South Asia
East Asia
Middle East & Africa
Oceania
Need specific information?