Global Diketene Derivatives Market – Key Research Findings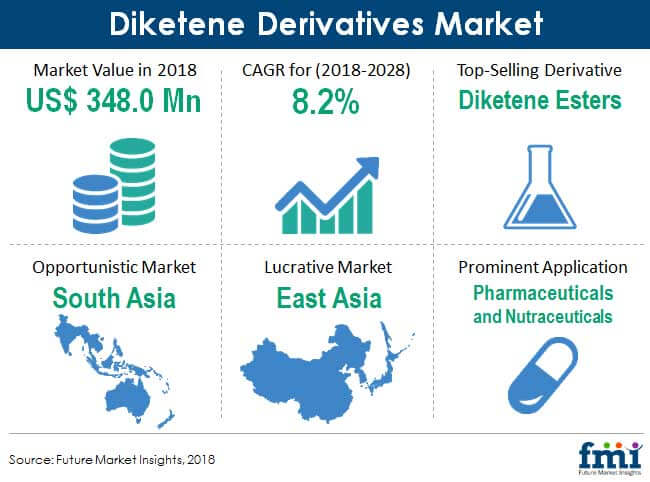 Global diketene derivatives market value registered in 2017 – Approximately US$ 325 Mn
Estimated CAGR for global diketene derivatives market - 8.2% (2018–2028)
In terms of consumption, the diketene derivatives market is expected to register high value and volume growth in East Asia and South Asia, throughout the forecast period.

Healthy growth of industries such as pharmaceuticals, nutraceuticals, and agrochemicals, among others, in China and other Asian countries, is the key driving factor for the growth of the diketene derivatives market.
Moreover, low production cost and labor cost, and lenient regulations in such regions are encouraging pharmaceutical, nutraceutical, and agrochemical manufacturers to expand their manufacturing facilities in these regions, which, in turn, is expected to drive the demand for diketene derivatives.

Increasing awareness towards health and the adoption of healthy lifestyles have led to the increasing consumption of pharmaceuticals and nutraceuticals across geographies. This is further enhanced by the increasing aging population, which highly depends upon pharmaceuticals and nutraceuticals for survival. Diketene derivatives are used as key intermediates in their production, and hence, there has been a considerable hike in the demand for diketene derivatives from these industries

According to the UN Department of Economic and Social Affairs Data (2015), the number of people in the world aged 60 years or above is expected to grow from 901 Mn to 1.4 Bn (an increase of around 56%) between the time period 2015 to 2030.

The alkylamides segment, by derivative, is expected to grow with a significant growth rate over the forecast period market.

Increasing application of alkylamides in pharmaceuticals, nutraceuticals, and dyes and pigments is expected to be the major cause for this dominance in share.
Key Driving Factors of the Diketene Derivatives Market
Growing Demand for Diketene Derivatives from Pharmaceutical and Nutraceutical Industries

The pharmaceutical industry has witnessed significant growth across geographies. For instance, India holds a leading position in global generic drug exports. Indian pharmaceutical exports reached more than US$ 17 million in 2018. Furthermore, economic growth in emerging countries is also supporting the growth of the pharma industry.
Diketene derivatives are majorly consumed in the pharmaceutical industry in India. Thus, growth of the pharmaceutical industry and the increasing number of API units in India are collectively expected to boost the demand for diketene derivatives, and, as such, drive its market growth.

Surge in the Demand for Diketene Derivatives from the Agrochemical Industry

World population accounted for around 7.6 billion in 2017. The percent change in population was 1.12% in 2016-2017. High population growth has fueled food consumption, globally. The use of agrochemicals has become necessary to meet the growing demand for food, as they play an important role in increasing production yield by preventing pests and weeds, and fertilizing the soil.
This has resulted in a significant hike in the production of agrochemicals across the globe. Also, agrochemicals are one of the key applications of diketene derivatives that consume a significant share of the market. Hence, this factor is expected to drive the growth of the diketene derivatives market.

Increasing Demand for Diketene Derivatives from the Pigments and Dyes Industry

The global pigment industry was pegged at around US$ 23 Bn in the year 2016, and is expected to grow further in the coming years. Out of this, organic pigments account for around 22% of the total market value.
Diketene derivatives are extensively used in the production of organic pigments such as diarylide and arylide yellow. Therefore, growth of the pigment industry is expected to create significant demand for diketene derivatives, as such, driving the growth of the global diketene derivatives market.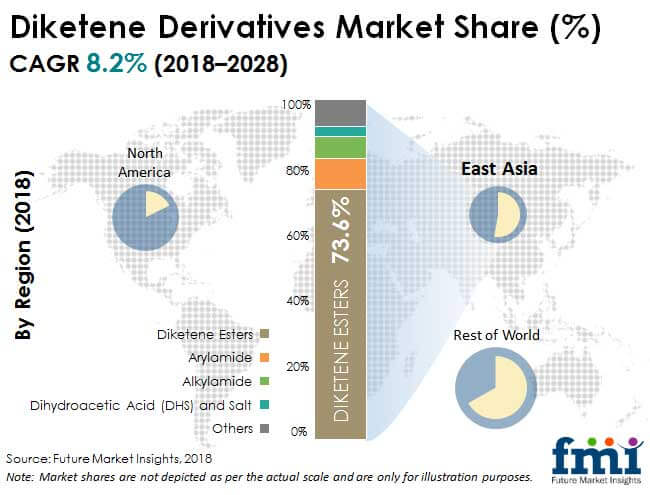 Diketene Derivatives Market: Structure Analysis
Prominent companies operating in the competitive landscape of global diketene derivatives market have been engaging in strategic mergers and acquisitions, besides currently trending collaborations and partnerships.
While all these activities are eventually centered at manufacturing capacity expansion, leading players in diketene derivatives marker are also considering innovation as a differentiating strategy to explore unique application areas in target regional markets.
For an instance, Eastman Chemical Company recently announced expansion of their production capacity, in an effort to cater to rising demand for diketene and diketene derivatives across industries - particularly pharmaceuticals, agrochemical, and pigments.
Some of the diketene derivatives manufacturing companies are also focused on the production of organic, industrially significant derivatives of diketene such as acetoacetates – dye precursor, acetoamides – industrial solvents and plasticizer, and others.
To arrive at advanced production processed for diketene and its derivatives, a few competitors in the market are also increasing R&D investments, finds the report.
Key Segment
By Derivative
Diketene Esters
Arylamides
Alkylamides
Dihydroacetic Acid (DHS) and Salt
Others
By Application
Agrochemicals
Pharmaceuticals and Nutraceuticals
Pigments and Dyes
Others
By Region
North America
Latin America
Europe
East Asia
South Asia
Middle East and Africa
Oceania
Need specific information?