Middle East and North Africa Nutraceuticals Market By product type (dietary supplement, functional food, functional beverages & Region - Forecast to 2015 - 2020
Middle East and North Africa Nutraceuticals Market - Analysis, Outlook, Growth, Trends, Forecasts
July 2015

REP-MA-681

133 pages
Introduction
Nutraceutical is a combination of nutrition and pharmaceuticals. So when we are talking about nutraceuticals it means any food or part of food that apparently provides medicinal or health benefits, including the prevention and treatment of disease.
A nutraceutical may be a naturally nutrient-rich or medicinally active food, such as soybean or garlic, or it may be a specific component of a food such as the omega-3 fish oil that can be derived from salmon and other cold-water fish.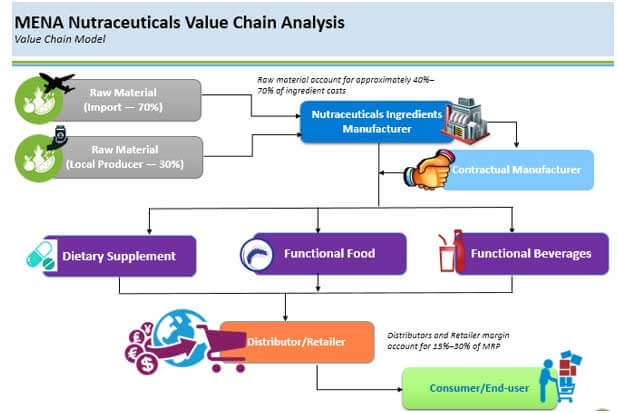 MENA Nutarceuticals: Market Value and Forecast
The MENA nutaceuticals market is estimated to value at US$ 8.6 billion in 2014 and expected to grow a CAGR of 7.1% during forecast period of 2015–2020. Retails and pharmacy development, advancement in product offerings are some of the prominent factors driving the demand for nutraceuticals products in the region.
MENA Nutarceuticals: End-User Industry Analysis with a Focus on GCC
In GCC nutraceuticals is consumed highest in the age group of 0-10 years to attain proper growth of developing body. But, it has been found that ageing population also demand for nutraceuticals products due to healthy ingredients used in the nutraceuticals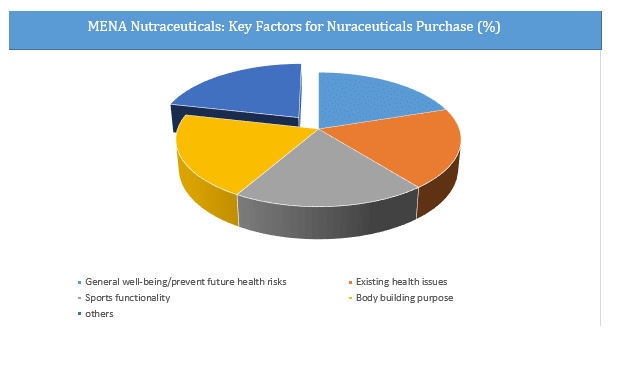 MENA Nutarceuticals: Segmentation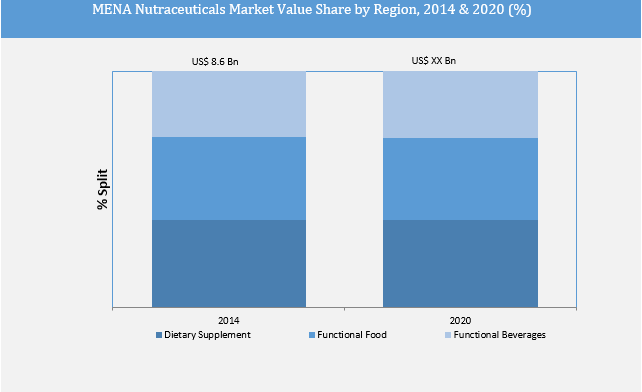 MENA Nutarceuticals: Key Region
Geographically, GCC is the dominant market for nutraceuticals in MENA and likely to grow at a fastest pace compared to other region followed by rest of Middle East. This growth is attributed by the Increasing aging population, increase in per capita income in the region.
Proactive lifestyle is driving increasing acceptance for nutraceuticals across the region. Furthermore, growing consumer demand for healthy food is also expected to drive the nutraceuticals market in MENA.
MENA Nutarceuticals: Key Players
Some participants in the MENA nutraceuticals market continue to focus on acquisition and partnership in order to enter new market and enhance existing portfolio. Some of the key players in MENA nutraceuticals market are BASF SE, Danone, Nestle SE, Arla Foods, Amway, General Mills and Kellogg's
World's Most Profilic Intelligence Engine
Get Access To The World's Largest Market Research Database.
Sign Up Now
Market segmentation
The MENA nutaceuticals market is segmented on the basis of product type and region. On the basis of product type the market is segmented into dietary supplement, functional food and functional beverages. Dietary supplement is the largest segment in terms of market share and revenue in 2014. However, functional beverages is anticipated to witness highest growth rate during the forecast period with a CAGR of 7.3%.
Dietary supplement segment is sub-segmented into vitamins & minerals supplement, herbal supplement and protein supplement. Further, functional food segment is sub-segmented into Omega fatty acid fortified foods, probiotic fortified food, branded iodised salt and branded wheat flour market.
In 2014, functional food segment accounted for 35.1% of the market share and is expected to witness a decline in its market share by 20 BPS in 2020. Lastly, functional beverages segment is sub-segmented into energy drink, fruit drink, health drink and enhanced water.
Among all the sub-segments of functional beverages energy drink is expected to exhibit highest growth rate during the forecast period closely followed by health drink. In addition, energy drink is expected to show a increase of 30 BPS in 2020.
Need specific information?
Our Clients