An Incisive, In-depth Analysis on the Middle East Data Storage Market
This study offers a comprehensive, 360 degree analysis on the Middle East Data Storage market, bringing to fore insights that can help stakeholders identify the opportunities as well as challenges. It tracks the global Middle East Data Storage market across key regions, and offers in-depth commentary and accurate quantitative insights. The study also includes incisive competitive landscape analysis, and provides key recommendations to market players on winning imperatives and successful strategies.
COVID -19 : Impact Analysis
Request the coronavirus impact analysis across industries and markets
Request Covid -19 Impact
Growth projections of the MEA data storage market
The data storage market in the Middle East & Africa has been steadily growing, mainly driven by investments from telecom operators and financial institutions. However, the market is facing certain growth challenges brought about by heavy administrative constraints, lengthy decision making periods, unexpected delays, and a lack of visibility on the execution of pipeline projects. Additionally, there is an increasing traction towards converged infrastructure solutions, in which the vendors' package servers, storage, software, networking and other data centre components into pre-configured solutions tailored to meet the needs of a particular enterprise.
Advancements in information and social technology have paved the way for unabated data growth in the MEA region
Business enterprises have now moved from compression techniques and duplication to data servers and rack servers to manage the development and growth of big data. However, there has been tremendous growth witnessed across business enterprises, and the currently available technologies are not adequate to meet the growing requirements of the enterprise. Therefore businesses are fast moving towards scale out architecture such as storage virtualisation and hyper converged infrastructure from traditional scale up architecture. This offers enterprises an improved and scalable platform solution that is cost effective and efficient. Also, an increasing demand for smartphones and other devices underpinned by the Internet of Things (IoT) along with a massive growth in social media channels has also increased the demand for additional storage, which is driving the growth in demand for advanced data storage solutions in MEA.
"Cloud computing is a hassle-free and cost-effective data storage facility. Recently, NetApp Inc. reported that its revenue from cloud providers doubled from that in 2013. In addition, NetApp announced that globally over 200 cloud services were based on its technology. EMC Corporation is also targeting the cloud storage market aggressively. Cloud storage is expected to be a vital component of most enterprises in the near future."
- Senior Research Analyst – ICT, Future Market Insights
One more factor promoting the growth of the MEA data storage market is a constant decline in the prices of consumer storage devices such as HDD and SSD. The game changer for the consumer storage industry is the advancement of 3D NANO technology. Consequently, SSD capacities have increased, while its prices have declined. Increasing market presence of regional players is further cementing competition and in turn shrinking the average selling price of consumer storage devices. All these factors are driving revenue growth of the data storage market in MEA.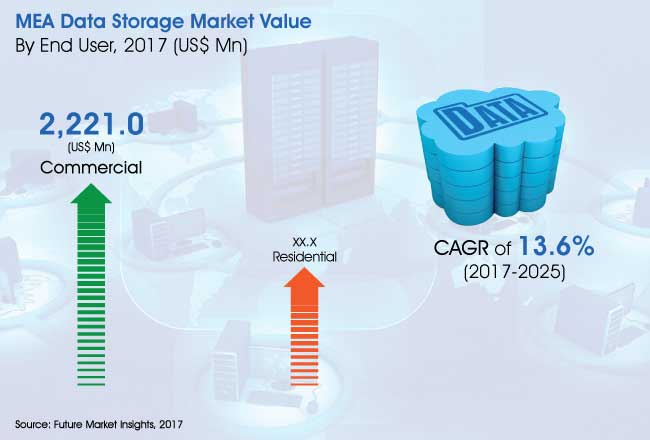 Increasing growth of the data storage market to be witnessed in the commercial sector
Africa is home to six of the top 10 fastest growing countries in the world. The data storage market in these emerging economies – specifically Nigeria, Kenya, Egypt and South Africa – is expected to grow continuously at a high rate, mainly driven by long-term demands for data storage and the creation of new and advanced storage infrastructure. In terms of end use, the commercial sector is anticipated to witness significant demand for data storage in the MEA market. In 2017, the commercial sector accounted for about 73% market share of the GCC data storage market. In terms of revenue, the residential sector is projected to be the most attractive segment in the GCC data storage market during the forecast period while the commercial sector is expected to register high Y-o-Y growth rates throughout the period of study.
This comprehensive market research report provides in-depth analysis on all major segments that have influence over the MEA data storage market. The data storage market in the MEA region is assessed across the important regions of GCC, Levant and Africa.
By Region

By Storage Type

By End User

By Vertical

Consumer Storage

Hard Disk Drive (HDD)

2.5 Inch HDD

3.5 Inch HDD

Memory Card

Optical Disk

Solid State Devices (SSD)

USB Flash Drives

Enterprise Storage

Cloud Based Storage

Flash Storage

Hard Disk Drive (HDD)

2.5 Inch HDD

3.5 Inch HDD

Hyper-Converged Infrastructure

Software Defined Storage

Commercial

Large Enterprise

Small & Medium Enterprise

Residential

BFSI

Defence and Aerospace

Education

Government

Healthcare

Telecom & IT

Others
The research report on the MEA data storage market promises value addition with respect to pricing intelligence, product portfolio analysis of various key players, distribution channel analysis, regional analysis, key trends and developments along with a SWOT analysis (strengths, opportunities, weakness and threats). The research findings also give insights on the future scenario of the market based on the present landscape and the past scenario. These insights may be of immense help to key stakeholders in taking informed decisions with which the next steps can be analysed and actioned at the right time.
Uniqueness in research process provides improved accuracy
Weighted analysis is essential to understand each segment with respect to each region and sub region. To get a holistic view of the MEA data storage market, the analyses carried out must be at par with the actual market value, which is possible with the help of a strong research process followed at Future Market Insights. The research methodology followed here works on two main concepts – re-evaluation and re-validation. The initial data collected with the help of secondary research gives a direction for further research to be carried out. An overview of the market is first gathered. Simultaneously, several primary interviews are carried out and these interviews are conducted in different countries within MEA. The more the number of interviews more would be the level of accuracy. A triangulation process ensures that the data collected from different sources are in sync and will represent an actual accurate estimation of the MEA data storage market.
Detailed analysis of the competition
A separate section of this research report focusses on the key players involved in the MEA data storage market. The competitive dashboard reflects the revenues of the companies, their market shares, growth rates, etc. The product portfolios, innovations, key trends followed, tactics and strategies used to gain advantage, mergers and acquisitions, expansions, and geographical spread of these key players are included in the competitive analysis section. This section is included in the report in order to give the reader an idea of how to formulate marketing strategies or penetration strategies based on the correlation between the key companies and their tactics and the economic aspects that have a major influence over this regional market.
Key research milestones are achieved with the help of necessary tools and a methodical process
Unbiased, holistic view of the market covering major countries within the MEA

Detailed segmental analysis giving justice to the reader's investment

Trends, developments, restraints, drivers, challenges, etc., mentioned in the report uncovering all loopholes present in the market

In-depth analysis with actionable intelligence that can serve the reader's purpose by assisting him/her in planning and executing strategies

Unmatched accuracy owing to a one-of-its-kind research approach

Competitive scenario explaining the present market structure and how key players are making moves along those dynamics

Accurate market forecasts 10 years down the line based on the past and present market scenario

Recommendations based on the analyses covered by the technology research experts of Future Market Insights
Harish Tiwari
Global Head - Business Development
Akshay Godge
Client Partner - Global Business Development
CASE STUDIES
See how our work makes an impact.
At FMI, we design strategies that are adaptive, impactful, and implementable.