An Incisive, In-depth Analysis on the Crawler Excavator Market
This study offers a comprehensive, 360 degree analysis on the Crawler Excavator market, bringing to fore insights that can help stakeholders identify the opportunities as well as challenges. It tracks the global Crawler Excavator market across key regions, and offers in-depth commentary and accurate quantitative insights. The study also includes incisive competitive landscape analysis, and provides key recommendations to market players on winning imperatives and successful strategies.
Global demand for crawler excavator is expected to remain influenced by the growth of surface mining, excavation, and construction sectors. Over the years, usage of crawler excavators has increased to a significant extent in this sectors. This is primarily owing to their superior functionality and efficiency as compared to the conventional systems. Future Market Insights (FMI) projects that the global crawler excavator market will exhibit a volume CAGR of 2.7% during the assessment period (2017-2026). Crawler excavators are becoming increasingly popular in construction and mining sites. They allow faster and safer removal of debris. With the help of crawler excavator, digging procedures have become much simpler and easier. Moreover, the arrival of more technologically advanced crawler excavators is also driving their adoption across sectors. Some of the latest crawler excavators have a wider application range. Effective use of the equipment also greatly increase reliability and efficiency of construction activities.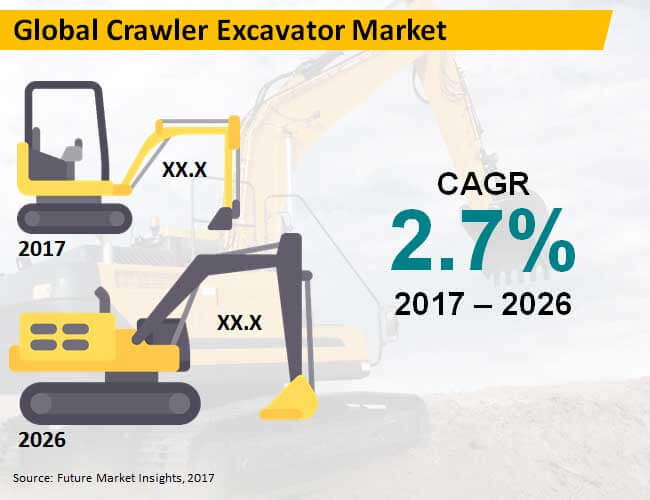 Increased automation coupled with rapid adoption of next-gen construction equipment & technology is expected to reflect favourably on the global crawler excavators market. Manufacturers are also considering concepts such as driverless and self-managed vehicles. At the same time, emphasis is also being placed on improving speed and payloads capacity to meet the fast-evolving industry requirements. However, the high level of investment cost involved in installation of crawler excavator continues to hamper its adoption in small scale construction or mining activities. Also, the additional cost of maintenance might not make it a viable option for many. Preference for crawler excavation remains low for short-term construction projects as its rental cost can add substantially to the overall cost.
The crawler excavators required periodical servicing for proper functioning, which is usually mandated by regulatory authorities. Most customers prefer to rent crawler excavators as purchasing them usually proves to be a costly affair and unfeasible. As the mining industry movers towards smart technologies, key players should look towards providing integration of their crawler excavators with such systems.
APEJ Will Remain the Most Attractive Market for Crawler Excavator Over 2026
Asia Pacific excluding Japan (APEJ) is expected to spearhead the global crawler excavator market during the forecast period. Factors such as robust industrialization and urbanization in various APEJ countries have played an important role in creating market opportunities in the region. APEJ's market is projected to exhibit a volume CAGR of 3.2% between 2017 and 2026.
Short Trail a Leading Product Type
Short trail crawler excavators continue to gain popularity in various end-use industries. This is primarily owing to their cutting-edge features and high efficiency. Global sales of short trail crawler excavators currently accounts for more than 32% volume share of the market. By the end of assessment period, nearly US$ 76 '000 units of short trail crawler excavators are estimated to be sold across the globe.
Medium (2.00-4.00) Bucket Capacity Crawler Excavators to Remain Sough-After
Preference for crawler excavator with medium (2.00-4.00) capacity is expected to remain high throughout the assessment period. By the end of 2026, close to US$ 93 '000 units of medium (2.00-4.00) capacity crawler excavators are expected to be sold globally. In term of volume, global sales of medium (2.00-4.00) capacity crawler excavators currently represent for around 40% market share.
Crawler Excavators with Operating Weight of 22,650-30,200 Kg Will Remain Extremely Popular
Crawler excavators with operating weight of 22,650-30,200 Kg will continue to find application in sectors such as construction and mining. By 2026-end, nearly US$ 48.2 '000 units of crawler excavators with operating weight of 22,650-30,200 Kg are expected to be sold globally.
Competitive Landscape
Some of the leading players functioning in the global crawler excavator market include Caterpillar, Deere & Company, Hitachi Construction Machinery, Komatsu, Volvo Construction Equip., Doosan Bobcat, Inc, CNH Industries, Sany Group, Liebherr, and Hyundai Construction Company.
Future Market Insights (FMI) offers an in-depth and all inclusive analysis on the global market for crawler excavators in its latest report titled 'Crawler Excavators Market: Global Industry Analysis 2012 – 2016 and Opportunity Assessment 2017 – 2026'. Crawler excavators are typically used for digging and excavation purposes. Such kind of vehicles are becoming increasingly popular in mining, construction and excavation section.
Report Structure
The report is divided into multiple sections, this is done to offer more clarity and make the report easily readable. In the first part of the report, the reader will come across an introductory portion, which is comprised of an executive summary, the market taxonomy and the definition of the product – crawler excavation for the scope of the research. The key micro and macroeconomic factors influencing the crawler excavator market are also discussed in this section. Apart from this, the report on global crawler excavator market also talks about elements such as key opportunities, drivers, restraint and trends that are influencing or likely influence the market in the forthcoming years. In addition, the value chain analysis of the crawler excavators market is also discussed in this part. In the next section, the report contains the global crawler excavator market analysis and forecast based of the segmental analysis. The reader will gain access to important market figures pertaining to basis point share analysis, incremental dollar opportunity and market attractiveness index. One of the section of the report offers a thorough analysis on crawler excavator market based on key regions, given as per the market taxonomy. This section of the report also contains the regional market dynamics of the crawler excavator market in the form of opportunities, trend, drivers, and restrains
| Region | Product Types | Bucket Capacity | Operating Weight | End Use Vertical |
| --- | --- | --- | --- | --- |
| | | | | |
| | | | | |
| | | | | |
| | | | | |
| | | | | |
| | | | | |
Competition Landscape
In the subsequently part of the report, the readers will gain information regarding the competition landscape along with analysis on the key market players functioning in the global crawler excavator market. The competition landscape section also contains important information associated with companies such as company description, key financials, recent developments, product overview, and strategic overview. The competition landscape is an important section of the report as it gives guidance to both new entrants and established players in this market about the level of competition that exists in the market.
Research Methodology
The overall market size and volume has been obtained by analyzing historical data, public domain data secondary and primary responses. Revenue of companies in the crawler market has been benchmarked to determine the market size for the base year. Macroeconomic indicators such as industry growth and GDP have been take into consideration to assess the market size and forecast. The macro-economic outlook, historical and current growth trend of end-use industries, and performance of market participants has been considered for estimating the overall market trend forecast. The data obtained is then validated using the triangulation method and is broadly examined using highly credible tools to gather quantitative and qualitative insights into the global crawler excavator market.
COVID -19 : Impact Analysis
Request the coronavirus impact analysis across industries and markets
Request Covid -19 Impact
CASE STUDIES
See how our work makes an impact.
At FMI, we design strategies that are adaptive, impactful, and implementable.