Dosimetry Market By Product (Personal Electronic Dosimeters, Self-reading Dosimeters, Processed Dosimeters), Modality (Wearable, Non-wearable), Energy (Active Dosimeters, Passive Dosimeters), End User (Industrial, Medical, Oil and Gas, Defense, Homeland Security, Mining) & Region - Forecast to 2020 - 2025
Dosimetry Market - Analysis, Outlook, Growth, Trends, Forecasts
January 2020

REP-GB-3482

206 pages
Personal Electronic Dosimeters Continue to Stay in Demand
Personal electronic dosimeters (PEDs), accounting for nearly 3/5 of the total revenue share, remain the best-selling category against self-reading and processed dosimeters. While the sales of PEDs will surpass US$ 2 Bn by 2025, their demand, however, will take a dip in the near future due to their cost-prohibitive nature.
Processed dosimeters, though, hold an insignificant share in the total sales, but will see unprecedented adoption owing to their low-cost quotient, and robustness in extreme conditions.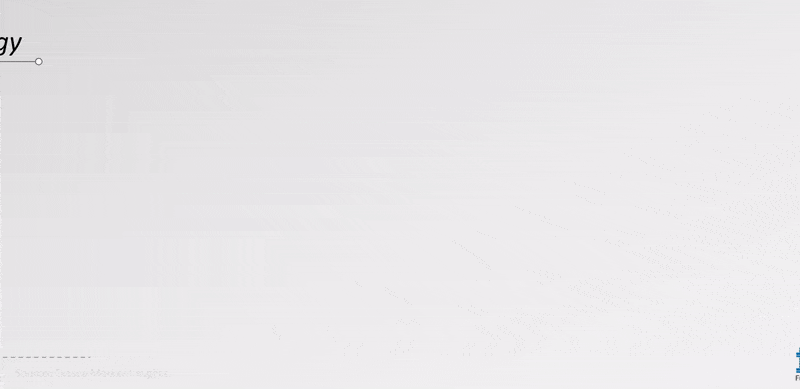 Developed Regional Markets Make Up for around 70% of Global Revenue
Skin cancer is one of the most commonly diagnosed cancers in developed countries, including the U.S., Australia, and some European countries such as Norway, Germany, and Denmark. Along with that, surging installation of Positron Emission Tomography Scanners (PET) and increasing SPECT scanning services in these regions are attracting huge investments from stakeholders. However, both, North America and Europe will lose some of their market share to developing countries, due to uptight regulations for the approval of new dosimeters.
Manufacturers Improving Market Share with Technological Advancements
Technological advancements have not only worked in favor of end users but have also gauged the development of new-age dosimeters. Koppers Inc., for instance, has developed the Naphthalene Dosimeter – the first real-time chemical dosimeter. Such newly-developed dosimeters are calibrated using well-established biological models of radiation-induced health effects and display dose-rate rather than exposure-rate.
How Growth will Unfold
Active dosimeters continue to maintain their supremacy in the global dosimetry market, as they provide readings over a wide energy range, and are well-suited for issue to site visitors. As around 60% of total sales are accounted for by active dosimeters, manufacturers are keeping their eyes on this product category.
Considering low upfront costs, passive dosimeters such as optically stimulated luminescence dosimeters (OSLD) and thermoluminescence dosimeters (TLD) are also witnessing notable adoption in the dosimetry market space. However, they are inept for visitors to a site, and, as such, their demand will see a slight decline in the coming years.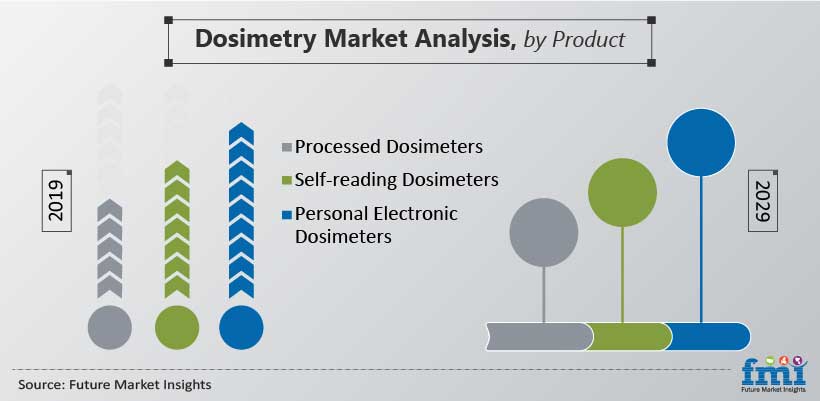 FREQUENTLY ASKED QUESTIONS ABOUT GLOBAL DOSIMETRY MARKET
Will rise in the installation of base equipment affect the growth of the dosimetry market?
In past decade, there has been an upsurge in the installation of PET and SPECT scanners for the diagnosis of cancer, cardiovascular diseases, and other neurology-related diseases. This has resulted in the exposure of radiation in hospitals, and ultimately rise in the demand for dosimeters for measuring the radiation levels among medical professionals.
How are stringent regulations hampering the launch of new products?
In developed economies such as the U.S. and Europe, there are stringent regulations for the approval of new dosimeters. Also, growing level of difficulties in meeting the standards set by government authorities regarding radioactive products has limited investments towards the development of new dosimeters, especially among emerging players.
How will technology advancements convalesce the demand for dosimetry in the near future?
Advancements in technology have not only worked to the advantage of end users but also enabled the development of improved dosimeters. For instance, Naphthalene Dosimeter by Koppers Inc. emerged as the first real-time chemical dosimeter. Newly developed dosimeters are calibrated using well-established biological models of radiation-induced health effects, and display dose-rate rather than exposure-rate.
Which type of dosimeters have better growth potential over the next decade?
Active dosimeters are expected to witness relatively high demand, owing to the rising trend of real-time radiation toxicity monitoring. Also, wearable dosimeters are widely accepted over non-wearable dosimeter.
Which region will offer more lucrative opportunities for dosimetry market players?
The South Asia dosimetry market is expected to show significant growth over the forecast period, owing to rising healthcare infrastructure in India and ASEAN countries. India, China, and Brazil remain top three target geographies of leading manufacturers to expand their regional presence.
How is the dosimetry market performing in terms of revenue?
The dosimetry market is consolidated by top four players - Honeywell, Thermo Fisher Scientific, Fortive Mirion Technologies, and Fuji Electric. These tier 1 players collectively account for 2/3 revenue share of the global dosimetry market.
World's Most Profilic Intelligence Engine
Get Access To The World's Largest Market Research Database.
Sign Up Now
DOSIMETRY MARKET TAXONOMY
The global dosimetry market is segmented in detail to cover every aspect of the market and present a complete market intelligence approach to the reader.
Product
Personal Electronic Dosimeters
Self-reading Dosimeters
Processed Dosimeters

Optically Stimulated Luminescence Dosimeters (OSLD)
Thermoluminescence Dosimeters (TLD)
Radiophotoluminescence (RPL)
Modality
Wearable

Collar Level
Chest Level
Waist Level
Wrist Level
Finger Level

Non-wearable
Energy
Active Dosimeters
Passive Dosimeters
End User
Industrial
Medical
Oil and Gas
Defense, Homeland Security
Mining
Environmental
Others
Region
North America
Latin America
Europe
East Asia
South Asia
Oceania
Middle East and Africa (MEA)
Need specific information?
Our Clients