Key Growth Influencers - Radiopharmaceuticals Market
Rising Prevalence of Cancers and Cardiovascular Diseases
Prevalence of diseases such as cancer and cardiovascular diseases are increasing rapidly across the globe due to aging population, unhealthy food habits, and rising obesity. For instance, according to the American Heart Association, cardiovascular diseases alone accounts for 17.3 million deaths each year, which is more than the deaths caused due to cancer.
Radiopharmaceuticals provides an upper hand to radiologists over the conventional medicines to treat such diseases owing to benefits provided by radiopharmaceuticals such as targeted therapy. Such advantages are expected to boost the radiopharmaceuticals market.
Moreover, according to the Healthcare Quality Improvement Partnership (HQIP) report, approximately 9,200 new cases of head and neck cancers are diagnosed in England and Wales each year. Rising situations like this is anticipated to boost the growth of radiopharmaceuticals market, globally.
Numerous Diagnostic Applications Surging Market Growth
Radiopharmaceuticals play an imperative role in diagnosis of several diseases by providing better understanding of disease staging. Radiopharmaceuticals linked to chemical compounds permit specified physiological process to be scrutinized.
Advantages of radiopharmaceuticals such as high efficacy and non-invasive external monitoring have increased global radioisotope production for usage in molecular imaging and in therapeutic nuclear medicines. Such benefits are anticipated to fuel the market growth for radiopharmaceuticals.
According to the World Nuclear Association, radioisotopes are used in medicine in over 10,000 hospitals across the world and 90% of the procedures involve diagnosis of infectious diseases, cancer, neurological disorders, etc. The diagnostic use of radiopharmaceuticals is more varied and complex and at the same time constitute a significant growth in nuclear imaging industry.
Increased Focus on Centralized Pharmacies
In the radiopharmaceutical industry there is a lack of formalized GMP guidelines along with stringent regulations governing the use of radiopharmaceuticals. However, to address the quality assurance for radiopharmaceuticals, many nuclear medicine physicians are recommending setting up centralized radio-pharmacies.
This is because of the growing interest from administrators and legislators in context with regulations for radiopharmaceuticals, Positron Emission Tomography (PET), and for clinical trials. A centralized radio pharmacy model imposes several advantages to patients as well as facilities including minimizing the radiation exposure with ability to dispense patient specific prescription, delivering specified products from all sources and services available.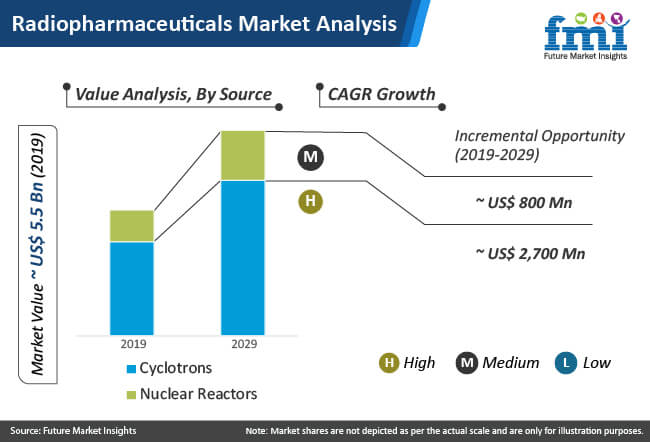 Short Half-Life Restricting Supply of Radioisotopes
Supply of radioisotopes is unstable globally and is expected to reduce in the near future due to shut down of major reactors in places such as Canada and Holland. Short half-life radioisotopes cannot be supplied to other regions where the production of raw materials is negligible, as it disintegrates rapidly.
According to the Nuclear Energy Agency (NEA), supply of radioisotopes started deflating from 2016, not simply from reactors, but also due to processing limitations such as transport and demand management. Such factors are anticipated to hamper the market growth.
Radiopharmaceuticals Market Structure Analysis
The global radiopharmaceuticals market is a fairly consolidated industry. The global market is dominated by top five players accounting for around 90% market share.
Leading companies such as Siemens (Siemens Healthineers) and GE Healthcare garners around 2/3rd of the total radiopharmaceuticals market share.
Business expansion through investing in emerging economies and increased capital expenditure in research and development initiatives are policies pursued by major participants in the radiopharmaceuticals market.
FREQUENTLY ASKED QUESTIONS ABOUT RAdIOPHARMACEUTICALs MARKET
Will rise in number of install base equipment affect growth of the radiopharmaceuticals market?
Widespread availability of the SPECT and PET scanning machines will result in to growing number of radio diagnostic and radio therapeutics events globally. For instance, the number of PET scanning machines installed per head of population in North America are more as compared to that installed in Europe thus leading to increased usage of radiotracers in the region.
How stringent regulations are hampering launch of new products?
Production, storage, and usage of radioisotopes require proper precautions because radioisotopes generate radiation which can affect mass population and the environment. Approval from the Food and Drug Administration, Medicines and Healthcare Products Regulatory Agency is mandatory for any usage, storage, or production of radioisotopes.
Which is emerging radioisotopes for therapeutic purpose?
Iodine-131, a therapeutic radiotracer continues to be ideal tracer for the treatment of not only thyroid cancer but also other therapeutic indications and is being slowly replaced by Lutetium-177 (Lu-177). Lu-177, low-energy β-particle emitter is identified to be one of the emerging radiotracer for treatment of metastatic castrate-resistant prostate cancer (mCRPC) and neuroendocrine tumors.
Which region will offer more lucrative opportunities for radiopharmaceutical market players?
South Asia's radiopharmaceutical market expected to show significant growth over the forecast period, owing to rising healthcare infrastructure in India and ASEAN countries. India, China and Brazil remain top three target geographies of leading manufacturers to expand their regional presence.
Which are key market radiopharmaceutical brands?
Xofigo by Bayer AG, Lutethera by Novartis AG, Vizamyl by GE Helathcare and Fludeoxyglucose F 18 Injection by Siemens AG are key marketed radiopharmaceutical brands. This brands estimated to cover around half of the market share.
What are the key product development strategies followed by leading manufacturer
Manufacturers of radiopharmaceuticals are mainly focused on developing novel diagnostic as well as therapeutic radiopharmaceuticals with low pricing in order to increase sales and in turn garner larger market share.
Radiopharmaceuticals Market: Segmentation
Radioisotope
Technetium-99
Fluorine-18
Iodine-131
Leutetium-177
Yttrium-90
Gallium-68
Gallium-67
Rubidium-82
Iodine-123
Iodine-125
Indium-111
Others
Application
Oncology
Cardiology
Gastroenterology
Neuroendocrinology
Neurology
Nephrology
Others
Source
Cyclotrons
Nuclear Reactors
End User
Hospitals
Diagnostic Imaging Centers
Ambulatory Surgical Centers
Cancer Research Institute
Region
North America
Latin America
Western Europe
Eastern Europe
APEJ
Japan
MEA
Need specific information?