Medical Tourism Market By Treatment Type (Dental Treatment, Cosmetic Treatment, Cardiovascular Treatment, Orthopedic Treatment, Neurological Treatment, Cancer Treatment), Service Type (Wellness Service, Therapeutic Service), Tourist Type (Domestic, International), Tour Type (Independent Traveller, Tour Group, Package Traveller), Consumer Orientation (Men, Women, Children), Age Group (15-25 Years, 26-35 Years, 66-75 Years), Booking Type (Phone Booking, Online Booking) & Region - Forecast to 2020 - 2030
Medical Tourism Market By Treatment Type, Service Type, Tourist Type, Age Group, Tour Type, Consumer Orientation, Booking Type & Region for 2020 – 2030 : Analysis and Review
January 2021

REP-GB-249

250 pages
Medical Tourism Market - About the Report
Increasing number of countries are jumping on the cross-border medical tourism bandwagon. In the last few years South Asia and Southeast Asia have emerged as major destinations for medical tourism, including countries such as Thailand, India, Singapore, and Malaysia. Governments across these nations are actively participating in promoting medical tourism. Besides this, ease of travelling in today's globalized world has made medical tourism better accessible.
Future Market Insights (FMI), an ESOMAR-certified market research and consulting firm offers executive-level blueprint of the market. The report carefully examines growth opportunities for medical tourism around the world. In also evaluates the impact of strategies adopted by the leading players on the market.
Medical Tourism Market - Historical and Future Outlook
Increasing availability of advanced technologies in medical and healthcare sector and sophisticated training of physicians are key factors motivating foreigners opting for medical tourism. Besides this, lower cost of hospital stays in certain countries is attracting medical tourists from around the world. Availability of cheaper treatment with better quality of care has been a chief driver of medical tourism since the start. Medical tourism destinations offer provisions for luxurious stays and cheaper treatment options, which has been attracting tourists from around the world.
The global medical tourism market size is forecast to expand at an impressive 12.3% CAGR between 2020 and 2030. Besides surging demand for advanced healthcare services, higher spending on healthcare and medical services is behind the soaring medical tourism worldwide. FMI has identified India, Thailand, Malaysia, the U.K. among others are some of the more popular medical tourism destinations around the world. Growth projections for the medical tourism industry remains positive especially as FMI forecasts the number of medical tourism to reach 122 million by the end of 2030.
How is Internet Impacting Medical Tourism?
Medical tourism, while not a novel concept, has been gaining popularity on the internet as a healthcare option available to people around the world. From a marketing perspective, internet offers a dynamic medium for healthcare service providers and operators to create awareness about various options for medical travel. Internet can also play a crucial role in influencing a patient's medical tourism decision.
It is in common practice among patients to consult myriad information sources in the internet before making a decisions. Consumers are increasingly participating in web-based healthcare communities to sees out authentic and accurate data on foreign healthcare facilities and infrastructure. Besides this, social media's use is surging among medical tourism marketers, to reach prospective patients.
Using social media platforms such as Facebook enables marketers to derive benefit from segmentation tools within the platform to identify target audience with precision and then advertise their services to those located across specific geography.
An increasing number of medical tourism facilitators are using the internet to advertise services offered around the world. Transfer of healthcare services related information via electronic mediums has become widespread. Consequently, the number of people accessing required information in healthcare has increased.
For instance, The Apollo Hospital Group has an "International Patient Service" section on their website, which also offers "live chat" facilities to assist international patients. Meanwhile in Thailand, the Tourism Authority of Thailand (TAT) had launched a very effective e-campaign in 2010 to establish the country's global position on medical tourism. Additionally, TAT launched a website called HealthBeautyHoliday in collaboration with Royal Orchid Plus to provide information on medical tourism products such as hotel deals, spa treatments, and so on.
However, there is little control over type of information available on the interest, which poses threat to the integrity of medical tourism. Quality of information available online vastly varies and lower barrier of the internet offers early pass to unqualified personnel into the health services trade. In absence of proper scrutiny, this could stir major trouble for the market.
Moreover, cost of healthcare is frequently the key denominator attracting patients seeking out price comparisons. While privacy and data protection remain key challenges of online advertisement, an increasing number of patients will continue to reach out for online information, which otherwise might get hugely difficult for them to source.
What is the Potential for Medical Tourism in Cosmetics Surgery?
Developing countries have been attracting an increasing number of foreign patients by giving them access to state-of-the-art healthcare facilities and offering healthcare services at a lesser cost than healthcare systems of their developed counterparts. This differential price is the key motivating factor behind medical travel for cosmetics surgery among patients.
In contrast to rapidly expanding cosmetics surgery market in East Asia and elsewhere, plastic surgery growth in the U.S. is curtailed by the high cost of healthcare. According to a report by the American Society of Plastic Surgeons, the total number of cosmetic procedures conducted in America dropped by 16% between 2000 and 2023, contrary to which minimally invasive surgeries rose by 137%.
According to a report by the International Society of Aesthetic Plastic Surgery, over 10 million surgical and over 12 million non-surgical cosmetic procedures were conducted around the world in 2018. Total procedures conducted increased by 5.4% in 2018. With the demand for cosmetics surgeries forecast to rise further in the coming years, medical tourism will have a conducive environment for growth.
How Big is Medical Tourism in the U.S.?
While an increasing number of Americans are travelling abroad for availing medical treatment, there has been significant surge in inbound medical tourism of the country as well. The Joint Commission International (JCI), which is a nonprofit organization, evaluates the quality and standard of healthcare facilities across the globe. As a matter of fact, JCI accreditation is recognized internationally as a benchmark for quality care in hospitals and clinics. In the U.S., JCI has accredited nearly 15,000 hospitals in the U.S.
An increasing number of hospitals in the country are looking to create medical tourism revenue stream. Their efforts are expected to soar in response to the surging demand for cosmetics procedures. According to a report by the American Society of Plastic Surgeons, nearly 18.1 million cosmetic procedures and 5.9 million reconstructive procedures were conducted in the U.S. in 2018. Medical facilities in the U.S. are considered highly advanced and best-in-class. This is one of the chief drivers of medical tourism in the country.
U.K. Medical Tourism Backed by Presence of Behemoths
Medical tourism is receiving increasing attention in the U.K. The confluence of affordable air travel, increasing need for out-of-pocket expenditure, and internet-based marketing campaigns undertaken by healthcare service providers is creating prospects for medical tourism expansion in the country. Against this backdrop, the U.K. National Health Service (NHS) has suggested that increasing number of patients might consider travelling for treatment.
The U.K. NHS also has observed that the degree of inward travel of international patients to the U.K. has remained relatively stable in comparison to the substantial increase in the number of U.K. residents travelling abroad for medical treatment. Besides this, medical tourism in the U.K. is gaining from presence of world-class private medical facilities, some of whom are considered to be the best around the world.
In fact many of U.K.'s specialist clinics are touted to be at top of their field of practice, including the London Fertility Center, Royal Berkshire NHS Foundation Trust, BMI Healthcare Center among others. The presence some of the most renowned healthcare and medical facilities providers in the world is aiding expansion of medical tourism in the country.
Can Government's Push Boost Malaysia's Medical Tourism?
According to the Malaysia Healthcare Travel Council (MHTC), Malaysia welcomed over 921,000 foreign patients in 2016. A significant number of patients seeking treatment in Malaysia are from Indonesia. Besides this, it receives increasing number of foreign patients coming from Japan, India, Singapore, Europe, Australia, and the U.S. each year.
Malaysia's medical tourism started gaining traction in the wake of Asian Financial Crisis in 1997, following which the Ministry of Health formed the National Committee for the Promotion of Medical Health Tourism in January 1998. Subsequently, the Malaysia Healthcare Travel Council was set up in 2009, which was intended to serve as the primary agency for promoting and developing the country's medical tourism.
In the last few years, the medical tourism market in Malaysia has emerged as one of the largest in the world. Solid government participation, coupled with formidable private and public healthcare collaborations, has been the key facilitator of growth in Malaysia. To compete with best-in-class hospitals and medical centers in Asia and beyond, the country is focusing on carving a niche in fertility and cardiology treatments.
To bolster medical tourism, Malaysian Healthcare Tourism Council (MHTC) has partnered Air Asia Indonesia to promote Penang as the country's top destination for medical tourism. Through this partnership, MHTC also arranges medical trips for patients travelling from Indonesia to Malaysia. Backed by these factors, Malaysia is expected to remain a popular choice for medical tourists from around the world
Why is Thailand's Medical Tourism Highly Sought-after?
Travelling to Thailand for medical tourism is an increasingly growing trend. Considered as one of the popular international tourist's destinations, Thailand has also been gaining popularity as a key destination for medical tourism. In fact Thailand is ranked 17 out of 46 global destinations by the 2020-21 Medical Tourism Index.
Even as the rest of the world was struggling to cope with the unprecedented COVID-19 outbreak, Thailand's response to the pandemic has been touted to be one of the most successful in the world. The Global COVID-19 Recovery Index has consistently ranked it among top five nations out of 184 in terms of their effectiveness in the battle against the virus, underlining resilience of Thailand's medical infrastructure.
The presence of JCI accredited hospitals has been supporting the expansion of medical tourism. Bangkok's Bumrungrad International Hospital is one of the leading facilities permitted to welcome patients from foreign countries. The hospital has even launched telemedicine consultations in 2019. The launch of online medical assistance has enabled better exchange of information between patients and healthcare professionals.
Developments such as these are supporting the expansion of medical tourism in Thailand.
International Standard Healthcare Bolsters India's Medical Tourism
The medical tourism sector in India is a growing source of foreign exchange and goodwill outside the country. Medical tourism growth in the country is consistently supported by government. According to the Associated Chambers of Commerce and Industry of India (ASSOCHAM), the country's medical tourism is expected to surge at a rate of 30% annually. Although, India is relatively is a relatively new entrant in the industry, it is increasingly becoming popular choice for high standard medical tourism.
ASSOCHAM also has revealed that the cost incurred on a surgery for heart-valve replacement can reach up to US$ 0.2 Mn in the U.S., whereas the same can be performed in India in approximately US$ 10,000, with no compromise on the quality of healthcare service and infrastructure.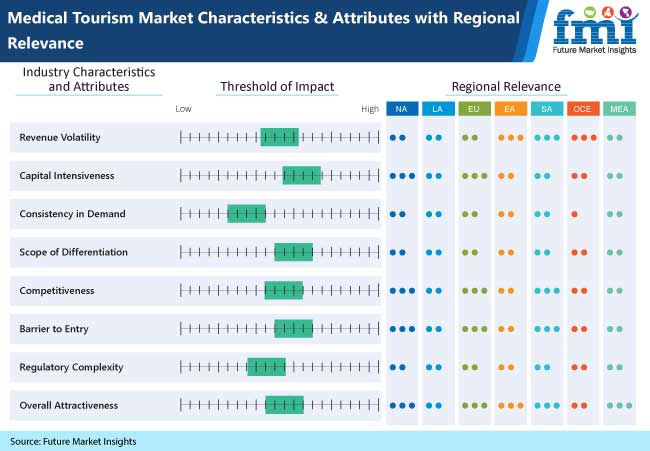 Several hospitals across India are JCI accredited. For example, Apollo Hospital Group is the first Indian hospital to receive JCI accreditation. It has recently collaborated with John Hopkins Medicine International. The increasing trend towards wellness tourism will further aid expansion of the market in India
Cancer Treatment, Wellness, Among Others Hold Sway in Medical Tourism
Among treatment type, cancer treatment accounts for the considerable share in the global market. The surging incidence of cancer is one of the leading causes enabling growth in the segment. According to the World Health Organization (WHO), cancer is the second-leading cause of death worldwide and was responsible for approximately 9.6 million deaths globally in 2018. The rising demand for affordable cancer treatment is expected to fuel demand for medical tourism in the coming years.
Besides this, the rising demand for cosmetic procedure will consistently contribute towards the expansion of medical tourism. According to ISAPS, total number of cosmetics procedures conducted in 2019 increased by 7.4%. Despite temporary lull on account of COVID-19 outbreak, demand across this categories will surge in the coming years, enabling growth in the market.
The demand for wellness services also is expected to get significantly high in the coming years. The expansion of medication and yoga centers across the world is attributable to growth witnessed in this category. The global wellness economy is currently worth multi-trillion dollars. According to the Global Wellness Institute, wellness economy was valued at US$ 4.5 trillion.
Wellness industry represents 5.3% of global economic output and it is expected to surge further in the coming years. Campaigns promoting the healing benefits of meditation and health benefits of yoga are playing crucial role in expansion of the service type.
In terms of age group, individual aged between 46 and 55 years and 66 and 75 years more often travel to seek medical care. The rising prevalence of chronic ailments such as cancer, heart diseases, and others is fuelling the demand for medical tourism. According to FMI, domestic tourists are likely to exhibit high demand for medical tourism over the course of the forecast period.
While demand in various segments will continue rising consistently, in-person booking will remain more preferred among medical tourists of all categories. However, in the coming years, online booking for medical tourism as well is expected to surge. An increasing number of healthcare facilities offering services for foreign patients are focusing on building their online presence via social media and marketing campaigns.
Thanks to penetration of internet, patients are rendered more conscientious. They prefer running a background check of organizations before finalizing their destination and potential healthcare facility while travelling abroad. Visiting online profiles of hospitals and destinations is a common practice. Thailand, Malaysia, and other popular medical tourism destinations are maintaining a proper online presence. This will boost online bookings in the coming years.
Medical Tourism Market - Competitive Landscape
The medical tourism market is thriving and healthcare facilities engaged in the field are leaving no stone unturned to capitalize on prevailing opportunities. Some are focusing on online campaigns while others are putting their efforts towards collaborations to gain competitive edge. Overall there is immense focus on carving a niche and creating goodwill among the market players.
For instance:
Taking its strategies a few notches high, Apollo Hospitals launched Amazon Alexa Skill – the Ask Apollo Skill to enable users identify nearest Apollo hospitals, clinics, and pharmacies and book appointments with doctors
Gleneagles Hospitals has launched a spine center in Hong Kong, offering comprehensive and systematic assessment for spine related issues.
In October 2019 Bangkok DusitMedical Services collaborated with Siloam Hospital Group in Indonesia to improve the overall quality of healthcare services through discussions and case studies.
Report Scope
| | |
| --- | --- |
| Attribute | Details |
| Forecast Period | 2020-2030 |
| Historical Data Available for | 2015-2019 |
| Market Analysis | USD Million for value |
| Key Regions Covered | North America, Latin America, Europe, East Asia, South Asia, Oceania Middle East & Africa |
| Key Countries Covered | US, Canada, Germany, U.K., France, Italy, Spain, Poland, BENELUX, Nordic, Russia, China, Japan, South Korea, India, Thailand, Malaysia, Vietnam, Indonesia, Australia, New Zealand, GCC Countries, Northern Africa, South Africa |
| Key Segments Covered | Treatment Type, Service Type, Tourist Type, Age Group, Tour Type, Consumer Orientation, Booking Type, and Region |
| Key Companies Profiled | Global Healthcare Connections, Inc., Christus Muguerza S.A.P.I De CV, Shouldice Hospital, Asklepios Kliniken GmbH, Fortis Healthcare Ltd, Apollo Hospitals, Gleneagles Hospital, Bumrungrad international Hospital, and others. |
| Report Coverage | Market Forecast, brand share analysis, competition intelligence, DROT analysis, Market Dynamics and Challenges, Strategic Growth Initiatives |
| Customization & Pricing | |
World's Most Profilic Intelligence Engine
Get Access To The World's Largest Market Research Database.
Sign Up Now
Medical Tourism Market - Leading companies Region Wise
Americas
Global Healthcare Connections, Inc.
Christus Muguerza S.A.P.I De CV
Shouldice Hospital
Europe
Asia-Pacific
Fortis Healthcare Ltd
Apollo Hospitals
Gleneagles Hospital
Bumrungrad international Hospital
Bangkok Dusit Medical Services
Asian Heart Institute
Prince Court Medical Center
Key Questions Answered in the Report
Q1. Which is the most lucrative market for medical tourism?
Malaysia and Thailand are among highly lucrative markets for medical tourism. Best in class healthcare facilities and infrastructure of the countries are supporting expansion of medical tourism.
Q2. Which treatments are highly sought-after in medical tourism?
A significant share of medical tourists travel for treatment of chronic ailments such as cancer or cardiovascular diseases. Besides this, cosmetic and bariatric surgeries are getting increasingly popular causes of medical tourism.
Q3. Which booking type is more preferred for medical tourism?
While in-person booking continues to account for significant share of booking done, an increasing number of medical tourists are leaning towards online booking because of convenience it offers.
Q4. Which are some of the leading names in the medical tourism sector?
Some of the leading companies in the medical tourism sector are Global Healthcare Connections, Inc., Christus Muguerza S.A.P.I De CV, Shouldice Hospital, Asklepios Kliniken GmbH, Fortis Healthcare Ltd, Apollo Hospitals, Gleneagles Hospital, Bumrungrad international Hospital, and others.
Q5. What is the future outlook for medical tourism?
Despite disruptions caused due to COVID-19 outbreak, medical tourism is expected to pick up in response to rising incidence of various chronic ailments. Availability of best-in-class medical services at affordable price will continue attracting medical tourists to various destinations. Besides this, government aid towards expanding medical tourism will present conducive environment for growth in the future.
Need specific information?
Our Clients